Even through the deluge of Manhattan's underground transit system, where all matter of shocking sights and interborough travelers flood the passages, Nick Cave is captivating. Along the walkway that connects Times Squares's 42 Street beehive and the S train shuttle to Bryant Park, a sprawling, 3,200-square-foot mosaic of the artist's "Soundsuits" adds an infinity of color to the otherwise dreary commute. The works are indubitably Cave's most well known creations, and were birthed in response to the unjust beating of Rodney King by the Los Angeles Police Department in 1992. Over the last three decades, constructing the large suits has mushroomed into a craft unto itself. Flamboyant and jubilant, the second skins conceal race, gender, and class when worn, dispelling assumptions of identity and serving as a form of protection from systemic brutality and trauma. Sequined, spangled, and surgically designed, the mixed-media forms number more than 500, channeling the animation of Jim Henson with symbolic codes of African dance, Ball culture, and New Orleans's Mardi Gras.
A few blocks up and crosstown, at the Solomon R. Guggenheim Museum, Cave admits he is thinking about different ways of working, and about the end of the symbolic "Soundsuit." The crowd cocks their heads. "I feel like I've done it," he explains. "I've resolved a lot of myself in it." It's the opening night of "Forothermore," the Missouri-born, Chicago-based artist's show, which originally debuted at the Museum of Contemporary Art Chicago, and presents the breadth of the his career through unseen mixed media "paintings," sculpture, video, and costume design. Broken up into three parts on alternating floors and interwoven with Alex Katz's colorful portraiture, Cave's exhibition begins with the past ("What it Was"), moves into the contemporary, ("What It Is"), and then, finally, envisions the future ("What It Shall Be") of his practice—with each section's title taken from an old Black greeting. Ironically, it's on the final floor of the survey, "What It Shall Be," where viewers encounter the last assembly of Cave's "Soundsuits" together at last. "It's like a relationship: you break up, you get back together, you break up," he admits. "I've had this amazing moment with this work—as a sculptural form, as performances in public spaces, and so on. So, I'm at this place where I'm curious to know other things about myself and what that looks like in other forms and materials."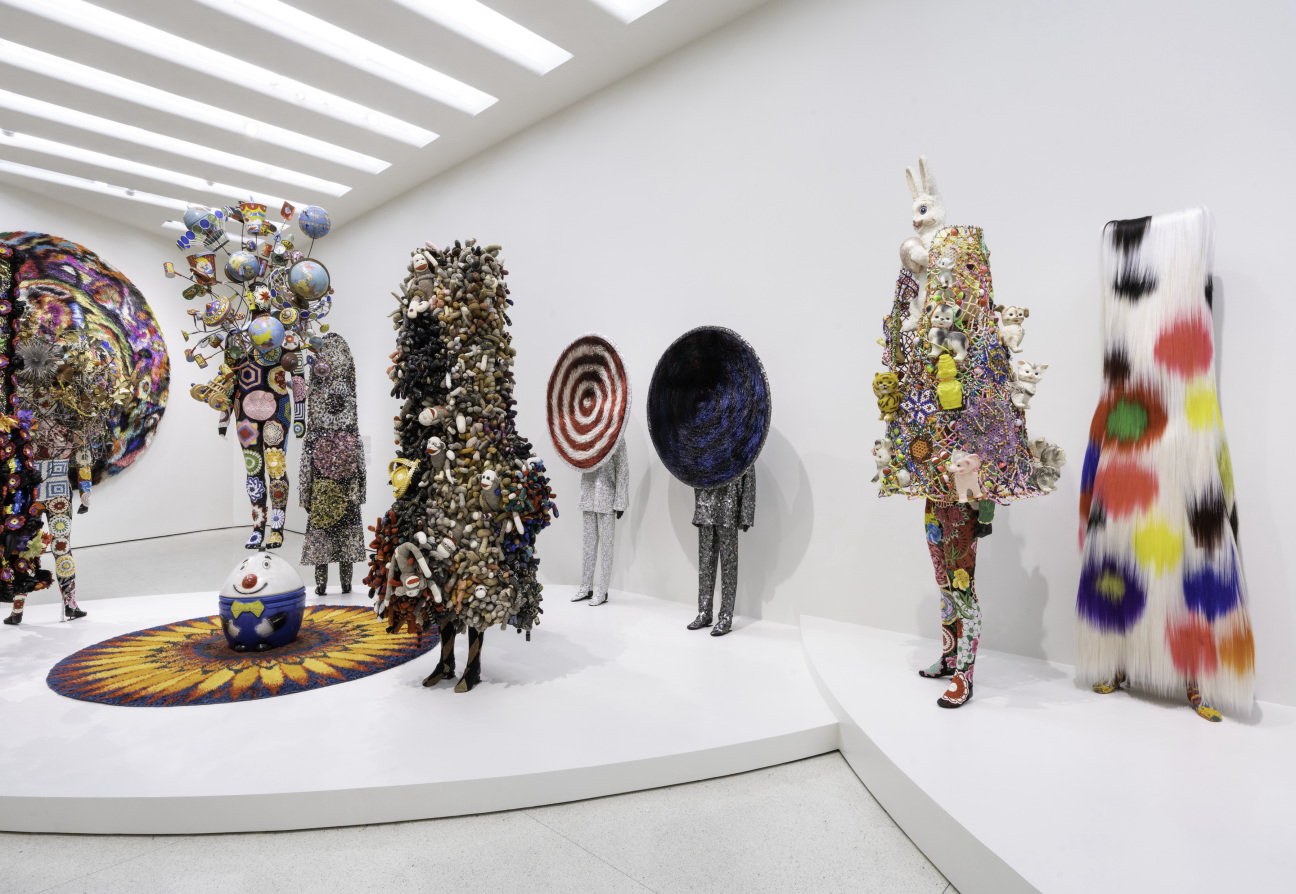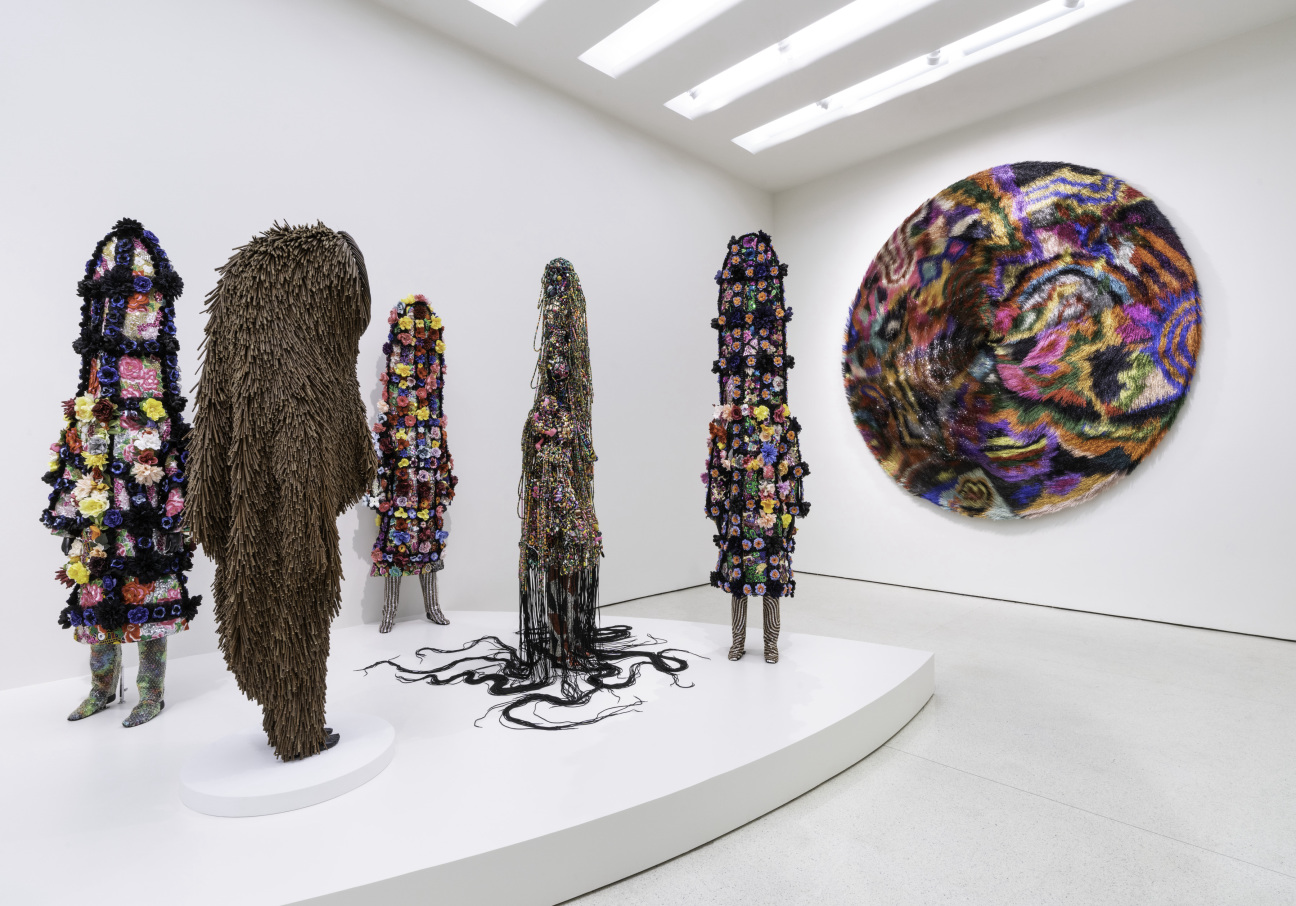 Throughout "Forothermore," details from Cave's past works jump out as clues to which direction the artist will go in next. Beside the cluster of colorfully, protective ware ("They must always be shown together," Cave explains, "never alone") are displays from his "Tondo" series, which he refers to as "paintings" but which are actually composed of more—wood, fabric, and wire. "It's meant to be a brain," he says of one furry, psychedelic oval, which takes its color from the combined imaging of weather patterns and MRI scans. Perhaps this layered approach to painting will be the path the artist plans to expand upon. Or, maybe he will continue to experiment with bronze, which appears off and on in segmented sculptures on the floors below: a floating arm holding a bouquet of flowers, the artist's own hands cradling a severed head. Found objects will always be in Cave's canon—a childhood obsession that he has realized as a cross-cultural practice seen in ceramic, glass, beaded, and metal-adorned mural works like Garden Plot (aka Wall Relief), 2013.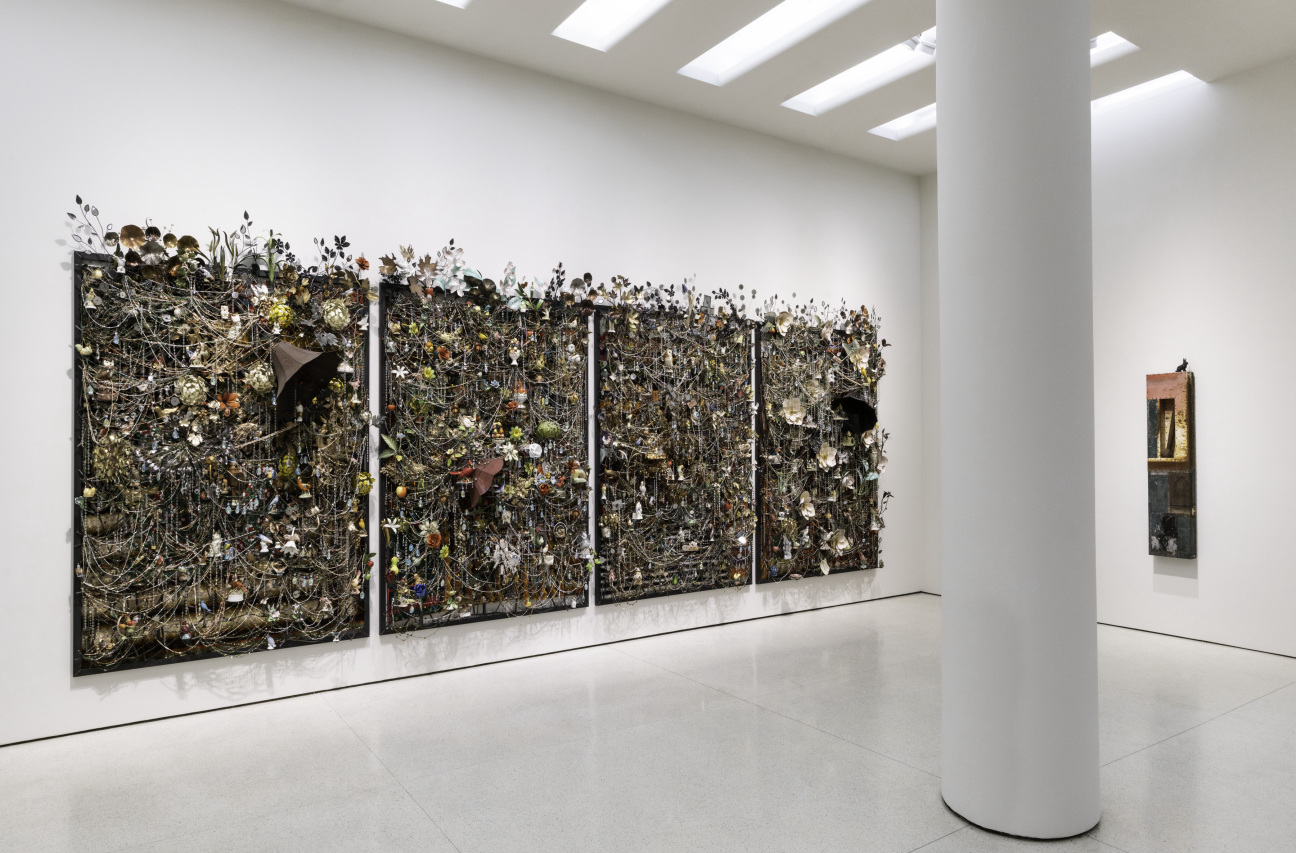 Cave pauses with a smile at the conclusion of the evening, when the Guggenheim's Chief Curator Naomi Beckwith asks why the "Soundsuits" must fully go away rather than just be put on hold. "Well, you never really know," he laughs. "They may come back."
"Nick Cave: Forothermore" is on view until April 10, 2023 at Solomon R. Guggenheim Museum at 1071 5th Ave, New York, NY 10128.