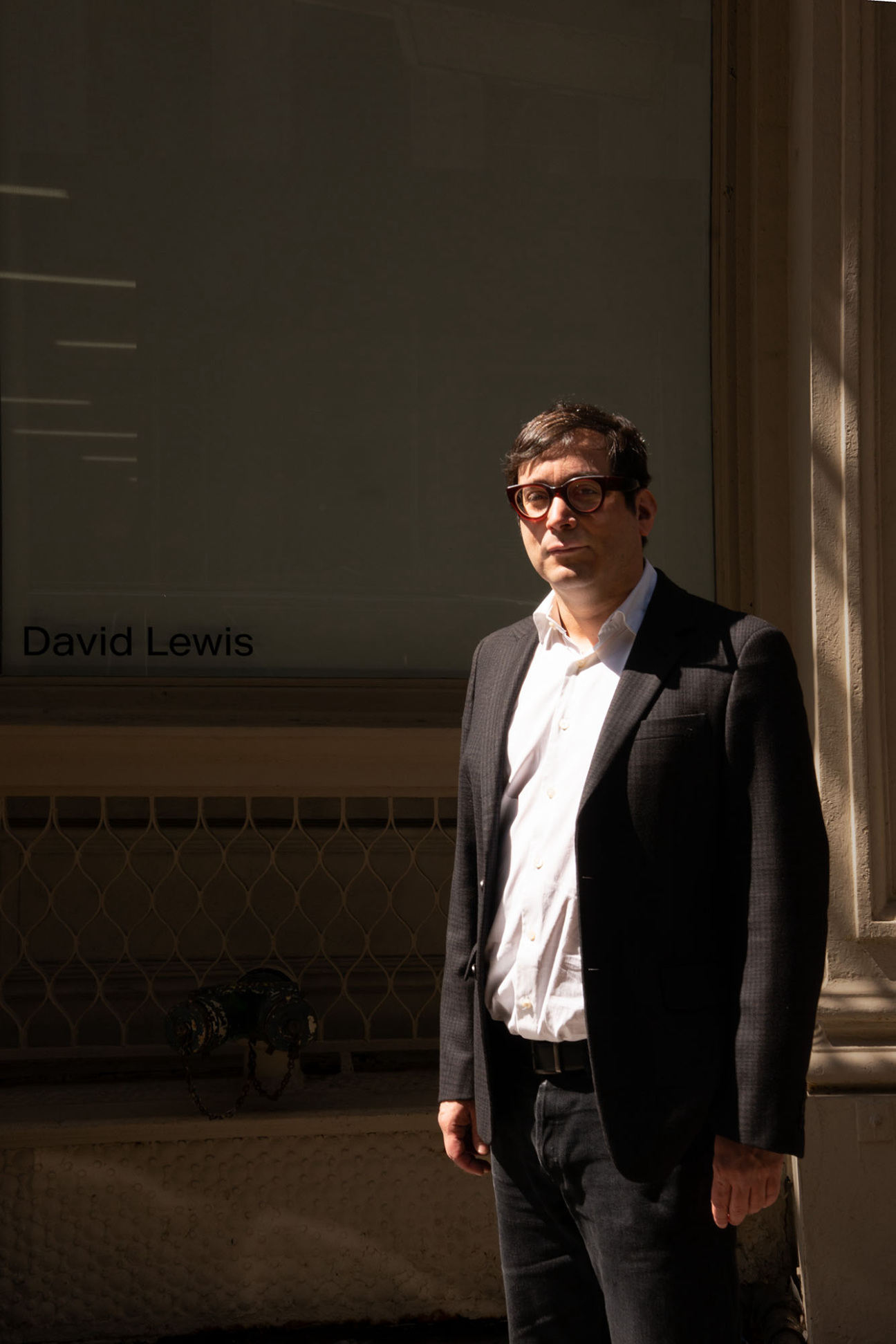 They say there are two types of parents: those who prepare their children for the road, and those who prepare the road for their children. In his decade-long career as a dealer, David Lewis has taken the latter approach.
Channeling his background as a critic and art historian, Lewis has a knack for spotting artists who are, in his words, "at angles to the system." Then he does what he can to change the system to accommodate them. Many, like Ravi Jackson and Leah Ke Yi Zheng, are up-and-comers searching for the spotlight; others, such as Todd Gray and Peter Schlesinger, are forgotten figures ready to retake the stage. The same question drives the dealer's interest in both cases: "Do these [artists'] ideas matter to something that one day may be called art history?"
As he speaks, Lewis, 47, is sitting in his new Tribeca apartment, not far from his eponymous gallery on Walker Street. He looks bookish behind his chunky round glasses, the same style preferred by David Hockney. On the walls behind him are pieces by Jackson, Mary Beth Edelson, and Claire Lehmann—all artists represented by the gallery. "I'm not actually much of a collector at all," explains Lewis, suggesting that even spending money goes into supporting the artists he represents.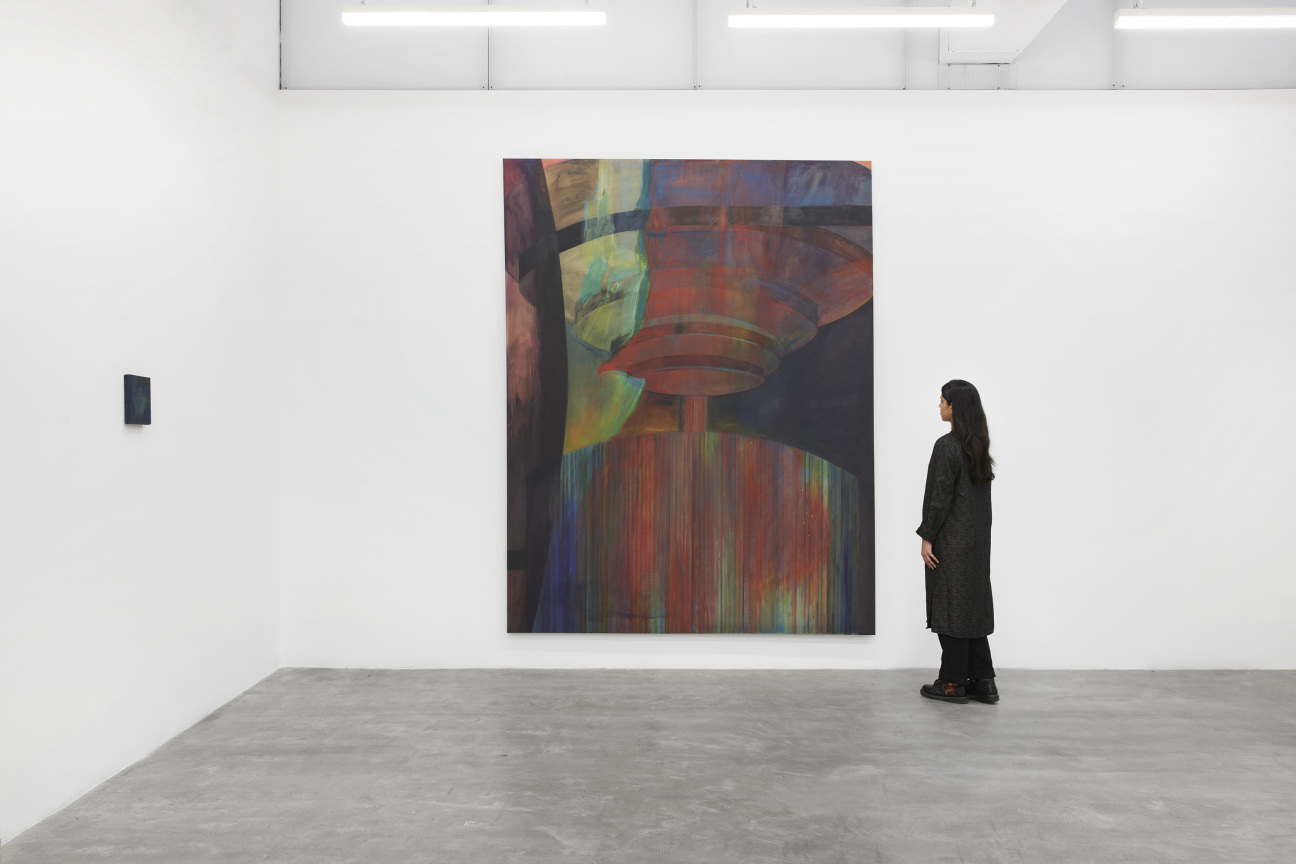 Quick and articulate, Lewis often sounds more like an editor than a dealer. In a way, he is: If he's offering you art, it's only because he's already convinced himself of its own narrative merit, not its salability. He'll likely convince you, too. "He's so enthusiastic about things, it just spills over," says artist Barbara Bloom, who has worked with the gallery since 2017. As art advisor Alex Glauber, Lewis's longtime friend, puts it: "He's able to effectively offer a dissertation on an artist and their historical touchpoints extemporaneously."
Back in 2007, Lewis was days into a new job writing reviews for Artforum when he moved to Paris and quickly immersed himself in the city's vibrant art scene. "Right away, I just loved galleries, particularly young galleries," he recalls. "The relationships between artists and dealers always seemed really magical to me … the intimacy, the electricity of it." For the first time in his young career, Lewis saw his interests percolating outside of a textbook or magazine. "It was like an understanding: this is what I should be doing," he says.
In 2011, two dealers, Daniele Balice and Alexander Hertling, partnered with Lewis to open a joint gallery (Balice Hertling & Lewis) back in Manhattan, which he would run. Just as he had arrived in Paris with a dream job, he came back home with another. "The second half of the magician's act happened," he says. "I returned to New York an art dealer with an art gallery."
The dream didn't last long. The dealers didn't gel, and within a year, the gallery was closed. "I quickly went from, 'I'm the luckiest guy in the world,' to, 'I'm going to kill my career before it starts if I don't find my own way,'" he says. "I had the seed of something that I thought I needed to grow."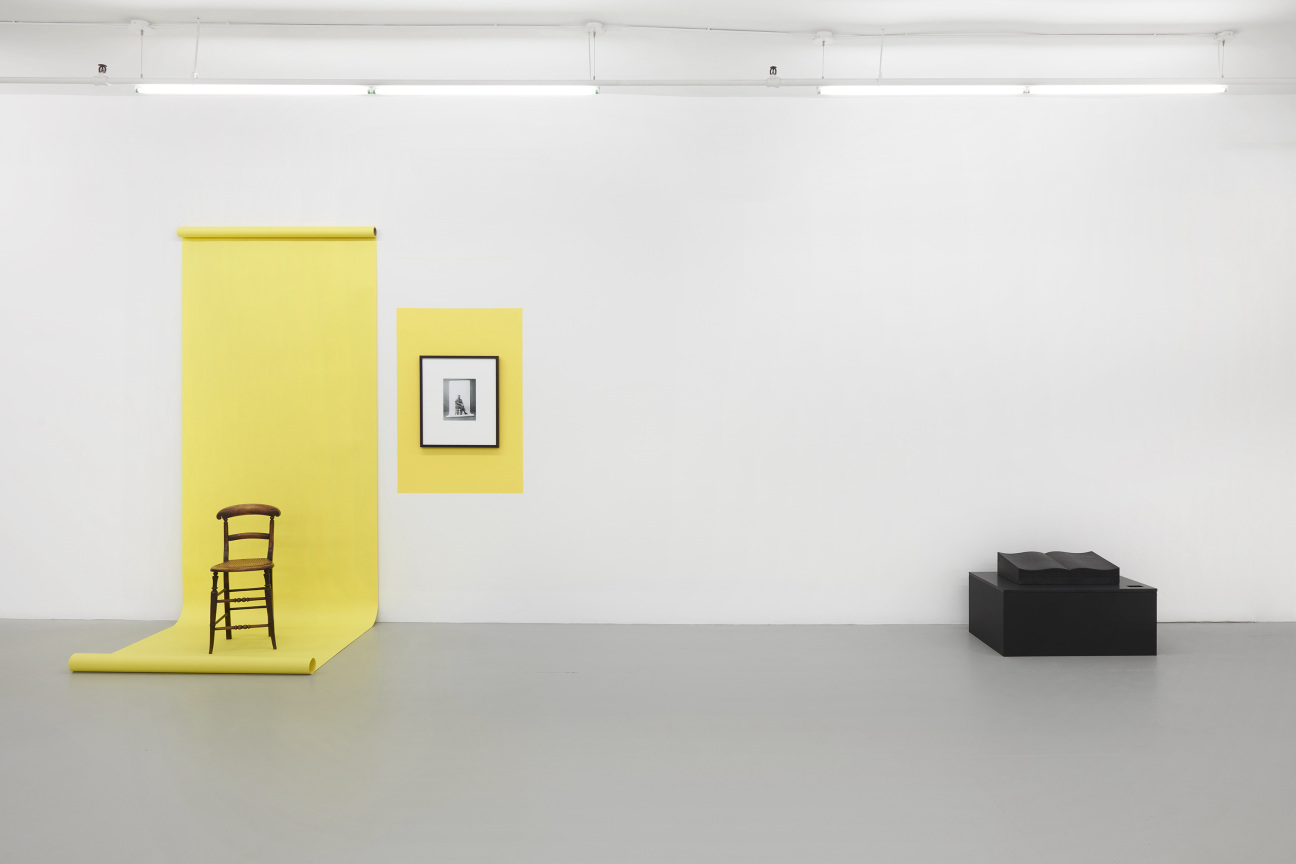 Grow it did. A year later, Lewis opened his own gallery on the fifth floor of a walkup on Manhattan's Lower East Side. To his surprise, success came quickly. Early shows with painter Lucy Dodd and performance artist Dawn Kasper received strong reviews and sold well. Lewis loved the messy theatricality both women brought to their work: "We didn't know what we were doing," he recalls, noting that, with Dodd and Kasper's creations, "there was this sense of dramatizing that process of learning in public."
It was around that time that Glauber was introduced to Lewis and his program. "He seemed less interested in the scene and the commercial side of things initially and was really just interested in what all these young artists meant within a broader art-historical canon," says the art advisor. "It set him apart from a number of his peers."
Eventually, the gallery's program grew to include older artists. Bloom, a photo-conceptualist whose brainy work never found the audience enjoyed by her Pictures Generation peers, and Edelson, a beloved but somewhat forgotten feminist pioneer, signed on in 2017. A year later, Lewis began working with the family of Thornton Dial, a then-recently deceased artist who had been pushed to art's margins as an "outsider."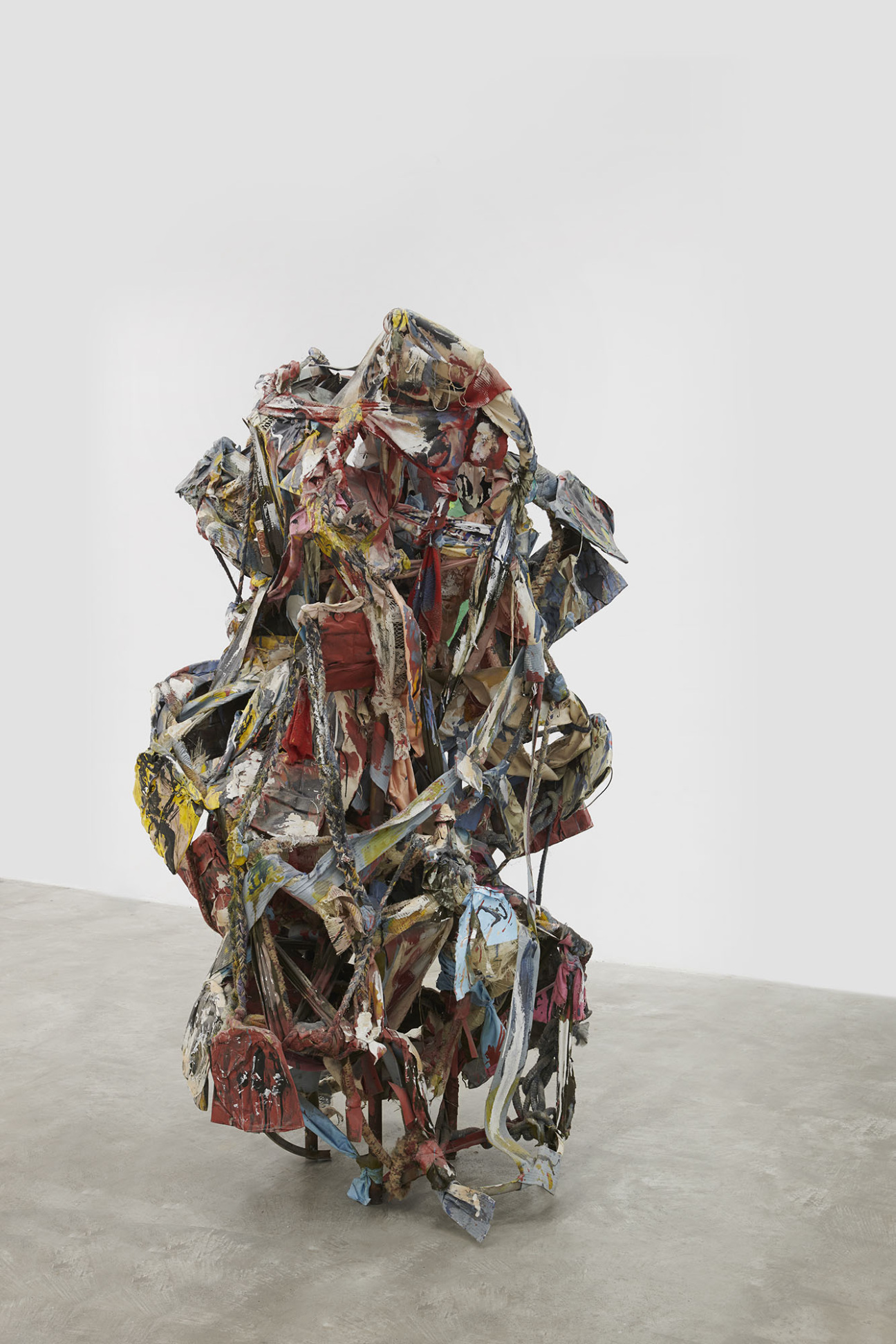 In Dial, Lewis saw what he calls "a giant art-historical challenge." A solo show staged at the gallery in 2018 helped reframe the self-taught artist's work, as did his role in the Metropolitan Museum of Art's major survey of works donated by the Souls Grown Deep Foundation that same year. Then there was this year's "Dial / Hammons / Rauschenberg" exhibition at the gallery, which rightly put Dial in league with 20th-century greats, no "outsider" asterisks needed. "By making it visible, and coherent, many people actually were able to see Dial for the first time, as a brilliant artist—no more, no less," says Lewis.
For the business, Dial's successes came with other benefits too. In the artist's 2018 show, artworks were priced around $200,000 to $250,000. Now, some go for "five times that," per the dealer. In general, he adds, "the shift to more historical material started to bring more serious collectors and much higher prices in very quickly."
Eventually, the gallery's bigger profile brought it to a bigger space. Lewis relocated the business to Tribeca in 2021, and, like others in the neighborhood's burgeoning art scene (Ortuzar Projects and 52 Walker, to name two), quickly become a destination for those seeking the kind of rigor and historicity rarely on offer in the big-box, flashy fare of Chelsea.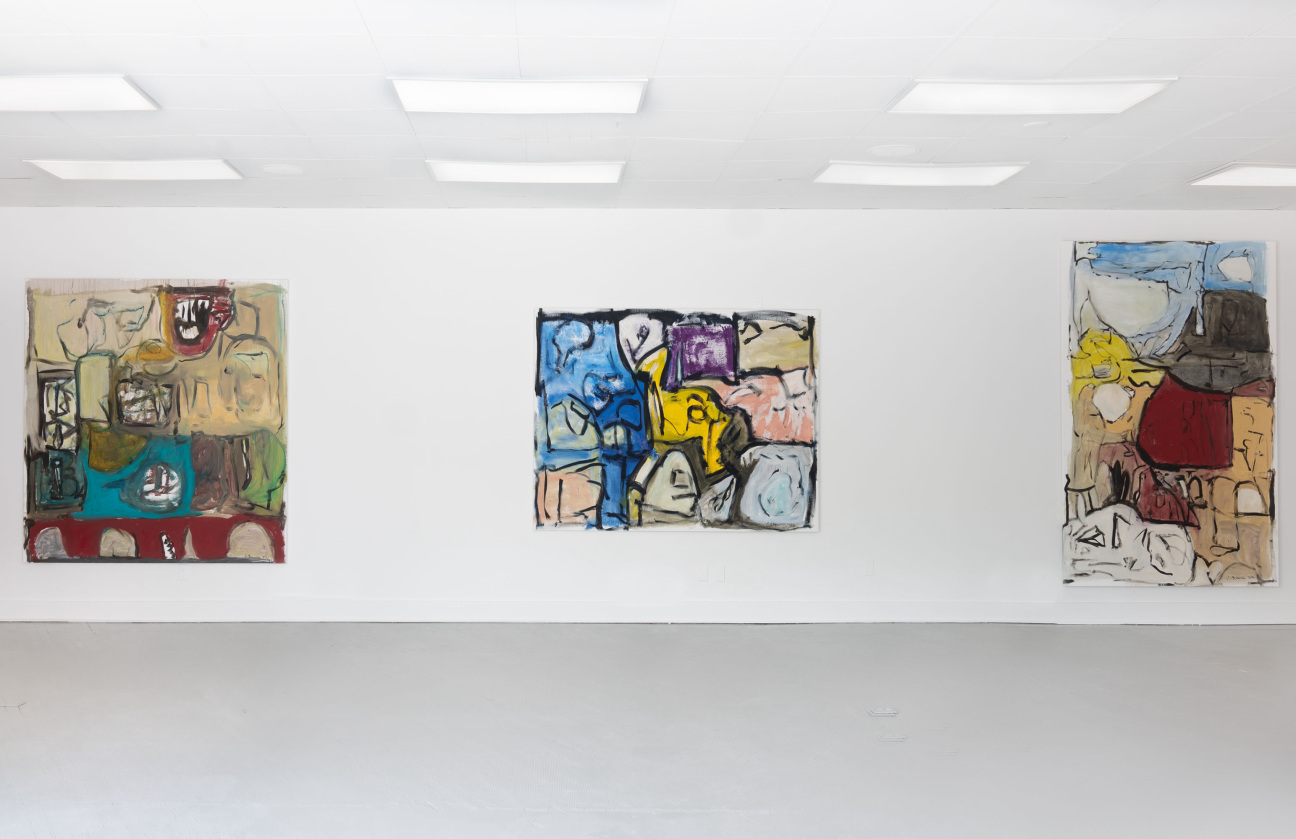 Now, Lewis's focus is on another misfit artist. In his East Hampton outpost, which opened last year, the dealer just debuted a series of abstract paintings by Claude Lawrence, a former jazz saxophonist who, in recent years, returned to painting. Now in his mid-70s, the artist lives in Sag Harbor's historically Black community and spent the winter making work at the gallery.
That Lawrence would be drawn to working with Lewis at this late stage in his career makes sense—at least according to Bloom. "He's so articulate about voicing the importance of what I do," she says of the dealer. "Knowing that you're really valued—that's what David provides."