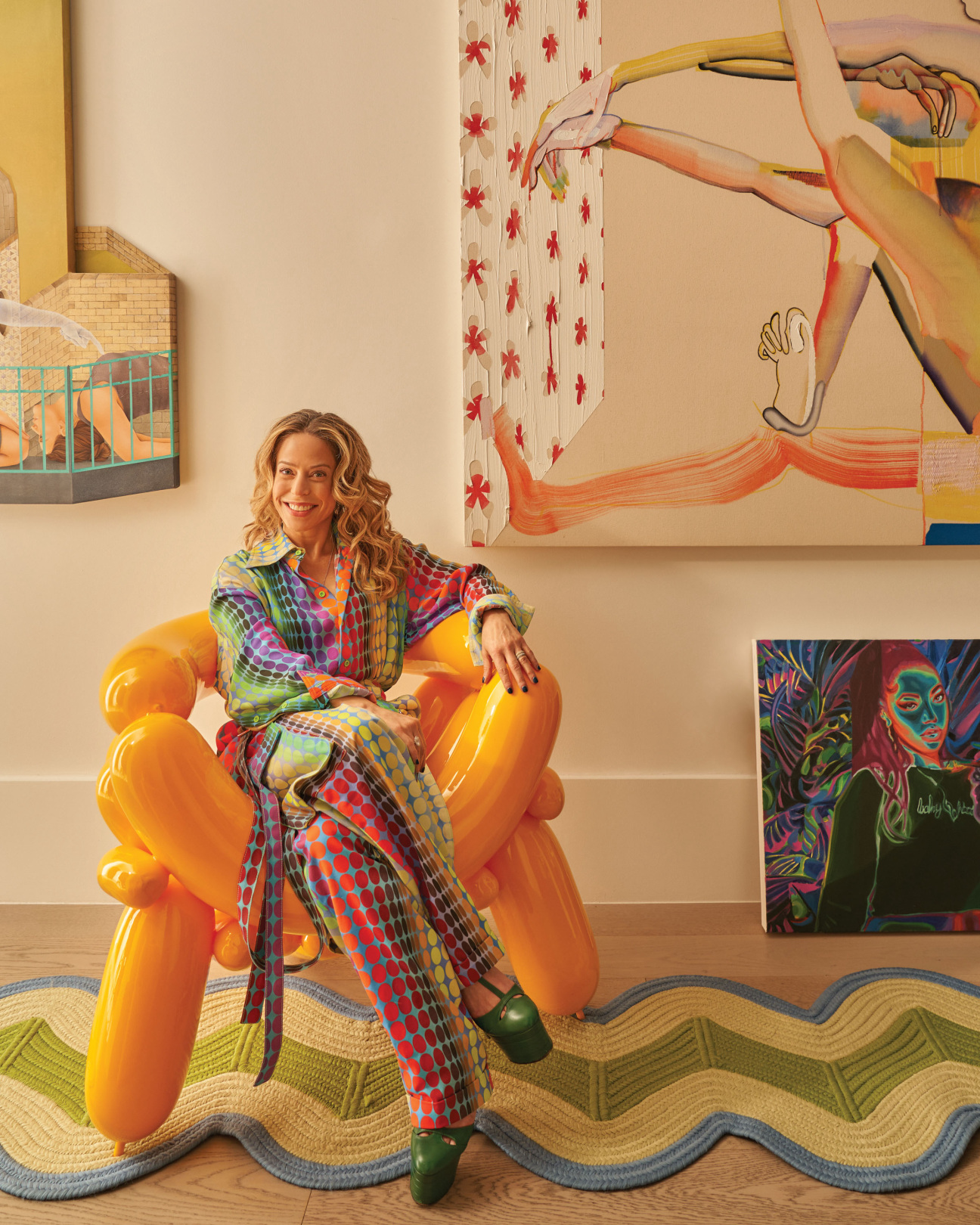 CULTURED: How has your personal collection evolved since its inception?
Karen Robinovitz: The way I collect is a reflection of my life journey. The art I want to live with evokes the spirit of where I am emotionally, mentally, intellectually. My taste evolves as I do. When I first began to collect in my early 20s, I couldn't afford much and my eye wasn't as refined, but I gravitated towards a fun, Pop sensibility. In my mid-30s, I was working hard, building my career, and the work I responded to was more aggressive and masculine in nature—dark colors, lots of energy. I collected Marilyn Minter, José Parlá, Rachel Howard, Wangechi Mutu, and Joyce Pensato. As I hit my mid-40s and went through some personally difficult times, I became drawn to softer, painterly works, especially by female-identifying artists. It was inspiring to live with their experiences, stories, and cultures—artists like Emily Mae Smith, Judith Linhares, GaHee Park, Dominique Fung, Hayv Kahraman, Arghavan Khosravi, Christina Quarles, and Donna Huanca. That is still where I am and where I imagine I will remain.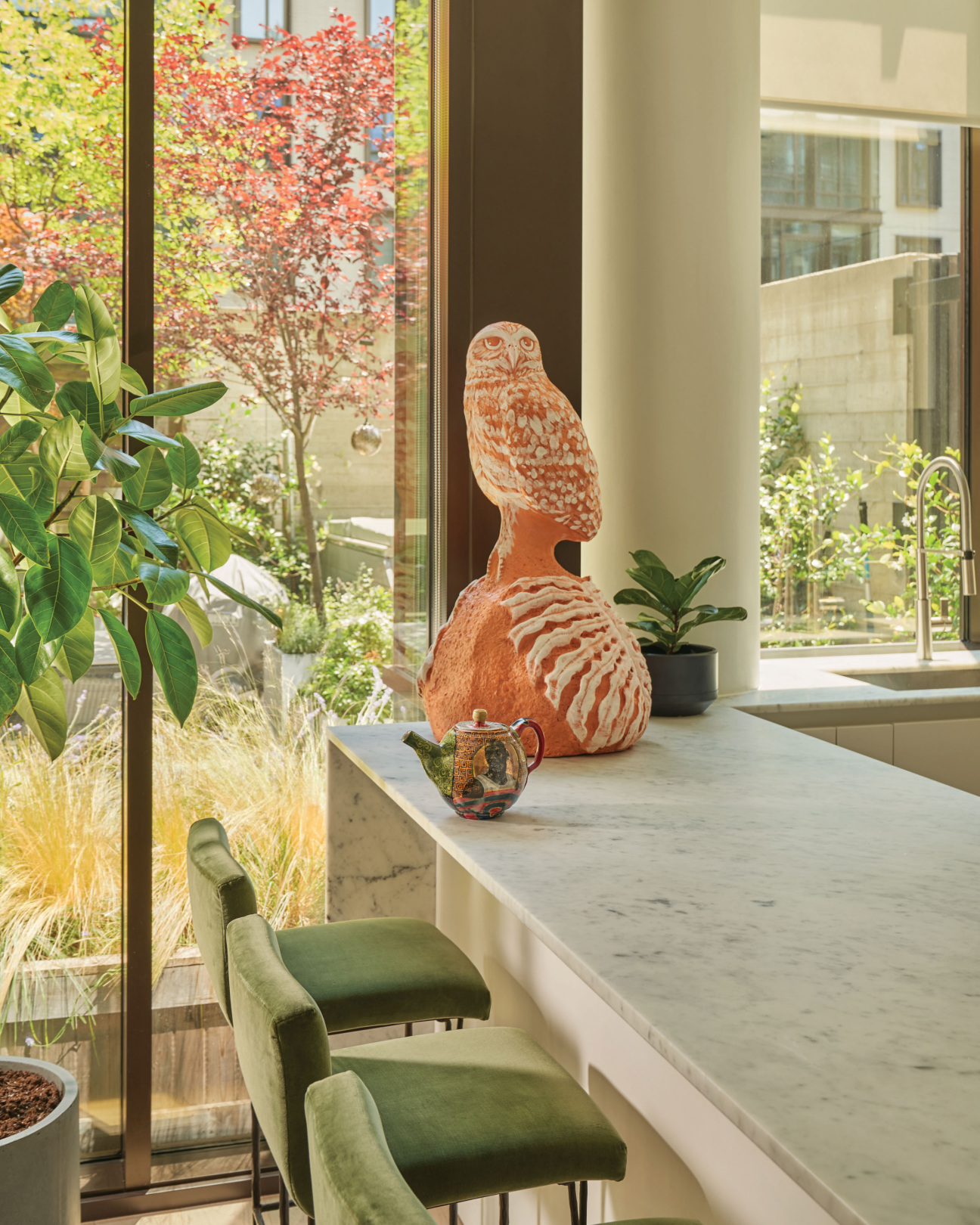 CULTURED: When do you decide to add works to your current collection?
Robinovitz: My collection is full of rich narratives that speak to identity, feminism, sensuality, and I am also attracted to pieces with a sense of humor. I don't necessarily look for new acquisitions; they tend to find me. I always go with my gut and what moves me, and I tend to focus on emerging and mid-career artists. I like to hang pieces so that there is a narrative and dialogue throughout my home. When you walk into my apartment, you're greeted by a playful Katherine Bernhardt "ET" and a small Emily Mae Smith of a broom looking through binoculars, as if the piece is watching you. Arlene Shechet lives near Ginny Casey, as they both have a sense of architectural form but in very different ways. Stephanie Temma Hier's apple pie with flies hangs in the kitchen with a very serious Louisa Gagliardi across from it—the juxtaposition works. The bedroom is punctuated with Ivy Haldeman and Molly Greene, both speaking in muted palettes but with such different contexts.
CULTURED: Sloomoo Institute builds environments filled with a sense of childhood wonder. Does that carry into your personal space and collection?
Robinovitz: I need childlike wonder in my life. As adults, we always forget the importance of playing. You can see moments of that in my collection: from Katie Stout's lady lamps, to Genesis Belanger's oyster/ear and tooth bowl, to vanessa german's stack of beads and Converse sneakers (though the message is much deeper than that), to Grace Weaver's women, to Joyce Pensato's Daffy Duck, to the dreaminess of Sara Anstis. I appreciate the balance of seriousness and pure happiness, [it's a] fantastical romance and oddly beautiful.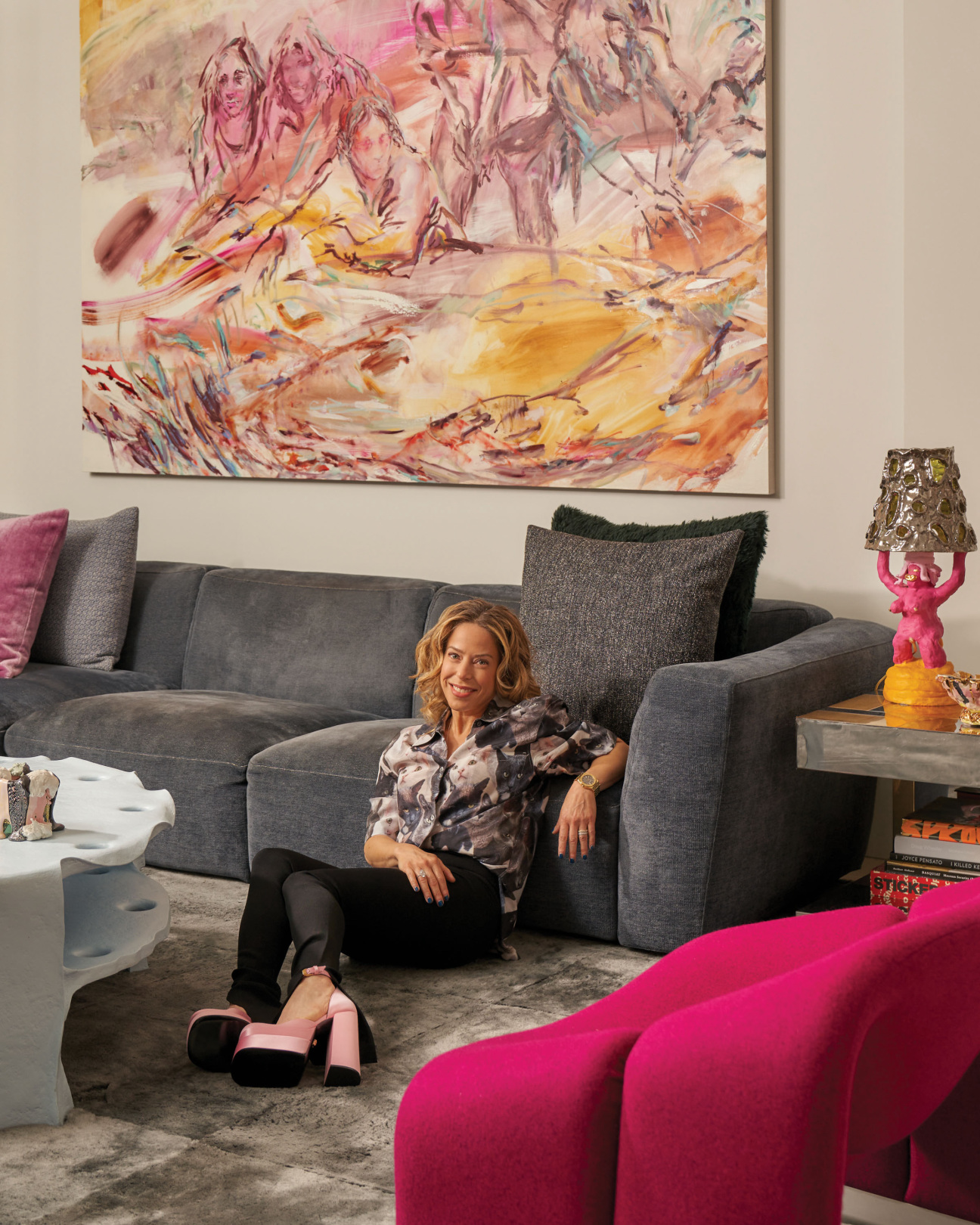 CULTURED: Do you remember the first piece you purchased?
Robinovitz: The first piece I purchased was a replica of a handgun, made of porcelain which was sculptured by way of a pastry squeezer. The artist is Martha Graham, who recreated her father's collection. I liked that it was made by a woman and had such a traditionally rough and tumble context but with a detailed, intricate delicateness. I still have it.
CULTURED: Which work or works provokes the most conversation from visitors?
Robinovitz: Christina Quarles gets a lot of attention. The language of her painting is precise yet gestural; the work has a light touch. There is a leg that sweeps across the bottom of the piece and you can see that it's done in one brushstroke. I feel like that takes so much confidence and control. It also oozes with intimacy and passion. The colors captivate. The braided hair is dimensional, off the canvas. The Donna Huanca sculpture also gets a lot of attention. It has a giant piercing, a long braid, and painted PVC shower panels. I see it as a still moment of her performaces. A lot of people don't quite know what to make of it and it always stimulates conversation.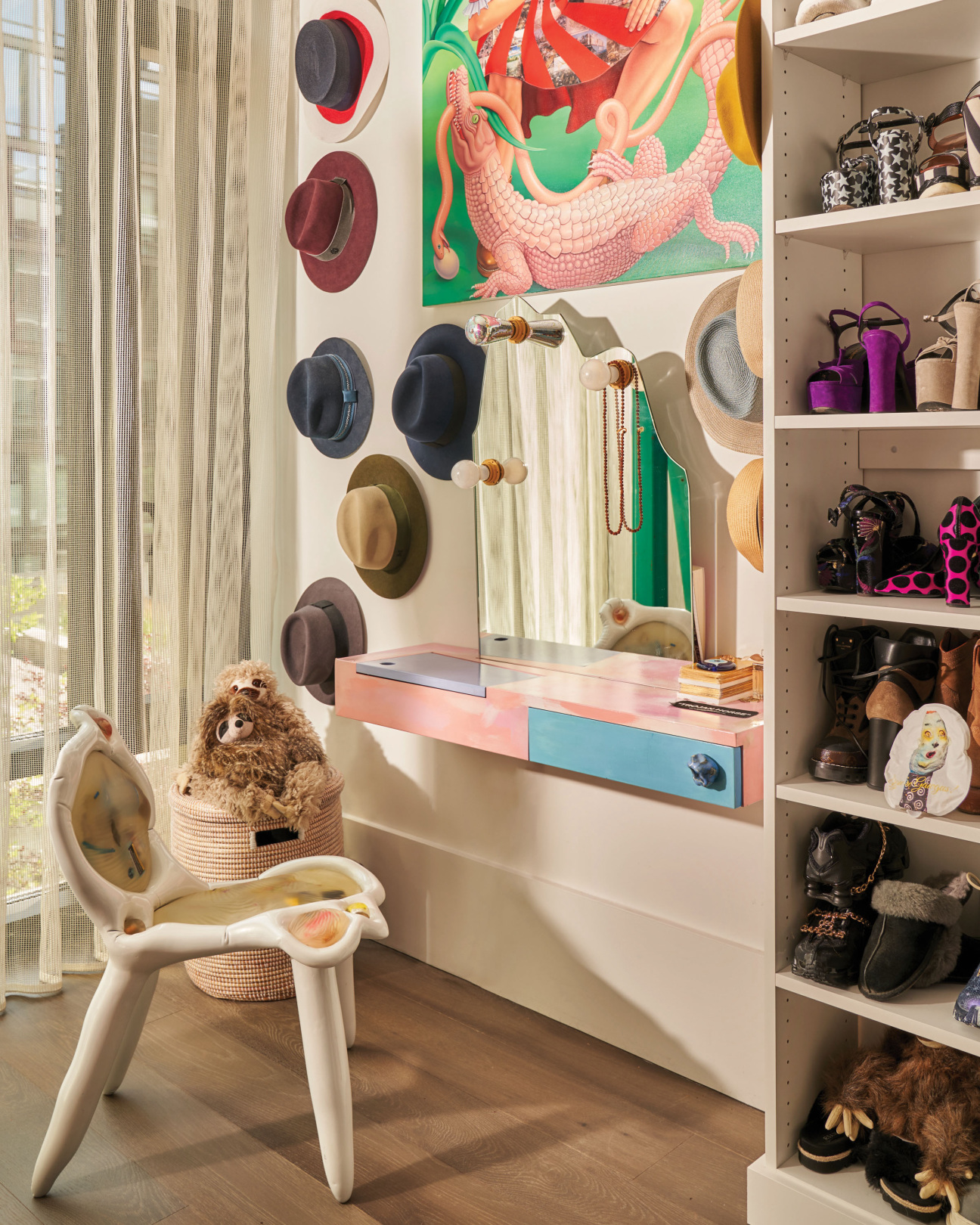 CULTURED: Which artists are you currently most excited about?
Robinovitz: Cristina de Miguel, Caroline Absher, Ana Benaroya, HyeGyeong Choi, Nadia Waheed, and Leigh Ruple are all creating works that are explosive with energy and emotion. Anaja Hvastija Gaia and Nadia Ayari give me the feeling of lyrical poetry. I love the painting and embroidery of Rugiyatou Ylva Jallow.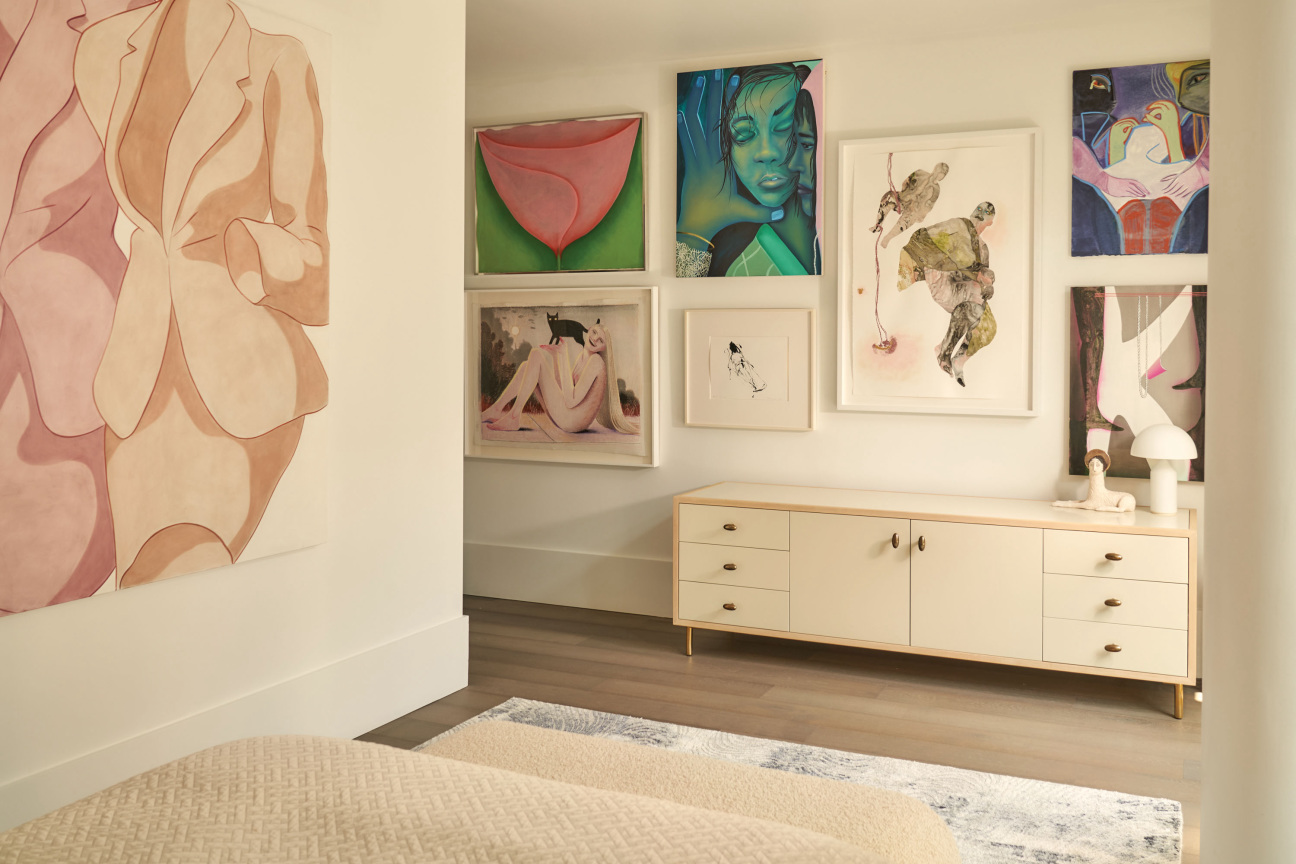 CULTURED: Your collection features a great deal of women artists. What makes that thread important to you?
Robinovitz: As a woman, I can identify with so many of the stories that are told through the work I collect. I feel like, together, we're almost a collective. Now that I'm in my 50s, I am at peace with so many of the things that caused struggles over the years. I feel the exploration of what the artists have experienced; whether we share a cultural upbringing or not, each piece is a way of understanding something important in today's society, be it achievements or struggles.
CULTURED: What advice would you give to new collectors?
Robinovitz: It sounds cliché, but spend time looking at art, reading about it, fine tuning what you love, and go with what you love and have a real connection with versus market trends.