Ana Benaroya thought there would be more baseball cards. Still, she's satisfied with The Metropolitan Museum of Art's "Baseball Cards from the Collection of Jefferson R. Burdick" exhibition, she says as we take a walk through the New York institution. Any new addition, especially one steeped in 1920s Americana, is a welcome inclusion to her childhood weekend haunt. And though Benaroya's upbringing is enviably more "Temple of Dendur" than Legends of the Hidden Temple, she'd never pooh-pooh lowbrow entertainment. In between Saturday viewings of Mark Rothko paintings, she spent her weeknights at home in New Jersey plowing through her father's comic books and collecting action figures.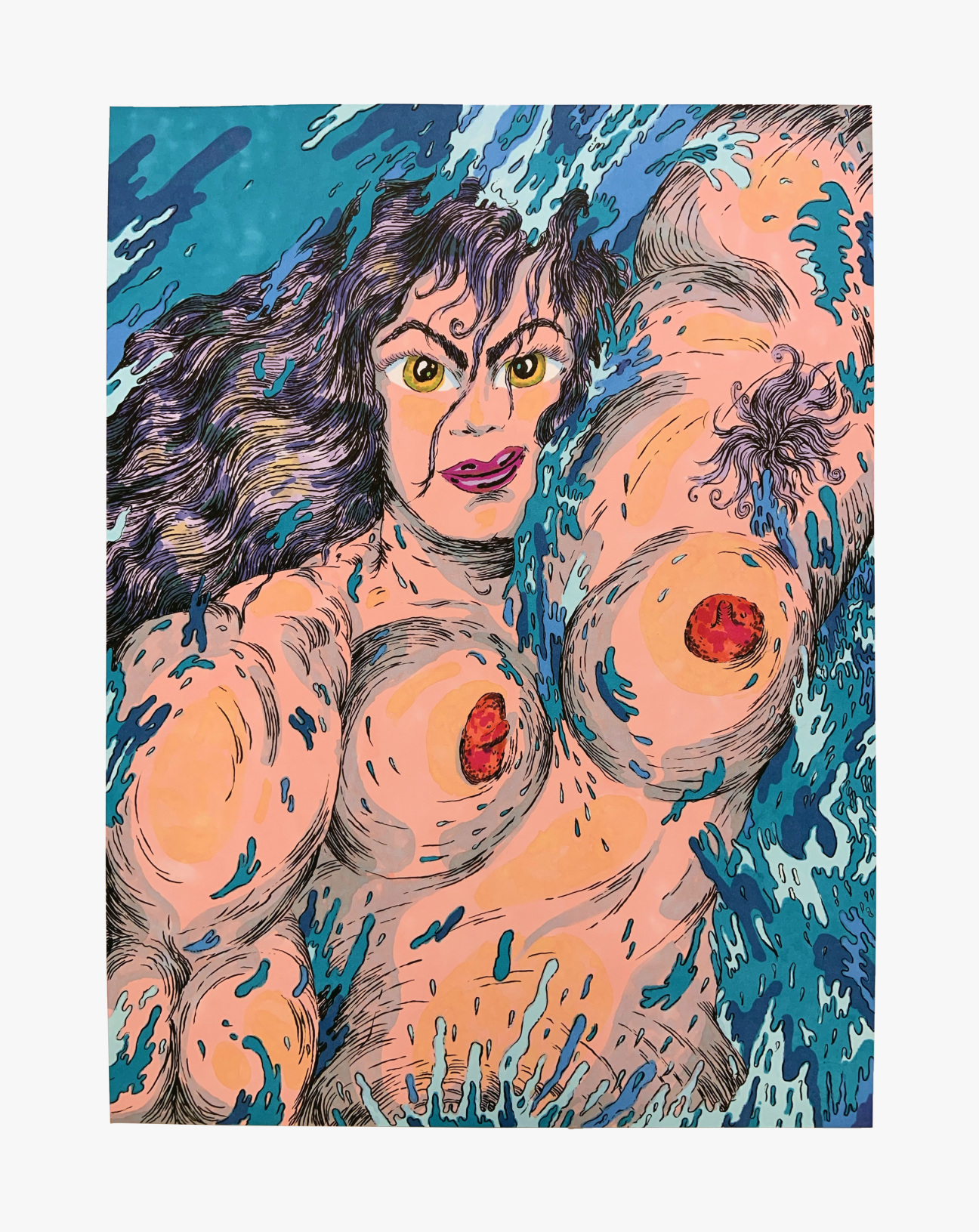 Today, Benaroya's interior mood board of Pablo Picasso and Stan Lee culminates in Esther Williams's water ballets. They're camp and not particularly synchronized, somehow completely contrived, but totally at ease. There is perfect stylization of flashing skin yet total modesty and sparklers emerging from the water. Men and women join hands to create a unified aquatic organism, waiting for Williams to drop in from the sky. They're dreamy and gender-specific—the modus operandi of Benaroya's own work.
"I want to depict women's bodies in ways that pull from comics, American history and my own desires," says the artist. Her female figures are "beautiful, but not traditionally beautiful. They're kind of monstrous. They're kind of grotesque. They combine both traditional feminine and masculine qualities at once. I think they seem familiar and yet I don't think they actually exist outside of the realm."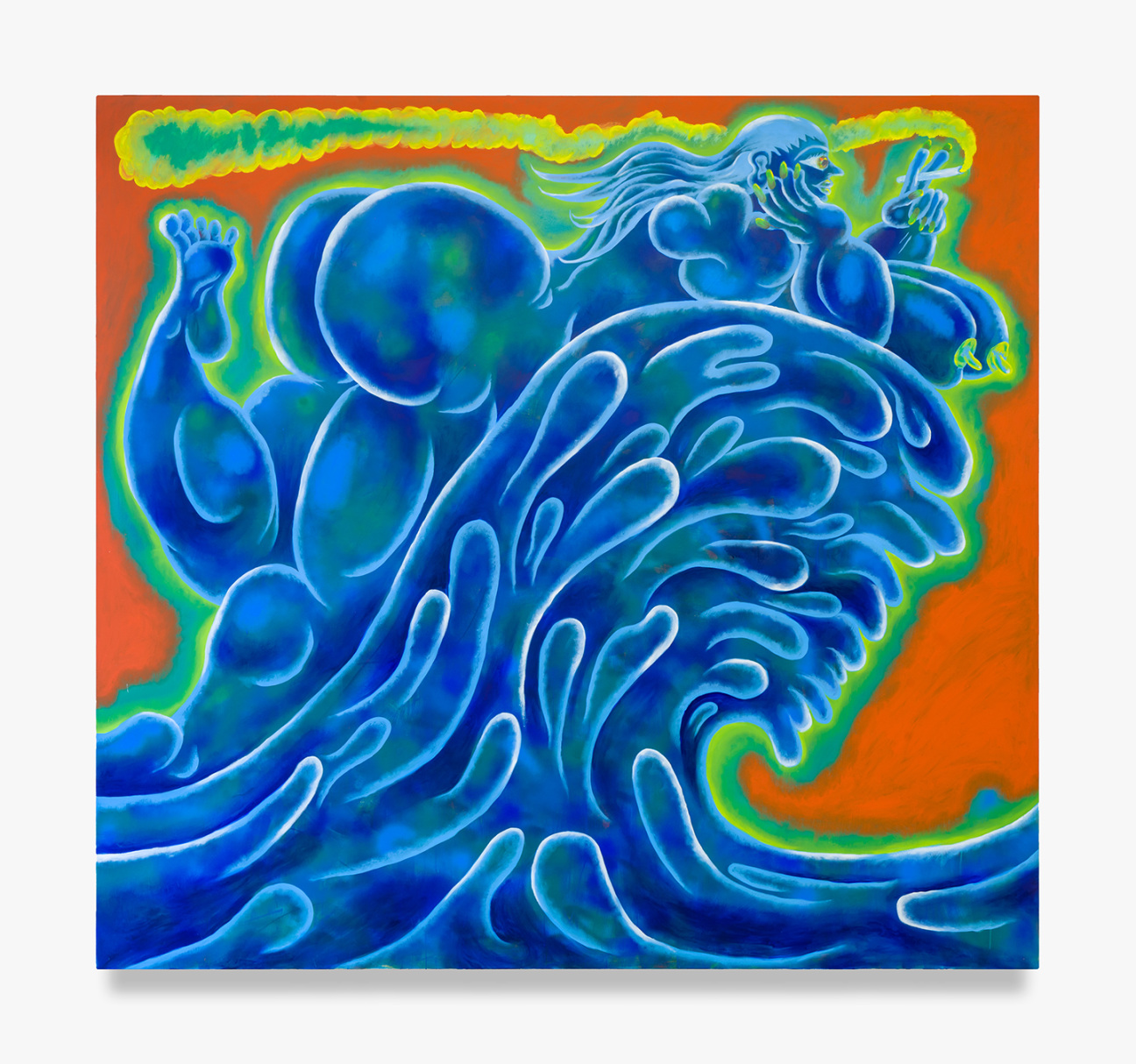 Benaroya's figural world is an intriguing one, full of fascinating women such as BeatriXXX: a lesbian, monster-fighting bodybuilder in a lesbian, monster-infested bodybuilder world. (Eventually, BeatriXXX and her six pugs end up going down a Gehennan sinkhole and fall in love with the Devil.) There are gangly, nude café dwellers and ab-tastic ladies gossiping in a Gertrude Stein salon. They're locked into a location that Benaroya then lets her imagination guide.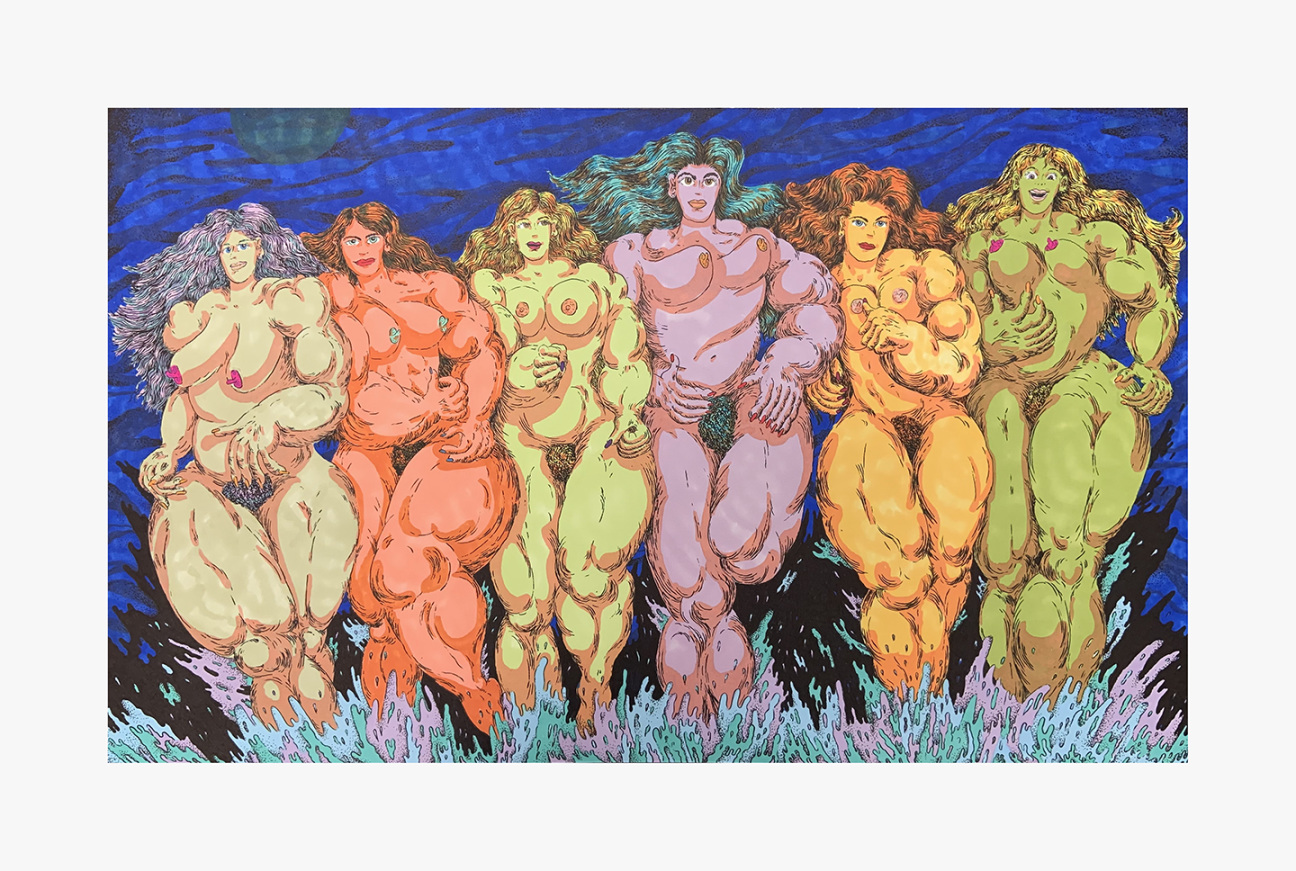 In her upcoming exhibition "Swept Away," which opens on April 8 at Venus Over Manhattan in New York, the artist broadened her scope to a new realm: water. "I would look at Sports Illustrated and the typical depictions of women in bathing suits. And then I started looking at Renoir's theater paintings, searching for luxurious ladies by the water like Bernard's women and bathtubs. I just became so interested," says Benaroya whose new works on view feature loose forms of buff ladies with protruding nipples. "In some of the work, they're composed, but in others, they spread," she describes. "I was thinking about how their form changes in similar ways of water." It's both serious and silly, a concept welcomed at her recent shows at Carl Kostyal and Morgan Presents. Though unlike in her previous exhibitions, "Swept Away" reintroduces viewers to the former illustrator's drawings.
As always, Benaroya's work is intrinsically female-centric and conceived through the lesbian lens. On canvas and paper, she creates a woman's world where men shouldn't anticipate their natural introduction. "I don't think they'll exist [there] anytime soon," Benaroya says, crumpling up the wrapper of her hot dog from the Met's neighboring cart. "I wouldn't understand their value add."