Anna Uddenberg left the debut of "Continental Breakfast," her latest show at Meredith Rosen Gallery, surprised. For her, New York was synonymous with loud, raucous crowds. "But I've never been to a more quiet opening," the Swedish artist remembers over a Zoom call. "It was dead silent. I was kind of shocked at how obedient everybody was." Uddenberg is back in Berlin, where she lives, and reflecting on the experience post-jetlag. She attributes the hush to the performers that activated the show's sculptural elements on opening night; perhaps the audience found them intimidating. With their bland skirt suits and hair slicked back in prim buns, performance artists Sally von Rosen and Mădălina Stănescu channeled flight attendants or hotel concierges, ushering and assisting the attendees around the gallery's tight 80th Street space, carpeted in Chase credit card blue for the occasion.
In the midst of this shepherding, von Rosen and Stănescu alternated climbing onto, and strapping into, Premium Economy and T-Top Tummy Tuck, Uddenberg's sculptures that are on view until April 29. With these, the artist has assembled steel, leather, fake rattan, and acrylic glass to generate pseudo-architectural structures that evoke airport massage chairs, Segways, and subway poles as much as they echo BBL recovery pillows and crutches. These works are a notable departure from the hypersexualized and overextended faceless female figures Uddenberg became known for in the late 2010s. It's a shift from the superficiality of selfie culture, "it-girls," and instrumentalized mindfulness to the visual language of what the artist calls "non-spaces."
Deliberately generic—they could be anywhere and everywhere—and often mind-numbing, places like airports, waiting rooms, and corporate offices are at the center of "Continental Breakfast." Hence the show's title, which flicks to the culinary ersatz that accompanies them. "It's not about the actual food, but more about the ideas we project onto it," Uddenberg explains. "You project a bunch of cultural fantasies onto a piece of trash. My work is about the idea of simulacra, all these surfaces that imitate other materials. Let's call them 'aspirational materials.' It's just spinning off a copy of a copy of a copy."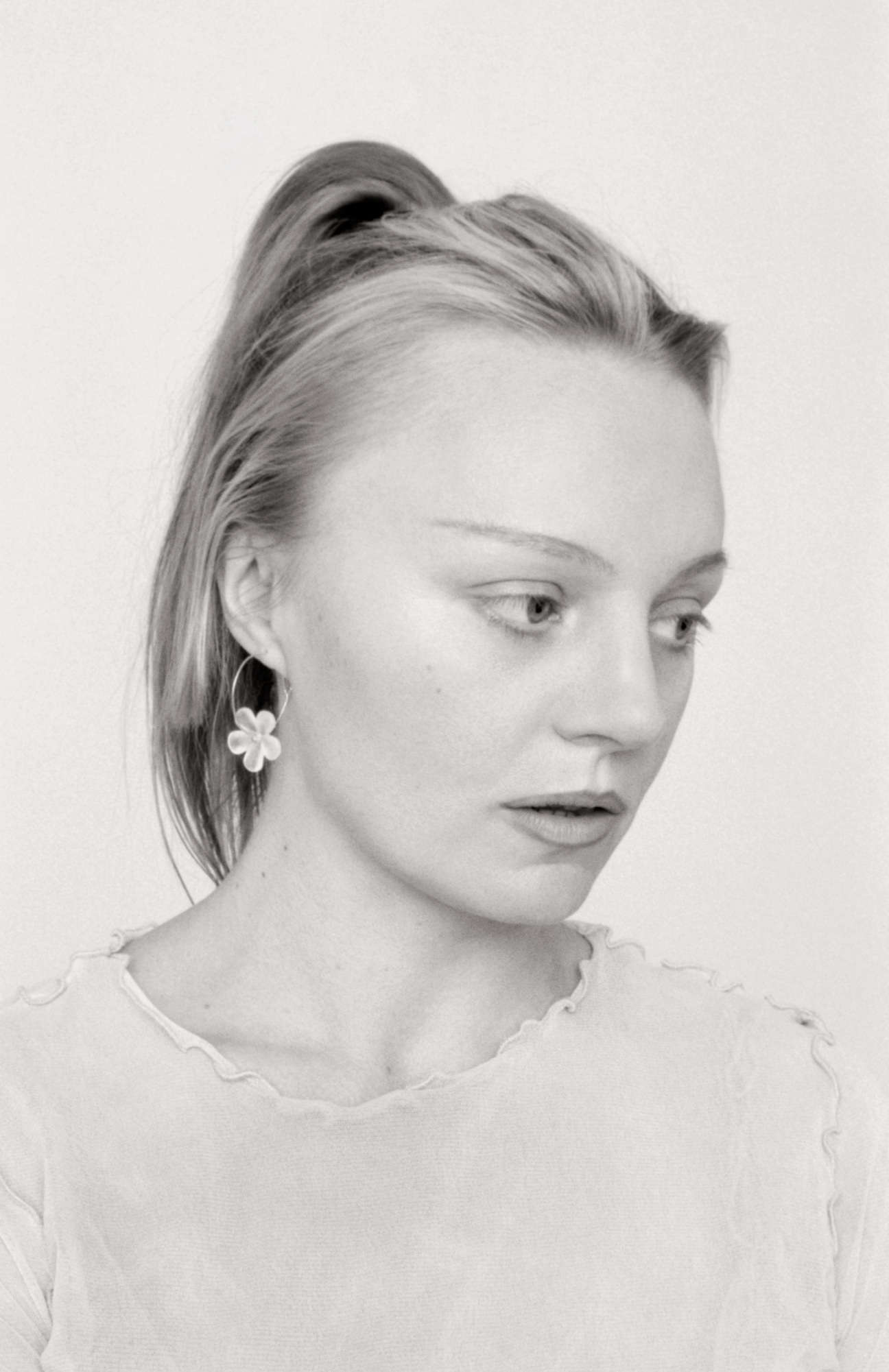 In her research for the show, Uddenberg collected images of housing development facade models displayed outside of construction sites. She transposed the sterile, goal-oriented, and optimized vocabulary of these real estate blueprints onto her sculptures. "I'm thinking of them as architectural mock-ups that squeeze everything into this 1 square meter, where the body should fit as well," she says. The artist also rewatched Netflix's Selling Sunset, searching for signifiers "that are really expensive but look really cheap, like sliding pocket doors and kitchen islands." Supposedly efficient material technologies that check boxes for which late capitalism has created both the need and the remedy.
Reality television has been a rich pool of inspiration for Uddenberg. During her furniture-making days in Stockholm, when she and Madeleine Norling collaborated on a design collection, she looked to The Angry Carpenter, a Swedish show centered on a shit-talking, you guessed it, carpenter. (The artist has personal ties to the trade. Both her parents were carpenters, and her mother was the first certified female boat builder in Sweden.) For her first figurative sculpture, Jealous Jasmine, 2014, Uddenberg drew from Cheaters, another show in which people unleash private investigators on their allegedly unfaithful partners. Across the screen, she reflects on the genre's impact: "Sometimes I think I'm trying to translate reality TV into sculpture, which is kind of impossible but also a fun idea."
Uddenberg looks to these shows for pre-influencer culture examples of authenticity used as currency. The "authentic self" and its marketable opportunities are a throughline in most of her work, but the artist is quite ambivalent about the societal demand for it and the presentational dexterity it entails. "Maybe the fake is more authentic than whatever you think of as authentic," she says. A statement that could easily pass as agitprop for a post-sincerity movement. But Uddenberg insists that her motive for artmaking is not to merely illustrate the political: "Instead of representing something, I want to trigger something so that it becomes real in a way."
During the performance that inaugurated "Continental Breakfast," Uddenberg highlighted the contracts we agree and adapt to on an everyday basis. In a gallery space, the consent we often give away mindlessly in places like customs lines, buffet counters, and elevators is troubled. Under the hypnotizing guidance of von Rosen and Stănescu, no spontaneous resistance occurred, and fraught silence instead ballooned the space. "The crowd submitted instantly to these two performers," the artist remembers. Perhaps as people left the gallery, they considered and contested that tacit agreement. Or maybe they just went AirPods-in, world-off mode and continued to exist without a crinkle. Regardless, the sculptures remain as a trace of and container for that turbulence. As in an airport, bodies move in and out, but infrastructure stays put, witnessing our concessions big and small.
"Continental Breakfast" is on view through April 29, 2023 at Meredith Rosen Gallery in New York.