Devin B. Johnson's textural paintings are embedded with visceral energies influenced by the Black body and music—sometimes the nostalgia of his childhood in the church, other times by the jazz that echoes throughout his Ridgewood, Queens studio. For Black History Month, the painter and CULTURED Young Artists 2021 alum has created a bottle design for the craft rum brand Ten To One, which co-owned by musical artist Ciara and Marc Farrell. Entitled Inner Glow, the work recontextualizes the word spirit as both a commodity of the African diaspora and a conduit for cultural connection. "The skin tone pays homage to the various hues of the people of the Caribbean, which could radiate shades from purple and red, to blue and orange, speaking to the diverse lineages that we all come from," explains Johnson of his painted figure. "I want people to see themselves in the artwork, not just people like myself who come from the Caribbean, but anyone who has an appreciation for rum and the historical significance of the spirit in the African diaspora."
Joshua Glass: Today is the first day of Black History Month. We know about the historical and societal importance of marking this time of the year, but can you talk about its personal significance to you both?
Ciara: Black History Month is a very special and important month. It's a beautiful thing for our community to know that there is a time like this to look forward to, especially on the heels of MLK Day. As a Black woman, I feel very proud of a month like this, and it's exciting being able to highlight artists like you, Devin, and create beautiful collaborations through our brand. It's so meaningful and there's so much opportunity in times like this.
Devin B. Johnson: The beautiful nature of Black history is that it's being rewritten and rebuilt in the present off the shoulders of the giants that we've stood on. And now we can progress and move mountains using the examples of all these people that have aligned themselves with making the spirit of African American ingenuity into beautiful creations. I feel honored to have a part in something like that—to have a stage and to be in a place where my efforts can maybe contribute to moving that along. It's not enough to just celebrate for one month but it's good that we have a month that's recognized for our creation and for what we've done in case we've forgotten.
Glass: To kick off the holiday, Ten to One created a limited-edition bottle in collaboration with Devin. How important is it to highlight young, Black creatives?
Ciara: Oh, it's huge. From my own experience as an artist, there was nothing better than having someone who believed in my vision from day one. Someone who said, "We think that girl has what it takes to be everything and more." History can be made when you get support. The discovery opportunity is huge. Devin's work is phenomenal, and to be able to highlight that and to use our platform to put as many eyeballs [as possible] on it is such a beautiful thing. Support on that scale—on any scale—is a game changer.
Johnson: I feel very fortunate to have come from a household that supported not only my, but also my brother's, creative endeavors. Because of that cushion, that cloud, I was able to believe that my dreams were obtainable. It also let me recognize what and where I came from to become an almost beacon of light to others that didn't necessarily have the imagery or the instructions to find their way. This idea of reaching back down or paying it forward helps everyone, and I feel that my voice as an artist is to let others know that this thing is obtainable. It's possible—it's so possible—you just have to really believe.
Ciara: My family has been a huge component to my world as well. I wouldn't be where I am now without my dad grinning from ear to ear and sleeping on sofas in the studio while I recorded. Truthfully, my mom was a bit more reluctant about me doing music. She was kind of like, "I don't know about that industry. Everything I've heard about it is crazy." But even in the midst of her fears about the new world that I was embarking [into] at 14, she gave me enough support to go follow my dreams. That's the greatest gift that a parent can give a child. You gotta give them love. It is the greatest force on earth. Love empowers, love encourages, love lifts, love supports, right?
Glass: You are linked together in a shared bond of music, although it has permeated your lives and affected you both in different ways. What does music mean for your practice now?
Ciara: Music is an outlet that allows me to channel all my energy—the good and the bad—into something beautiful. That's why I named my company Beauty Marks Entertainment, because all the scars that you get from the obstacles you face in life are actually your beauty marks. It's my way of looking at life and being grateful for my successes but also my failures, too.
Johnson: Yes, music is a conduit. It awakens you, it moves you. The work becomes physical. It becomes active and it becomes fun. When I'm in the studio with the music on, I'm reacting to the energies that the music is giving me and the space and the pace of that genre.
Ciara: There's something about music that's just so therapeutic, it's so good for the soul. Like I said, love is like the most powerful force, but music is also just as powerful. It has the gift to bring the world together. I always say music is the foundation not the limitation.
Johnson: Music is so integral to my life because I grew up in a church with my dad, nana, and grandfather. My nana was a soprano singer in the choir, and my dad played the organ. I have these fond memories of sitting on the bench watching him play, and seeing how his body was able to move and rejoice. That elation of the drums and the organs and the choir—the crescendo of energies in that space—awakens a type of Holy Ghost or Holy Spirit through which amounting happens, right? All components come together, and the body moves and wakes: shakes off, shakes out, and releases. I guess you could say that music has the capacity to alter, mount, and link people together. One question for me has always been: How do you harness that?
Glass: The church has historically played an important role in Black social culture. What about the prominence of rum either generally or personally?
Ciara: Rum was the first spirit that I had of any kind. It was my 21st birthday, and I got to, you know, sip on a little somethin' somethin'. Fast forward to the pandemic after I had given birth to my third baby. At the time, I had been breastfeeding for like 10 months, which was longer than I had done before. It was beautiful, but it was also time to shut it down. And celebrate! The first drink that I had was Ten To One rum, and I won't forget it. It marked a special time in my life: going from the transition of breastfeeding my child into my next phase of motherhood with three babies. It was a celebratory moment, for sure.
Johnson: When I was maybe—I don't know, definitely not of drinking age—my parents had a cabinet of this pink bottle of rum from Aruba. I guess I was curious. I used to go in there and just take little sips of it. It tasted like pure cane sugar, it was so sweet. It's one of those things where if you're not drinking it, you'd probably find it in a rum cake. My mom's mother's favorite recipe to make was actually a rum cake. I never got the chance to try it because unfortunately, she passed away before I was born.
Ciara: I was just recently in the [Caribbean] Islands, and it's amazing how rum is everywhere and in everything. Whether you're in Anguilla or Jamaica or Trinidad, it's in the drink or in the cake or in the jam. It's a cultural thing.
Johnson: Rum is just inherently a Black thing. For Inner Glow, the artwork I created for Ten To One, I wanted to think about the idea of a "spirit." I also wanted to put a face to the people that reflect the diaspora, bridging the worlds of the Caribbean, Jamaica, Trinidad, Tobago, D.R., etc. I also thought about the quality of the rum, the natural elements like its tobacco leaves, cinnamon, and cardamom. So, the figure you see is a compilation of my reactions to all those different references. It's also about looking forward—looking outward—and being ready for the future. You see that in this sort of profile view of a portrait. When thinking about how to make the painting work for the bottle, I decided I wanted it to feel seductive and mature. Rather than being tied to pessimism—like others might think—I thought of this blue as rather calming and serene. It's really cool to see the work transpose onto a different physical object.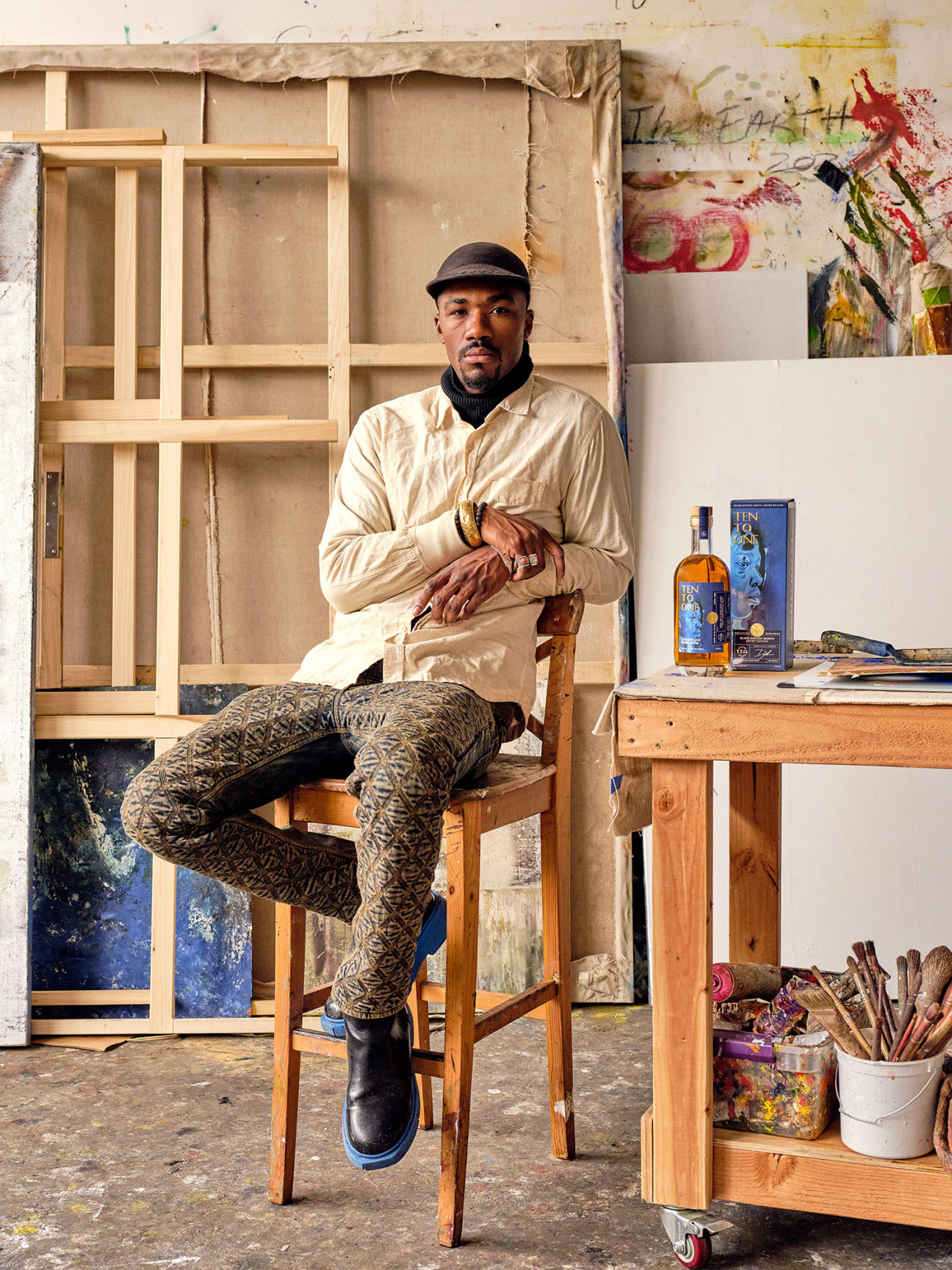 Glass: Speaking of looking forward, what are you excited about in the coming months?
Ciara: I'm looking forward to 2023 in general. You know, it's just getting started. And if I must say, I feel like it's starting off pretty good. From a life perspective, that's really been my greatest focus—to make sure that I allow myself to live and enjoy life moments, like when I put my Ten To One shots in the air. I'm looking forward to being able to continue to celebrate other young talented people like Devin. I think that's where I get the most satisfaction from what I do. I love being on the stage with my fans—that's pretty special—but I also love being able to create opportunities for people, especially for people from the Black community. Being able to highlight all that greatness in the world is a gift.
Johnson: I'm open to where things will take me. I think having faith in the journey is something that keeps you grounded. Whatever is in my way or whatever is coming to me, I know it's for me, and I already know that I have the tools to adapt and succeed. I'm really proud, and I'm really excited to look forward to all the blessed things that are going to come in this year.