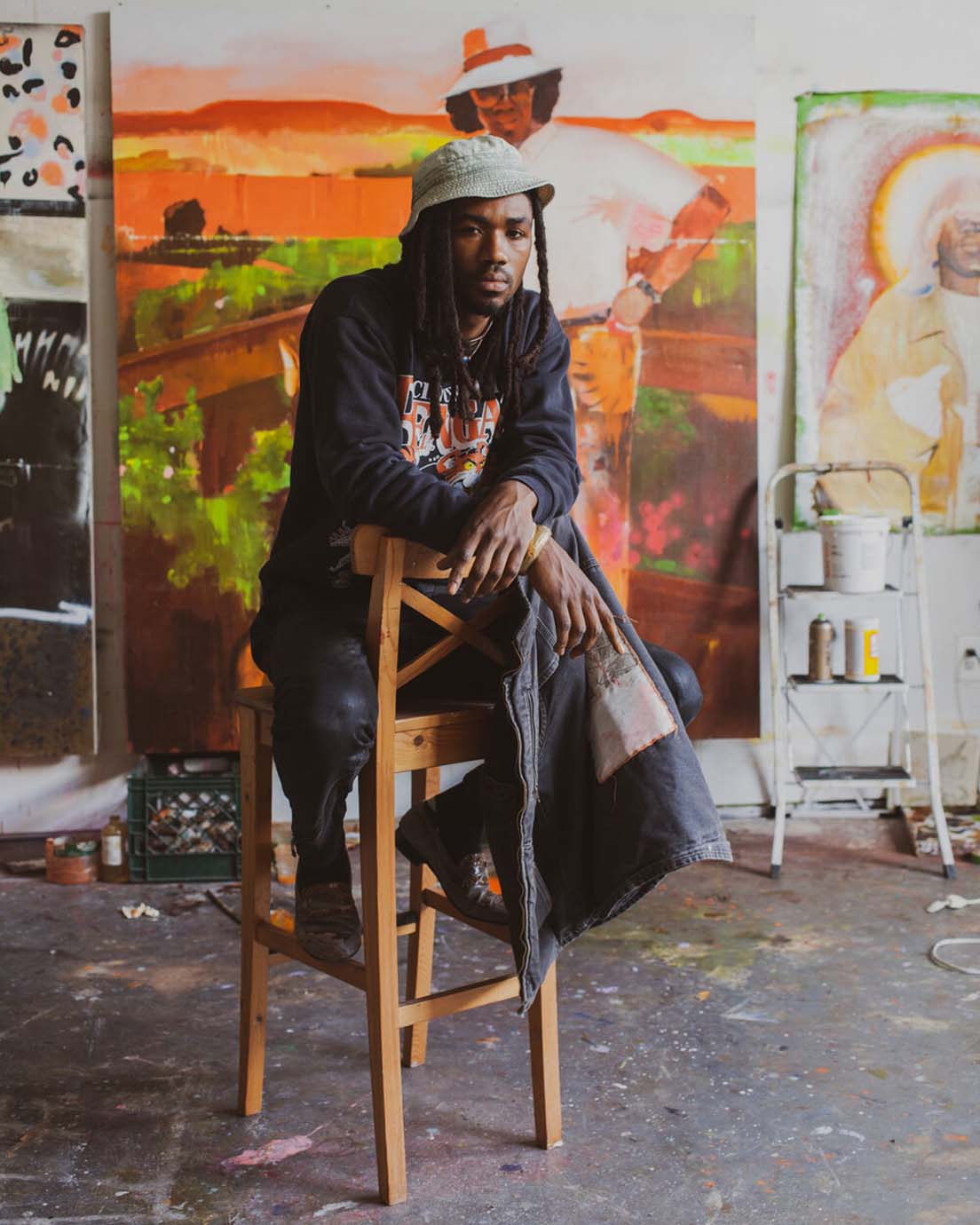 Devin B. Johnson's sculptures and textural paintings carry spirits and energies through space. The abstract figures are fragmented and intertwining with the environment. There are brushstrokes revealing a variety of speeds. Bricks, drips and splatters meet hints of floral pattern. "I'm a daydreamer. I'm a Pisces. I'm emotional, sensitive and intuitive," he describes. Johnson moved to New York City from Woodland Hills, California in 2017 to pursue his MFA at Pratt Institute. He became inspired by the liveliness of the city—its graffiti, ripped posters and urban marks. This pushed his journey toward exploring "memory of place." The layers of paint tell stories of different times and moments; if Johnson's work was rendered in music, it would definitely be a jazz song filled with abstract sounds, riffs and spontaneity. To no surprise, I discover that his father was a piano player and his Nana was a singer.
Johnson sources his figures from photos of loved ones "that pull strings of nostalgia." In that, he memorializes people and their essence. At the same time, he sources from different streams of consciousness for each piece. "When I'm approaching the surface of the canvas, I'm thinking about tactility and memory. I'm thinking about how different iterations of paint over time can also make an image that is almost in between this bridge of ambiguity. It's a realization of figuration and abstraction. Abstraction for me is guided by intangibility—I think about Blackness in a way that is intangible to define," he notes. Grabbing from the past, his own instincts and the totally abstract, Johnson solves his own puzzle. "I'm putting together these fragments to make something that's whole."
As for 2021, Johnson has much in store. He is currently finishing pieces for major institutions in his hometown. He'll have work in Art Basel Hong Kong in March and Frieze New York in May, a two-person show in Bucharest, also in May, and a solo exhibition with Nicodim Gallery in Los Angeles in September.