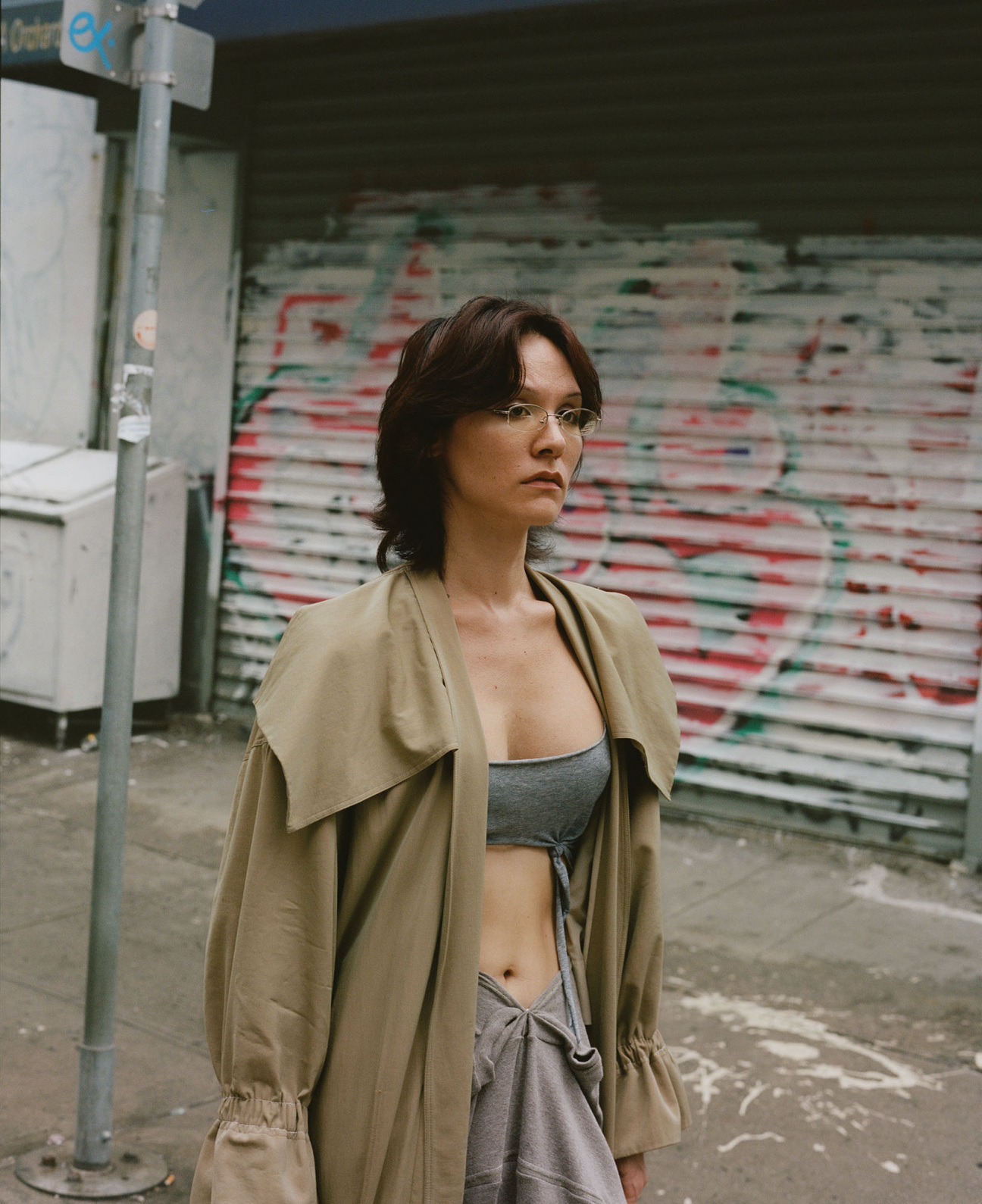 Gogo Graham is at the cutting edge of the New York fashion scene's new vanguard. The interdisciplinary artist founded her boundary-pushing eponymous brand in 2014 after shifting her focus from studying biology at the University of Texas at Austin to textiles and apparel. Since then, Graham has reflected the world around her through unique storytelling and fabrication processes that, according to Graham, "give new life to forgotten, discarded, and recycled materials" while marrying fantasy with the familiar. For her runway show this past September, models sauntered down a dimly lit Bushwick runway, simultaneously exposed and obscured. Accessorized with sheer hooded masks, Graham's looks were daring, delicate, and deconstructed: skin-tight miniskirts with raw edges, lacey layers of silk and jersey, and prairiecore dresses slashed and shredded.
The reworked and upcycled Spring/Summer 2023 collection was inspired by speed—not only in our social economy, but also as a reference to "speedrun" videos, in which gamers record themselves racing to the end of video games in absurdly short lengths of time. In mixing gamer culture with sustainability, Graham establishes herself as a creative comfortable chanelling multiple stimuli, moving easily between worlds.
While her identity as a trans woman informs her artistry and her perspective as a designer, it does not define it. "When I first started, I thought I needed to be doing something that really changed the way that people think about gender identity," she recalls. "But I realized that I was not an activist myself, I was a fashion designer. Things should be said by the people who actually know what they're talking about." Because of this, Graham looks to those she's met at protests—writers, artists, and changemakers,such as Hari Nef and Hunter Schafer—to represent her brand, often casting them in her shows and collaborating with them on projects. "They constantly inspire me," she says. Like her muses, Graham asserts that the fashion industry needs substantial change—specifically by resurfacing its "heart and soul:" "I don't want brand recognition to continue to be the most important thing," she says. "That's not exciting or interesting to me if you're already some big rich entity." As for her own her work, Graham insists on telling stories that are a genuine expression of her own story and those of her friends. Graham's hope is that when people encounter her authentic, provocative creations, they will feel that they are heard and understood.