When Cafe Clover ended its seven-year run at the downtown confluence of Greenwich Village, SoHo, and the West Village, Kyle Hotchkiss Carone left a cryptic message on its website: "We hope to find a way to re-emerge in some form when the dust settles."
But the restaurateur-about-town would never leave his sceney devotees high and dry. A hop, skip, and jump away from the farmer's market-driven organic eatery sits American Bar—Carone's Covid-19 baby, which, like any younger sister, rebels against Clover's West Coast-inspired health conscious cuisine with glutinous clubhouse fare and a raised eyebrow of Uptown pretension. (Pigs in a blanket topped with caviar…why not?). Bathed in the amber hues that were the preferred palette of architect Sir John Soane, accessorized with grandiose emerald banquettes and rattan chairs flown in from the Piazzetta di Capri, and adorned with Luke Edward Hall and Clementine Crawford prints, American Bar is a world unto itself—one of nostalgic splendor, sumptuous decor, and chicken tenders.
It's something Carone does with ease. Through Grand Tour Hospitality, the 35-year-old restaurateur has conspired a roster of distinctly seductive restaurants that are arguably more famous for their impossible-to-snag reservations and—should you manage to get through the door—immersive "vibes" than for their menus. This is not to say that the group's Culinary Director Carolina Santos-Neves's food plays second fiddle, no, but rather, that it is an elemental device for the worlds Carone builds around it. At Saint Theo's, for instance, the salsa verde branzino topped with mint and a squirt of lime tastes just a bit more Venetian when served atop the terrazzo speckled bar adorned with Pirelli calendar tear-outs and colorful Murano glass sconces. The restaurant's clandestine second lounge, where cicchetti and cocktails await behind a luxurious velvet curtain, makes the experience all the more decadent.
At Holiday Bar, Grand Tour's latest venture, the only remaining vestiges of the space's previous life are the Cafe Clover matchbooks sentimentally sprinkled throughout Carone's back office. Two years in the making, it spans the entire site of the former restaurant as well as that of its defunct coffee shop neighbor, so that the triangular dining area, now sunken, rests beneath a social bar sized for LA. Flushed against its mirror, a jacked Narcissus illuminates the room from overhead. Colossal in physicality and scale, the neon sculpture was created by installation artist Fotis Evans as an homage to the '80s gay nightclub Paradise Garage, which once stood around the corner. "It was supposed to be pink, but I thought it was too much," laughs Carone, nodding toward a bright fuchsia spotting nearby, a Barbara Kasten work from Bortolami. Rather than peering down at his own reflection as per the textbooks, Evans's Greecian hunk holds one hand aloft in a Tony Manero fashion: "He welcomes you to the party."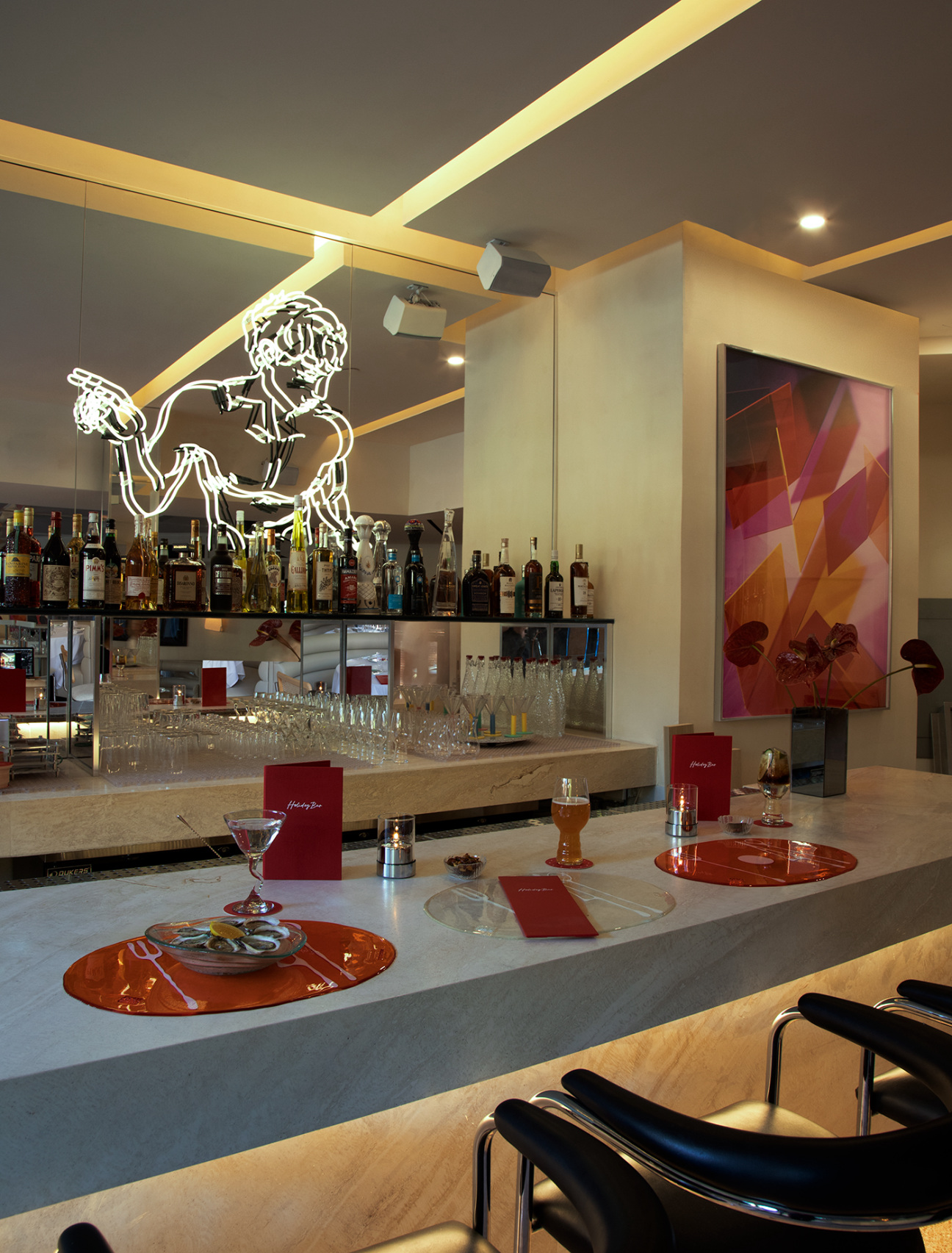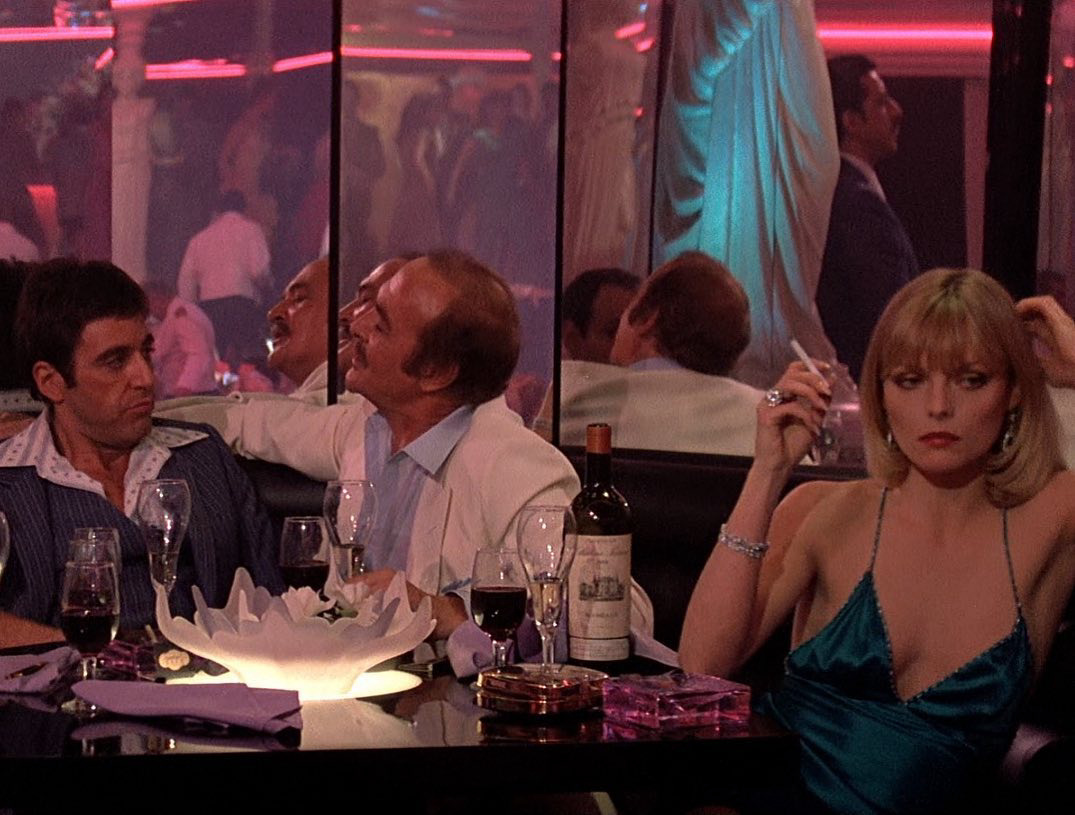 While "Saturday Night Fever" is mentioned often when Carone describes Holiday Bar, which debuted this past weekend, the restaurant was primarily designed around Pas de Deux, five screen-printed works by Alex Katz that Carone acquired just two years ago. "It's the first real art I ever purchased," he explains, noting that the opening's overlap with the Guggenheim's Katz retrospective was just pure luck. Indeed, the American painter's prints are front and center in Holiday Bar's main dining room, accented by soft-scale light sculptures created in collaboration with Marrow. A cluster of elephantine half-moon booths to be shared by no less than six diners sit at the front of the room below the paintings. The space then opens up onto larger sections reminiscent of Wolfgang Puck's Santa Monica mainstay Chinois On Main, where standard four-top tables await beneath Pierre Cardin-esque chandeliers.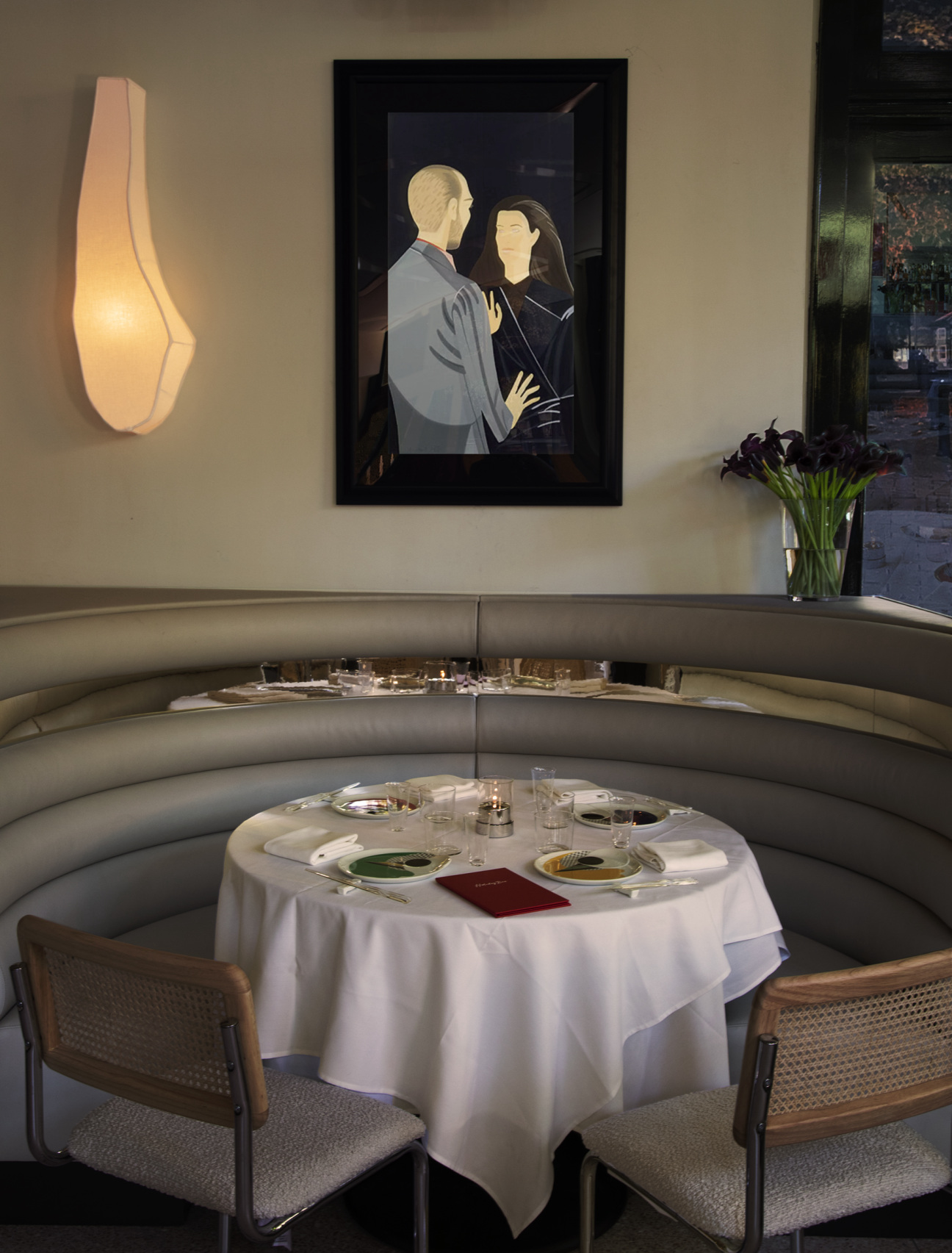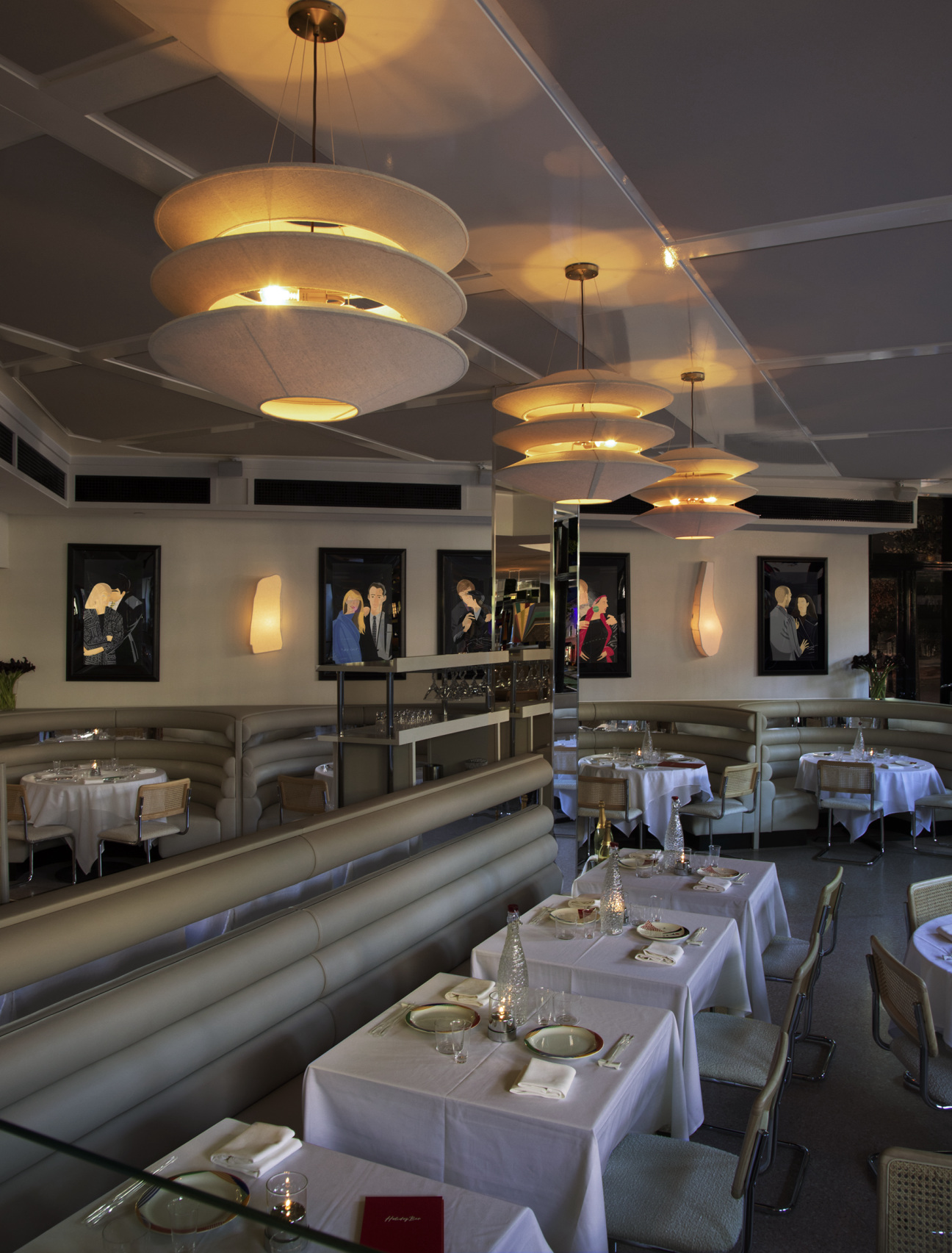 An orgy of white leather, chrome, acetate, and mirrored panels deepen the '80s fantasy, but Holiday Bar is not entirely lost to that decade—even if the screeching loop of Scarface and the scents of the Drakkar Noir and Giorgio on offer in its bathrooms suggest otherwise. "It's not a movie set," the owner insists. "The restaurant is not built entirely on nostalgia; we mess it up a little bit so it becomes more interesting." Anachronistic details like a recent Louis Vuitton runway show (a second en-washroom screening, while a third plays the film Caligula) and pink terrazzo floors inspired by Peggy Guggenheim's Venice Palazzo accomplish this, as does the incongruent tableware, partly commissioned from Gaeteno Pesce and party sourced from Etsy as well as the restaurant's actual food served atop.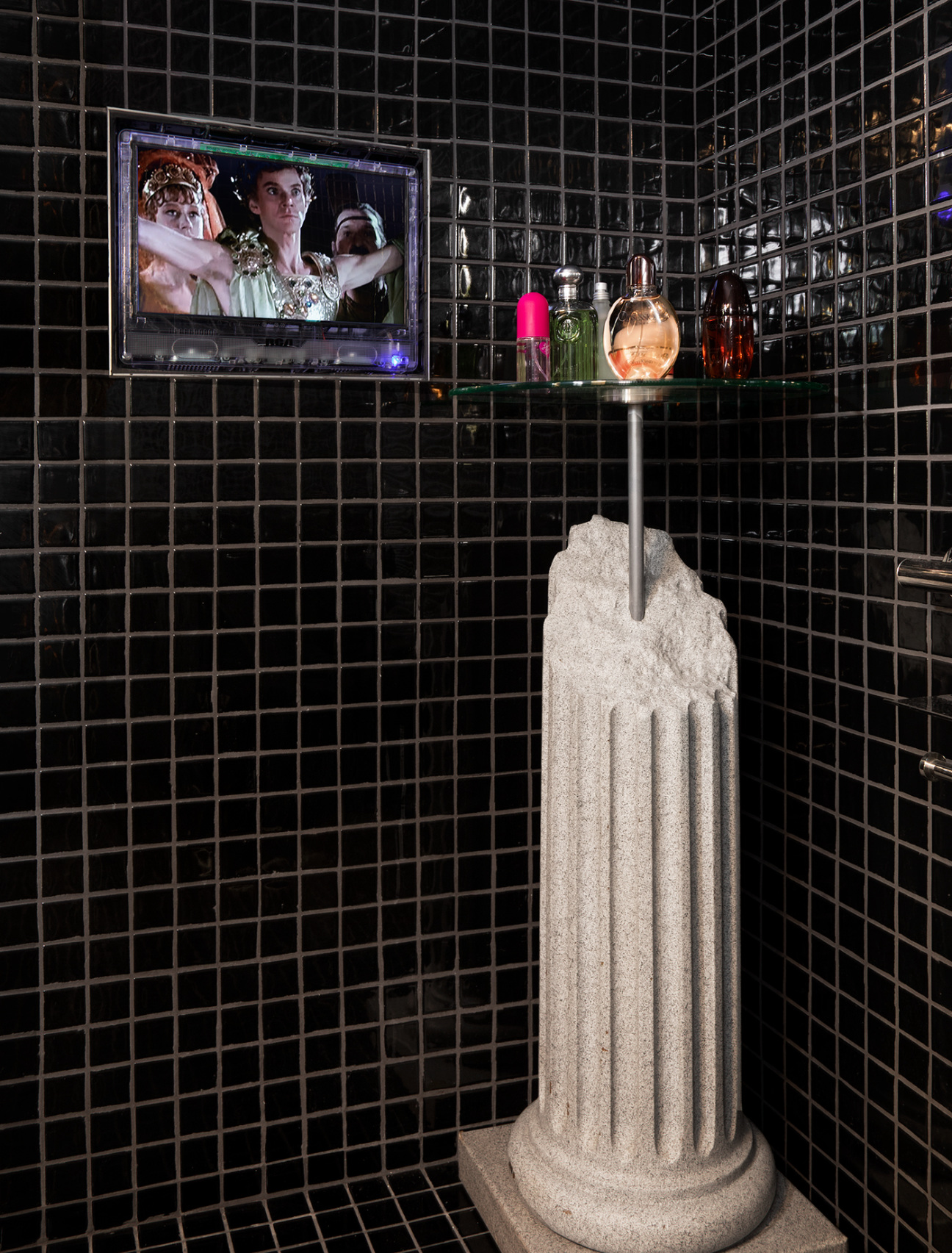 The connection between the restaurant's cuisine and its aesthetics is less obvious than the rest of Grand Tour's portfolio, which can be more easily summarized via elevator pitch—the member's club, the power lunch, the Italian getaway. Instead, Holiday Bar, which takes its name from the dishes that Carone and his cohort have indulged in during their travels— from J Sheekey in London to Satyricon in Rio and traditional Mozambican cuisine—offers an eclectic selection of treats by chefs Marc Howard and Dina Fan. King crab and grape ponzu tuna sashimi on the restaurant's raw menu kick off the night, while Grand Tour's expectedly large salads (look out for the fried chicken cameo, a carryover from Saint Theo's) segue to an assortment of appetizers where the sesame scallion bread with tahini yogurt is a standout. But the entrées are where Holiday Bar's true sensorial delights appear: spicy jerk chicken with curried peas, smoked chili-flaked squid pasta in itameshi broth, and an array of meats seared, flanked, and topped with caviar. Those with any room to spare are compelled to order a side of kewpie and togarashi-seasoned curly fries to accompany a round of Asian-inspired and classic American cocktails.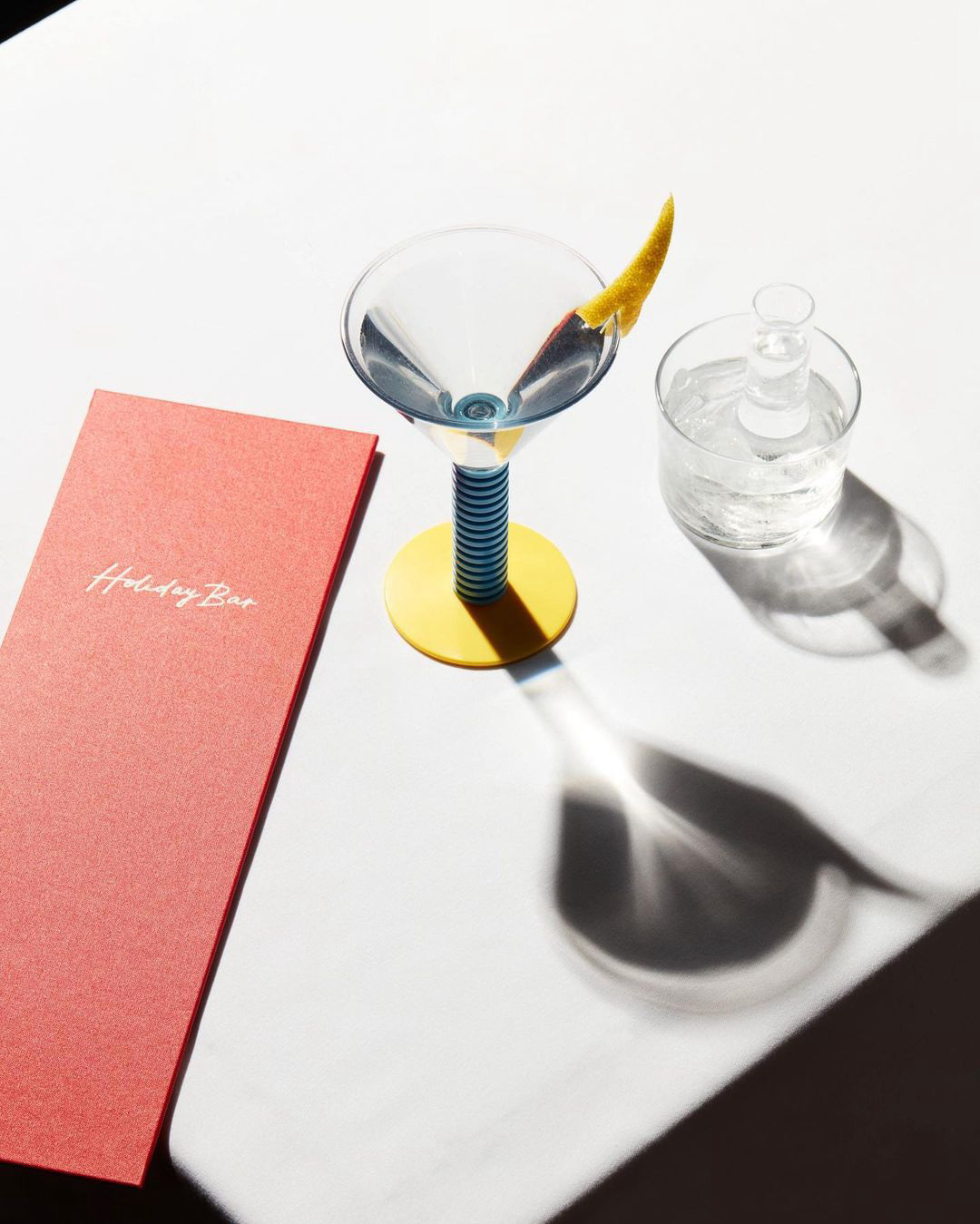 Back at the bar, the Pesce table mats are an especially pride-worthy acquisition for Carone, who didn't anticipate that the legendary designer's work— like that of Katz—would enjoy such a perfectly-timed en vogue moment in pop culture. Along with every other building block of Holiday Bar's world, the thick, semi-flexible resin leaves a mystifying impression—especially two martinis in. "I guess it doesn't all need to make sense," says Carone. "That's the beauty and the fun of it."

Holiday Bar is now open at 10 Downing Street, New York, New York 10014.