Stepping into designer Maximilian Eicke's Bridgehampton, New York studio, the first thing one notices are the walls. Jade green, giltwood paneling set with built-in curio shelving wraps a generous seating area just inside the doorway. Designed by Sir Charles Carrick Allom of Buckingham Palace and Frick Mansion fame, it dates to 1938 and spent its former life in the dining room of the since-demolished Penguin Court, a Mellon Scaife manse in rural Westmoreland County, Pennsylvania. In 1966, the room paneling sold at auction via Sotheby's predecessor Parke-Bernet Galleries to a Los Angeles dealer. In the 1970s, Eicke's own antique dealer father purchased it from his storage unit.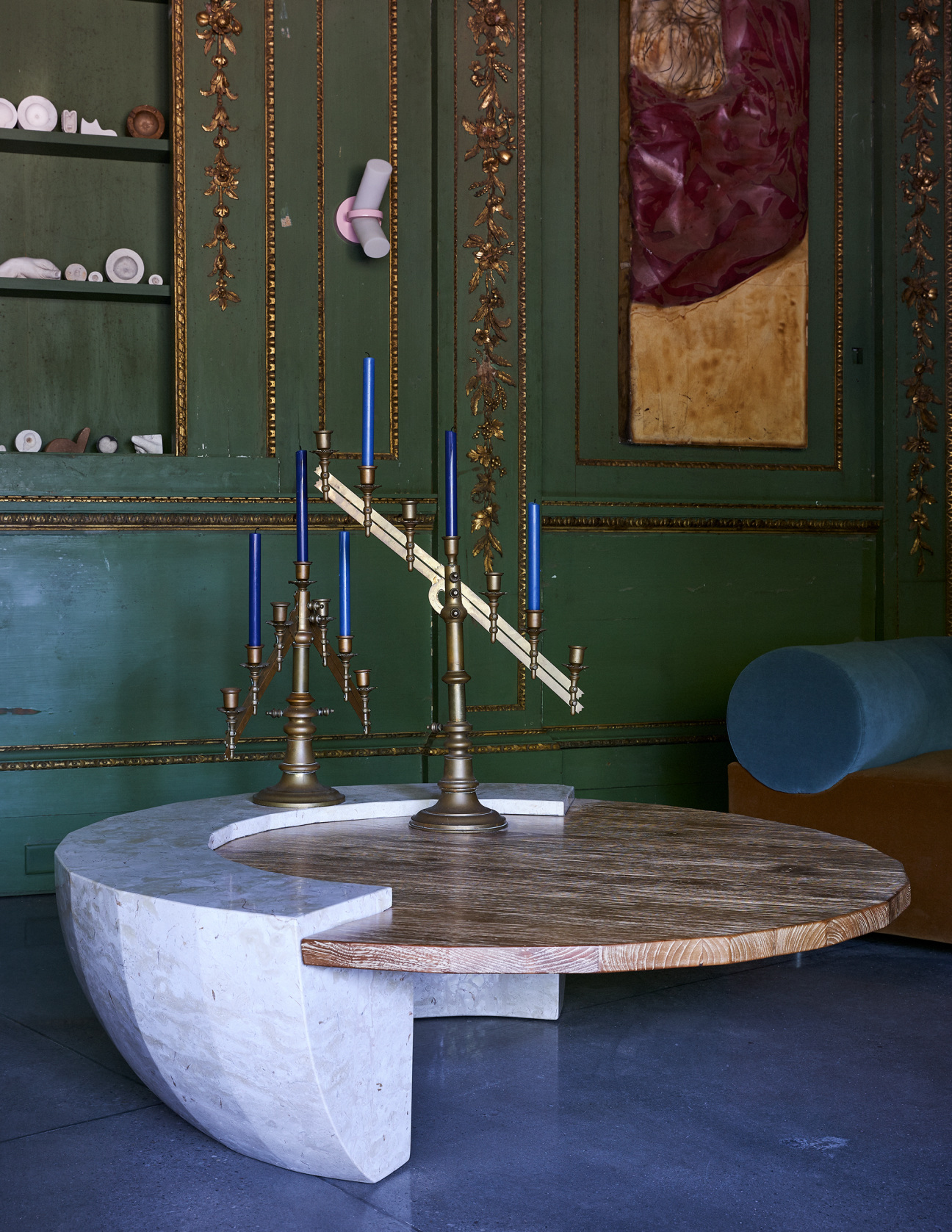 Though not contemporary by any means, this paneling represents the origins of Eicke's practice—surrounded by historic design since childhood he carries this appreciation for enduring craft with him, and it influences his work today. "This room was always the one that I remember; I even still have photos of it when my dad unloaded the container first—I think 30 years ago—and in his warehouse on Shelter Island," says the German-born designer. When he made the decision a few years ago to convert the Bridgehampton space from storage unit to studio, it was the first thing he thought of to decorate, saying, "You can never give this room the credit it deserves in a storage pile." Much of it fit with no modifications, and in the newly completed, light-filled storefront space, it shines, original scratches and all.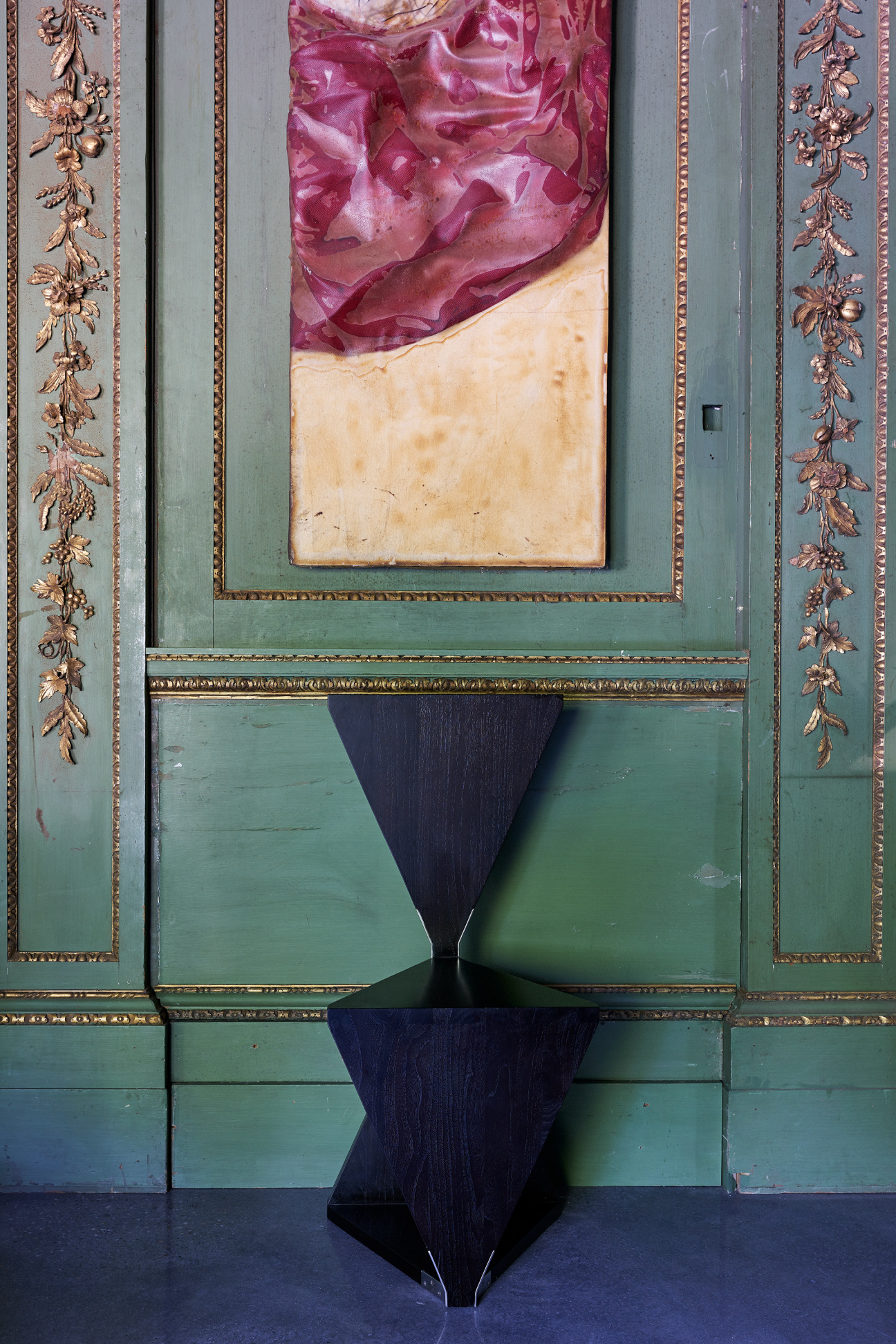 With an oeuvre spanning geometric tables, luxuriously upholstered seating, unique lighting, and glacier-influenced glassware, Eicke approaches his work architecturally, designing furniture he can physically make with industrial materials or using three-dimensional modeling to create angular geometries. He grew up mostly in Sag Harbor, New York, where his parents ran the beloved Christy's Art Center antiques gallery. After studying interior design at Griffith College in Dublin, he moved to Bali, met his Russian-born creative and life partner Irina Eicke neé Kro, and built a home. The designer cites the Bauhaus and De Stijl movements as long sources of inspiration. But it was there in Indoensia that he learned to appreciate the organic forms he saw around him and now, with Irina's encouraging eye incorporates a new softness into his work with an emphasis on natural materials. The Balinese home he designed is a sort of living showroom, where prototyping and research and development occur (but one where his parents also now live).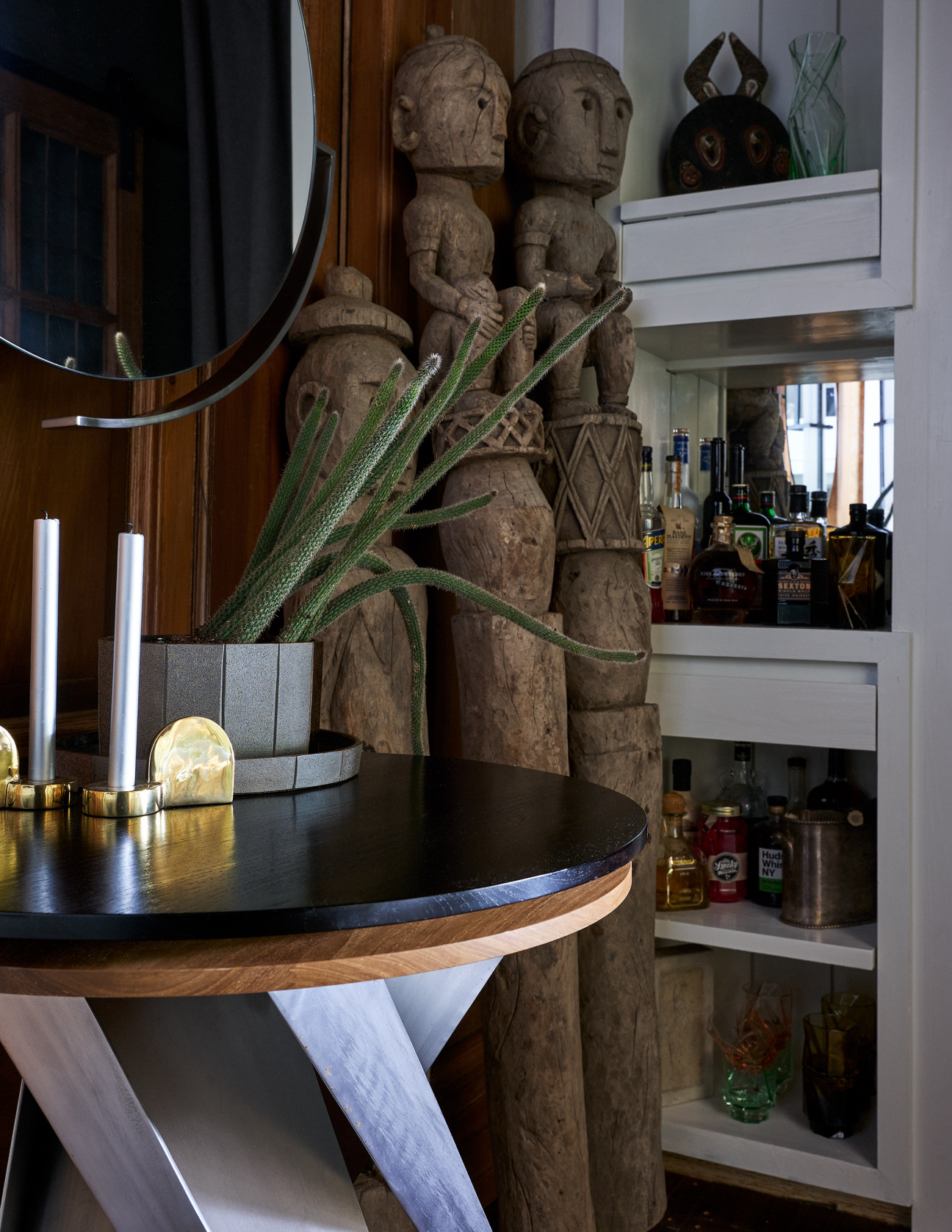 It's how he is envisioning this New York base, as well: an ever-changing display of unique pieces and the headquarters of his firm, Max ID NY. Over coffee in the Bridgehampton, one can sink into a deep, velvet-covered sofa whose back and armrests are composed of a continuous cylinder stacked on a parallelogram base with short piloti or perch atop a teak stool—wheeled for ease of movement—in the open plan boardroom, whose bi-part table contrasts a reclaimed wood top and waterfall side with a marble hoop with artful cutouts as its second leg. Here, one wall is mirrored while two others are a dynamic display of teak and Suar tree trunk tables from Indonesia, hung by their tops so their branched bases create a forest-like surround, his own version of the decorative paneling at the entry.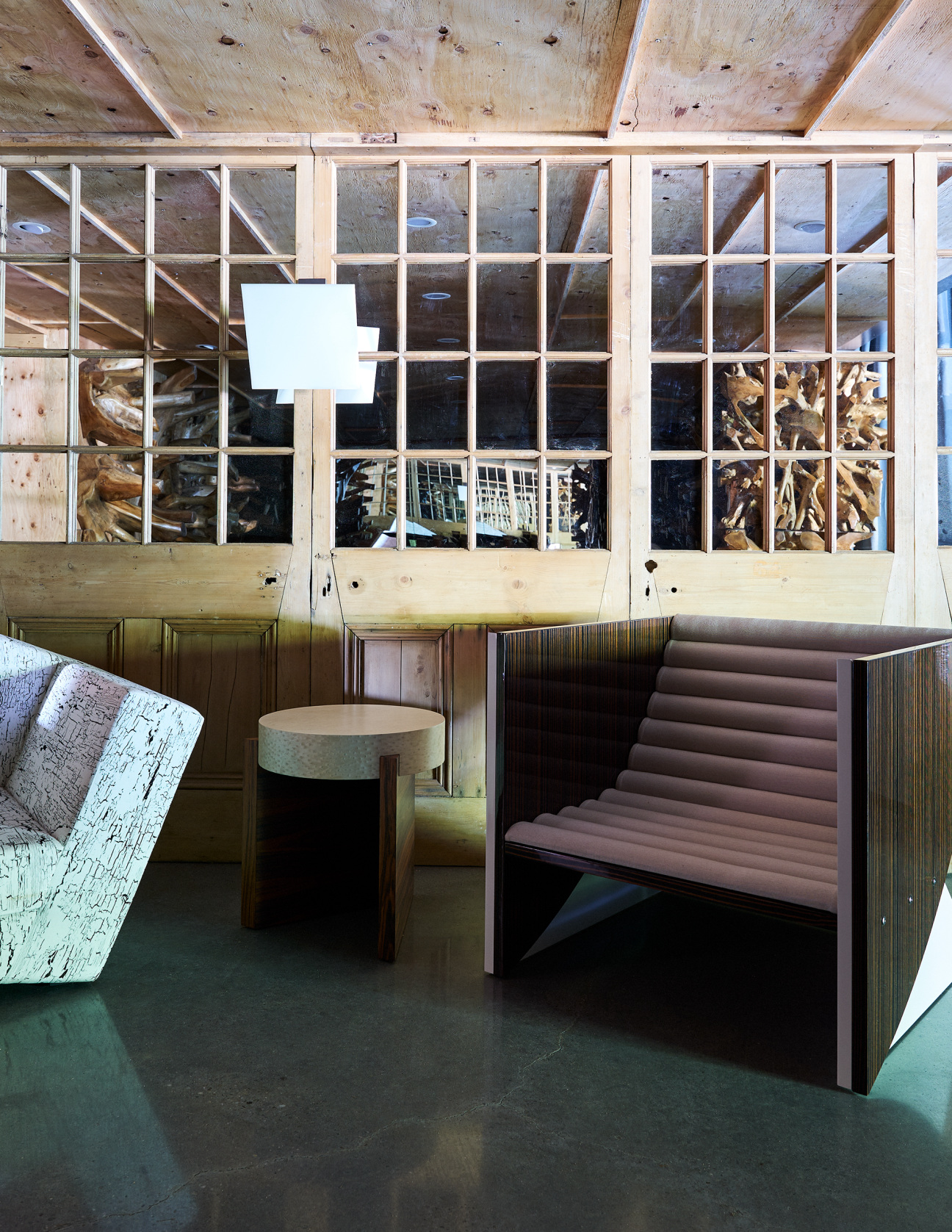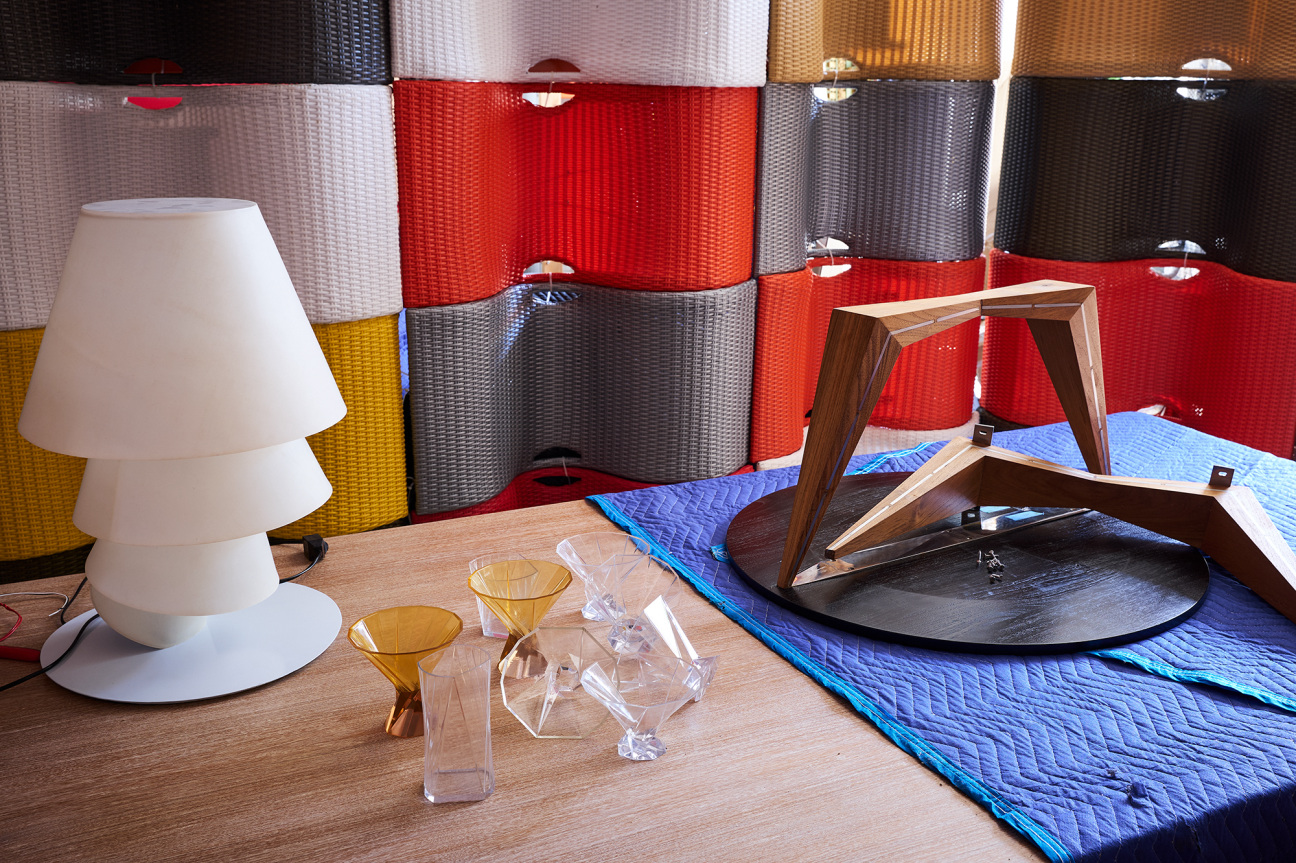 Elsewhere in the studio, folded aluminum triangles form the spiraling base of a glass-topped side table in a bar framed by original doors from the Savoy Hotel in London. A stainless steel oversized chain-link decorative screen hangs in front of a deep green curtain, forming a handsome vignette with a powder-coated red pendant where square lightboxes fall down a curved metal arm and stone Balinese heads. New armchairs from Eicke's Soft series and another not yet released sit in front of more historic paneling, this time inset with mirrors.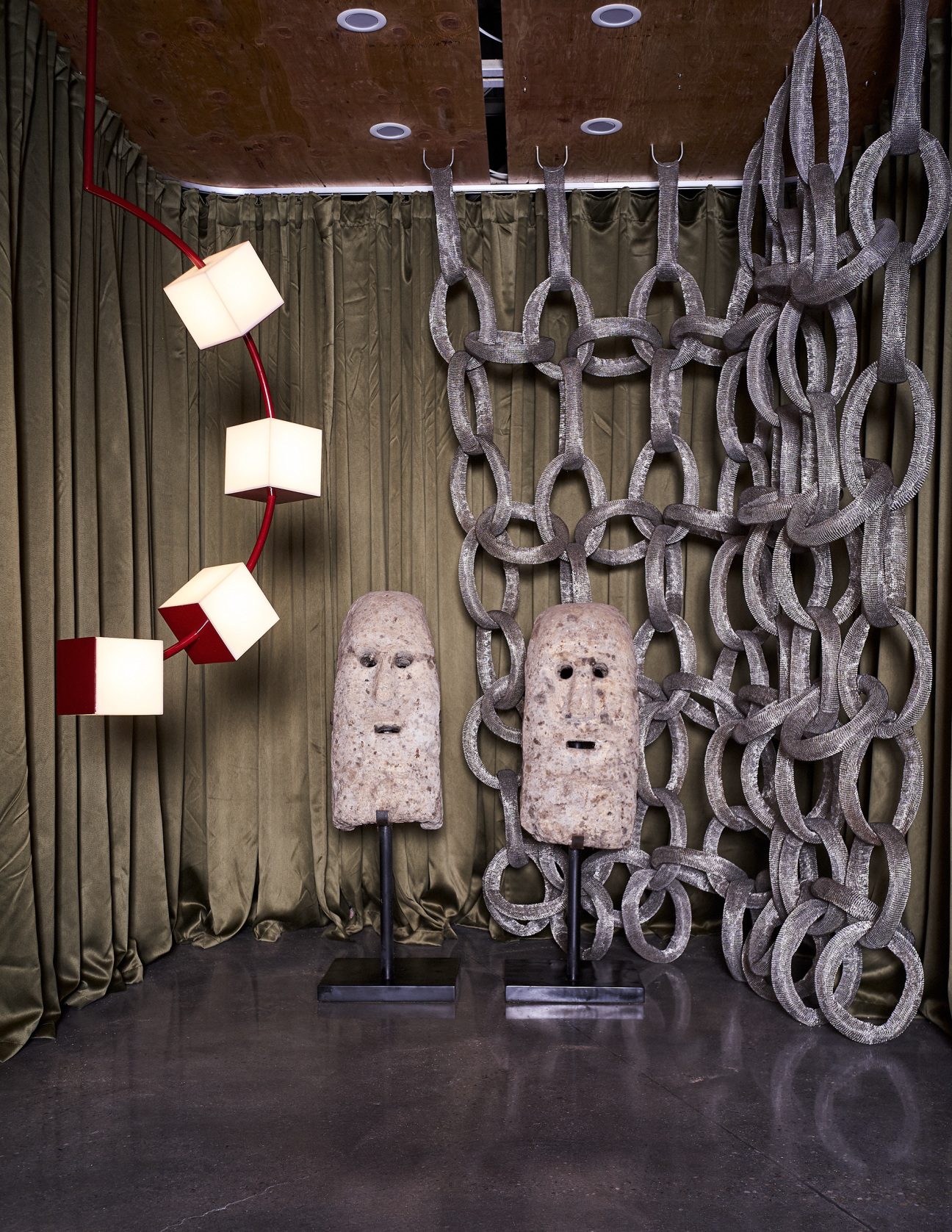 Eicke began designing while he was still a teen with a language informed by the raw materials he could gather at the hardware store. Now, as he enters new maturity in his career, it's clear he hasn't lost this experimental spirit. South Asia will continue to be a testing ground for Max ID NY's organic discoveries. Thus far, though, shapes always prevail.