I have been curious about Venice Glass Week for a few years now as a rare opportunity to see the force and breadth of the still-very-much-alive Murano production. It is easy to forget that there is a beautiful and real side to life in Venice where people are working, creating, raising families and walking dogs, getting Amazon deliveries, and going to the movies. Working on a project in Murano a few years ago with Pietro Haas, a project manager at the glass studio Yali, I got a glimpse into this remarkable yet relatable universe and have come to greatly admire the artists and their craft ever since. This Glass Week, I visited many shows, pop-ups, and exhibitions, and I have rounded up a few of my favorites from the extraordinarily talented people that are at home here.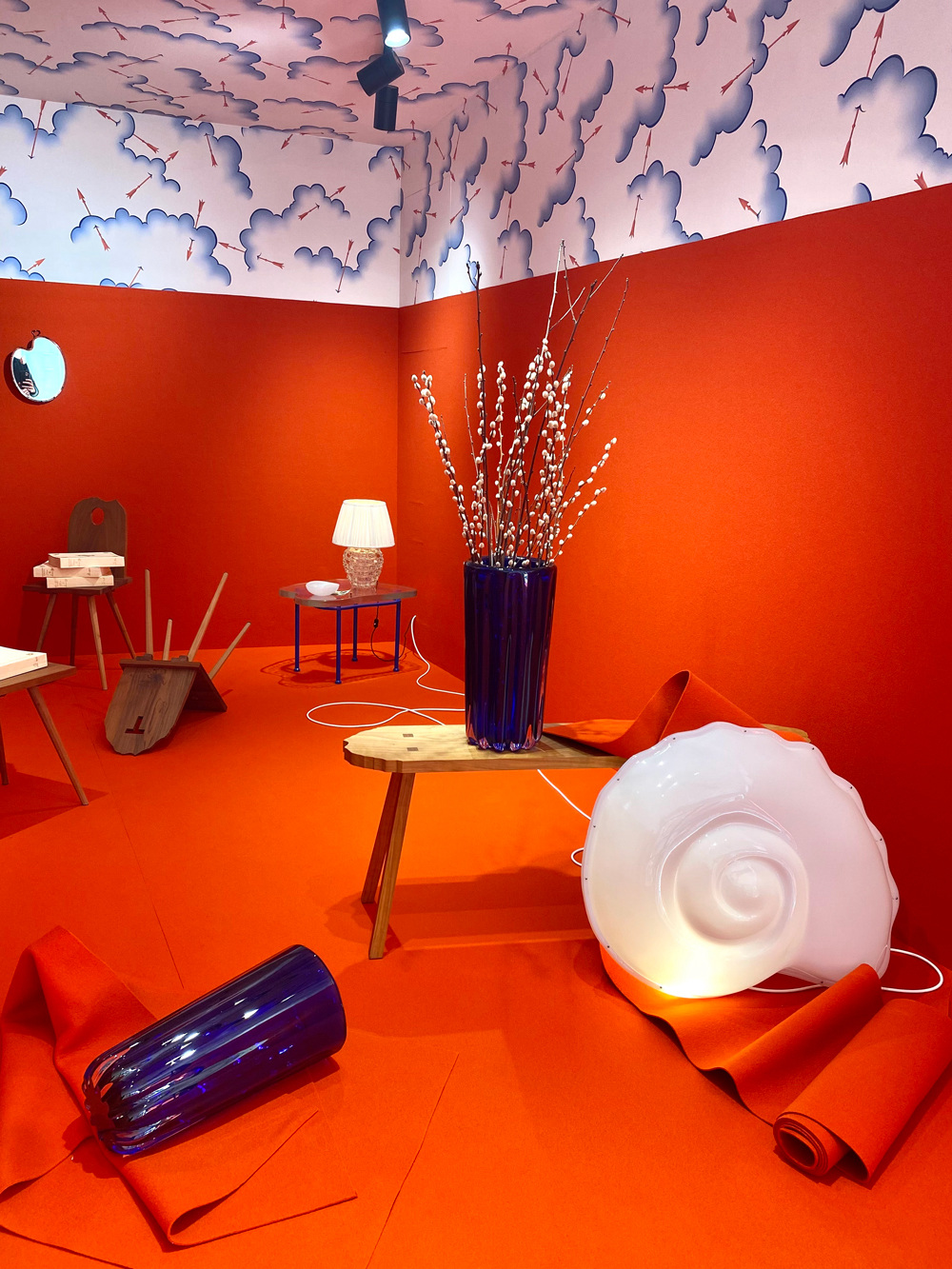 In April, my firm Charlap Hyman & Herrero collaborated with Yali, a celebrated glass studio in Venice, on an exhibition space called Free in Salizzada San Samuele. We lined the space in a brilliant reddish orange felt and a wallpaper design I made with my mother, Pilar Almon, for the textile company Schumacher. Inside, we staged various furniture and glass works by Yali, a paper cutout that I made, one of our plastic shell lamps, and a small palate-shaped mirror by Gio Ponti lent to us by Giorgio Mastinu—who has the most amazing little gallery in Venice around the corner. The skinny space is lit at night so people can walk by and view it through the window like a diorama. I love the way Yali's shiny blue glass looks against the matte fire-colored felt.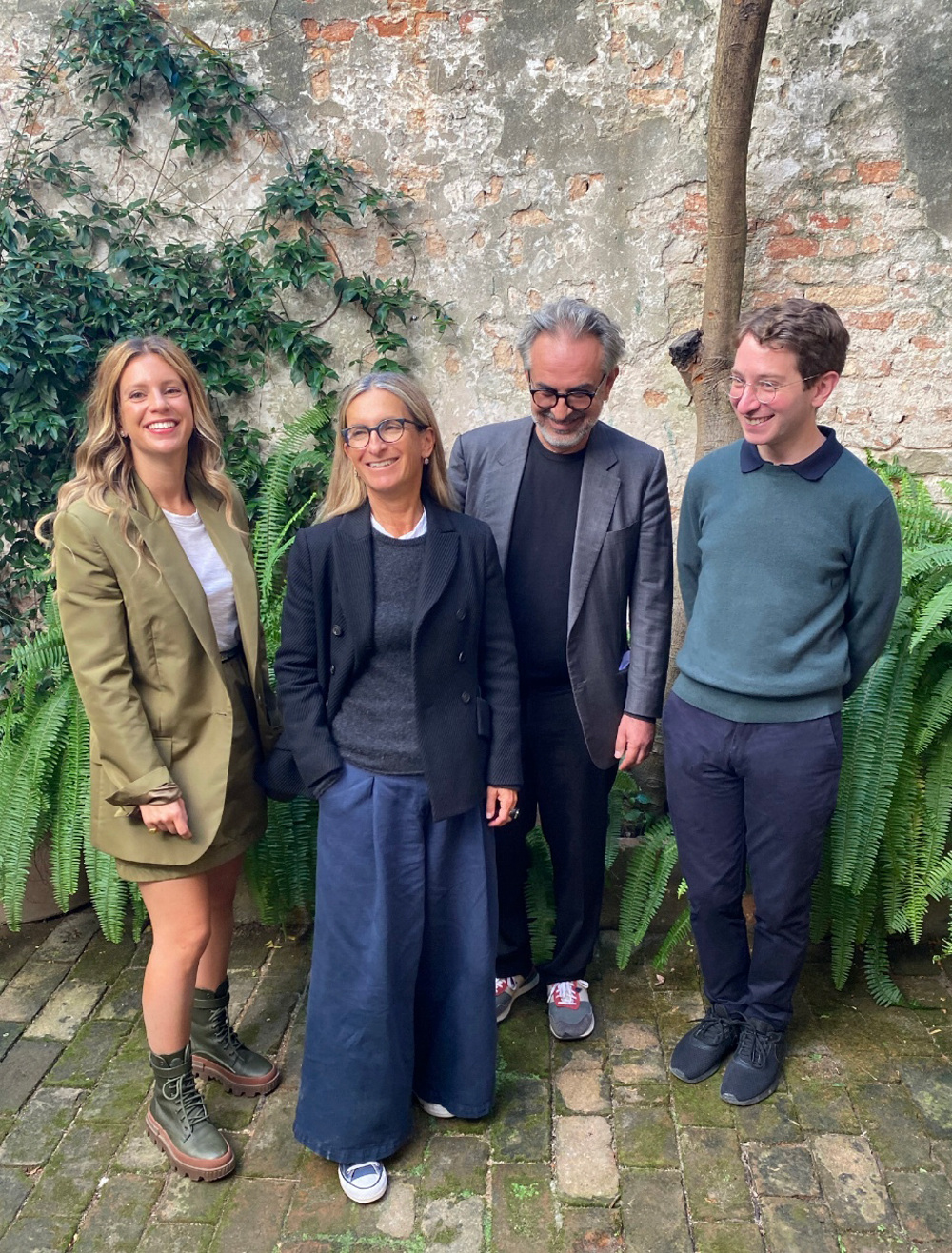 Marie Rose Kahane, the founder of Yali, and I had a conversation moderated by Giorgio Mastinu in the courtyard of the Yali studio. Alma Zevi introduced us and hosted a light lunch afterwards with the most spectacular cylindrical towers of caviar sandwiches. We spoke about our love for the work of Enzo Mari, Joseph Cornell, and the idea of Free as a still from an imagined film. It was a treat to visit the studio after the talk, a tremendously beautiful space near Palazzo Grassi, where guests could poke around and see all the fantastic prototypes Yali is working on.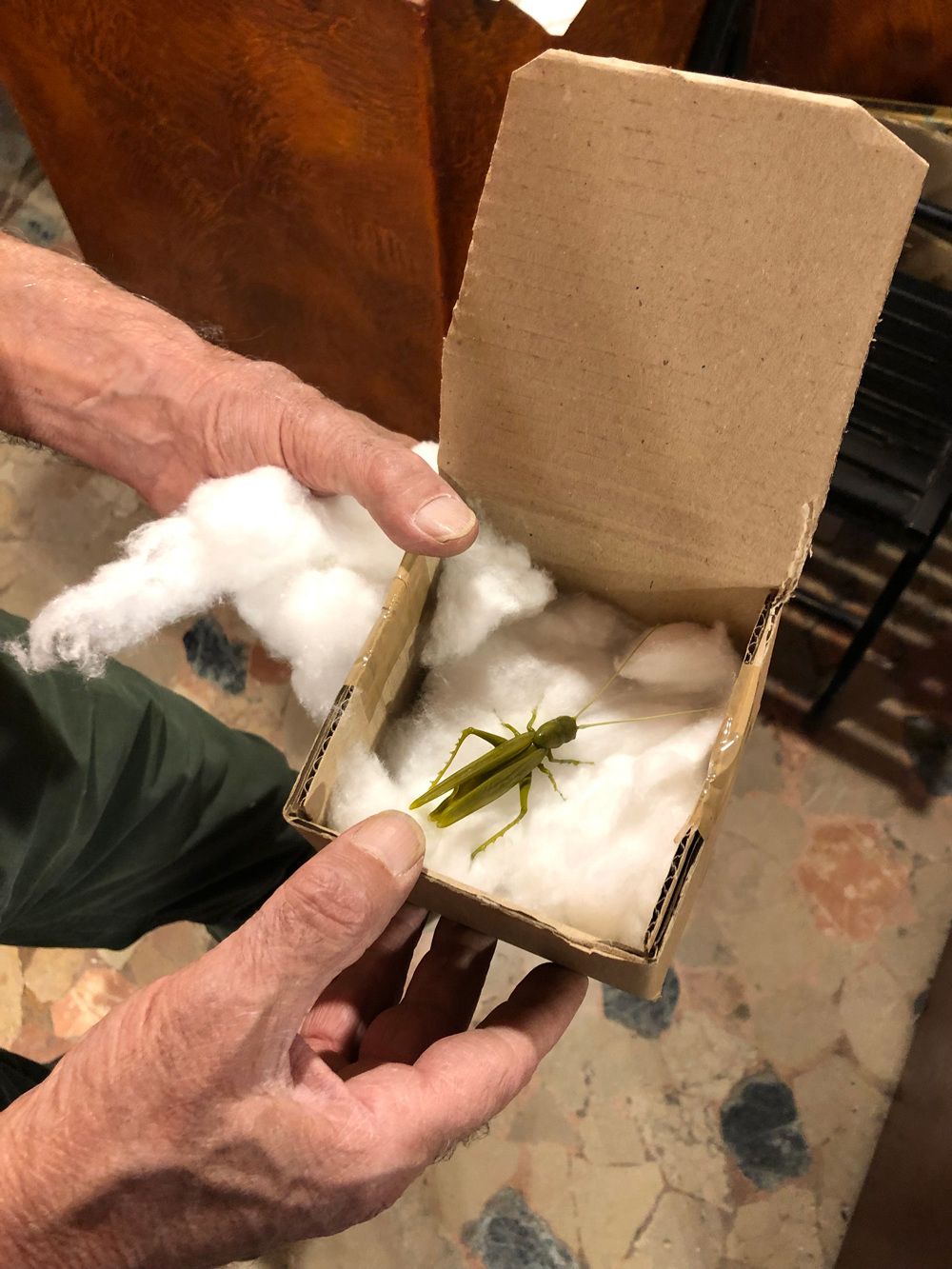 Every time I come to Venice, I try to visit Bruno Amadi. His shop is often closed and, when you get in, he does not always want to sell you his pieces. But it is worth trying because he is truly a master and there is no one else doing what he does… and there may never be again. The size of a pantry, his shop overflows with insects, vegetables, marine life, and flora all rendered exquisitely in glass with his signature touch. Everything is delicate and spectacular in this little corner of the world, and his manipulation of glass into such natural and effortless forms is beyond my comprehension. I spent several hours there this trip, trying to soak it in.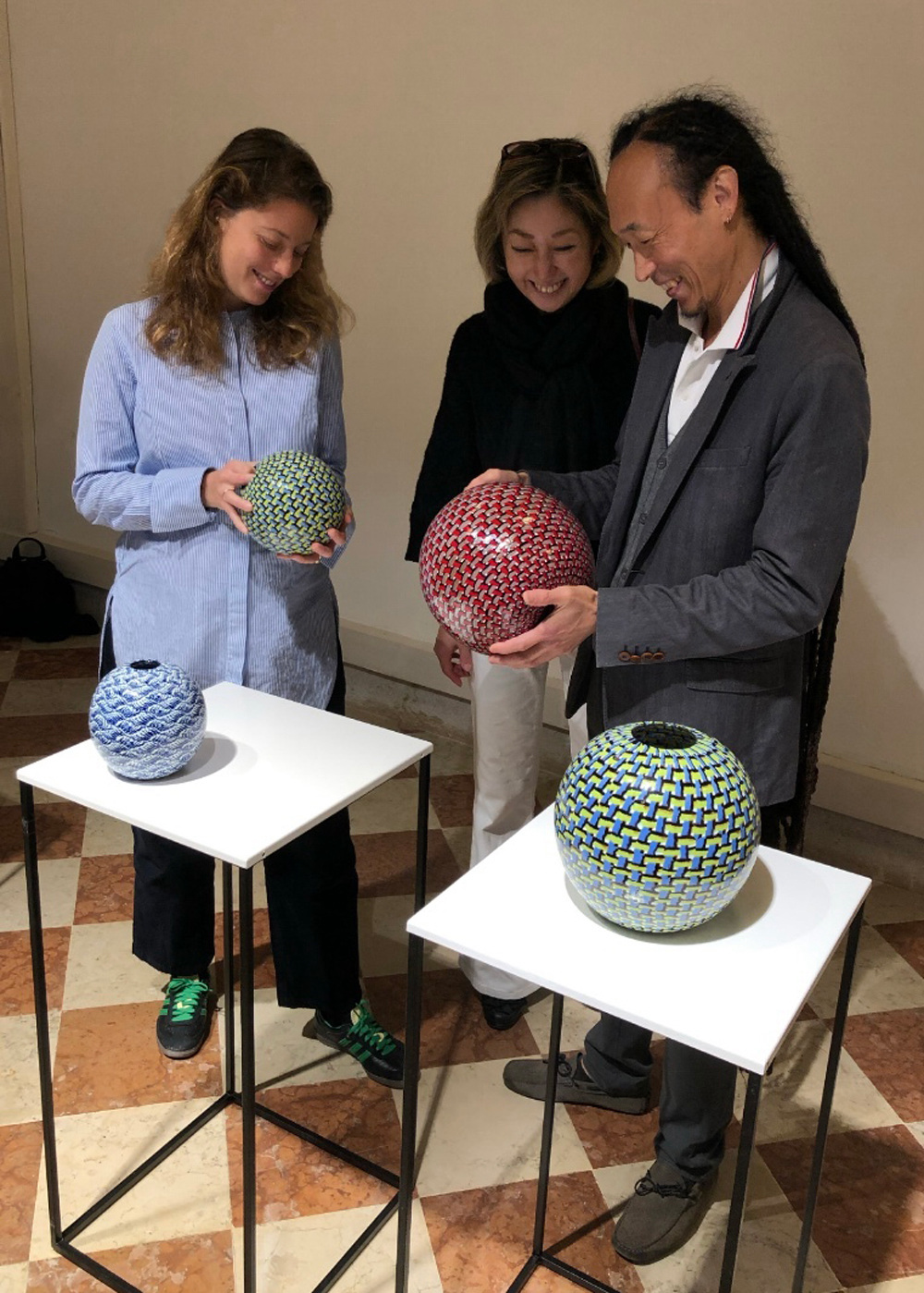 There are many compelling projects being shown at the Venice Glass Week Hub—two buildings in Campo Santo Stefano where glassmakers and curators have been invited to create presentations. My favorite was the work of Akira Hara, organized by Sofia Zevi. Hara came to Venice from Japan in 1998 to study glass blowing and never left. He is highly respected on Murano and has a very distinctive way with the medium—he is a maestro at Seguso. The pieces he and Zevi showed were made using tesserae that had been arranged in intricate patterns based on graphics by the textile designer Chiarastella Cattana. The tesserae are configured flat on a tray, and then spun and blown into a vessel. Carlo Scarpa and Ercole Barovier used this technique too. The result here is incredibly fine and soulful.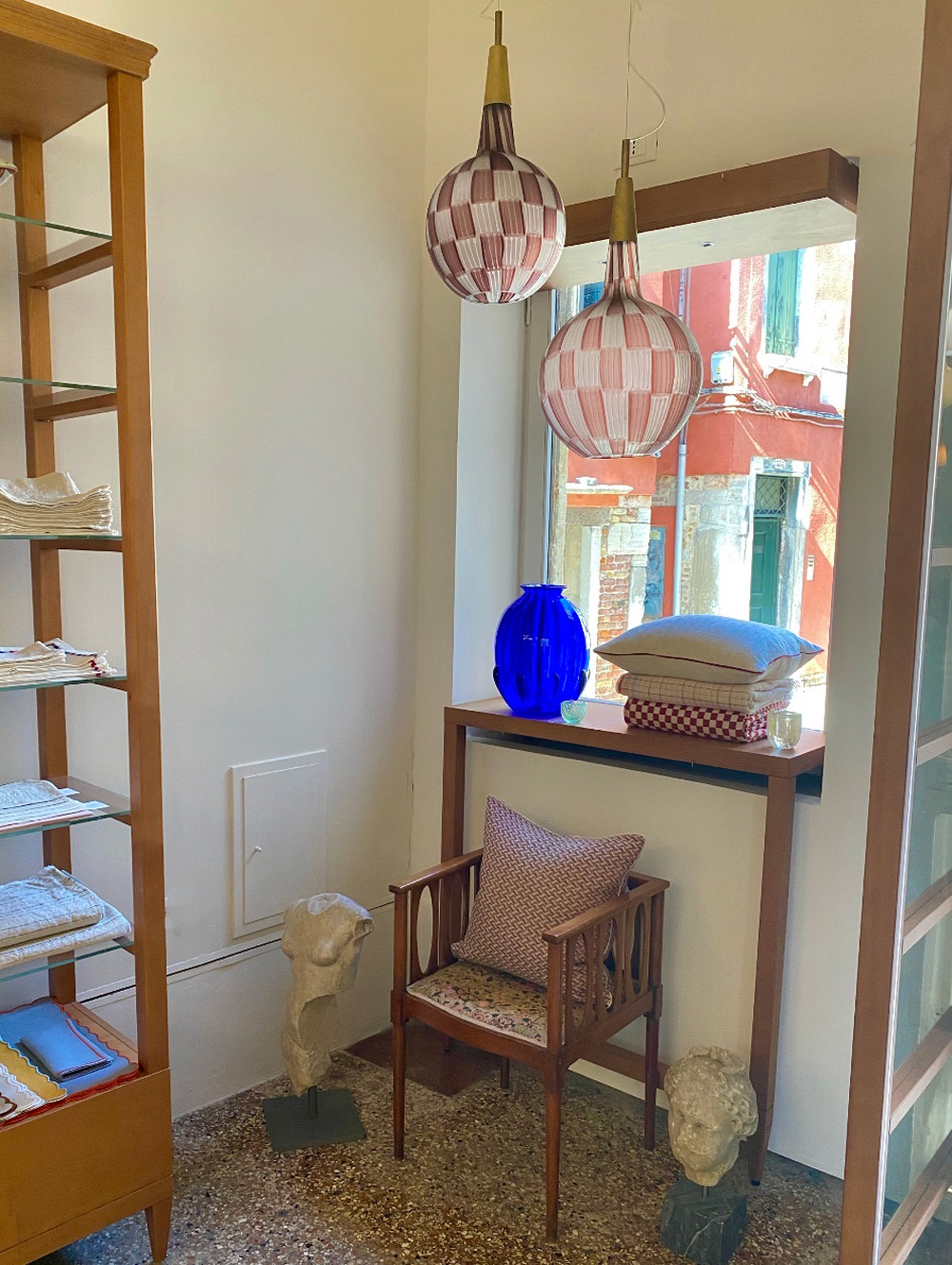 One of my favorite shops in Venice is Chiarastella Cattana—she creates extremely beautiful textiles for the home. This Glass Week she displayed lamps in her window by Tea Morosati, a designer who worked with the glass studio Barovier & Toso on Murano in 1955. There are not many women who have worked on Murano, so it was very special and illuminating to learn about her and see these glorious pink lamps. Everything in Stella's shop is to die for—all the linens are the finest quality, handmade in the Dolomites on her designs. Fun!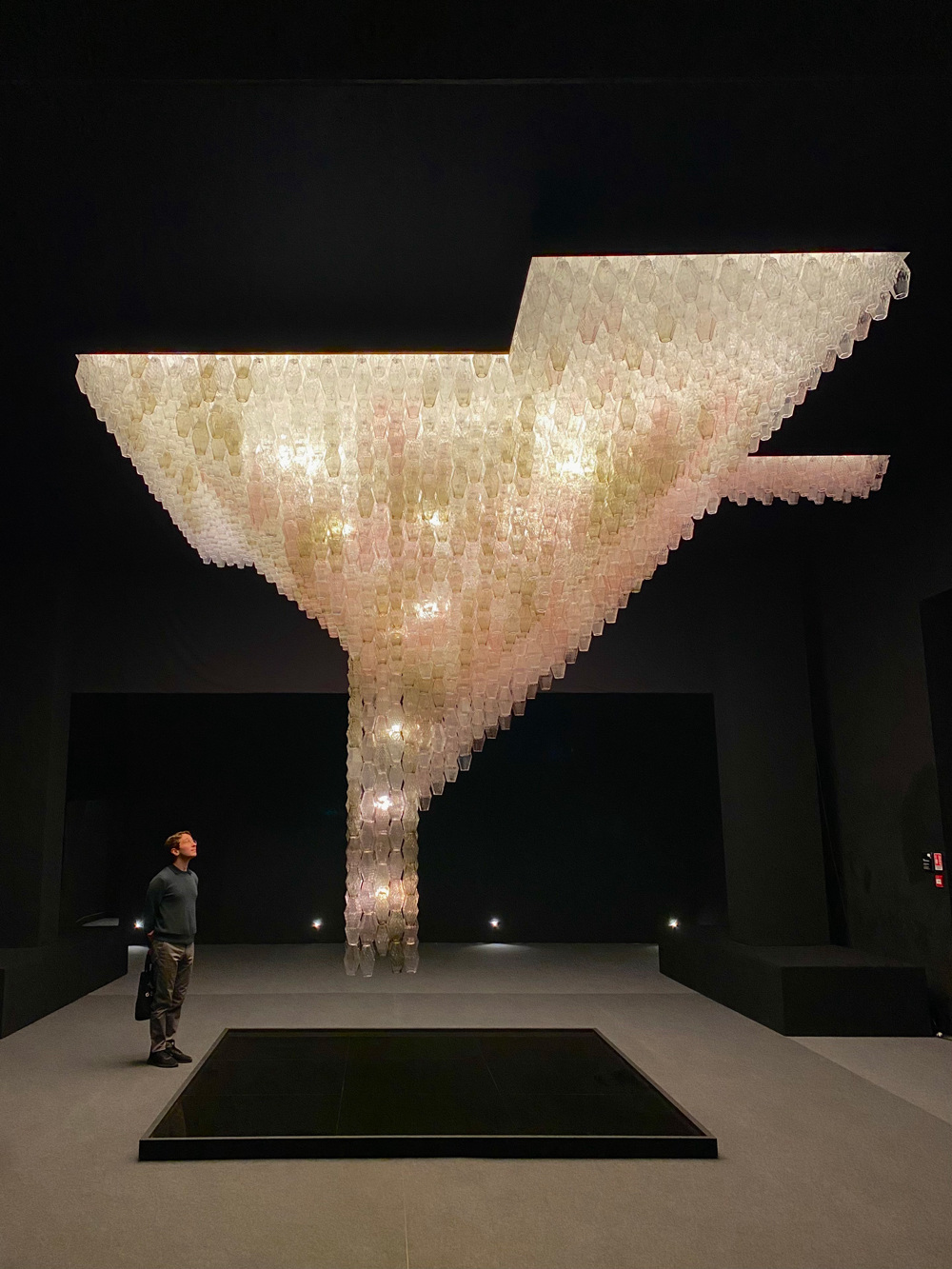 The Stanza del Vetro is an amazing space on the island of San Giorgio that presents very beautiful and thorough exhibitions about historical and contemporary glass. The current show is on Venini, a glass producer on Murano that worked with Carlo Scarpa, Gio Ponti, Massimo Vignelli, Thomasso Buzzi, among many other interesting designers and architects. The museum brings together important works from the history of the company and recreates several of the large and ambitious architectural installations it became respected for. I was moved to see the vast spectrum of projects Venini took on with and for various incredible architects and designers of the 20th century—the sheer creativity and inventiveness overflowing from the exhibition is breathtaking. Here I am admiring a chandelier installation by Carlo Scarpa for the Veneto Pavilion at the Italia 61 exhibition in Turin in 1961.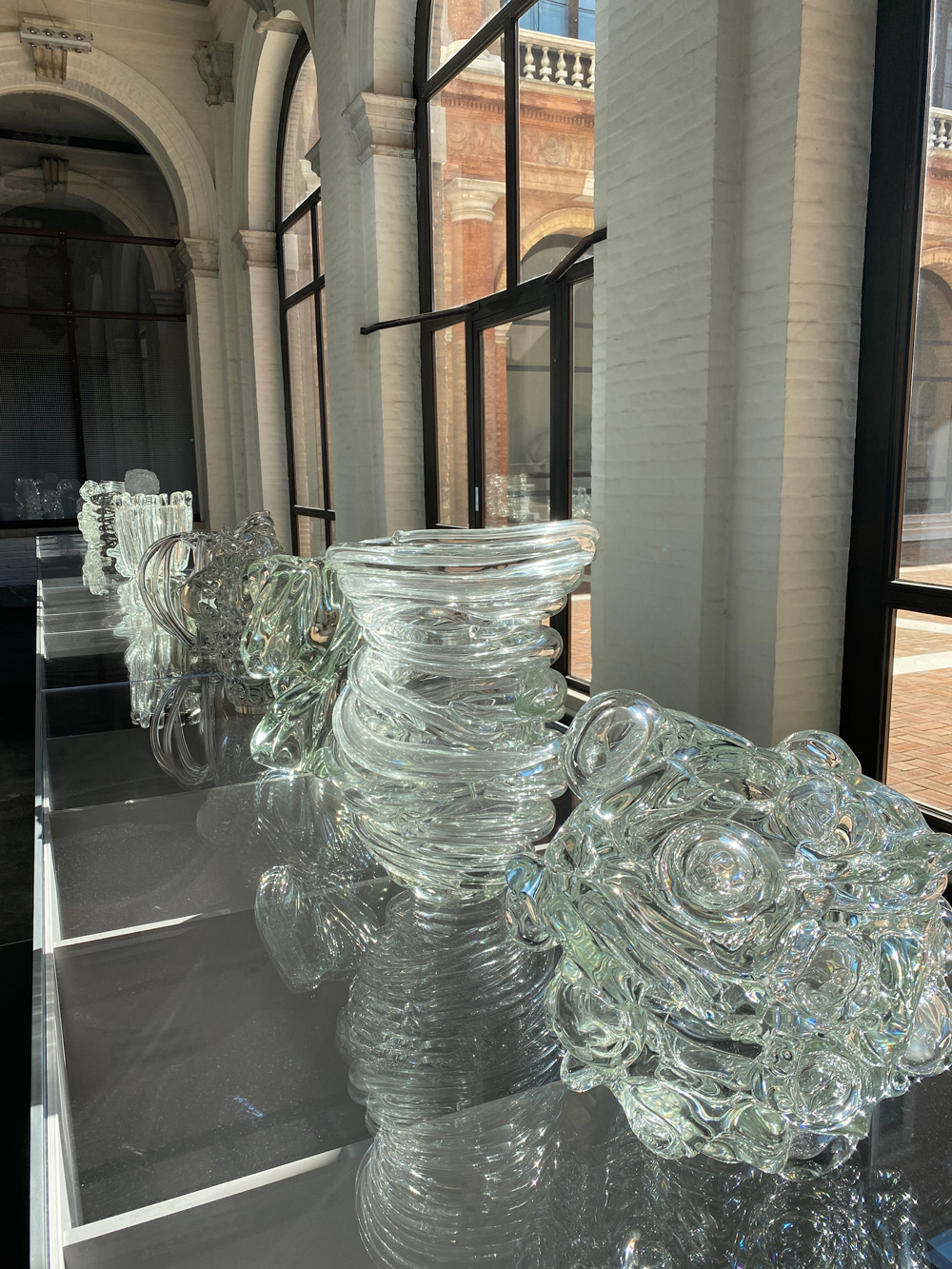 At the Accademia, the eminent glass artist Ritsue Mishima has staged a large show of her transparent pieces in conversation with works in the collection and the architecture of the museum. The highly reflective, even wet-looking, glass meteorites and vessels are hypnotically interspersed with plaster casts by Canova. At times, the monumental arrangement of hundreds of sculptures seems to spill through the galleries and staircases like a frozen stream. It is definitely worth a visit!