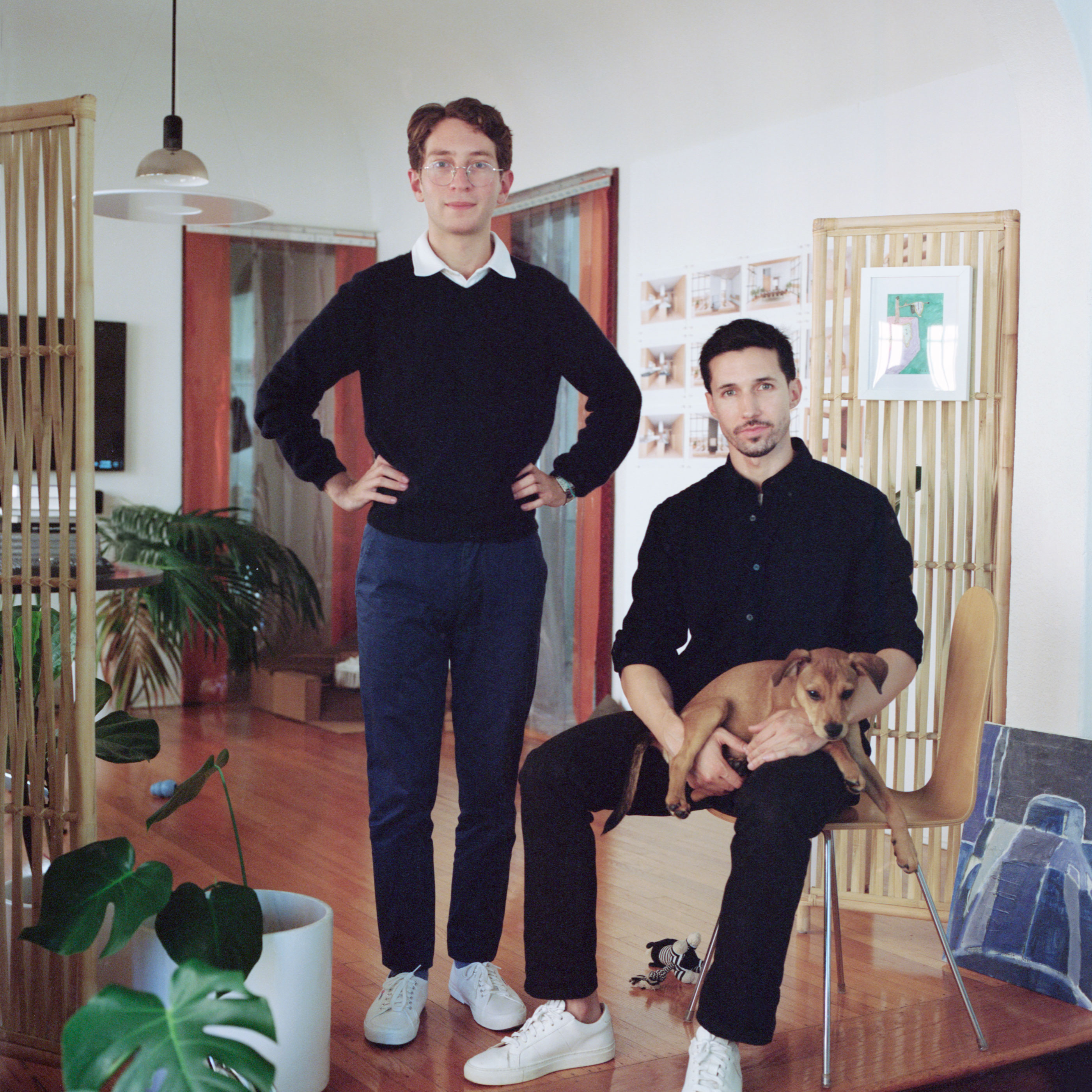 "You should've seen Adam and Andre's dorm rooms. They were in a league of their own," artist Cynthia Talmadge laughs as we stare at picture rail treatments for her November show at 56 Henry. The swatches of green silk, chains and cords were left for consideration by the exhibition's designers, friends and the subject of the hour, Adam Charlap Hyman and Andre Herrero. "Andre's room was all black and white. I don't think there actually was a snake, but I always imagine there was."
When I ask the bicoastal business partners about Talmadge's anecdote later by phone, they take a trip down memory lane to a time when two Rhode Island School of Design students, an artist and architect student respectively, connected over a shared flair for the dramatic, which Charlap Hyman and Herrero both claim has mellowed with age.
"I was totally taken with your complete vision!" Charlap Hyman says of his first encounter with Herrero's extreme idyll. He is currently in their New York studio, while Herrero phones in from a Los Angeles highway. "At the time our dorms were another world, a film set on which to project the moment."
"It had the feeling of Proust's deathbed."
In fact, the partners' first real collaboration was a series of photographs of Charlap Hyman's apartment, which he fashioned after Nicolas "Niki" de Gunzburg's apartment. Imagine a small but grand room ticked with family portraits, the batons of former wealth. "I didn't have the portraits per se, but there were crucifixes, bows and a tented bed," Charlap Hyman says, describing his former quarters and hours of glue-gunning pleats. "It had the feeling of Proust's deathbed."
Herrero, a dexterous photographer, collaborated with Charlap Hyman to document it all. The friends gathered a series of different cameras, including Polaroids and four-by-eights. "We wanted to capture how it would look through time," Herrero explains. Almost as if in solidarity, the ceiling collapsed two weeks later, leaving them with only the images of a bygone reality. "And then we got that too," the architect deadpans. "We always pull on history, but we are never trying to preserve it or be reverential. If we are comfortable with something, we tend to stray away from it. Ultimately it's dealing with the discomfort that allows us to expand our own aesthetic and vision."
In this vein one can enter the heart of Charlap Hyman and Herrero's practice, which runs on an empathetic ear and a wealth of research. Each project, each client, is treated as a script with its own sense of space and time. An encyclopedic, obsessive mood-boarding process congeals into a set of watercolors, renderings and other modeling methods, which are then presented and, pending approval, made real. "Over the course of months, we really get to know our clients," Herrero explains. "We want to be involved in every aspect of the space," Charlap Hyman chimes in. "The best kind of project would be one in which we've designed the building, the landscape, new furniture, found the antiques, commissioned artists to do the fabrics or the work on the walls."
Nina Johnson can attest to the duo's perspicacity when parsing a long-term vision. On the recommendation of Cooper Hewitt's Alexandra Cunningham Cameron, the Miami-based gallerist hired the principals to turn a four-building compound in Little Haiti into a gallery with international reach. "One of the things that I think is really great about working with both of them is that Andre has a more calculated, logical, architectural view of things and Adam is more whimsical, historical and romantic," Johnson says. "The balance of this works really well— particularly for an art gallery. They know how to design a contemporary space without making it feel completely cold and void of character."
Conceived from day one as a multi-stepped procedure, the compound's latest addition, two remaining buildings, will be unveiled during Art Basel Miami Beach with a trio of new exhibitions, including a show curated by Charlap Hyman. "I couldn't think of a more appropriate person to activate the space," Johnson says of the show, which will include her artists Ann Craven and Katie Stout as well as work by Nicola L. and Anne Libby.
Johnson is not the duo's only art client. The firm launched with a commercial commission by Jeanne Greenberg Rohatyn followed shortly thereafter by a call from Tina Kim. Katie Stout remembers assisting Charlap Hyman in these early days— fluffing pillows to make the space a little more polished. "They have an attention to detail I had never seen before at that scale," Stout says of their process. "I've always found the sheer amount of research that goes into each project so impressive. It's truly insane." At the moment Stout was at work on a wicker cabinet with a lamp coming out of each side like horns—a custom piece for a private home.
Artist commissions come second nature to the RISD graduates. They gravitate towards peers like Stout, Misha Kahn and Sophie Stone, whose baroque and wild aesthetic organically weaves in and out of Charlap Hyman and Herrero's world. And the circle keeps growing. A year or so ago, Talmadge put them in touch with Aaron Aujla and Ben Bloomstein of Green River Project LLC, an introduction that has already yielded a series of custom bamboo lounge chairs adapted from the designers' second collection. "Ben and I felt like it was much more of a studio visit than an office meeting. That got our guard down right away because the art world just feels more comfortable," Aujla says of their first encounter.
One of the firm's recurring and perhaps less expected collaborators is Pilar Almon, an artist and Charlap Hyman's mother. For a fabric and wallpaper capsule for Schumacher last year the firm enlisted Almon's hand, not unlike the way Andy Warhol used Julia Warhola's handwriting in his work. "Adam is a very good art director because he's not precious about it being his idea," Almon says. "I think in the end they are both attracted to complexity, the projects that are not so straightforward, which is what makes them great collaborators and artists."
Their repertoire—despite relative freshman status (they made Forbes's 30 Under 30 last year)—includes ground-up homes, opera sets and exhibition designs as well as more prêt-à-porter fare—furniture, textiles and objets d'arts. This winter, Charlap Hyman and Herrero are tackling two fittingly cinematic commissions. The first, "Blow Up," is a Felix Burrichter-curated show at Friedman Benda gallery named for Michelangelo Antonioni's 1968 cult classic based on a short story by Julio Cortazar. Almost like the story's photographer and unreliable narrator, the partners are responsible for framing the entire exhibition. Their plan is to create a life-sized dollhouse in which the other artists' work, also dollhouse- inspired, can sit comfortably. Once their epic model is in place, Charlap Hyman and Herrero will be onto the next sally, an opera in Amsterdam composed by a friend, with costumes by Talmadge.
Charlap Hyman and Herrero tell me there are 24 comparably invested projects currently in motion. The pressure seems to fuel the fire because they are thriving and growing, with Charlap Hyman's brother Alex leading the business as the college friends concentrate on expanding the reach of their irreverence. "The most luxurious space you can have relays something about you. It speaks to what you've done, what you like, what you dream about. It is a place that is beautiful and serious and sad," Charlap Hyman says. "In speaking to our clients it would seem people are less interested in a complete and neat little package that they have to fit themselves into. Maybe we've seen enough nicely done hotels. I think people are ready for something more complex and personal."
As far as their own aesthetic, the target is constantly in motion as their research continues to accumulate and serendipitously veer. The dorm years are gone, but the core tenets of those first projects, a lens-like view of a world and the love of the hand, remain. This is perhaps why they continue to submit watercolors alongside their 3D renderings of projects. A return to time gone by, these time-consuming drawings offer a small frame through which to see the bigger picture, the fantasy. "A part of the process we really appreciate is this moment when a person knows that something isn't real but is willing to engage with it anyways," Herrero says. "Being willing to have faith in something because it delights you is definitely a part of our regular design practice."
For our issue, the duo took their dream world to a new level creating a set of follies, 18th-century garden pavilions, with their favorite directors in mind. See them here.