It's hard to believe that a year ago the role of art fairs felt nebulous: how would they weather the calls for climate awareness and the advent of online viewing rooms? After last week's dust settled, the answer is clear. Collectors and dealers are as voracious as ever for major events such as Frieze—which made its Seoul debut earlier this month—and the Armory Show, whose VIP preview launched only days later in New York. By the latter's public hours, galleries at the Jacob Javits Convention Center had reported brisk mid- and high six-figure sales from blockbuster artists—including Chris Ofili, Fred Tomaselli, and Kehinde Wiley—as well as the exciting, emerging ones of the future. Cultured took their names—and their numbers.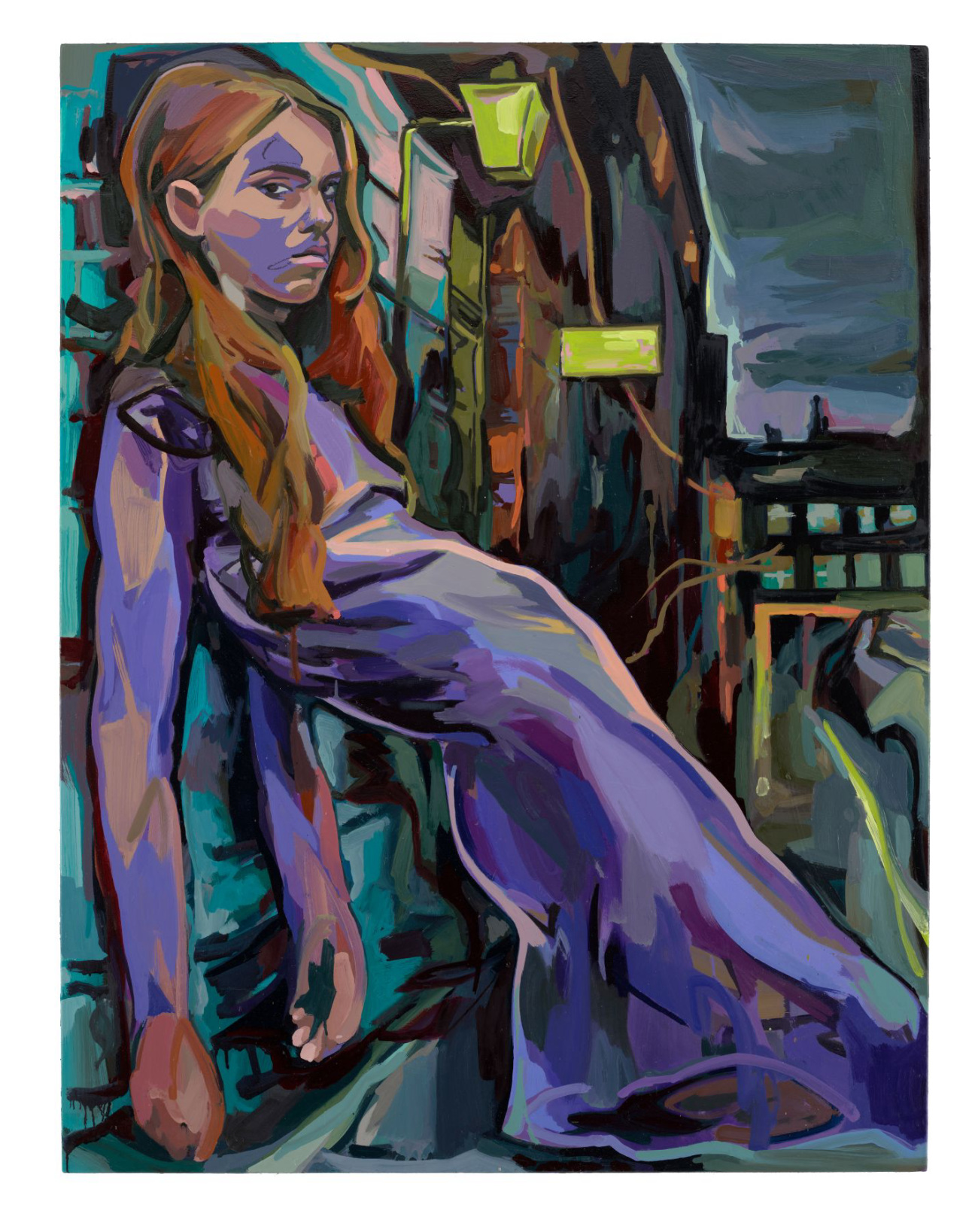 Anna Kenneally
A breakout star at Armory this year, London-based Anna Kenneally's canvases radiate a neo-romantic goth, merging figuration and abstraction with painterly prowess. Presented by New York's Fredericks & Freiser—known for some of the market's hottest painters like Cristina de Miguel and Jenna Gribbon (both of whom also flew off the wall at the fair)—Kenneally is one to follow. Nocturnal 1 (2022) sold for $8,500.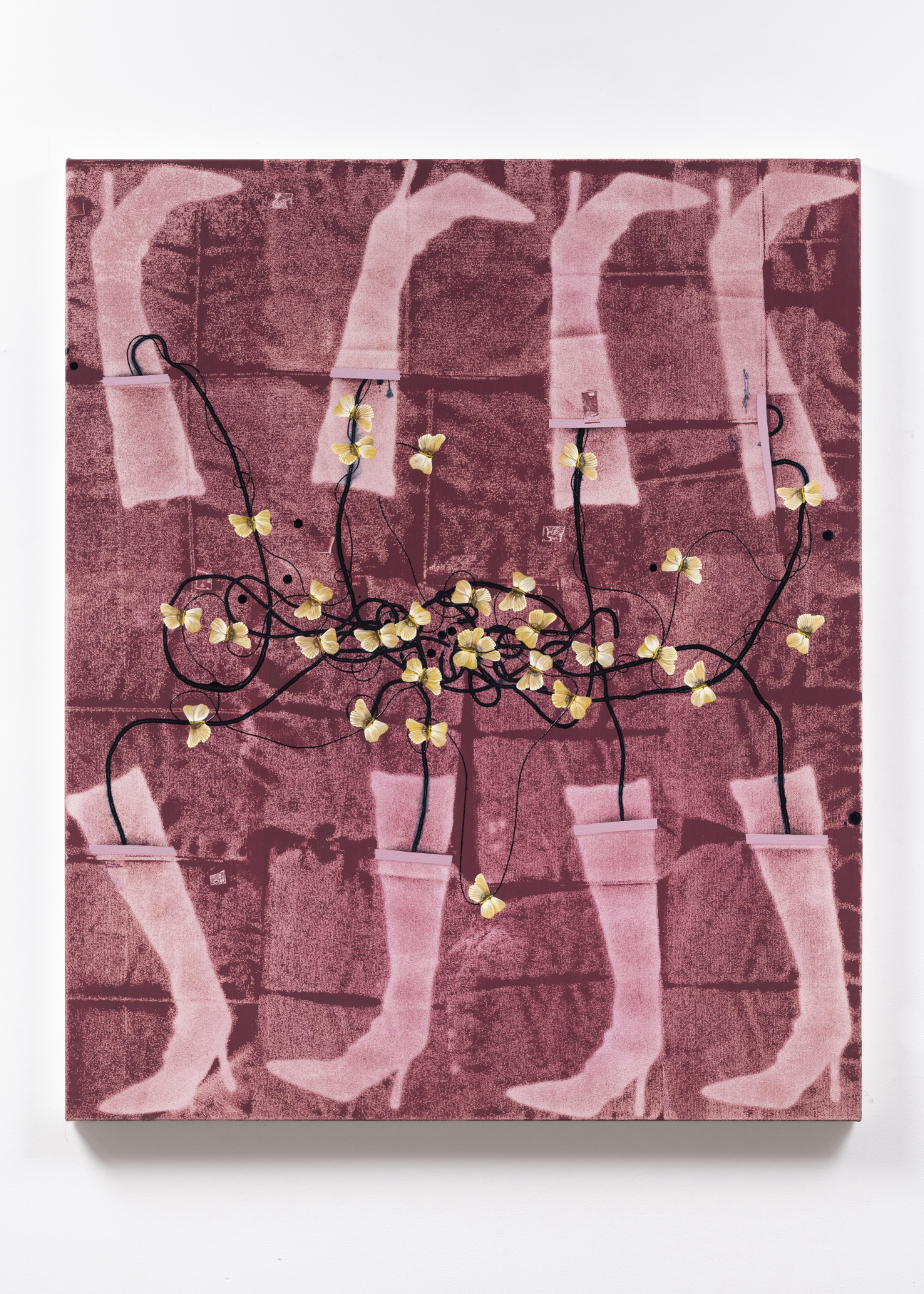 Veronika Pausova
Born in Prague and living in Canada, artist Veronika Pausova's oil paintings nearly stole the show, with her surreal tableaus of gangly limbs and disembodied blue toenails at Bradley Ertaskiran's booth. Pausova has described her works as small short stories and certain paintings can spur an ASMR-like experience. The Quebec gallery sold Spider Facing Left (2022)—a bewitching world of butterflies and pink stiletto boots, at once playful and sophisticated—for $15,000.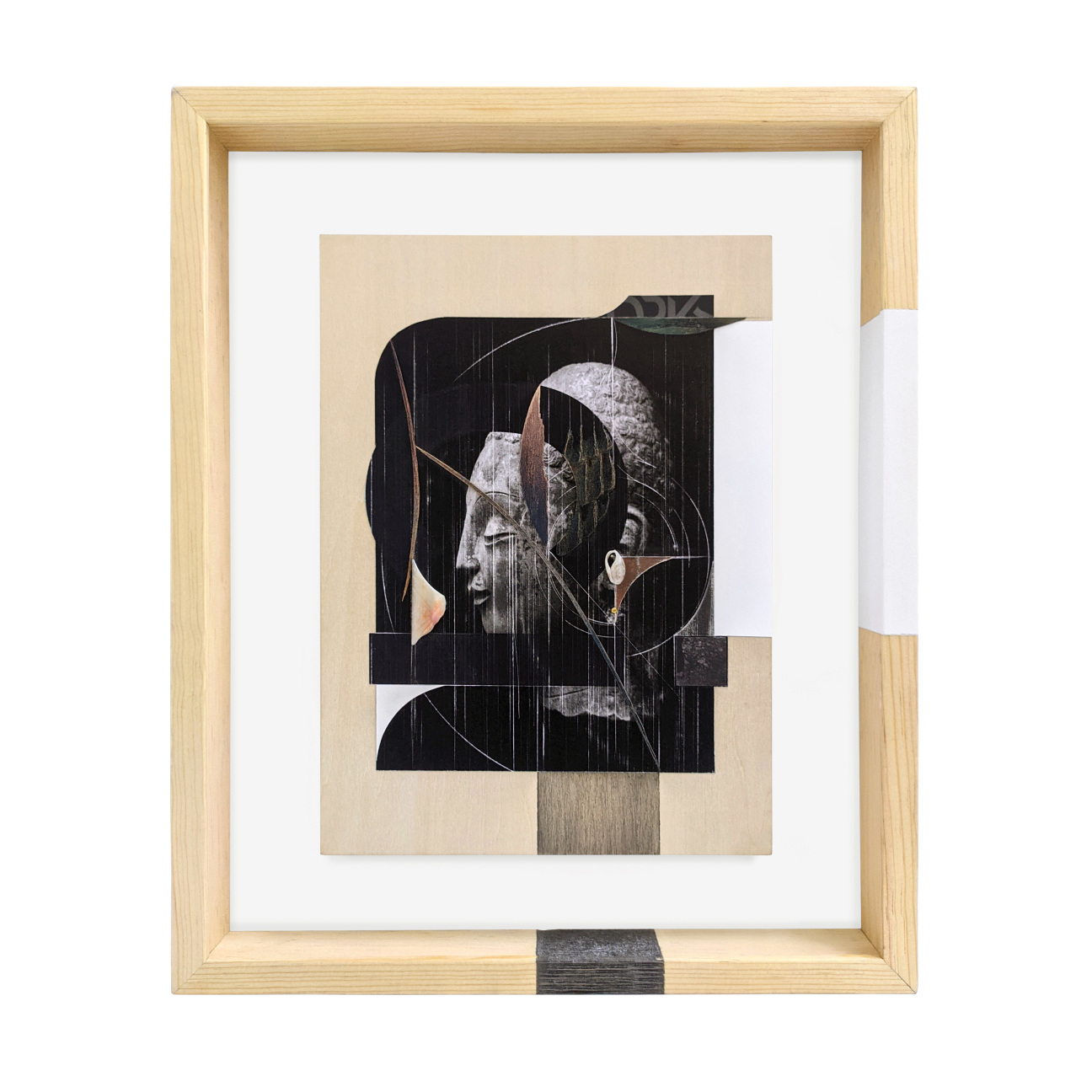 Omar Barquet
It's little surprise that mixed-media artist Omar Barquet works went so quickly at Yancey Richardson Gallery's booth, including one to the Cleveland Clinic's collection known for its impressive roster of contemporary artists. Based in Mexico City, Barquet's collages blend Western and pre-Columbian sculptural elements, as well as found objects linked to his birthplace along the Mexico/Belize border; fishing nets, shells, bird feathers, and bits of discarded rocking chairs animate his wide-ranging vernacular. The artist has described how central music is to his studio practice as a longtime source of inspiration. Part of an ongoing series, ci (Syllables series), 2022, sold for $4,000.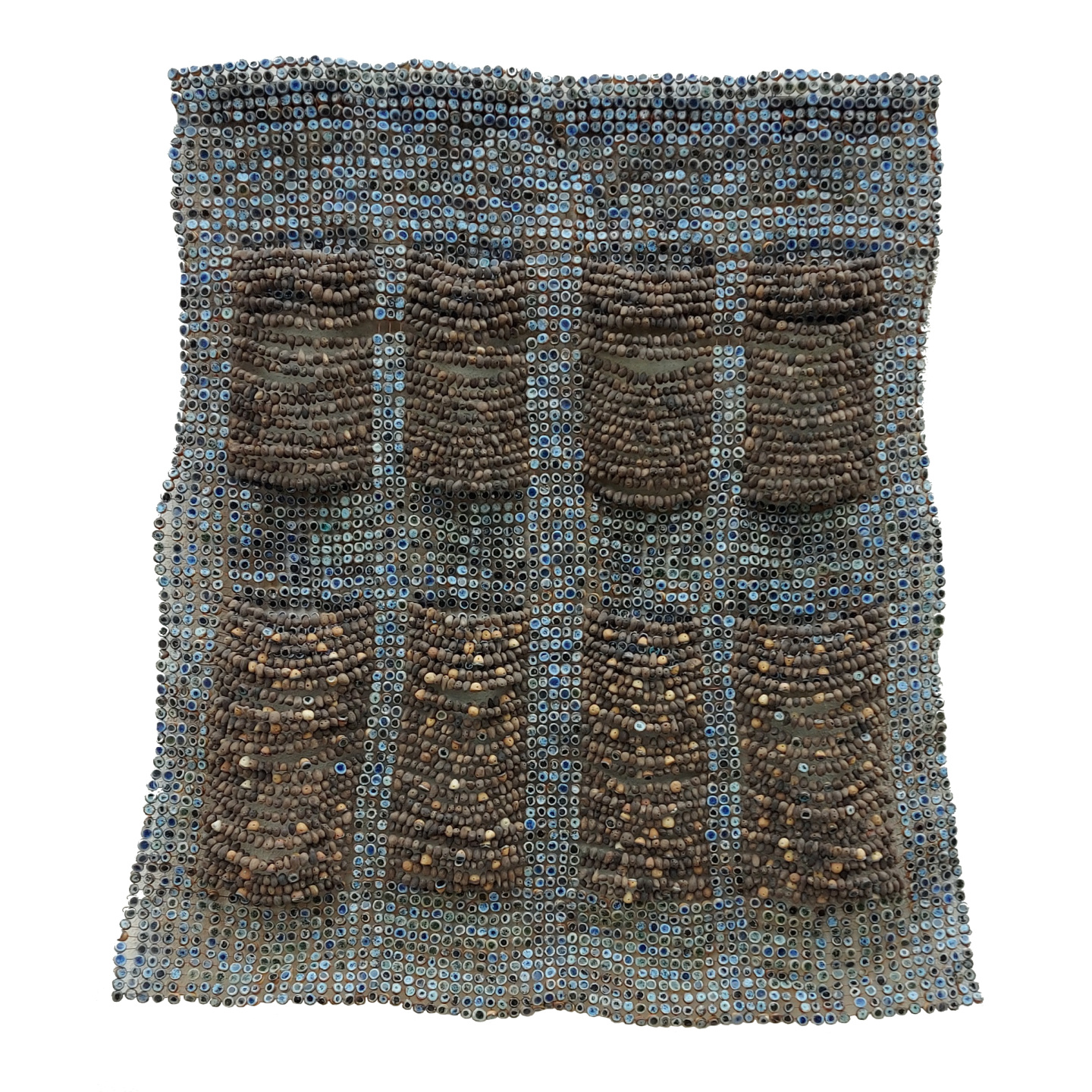 Ozioma Onuzulike
Lagos gallery kó presented ceramic artist Ozioma Onuzulike, currently the head of the Nsukka school, an experimental art department at the University of Nigeria, previously led by celebrated bottle-top sculptor El Anatsui. Calling attention to imperialism and climate change in Africa and beyond, Onuzulike blends clay, copper wire, and thousands of palm kernel shell beads to create striking tapestries which, in his words, evoke the lopsided power relations of the Western world. In the first days of the fair, kó sold two large-scale artworks by the artist—Royal Babariga (2022) and Royal Skirt (2022)—for $60,000 and $35,000 respectively.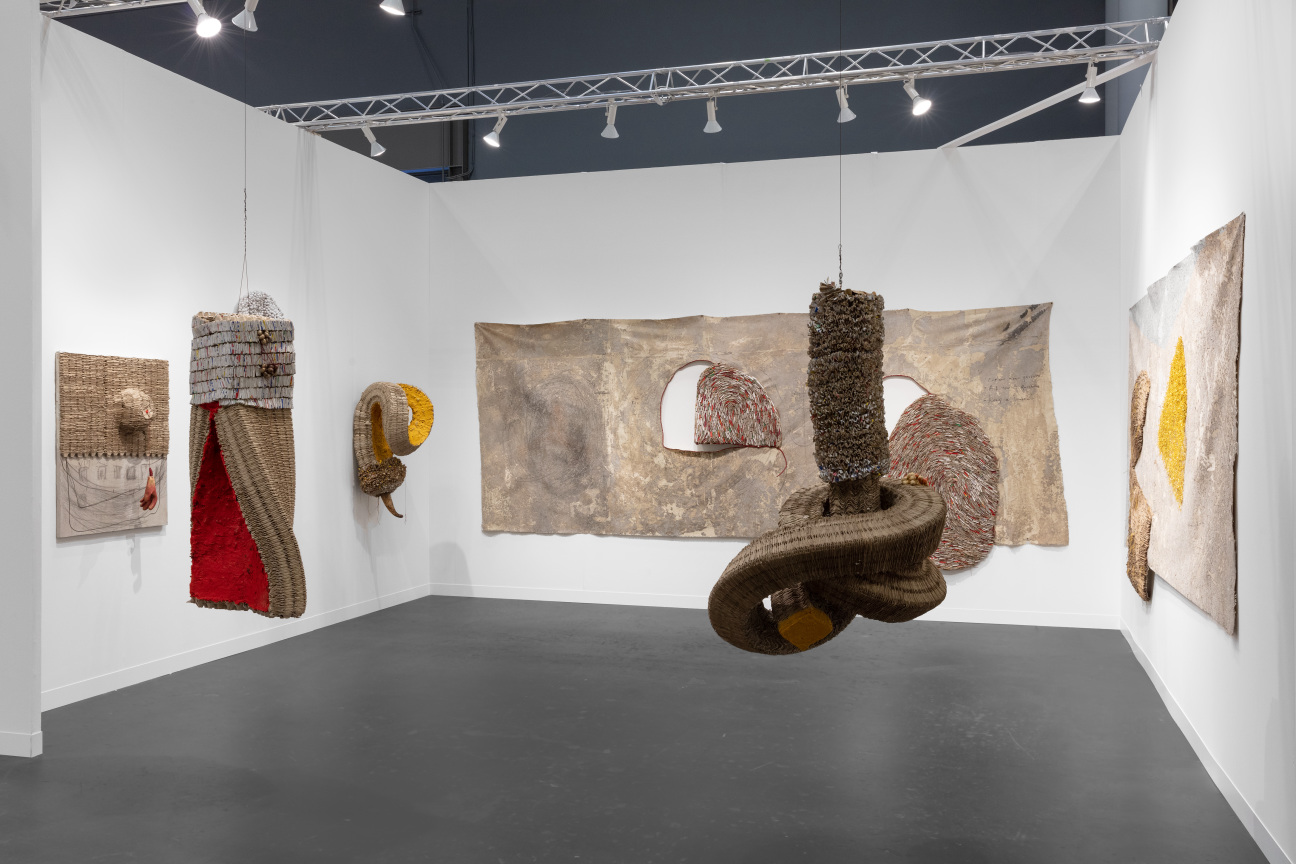 Wallen Mapondera
Made especially for the Armory Show's 2022 edition, Wallen Mapondera's sculptures captivated visitors to Cape Town's SMAC Gallery solo booth during the preview. The artist constructs elaborate assemblages of textiles and cardboard. With his meticulous craftsmanship, egg cartons, silicone, and waxed thread become rich tapestries and installations that call for social change in the face of hyperinflation, unemployment, and poverty in his home country of Zimbabwe, which he represents at the 59th Venice Biennale. His signature piece at the fair, Collar (2022), sold for $16,500.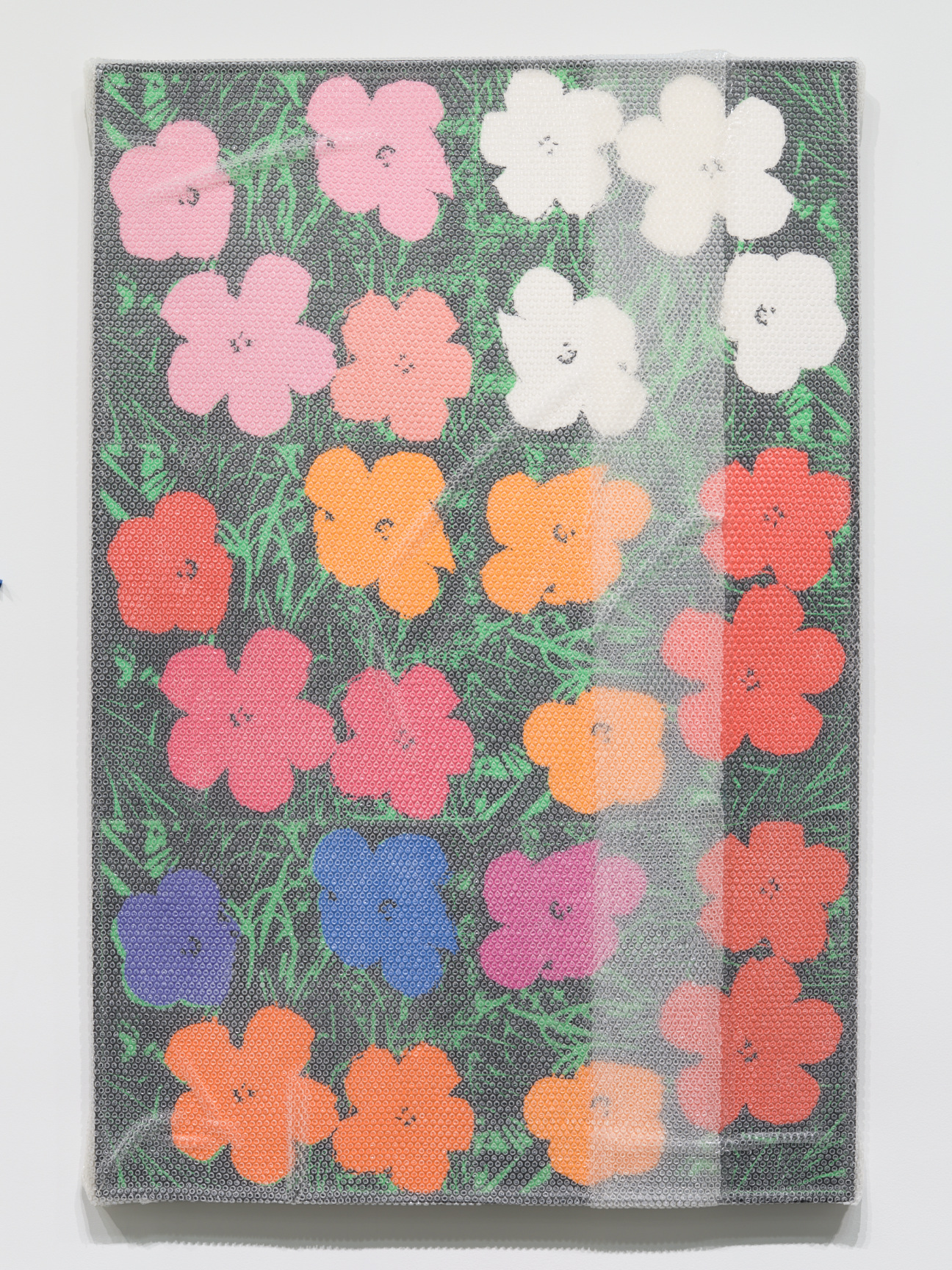 Tammi Campbell
Tammi Campbell pierces male modernism with her disruptive play on 20th-century masters. With copious research, she faithfully replicates minimalist and Pop icons, from Josef Albers to Frank Stella to Andy Warhol—the genius of the works lies in added elements of bubble wrap and packing tape, illusions made entirely of acrylic paint medium. Indeed, the Canadian artist has taken trompe l'oeil to its subversive extreme, triggering simultaneous delight and confusion. Campbell's technical skills are a sight to behold, but it's her deception that makes her practice so probing: isn't it high time to rethink the canon? At Los Angeles gallery Anat Ebgi's booth, Flowers (6) with Bubble Wrap and Packing Tape, 1964 (2022) sold for $32,000 and Flowers with Bubble Wrap and Packing Tape (2022) for $12,000.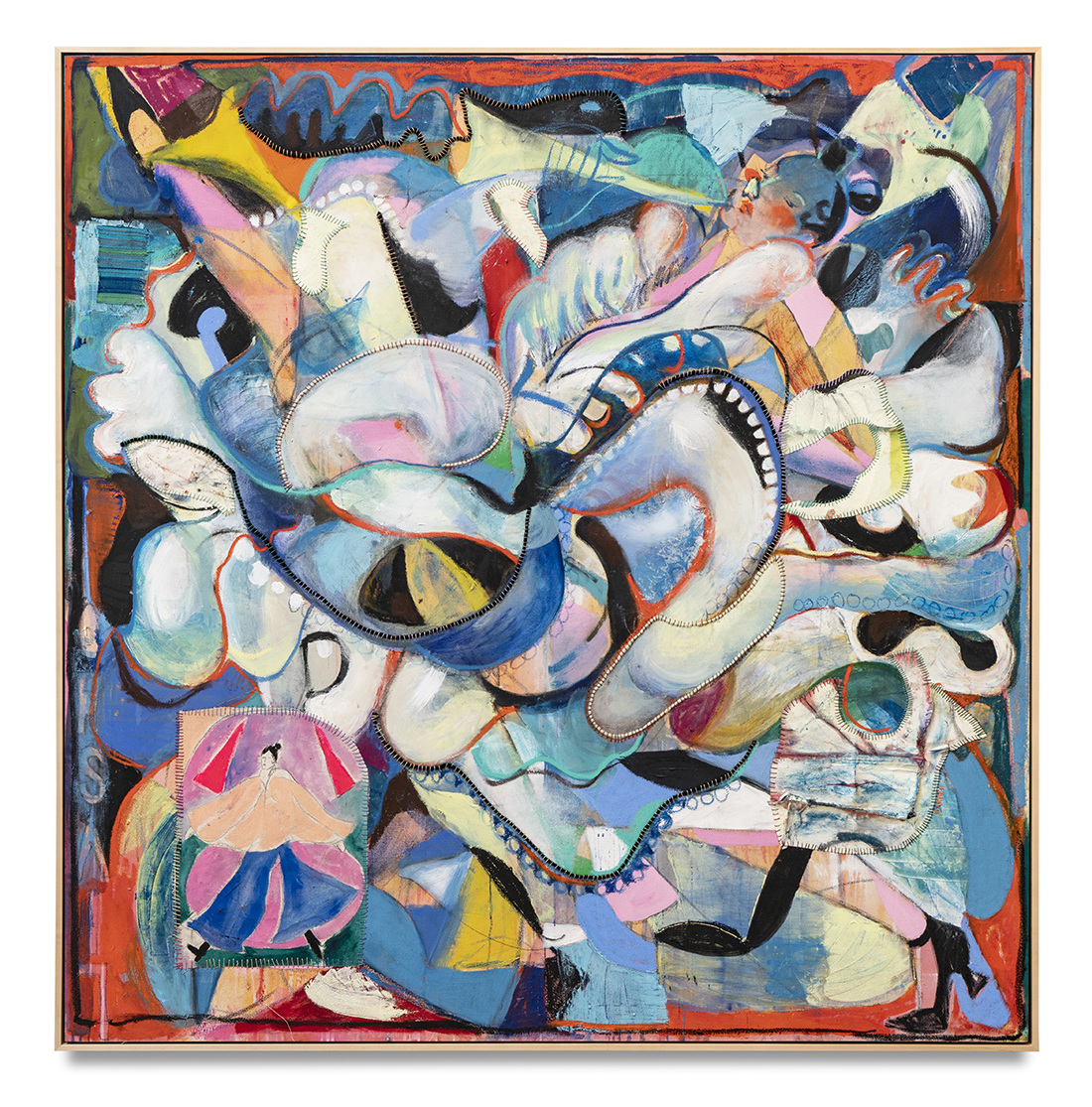 Kate Barbee
Among the strongest Armory standouts, Kate Barbee's works Dancer 2 and 3 (both 2022) sold at Kohn Gallery's booth for $32,000 each, as well as Sister (2022) for $6,500. Using her signature visual language (you can spot a Kate Barbee from across a convention center), the Los Angeles artist creates large-scale abstracted paintings using an intense palette, bold gestures, elements of collage, and the occasional erotic undertone. Barbee has said she's interested in escaping through painting, creating a fabulous world to live in, though all of her work is derived from personal moments in her life. Echoes of Cubism, Cecily Brown, and Mark Chagall abound, but Barbee's own feminist twist makes her a distinctive artist fast on the rise.