Laila Gohar has spent her days creating a dream world of gorgeous food. Devoted admirers flock to her visually captivating Instagram feed to get a glimpse of the brilliant ways she molds butter, braids cheese and exquisitely powders delicate berries with confectioners' sugar and yearn to attend the affairs where these art meals are served. Gohar uses food as both an artistic medium and a tool for communication, creating unique experiences around the globe for both friends and luxury brands like Simone Rocha, Comme des Garçons and Tiffany & Co. Now, along with her sister, artist Nadia Gohar, the New York-by-way-of-Egypt creator has launched Gohar World, a beautiful new way to construct your own universe at the dining room table, one object at a time.
Encompassing whimsical tableware that embraces craft, time, tradition and humor, the brand was "born from our love of entertaining and bringing people together," says Laila, who conceived of the idea with her sister during the global COVID-19-related lockdowns in 2020. Then, designing pieces in New York for future dinner parties felt "a kind of fantasy for us, a way to escape."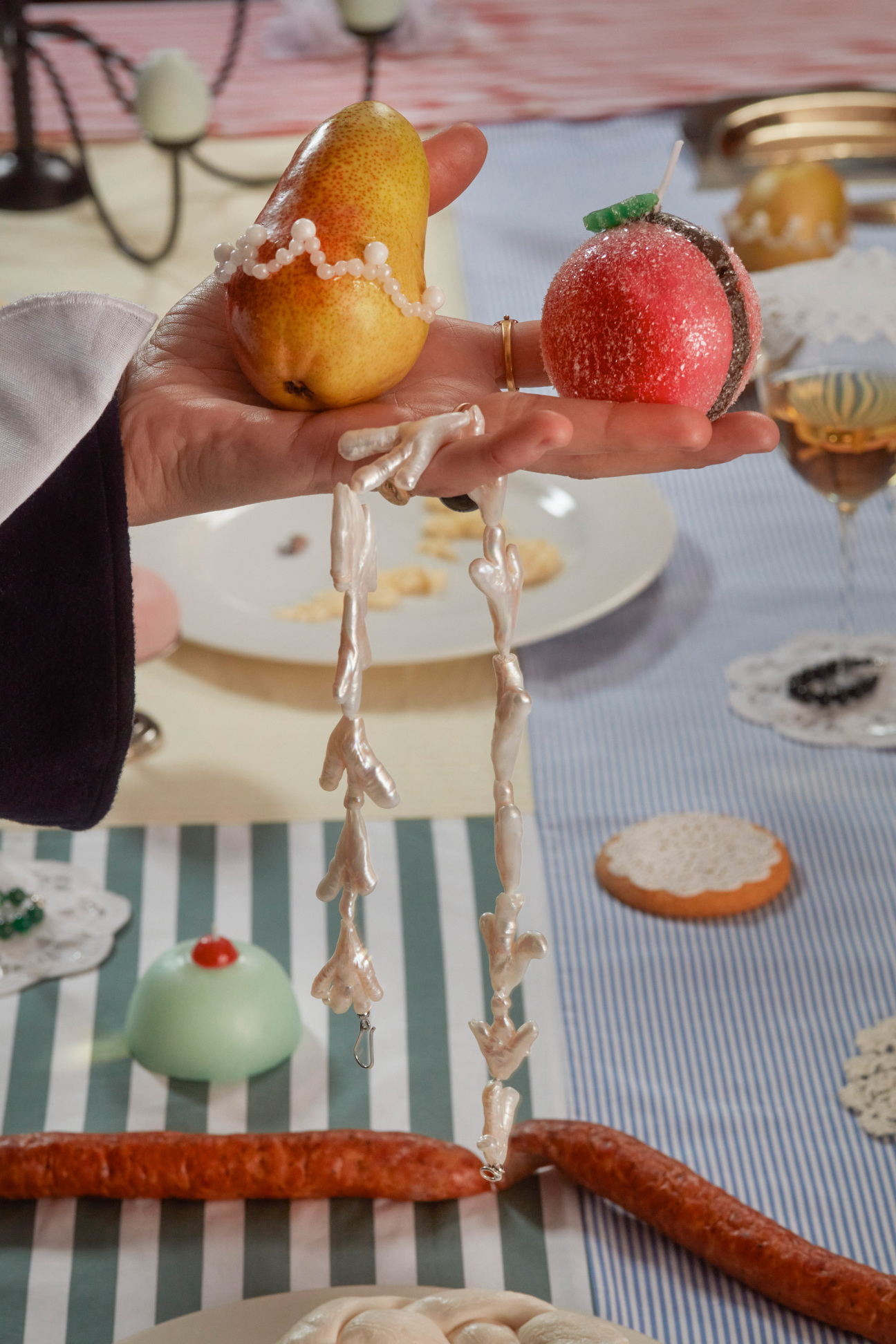 The Gohar World collection, handcrafted by artisans spanning multiple continents, includes a mother of pearl butter knife, an egg candelabra and a clever baguette bag adorned with black satin bows. The designs are approached as future heirlooms, and many have a familial touch. The linens, for example, are sourced in Egypt and sewn at the Cairo atelier of Laila and Nadia's grandaunt. Their grandmother, Nabila, a retired fashion designer in Egypt, "insisted on hand-stitching the bows for the baguette bags herself after she couldn't find anyone else who could do it exactly the way we wanted," says Laila. "She then sent us a giant suitcase full of satin bows. We didn't even know she was doing it. It was so sweet to receive."
Collaboration has been of the utmost importance to the creation of Gohar World, whose tagline is "design for the table, where as much attention is given to dressing the table as one's self." The brand marks the first time Laila and Nadia have worked together formally, and the former says she's been continually impressed by her sister during the experience.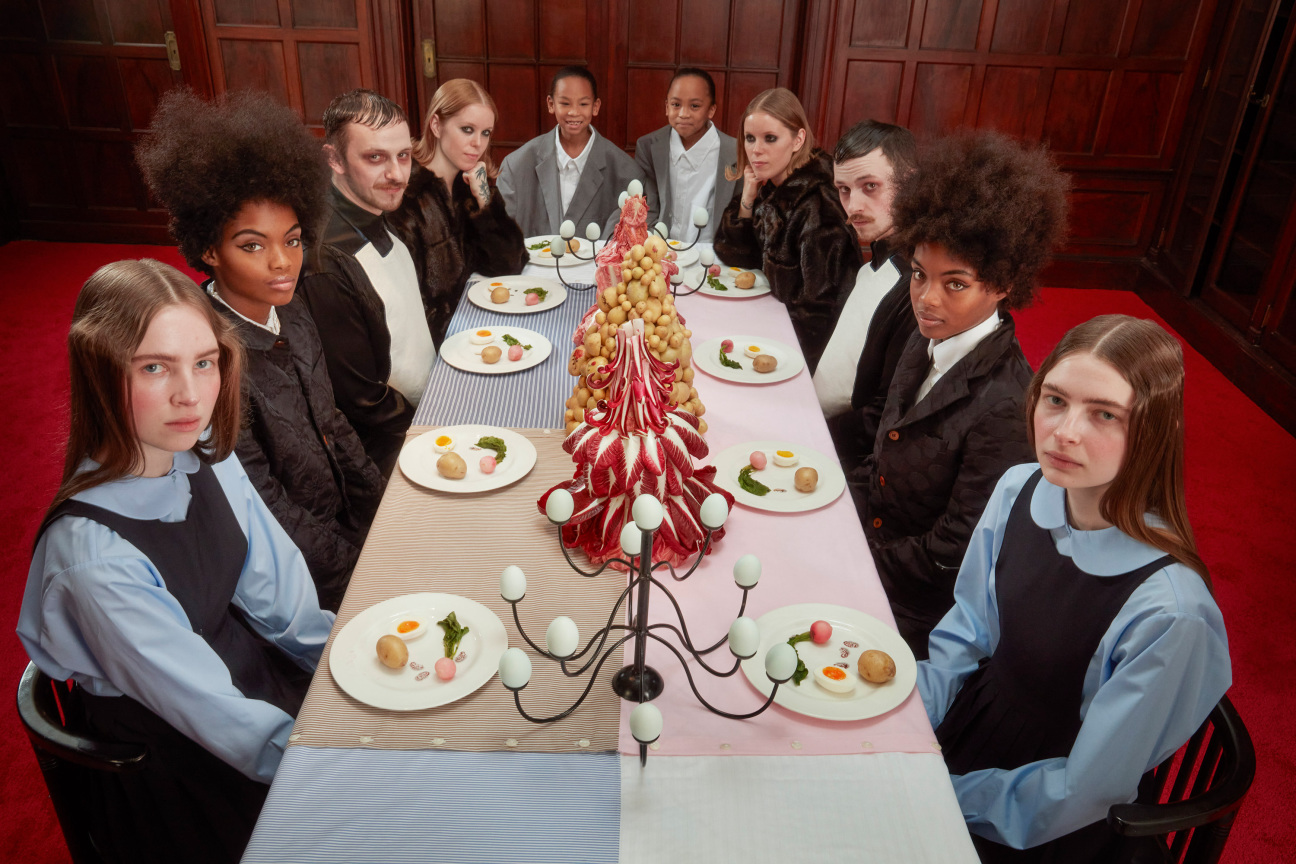 "Because she is a painter, she likes to daydream as I do, but she's also very meticulous," Laila says of Nadia. "She's overseen much of the production process and worked with the ateliers who fabricate our designs. She's an incredibly hard worker, it's been amazing to watch her."
Tradition is of tremendous importance to Gohar World designs and intentionality is a prerequisite. Their products celebrate customs that are on the precipice of disappearing, highlighting the artistry of mouth-blown glass, needlework and hand-dipped candles. On the brand's Instagram page, a mesmerizing video captures of one of their fabricators crafting a piece of lace with mastery.
"I prefer pieces that are intricate and maximal over sleek and minimal," says Laila. "The bonnets for bonbons, fruits and vegetables are two of my favorite pieces in the collection for this reason. In addition to lace, I'm really fascinated by needlework. There's a napkin in the collection that employs a stitch called à Jour [openwork] that's not used very frequently but it's so beautiful. I'm glad we were able to include it and bring it back."
In the Gohar World philosophy, "no object or piece of furniture has been as meaningful to family and community as the dining table." With their surrealist tabletop objects, the Gohar sisters are seeking to enliven one of humanity's oldest traditions, eating communally, whilst creating new rituals in the process. The simple act of hospitality resonates more than ever, and Gohar World has elegantly reimagined the ways in which we break bread.