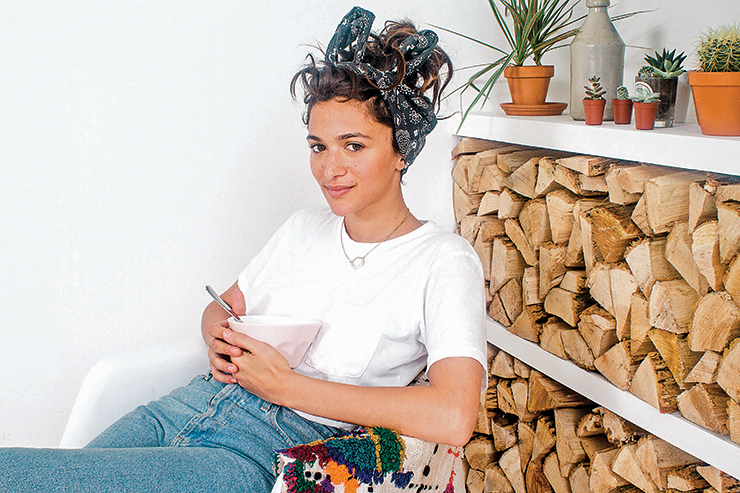 Like viewing art, eating food can trigger physical and emotional responses. The best meals do both. This summer, Jason Wu invited guests including Zosia Mamet and Martha Hunt to commune over a tabletop fence made of bread—an edible centerpiece conceived by food designer Laila Gohar, whom Wu discovered on Instagram.
The primal destruction of the carb-loaded sculpture made the night stand out. Experiential as well as delicious, the installation at Wu's dinner exemplifies the kind of avant-garde catering in which Gohar excels. "It's more about creating an experience as opposed to just providing food or a service," explains Gohar. "I don't think a lot about picky eaters and things like food intolerances. Instead, I'm thinking more about what type of utensil the people will use."
Gohar's company, Sunday Suppers, has found a niche approaching food from this angle—even making marshmallow towers for Tiffany & Co. Not surprisingly, the interest extends into the art world: Galleries like Petzel and Chamber now call on Gohar to cater their parties.
Working out of her New York apartment, the Egypt-born designer spends most of her time doing research, which can mean anything from Union Square market trips to museum hopping. The Peter Fischli and David Weiss retrospective at the Guggenheim was a recent favorite. Constantly refining recipes and concepts, Gohar keeps track of her work using a big brown notebook. Each event is shot and archived by a photographer, and the photos serve as small souvenirs that can never quite capture the experience of attending her events.
Like an art installation, Gohar's dinners and menu choices are inextricably linked to time, and seasonality helps to create palettes. "Produce follows this amazing color spectrum," Gohar says. "Spring vegetables are very green and yellow, summer becomes orange and then later red. In fall, there are deeper reds, orange and purple. Winter is all the darker roots, like alliums." The ultimate hostess, Gohar regularly serves friends at her apartment, which she shares with her boyfriend and Apartamento co-founder, Omar Sosa. She keeps things simple when planning these dinners—a trait she shares with her chef friends. In discussing whom she would most like to feed, Gohar names Lebanese-American poet and artist Etel Adnan. The menu? "Food I grew up eating."