French photographer Hugo Comte has always worked on the edge of multiple disciplines. It's influenced by his background in studying architecture in Paris, he says. Known for a sharp and astute vision, an ability to explore and intertwine all sorts of media and his deep consideration of the subconscious and subtleties, Comte plays on the nuances of time, character, expression and attitude, creating symbolic images of power and grandeur that always tell a story. His ability to bring the power of womanhood, sensuality and love to the forefront of his work has made him a popular collaborator of some of the world's most photographed women, including Dua Lipa, Bella Hadid and Alek Wek.
Now, these efforts are on display in the talent's first solo show, "Testament," a series of 15 monumental photographs created in collaboration with stylist Ibrahim Kamara. In partnership with La Cité, the exhibition is on display at Galerie Hussenot in Paris through February 26. It also coincides with Comte's first foray into the metaverse: a social token $NIKITA, named for his muse, launched yesterday and allows entrance into a virtual space where members can interact directly with the self-taught artist. Here, he gives Cultured a peek into his world.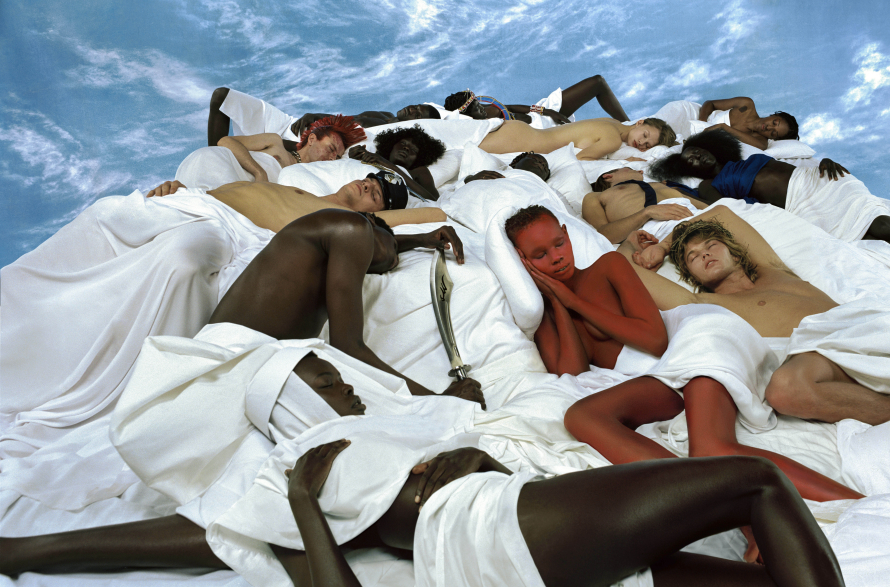 Sophia Small: What was your process curating your new solo show, "Testament?" Is this something that you have been working on for a while?
Hugo Comte: It started in a very abstract way. In the beginning, it was an urge to do something very personal and express who I am. I became motivated by this subject of creating scenes with religion and African-ness. Things got very precise and then I reached out to Ibrahim and showed him a whole presentation. He was like, "I'm in," right away. We selected images that pose a question. The whole concept was more around questioning rather than making a clear statement.
SS: How does fashion influence your choices when you photograph and what are some designers that heavily influence your work?
HC: Fashion is the symbol of this visual journey of identity and how I can build characters and inspire people to act like those characters. I'm trying to build a bridge between architecture and fashion because it's obviously my first approach due to studying architecture before photography.
SS: How did you take that step from studying architecture to then moving into photography?
HC: At the beginning, photography was a tool to research architecture. Then. it became a tool to express architecture. And then it moved to body and space. Then. I forgot about architecture, and I tried to really be close to the body through work that expresses a lot of body language, sensuality and just acceptance that I am working with humans.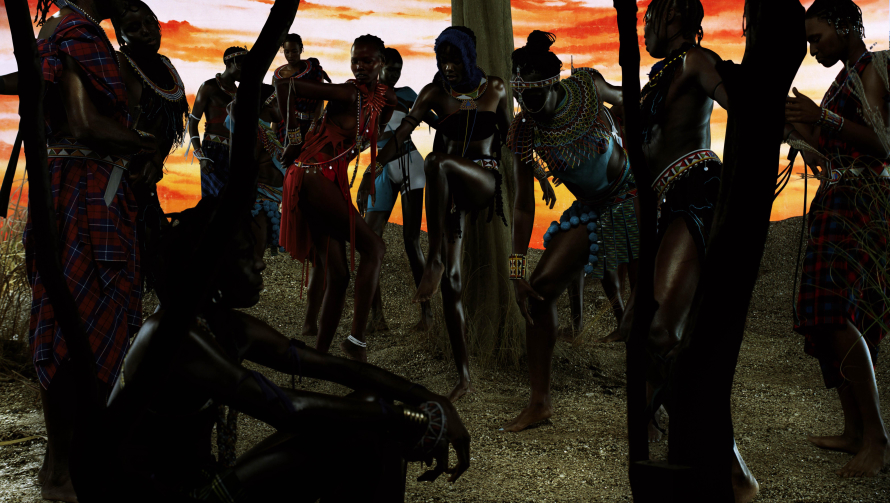 SS: Your body of work has an unwavering theme in expressing the power of womanhood. What draws you to women as muse?
HC: The answer to this question is really just a work in progress. I feel like there's a lot in my work that is very unconscious and the fact that I'm using $NIKITA for the collection, it's like I'm making a tribute to someone I don't know yet. If Dear Nikita had to wear clothes, she would dress like this. One of the pieces is a top where it's a sort of figure with two arms and the arms are hiding behind the neck. It's almost like this person is hanging around the neck and the face is resting on the breast. It's a tribute to motherhood.
SS: A lot of your work is very influenced by the 1990s and "Testament" has this mythological sense to it; what draws you to the past and tying it to the present?
HC: I think "Testament" is like the symbol of desire. If you think about all the things we believe in, they were created by humans. We have this responsibility inherent in making images that generate beliefs and if we have the power to influence people we need to make sure we do it in the right direction. "Testament" is about this: it's about questioning how the public was influenced before.
SS: What's the biggest challenge you've faced in your journey and what gets you over a creative roadblock?
HC: I think it's about reconciliation with all the different fields and that I have no limit with the medium. There are photographers that do photography because they like photography. And there are photographers who like photography because they like what they are taking pictures of. For me it's about atmosphere, structure, identities, character and attitude. It's all about curation and it's all about taste and making decisions, like narrowing our environment. I like the idea of being able to embrace every single little part of the day.
SS: Are there certain spaces you're looking to tap into that maybe you haven't, in the future. What's next for you in general?
HC: Honestly, everything.
SS: The world is your oyster!
HC: Exactly. Well this year there is the exhibition; there is the capsule collection, and then later in the year, I'm going to shoot my first short movie and I'm also doing a furniture design project, where I really embrace the architecture. One thing that I'm passionate about is the idea of transition. The objects we interact with every day are changed by the act of interacting with them. The whole exhibition is about exploring the transition and reaching the state of the function of an object.