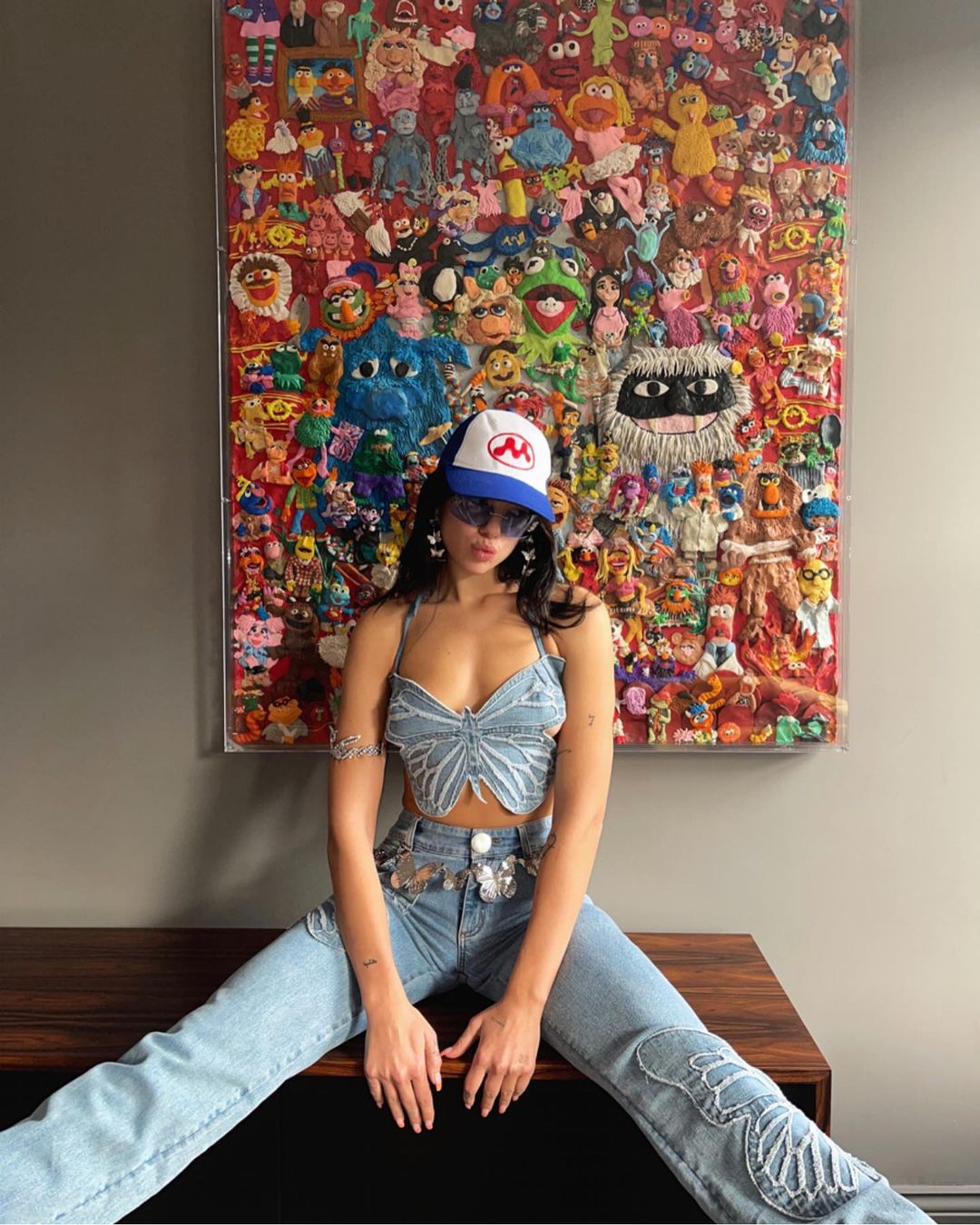 Dua Lipa gave Instagram a peek at her art collection yesterday in the form of a FriendsWithYou The Muppets assemblage. In the picture, the artwork serves as a dynamic backdrop for the fashion-forward singer who posed in a denim outfit ineffably artistic in and of itself. Her eye for eccentricity is a hallmark of her public image and intrigue, and is a quality that would undoubtedly make the late Jim Henson thrilled to see in the owner of a work inspired by his googly-eyed creations.
Though Dua's home is rarely displayed on social media, this preview has us wondering what other artworks lurk in the other corners of the presumably eclectic space, and what are the chances she's using an art advisor we know? Regardless of whether Dua sought professional help on the matter, there's no question that the walls in her home are dressed to impress.
Until the next reveal, all we can do is muse at the covet-worthy works that surely could enchant her and Anwar Hadid's John Lautner house in Los Angeles. We're manifesting an iconic Mike Kelley installation in the living room walls perhaps accompanied by a diptych of Campana Brothers' stuffed animal chairs. And maybe a sloth of Paola Pivi's technicolored polar bears in the kitchen for good measure? Pipilotti Rist comes to mind, as do Luchita Hurtado and Florian Krewer.
As for FriendsWithYou, Dua's acquisition is one triumph of many; massive installations of cartoon-like creatures have been exalted globally in recent years. Immensely intricate verging on psychedelia, FriendsWithYou transports viewers to a dreamspace of joyous escape we didn't know we so desperately needed. In a tumultuous time, it's no wonder Dua has found joy in their sculptures. Art heals, don't you know?
Craving more culture? Sign up to receive the Cultured newsletter, a biweekly guide to what's new and what's next in art, architecture, design and more.