Alex Proba, the founder of Studio Proba, is a multidisciplinary designer and artist and the winner of one of the Miami Design District's most anticipated installations during Art Week. In collaboration with digital design studio Enjoy The Weather, Studio Proba is unveiling Tomorrow Land in the Miami Design District at the entrance of Design Miami/. Proba began working on these surrealist sculptures and the 3D world in 2018. Having them finally come to life in more ways than one marks her return to human connection.
After studying graphic design and product design in Germany, Proba moved to New York and put her expertise to work through roles as art director at Kickstarter, design Director at Mother New York, and art director at Nike. During her time at Nike, she met her partner Ian Coyle who was consulting with the brand through his own agency.
When asked to create a piece for Miami Design District in celebration of Miami Art Week, Proba, in collaboration with Coyle, utilized her multidisciplinary talents to create a series of colorful sculptures, with an accompanying virtual reality experience. Here, Proba dives into her inspiration behind Tomorrow Land, sculptures gone virtual, and the collaboration process.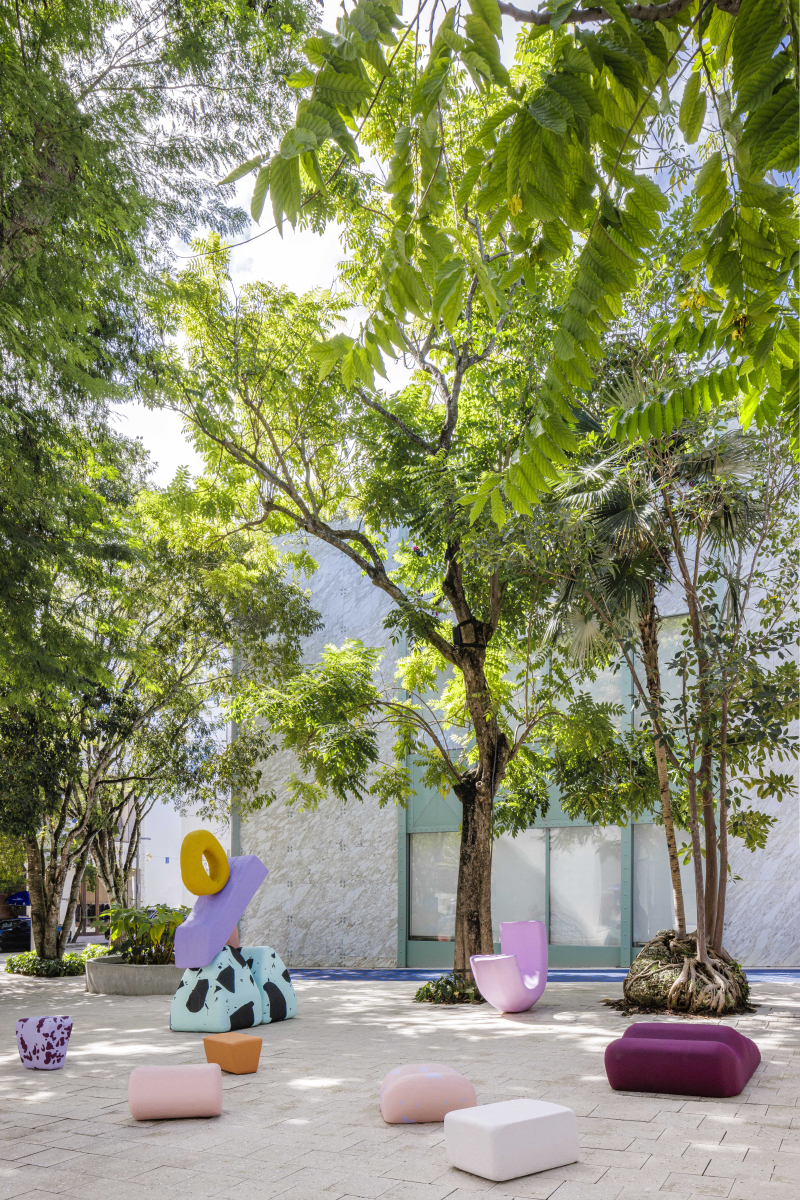 Cultured Magazine: What experience does Tomorrow Land hope to bring to visitors this year?
Alex Proba: In my work, I always try to create moments of joy. I started working on these surrealist sculptures and the 3D world around 2018, so having them finally come to life is amazing. While the pandemic is still very much real, somehow it feels like the first time hopes are up and everyone is back to being inspired and seeking human connection again. Visitors should expect to be transported into an unexpected world, think Alice in Wonderland. They will forget where they are for a moment. They will be surrounded by all of these creatures in different colors.
CM: How does the combination of the physical sculptures, seating and ornamentation by Studio Proba in conjunction with the virtual game by Enjoy The Weather bring about the intended experience?
AP: There is a VR element to Tomorrow Land that is accessed via an app. The app allows you to create your own totems and shapes out of the works and users are able to change the colors and patterns and place them in their own Tomorrow Land—whether it is around their neighborhood or in their living room. Additionally, you are able to share the virtual reality experience with the wider world and even my parents in Germany can create their own Tomorrow Land.
Prior to creating the experience, Ian and I were brainstorming the proposal and were thinking, it would be really amazing if we could see a billion virtual reality sculptures spread throughout Miami. Ian immediately jumped at the idea and thought, 'It would be so cool if we could do that; how do I build an app?'
He made the experience a reaction to the moment in time we live in. Since a lot of people have been staying home and keeping venturing out to a minimum, we thought it would be awesome to allow people to become artists themselves and experience art within their own homes and neighborhoods. I hope it also inspires people to go home and work on their own creative projects.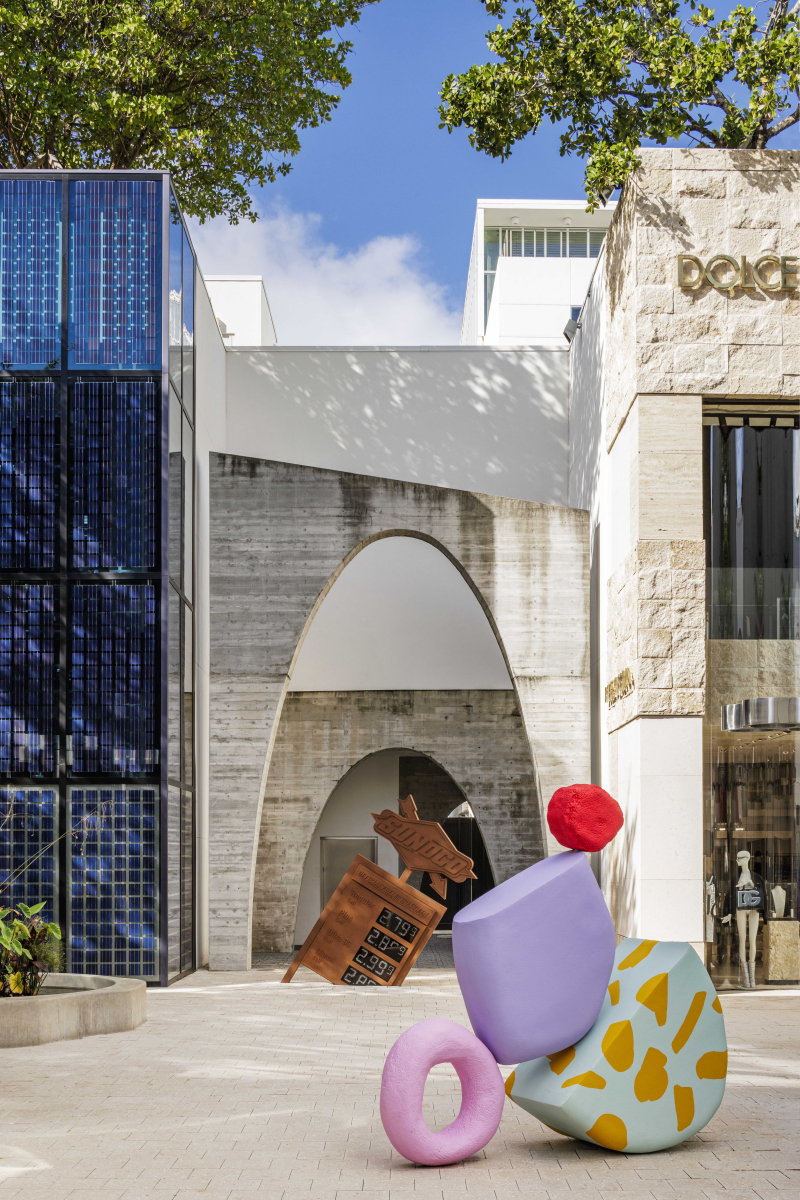 CM: With the neighborhood as your canvas, how did its existing design inspire your installation?
AP: I started working with living shapes years ago. The idea was always to have my installations be public sculptures in random places. When I started making them in 3D, a bit of a challenge arose. In creating them, I had always set them in the desert or in the ocean. Inside of houses it is very different; it is much more challenging to design for interiors because the setting is not as clean as a desert. I had to make the colors more intense so that people would be able to see them. It was a really difficult but fun challenge installing my art in an urban world.
CM: What goes into creating such a large scale and interactive installation? Where do you begin?
AP: My background is all over the place, and that is what I wanted it to be. I studied interior architecture and furniture in graduate school as well as graphic design. I am most satisfied when I create within the 2D world.
My brain still works in that typical architecture-graphic design method when working on a flat art piece. I usually start at the computer, take it from the computer to little models, then program those back into the computer. The same goes with creating patterns, some are brush strokes, so I paint them and put them right back into Adobe Illustrator.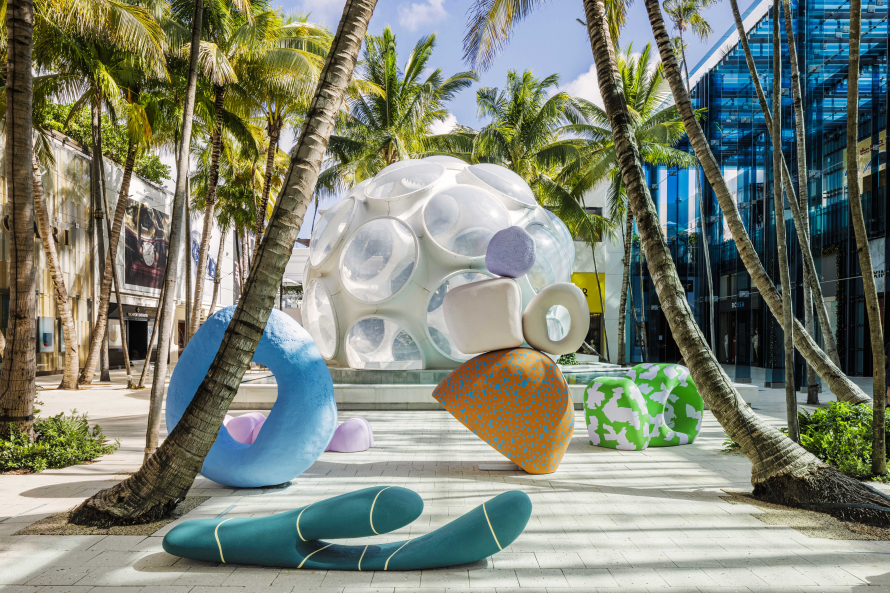 I still think I am very much a graphic design artist. Everything starts at the same place, whether the project is big or small. I just finished a massive mural in Pennsylvania and to me it's the same as an 8-by-11-inch project. I think it's my experience in furniture design and what I studied that helps me understand the object as a whole.
For this venture, the MDD paired me with a manufacturing person in Atlanta. He has been my right-hand builder and has done an amazing job. The work looks exactly like my renderings. We used steel, a special coating and paint so they are resistant to the outdoors.
CM: How did you collaborate with the curators Anna Carnick and Wava Carpenter of Anava Projects on this project?
AP: Collaboration with Anna and Wava has been super fun. When they reached out to me initially, they were already excited about this project and gave me complete creative freedom. Everyone was on the same page from the start. Once we got approved, they helped with providing context and copy.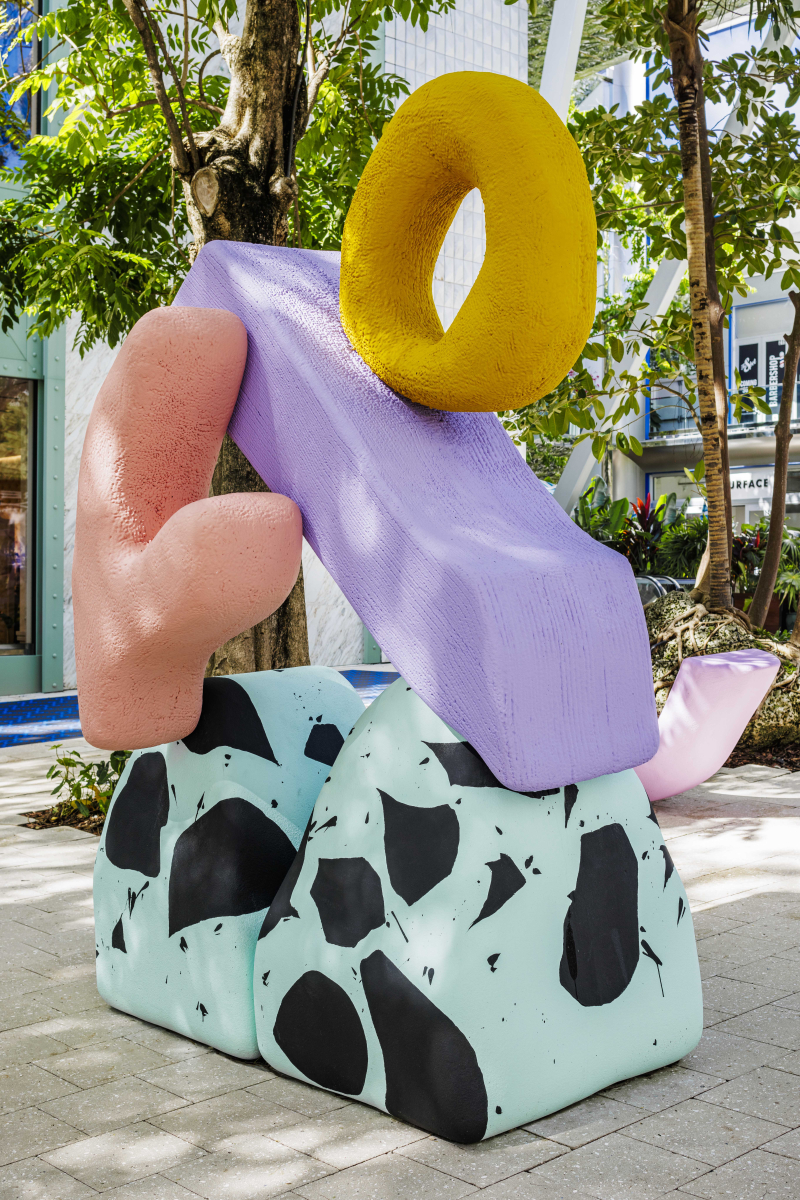 CM: How did you work to create a design that caters to the Miami Art Week experience as a whole?
AP: The art and design worlds continue to overlap more and more and I am right in the middle of that. A lot of people call me an artist and a lot of people call me a designer. A lot of people call me both. Given the increasing symbiosis between art and design, my identity as someone who sits at the intersection of the two, I think fits nicely at Miami Art Week.
CM; Apart from your own installation, what are you most excited for at Art Week?
AP: I look forward to all of the human connection and running into people I haven't seen for a while, especially when they tell you which pieces and installations were their favorite and what they found most inspiring.