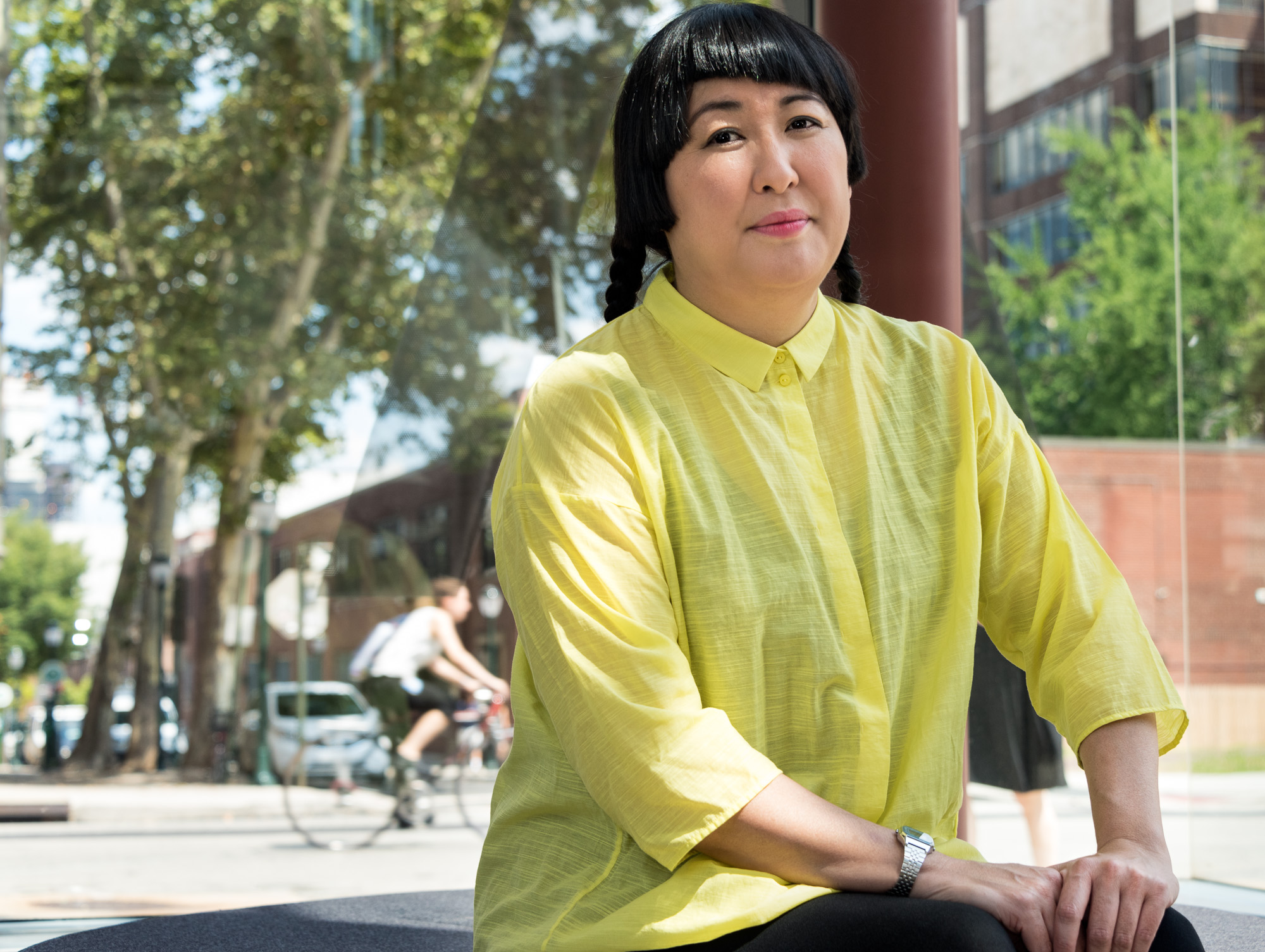 Given its proximity to the all-you-can-eat art buffet in New York, Philadelphia can be a touch overlooked, despite the jaw-dropping offerings of the Barnes Collection and the Philadelphia Museum of Art, among other excellent institutions.
But Amy Sadao, the director of the Institute of Contemporary Art at the University of Pennsylvania, sees the position of the city, and her cutting-edge Kunsthalle, as a massive upside. She runs Philadelphia's only contemporary art museum, founded in 1963.
"There's a lot to be said about our proximity to New York. We can all go and see those exhibitions, but we don't want to bring exhibitions from the Whitney here," says Sadao, a former long-term New Yorker herself who took over the ICA's helm in 2012. While she is up to date with the happenings in the Big Apple and the wider world, she is forging her own path at an institution known for doing just that.
"Nothing's ever the same at ICA," she says. "We don't have a collection. We take really seriously our mission to respond as heartily as possible to artists' works and to completely transform the galleries and the museum each season. The whole place is made over and the museum is new again."
This fall, the ICA debuts its biggest exhibition ever, taking over all of its 10,000 square feet: "The Freedom Principle: Experiments in Art and Music, from 1965 to Now," organized by the Museum of Contemporary Art Chicago (the engine of many buzzed-about shows lately). It runs September 14 to March 19 and features the work of Glenn Ligon, Stan Douglas, Rashid Johnson and Nick Cave, as well as some new names to many viewers.
"Philadelphia has this enormous history with avant-garde jazz and avant-garde black culture," says Sadao, making the show "particularly salient to this city."
Woven through that exhibition will be an ICA original, curated by its own Anthony Elms, called "Endless Shout," an exploration of African-American 1960s performance-based work and its impact today. Sadao says it's a "method for us to explore the ways museums can present performance work and live work"—a question being asked widely by similar institutions across the country.
Rather than being a mere trend among museums, Sadao sees the performance focus as natural, given the ICA's mission. "It's a response to artists," she says. "We are looking where artists are looking. We are not looking where the market is or where art history has already been written."
That ambition is made possible in part by Sadao doubling the ICA's endowment to around $23 million since she arrived, largely due to the "great visionary" gift of $10 million by longtime arts patron and collector Dan Dietrich, who died in 2015.
The University of Pennsylvania comprises a dozen schools and six cultural resource centers like the ICA, and as Sadao notes, "The university does not underwrite everything that ICA does." Luckily, the city's wider donor class has also been supportive. "We are also really lucky to work here with foundations that support Philadelphia art so boldly, like The Pew Center for Arts & Heritage, which is supporting 'Endless Shout,'" says Sadao, also citing the William Penn Foundation as a contributor that wants institutions "to really stretch themselves."
Sadao has stretched into her job, too. Previously, she was the director of Visual AIDS in New York, working with another staffer at the nonprofit dedicated to increasing awareness, supporting HIV-positive artists and preserving the legacy of AIDS on art; now she has 19 people under her.
The edgy offerings at ICA sometimes require a good old hand-sell, hence the attention to engagement, and Sadao is interested in shaping a welcoming first experience for Philadelphia audiences. As she puts it, the goal is to create an "on-ramp for cultured, intelligent, curious, potential viewers who don't yet have this complete confidence in their relationship with contemporary art."
Of course everyone is working on their connection to the art of today, which is meant to be provocative and vexing at times—not settled and neat.
Sadao has a clear sense of her mission: "It's a long relationship, right? And one that grows. We're going to be that institution that people can begin that relationship with."