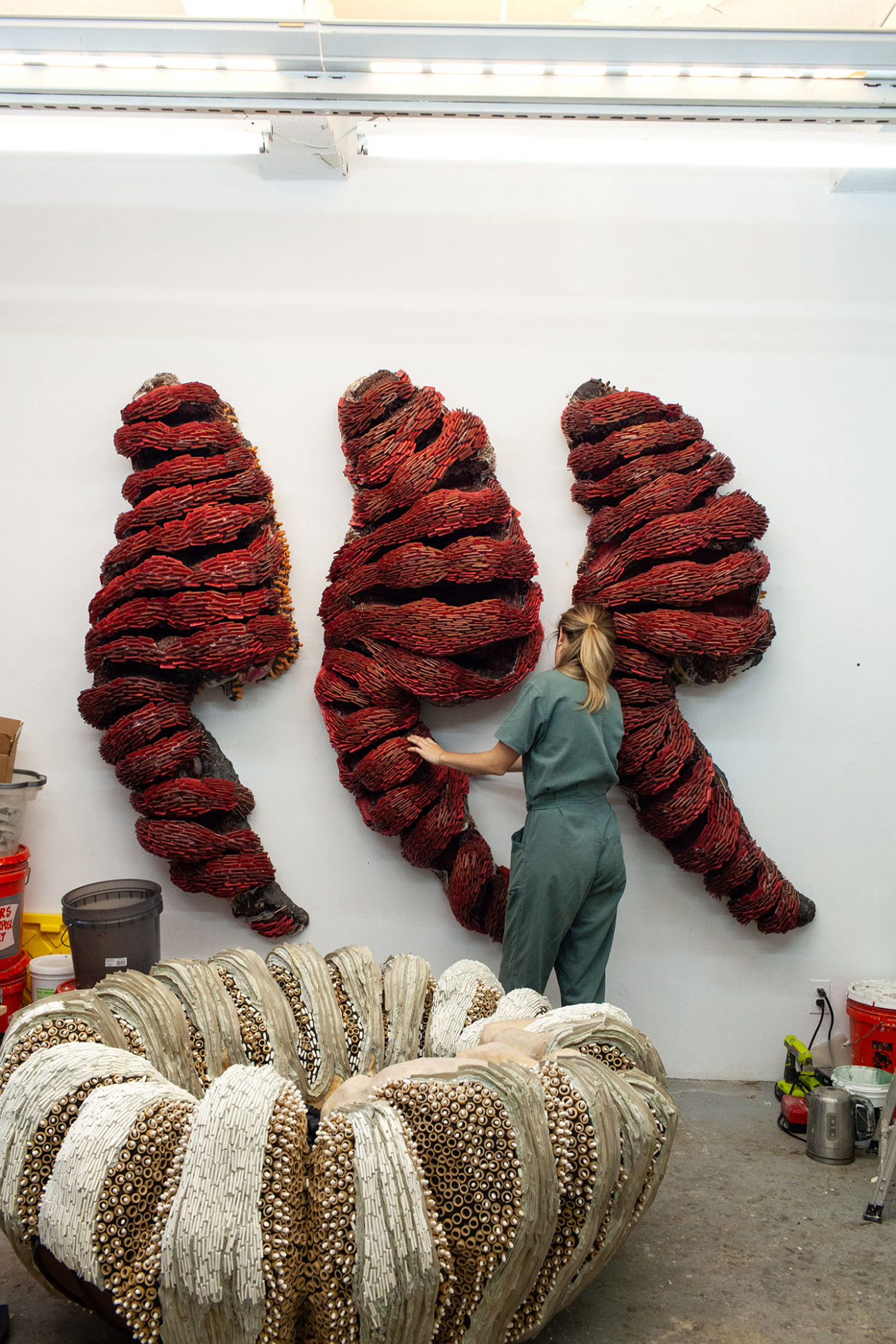 Welcome to This Week in Culture, a weekly agenda of show openings and events in major cities across the globe. From galleries to institutions and one-of-a-kind happenings, our ongoing survey highlights the best of contemporary culture, for those willing to make the journey.
New York
"Ticket to Paradise" by Whitney Oldenburg
Where: Chart
When: November 3, 2023 - January 6, 2024
Why It's Worth a Look: New York-based artist Whitney Oldenburg explores consumer addiction and reliance on items such as smartphones, TV, and medication through her odd, alluring sculptures, which embody the phrase "I consume therefore I am." Created out of memorabilia, found objects, and craft materials, Oldenburg's works on view in "Ticket to Paradise" interrogate the capitalist system and protest the environmental and economic crises of modern day.
Know Before You Go: Oldenburg's work is rooted in concepts of new materialism and affect theory, presenting a sensory, spiritual, and symbolized approach. In her work, Feeding Frenzy, 2022, thousands of red raffle tickets combined with resin compose threadlike tendrils, emphasizing the spiraling destruction and psychology of escapist consumption.
"Permanent Moments" by Annie Morris
Where: Timothy Taylor
When: November 2 - December 16, 2023
Why It's Worth a Look: "Permanent Moments'' delves into British artist Annie Morris's memories and personal experiences, showcasing new monumental sculptures made of bronze and plaster, as well as bold stitched and interwoven tapestries overlaying a color palette of dampened turquoises, oxblood reds, and viridian greens. She draws from intuition and translates her sketches into tapestries through various stitching methods and color mixing, giving off the impression they were painted with brushstrokes.
Know Before You Go: The idea behind Morris's "Stacks" series came to her in 2012, while she was mourning a stillbirth. She began drawing oblong, ovular orbs that symbolized eggs and the swollen belly of pregnancy, carving them into foam and assembling them into unbelievable structures, translating her tragic experience into a commemoration of faith and defiance.
"Night Watching and Pictures from the Archive" by Rineke Dijkstra
Where: Marian Goodman
When: October 31 - December 20, 2023
Why It's Worth a Look: Marian Goodman will present the East Coast premiere of Rineke Dijkstra's three-channel video installation Night Watching, 2019. In the piece, Dijkstra films various spectator groups discussing Rembrandt's renowned painting The Night Watch, 1642. This work reveals the subtle similarities between humans and the ways in which they connect to each other, to the camera, to art, and to the audience. The film is shown alongside a selection of new and never before seen photographs from her archives, including her "Beach Portrait" series.
Know Before You Go: Night Watching was filmed in the Rijksmuseum's Gallery of Honour after hours. The camera was placed right in front of Rembrandt's paintings to depict the spectator's personal and intimate relation with the painting. This experience of listening in on conversations surrounding people's relation to art, culture, history, and their creation of meaning, was similarly a focus of Dijkstra's 2009 video installation I See a Woman Crying, which involves British schoolchildren at the Tate Liverpool reacting to Picasso's painting The Weeping Woman, 1937.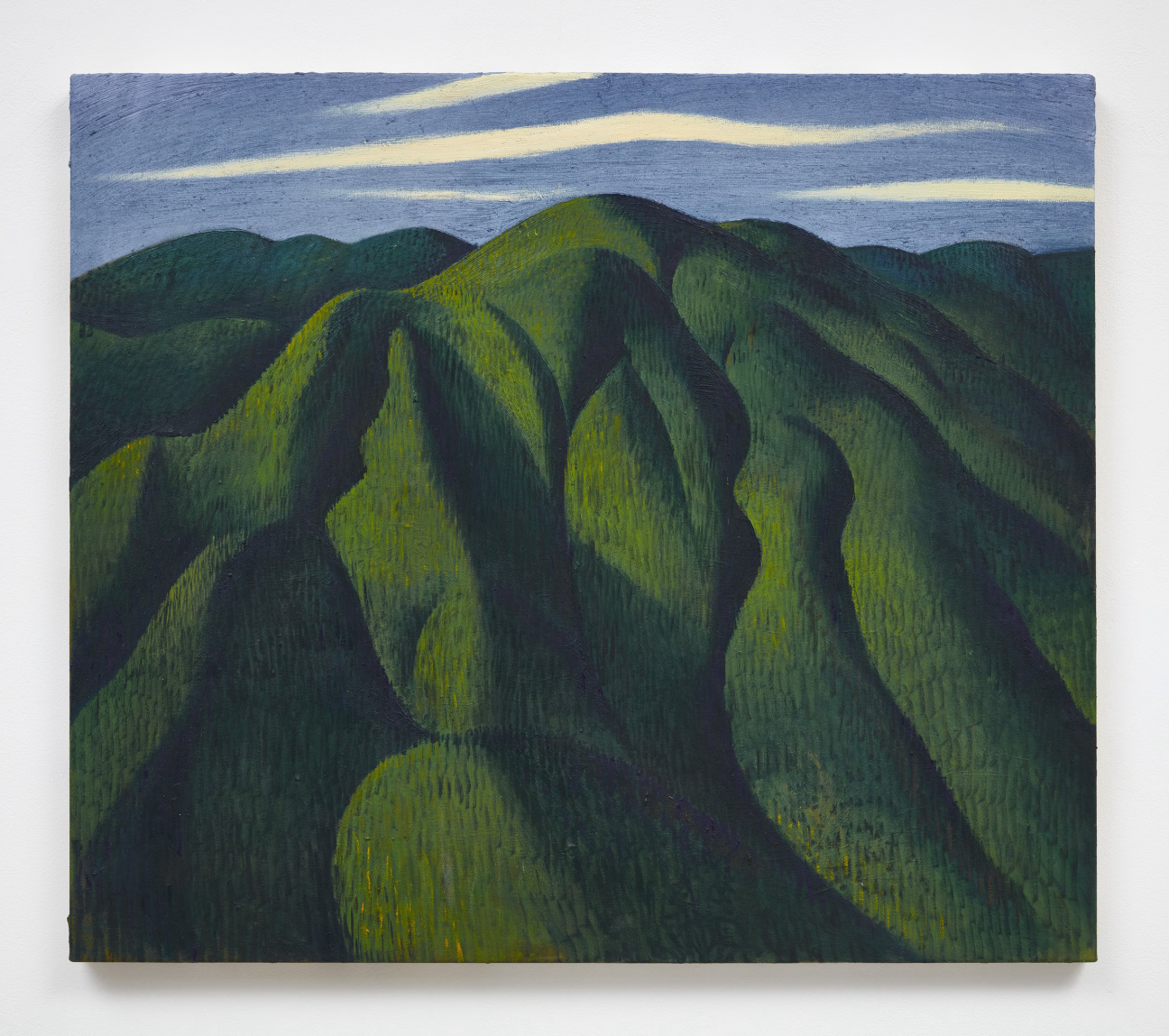 "In bed and abroad" by Louis Fratino
Where: Sikkema Jenkins & Co.
When: October 27 - December 9, 2023
Why It's Worth a Look: "In bed and abroad" captures American visual artist Louis Fratino's exploration of the tranquility and honesty of contemplation, sensation, and residual memories. The works on display translate Fratino's observations and recollections of unidentified subjects outside of his circle, including strangers in a public shower, silent audience members in a theater, and couples promenading among cherry blossom trees.
Know Before You Go: Much of Fratino's art explores his relationship with his identity and sexuality. He takes inspiration from other queer artists like Marsden Hartley and David Hockney, while also engaging and pulling concepts from the work of those like Thomas Hart Benton, who was known to be homophobic. "The way my figures are formed comes from my personal taste and interest in art history and wanting to collide in a way that hopefully builds my vocabulary," Fratino said in a statement. "I'm interested in artists, like me, that were gay and want to know why they drew a figure in the way they did. I'm also trying to figure out what it means that I'm an American painter."
"Tool" by Ser Serpas
Where: Maxwell Graham
When: October 28 - December 9, 2023
Why It's Worth a Look: Los Angeles-based artist Ser Serpas creates, corrupts, then reproduces and destroys in her first solo exhibition at Maxwell Graham. Experimenting with the idea of art and process as a tool, she makes a painting and, while it's still wet with colors and dye, stamps it on another surface. The result is a resemblance, impression, and inkling of a memory.
Know Before You Go: The works on display for "Tool" are showcased in an obscure manner, resisting expected and traditional spatial placements, as paintings conceal and veil each other.
"Lovers Grave" by Tracey Emin
Where: White Cube
When: November 4, 2023 - January 13, 2024
Why It's Worth a Look: English artist Tracey Emin conceptualized the idea for "Lovers Grave" after seeing burial site images showing excavated human remains locked in eternal embrace. She became captivated by this idea of the depth of an endless love that continues into the afterlife, which she considers to be a human pursuit. Emin looks inward for inspiration, taking from emotions of love, desire, loss, and grief that translate unapologetically into vulnerable, emotional art. "The most beautiful thing is honesty, even if it's really painful to look at," Emin said in a statement.
Know Before You Go: Emin's recent work confronts her medical diagnosis of bladder cancer in 2020, which includes smartphone self-portraits taken in bed while suffering from insomnia during recovery from surgery, as well as nude figure paintings that reflect an honest frailness, sense of urgency, fluidity, sensuality, and oscillations between joy and suffering.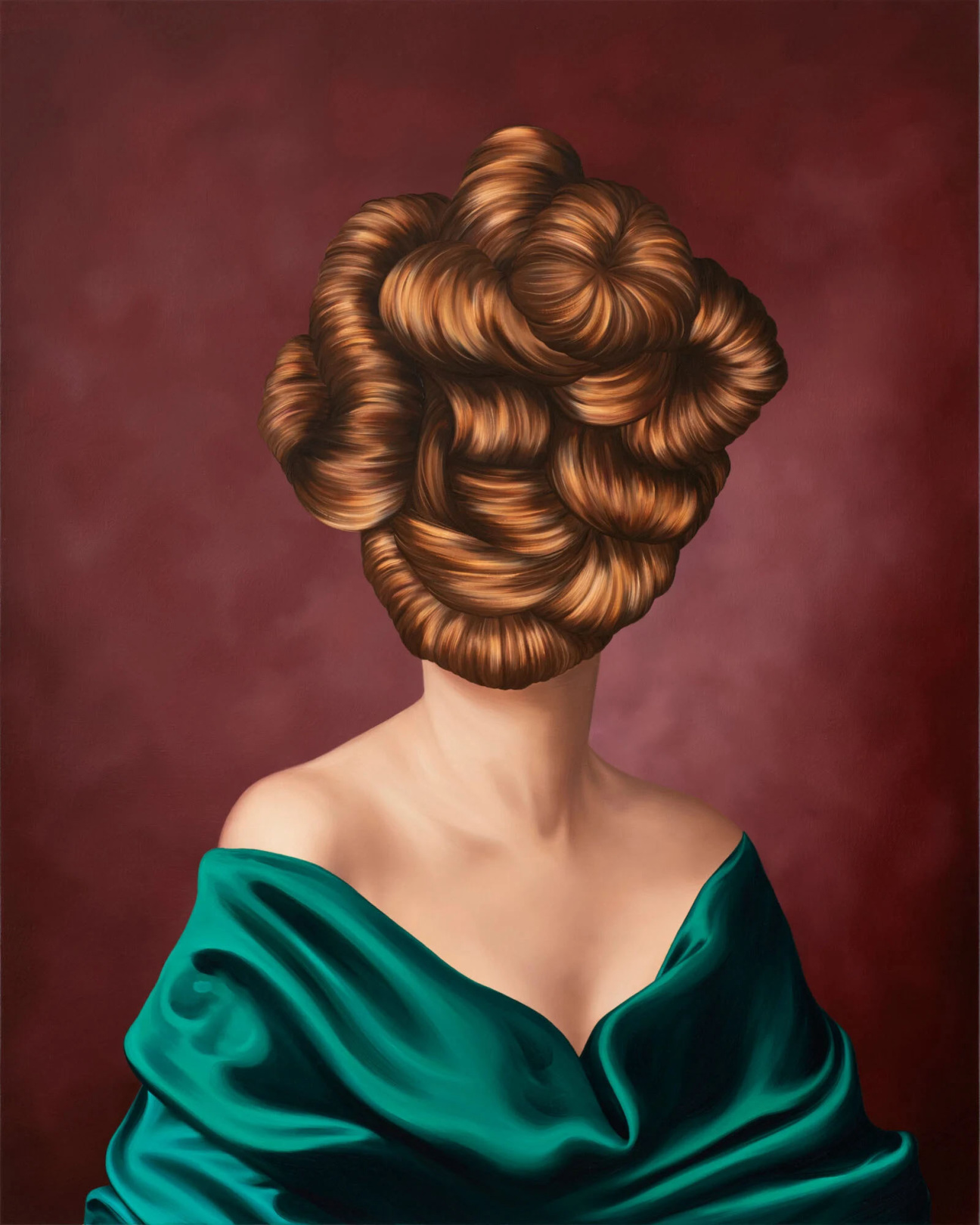 Los Angeles
"In a Shady Valley, Near a Running Water" by Ewa Juszkiewicz
Where: Gagosian Beverly Hills
When: November 3 - December 22, 2023
Why It's Worth a Look: Polish surrealist painter Ewa Juskiewicz will showcase a collection of new oil paintings at Gagosian's Beverly Hills location. Jusckiewicz's depictions of women take inspiration from the form and representation of Grand Manner style portraits from the 18th and 19th centuries, which she distorts with fantastical visuals, obscuring the subjects' faces and deconstructing imposed markers of femininity with elements of surrealism.
Know Before You Go: The title of the exhibition is inspired by a verse from the 18th century English poet William Shenstone, which she also refers to in her painting In a Shady Valley, Near a Running Water (after François Gérard). Juszkiewicz inflates the size of Gérard's portrait of Countess Katarzyna Starzeńska sitting with a lyre-guitar, metaphorically covering the subject's head with a cloth sprouting leaves.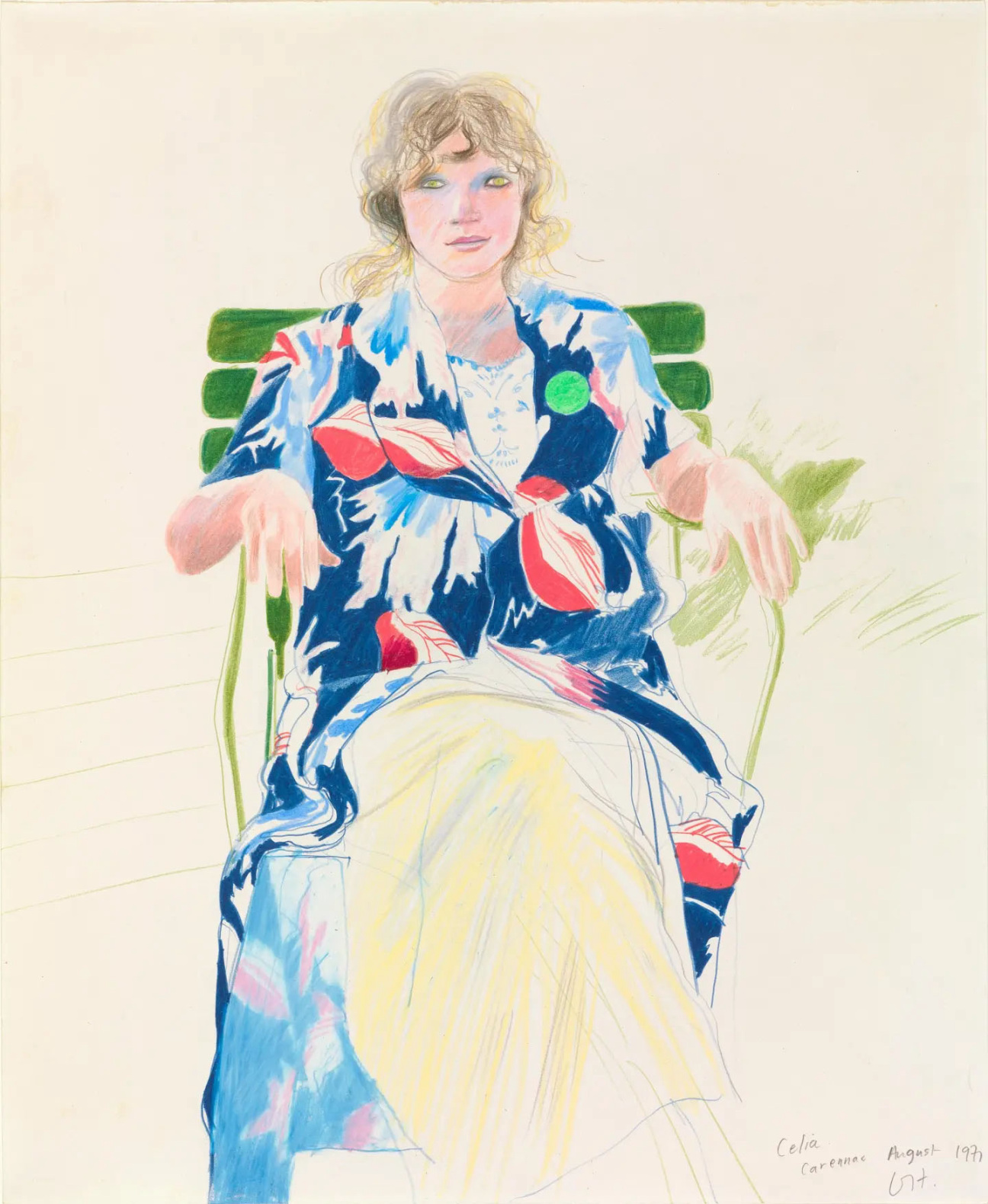 London
"Drawing from Life" by David Hockney
Where: National Portrait Gallery
When: November 2, 2023 - January 21, 2024
Why It's Worth a Look: English multidisciplinary artist David Hockney is considered one of the most influential British pop artists of the 20th century. Employing a wide range of techniques from pencil, crayon, and ink to photographic collages and digital iPad renderings, "Drawing From Life" features work made over the last 60 years. These include intimate paintings of five sitters and a selection of over 30 new portraits of friends and visitors at his studio in Normandy. One of the most anticipated works is an already-viral depiction of musician Harry Styles.
Know Before You Go: Hockney, a well-known synesthete, has constantly found his way back to portrait painting throughout his extensive career. In 1968, he painted realistic representations of people he knew including friends, lovers, and family members just under life-size scale.
"Twilight at the Earth's Crust" by Max Hooper Schneider
Where: Maureen Paley
When: October 27 - December 17, 2023
Why It's Worth a Look: Influenced by his various academic degrees in landscape architecture, zoology, social sciences, and marine biology, Max Hooper Schneider bases his artistic process off of biological systems, scientific concepts, and technologies. "Twilight at the Earth's Crust" showcases a selection of extraterrestrial-looking sculptures that reveal the toxicity and tribulation caused by human interference with the natural environment.
Know Before You Go: This exhibition came about as a result of Hooper Schneider's research and recent maritime excursions, including a 2017 exploration of the coral reefs impacted by the Japanese Fukushima disaster, as well as a Schmidt Ocean Institute expedition exploring the underworld of hydrothermal vents this past June.