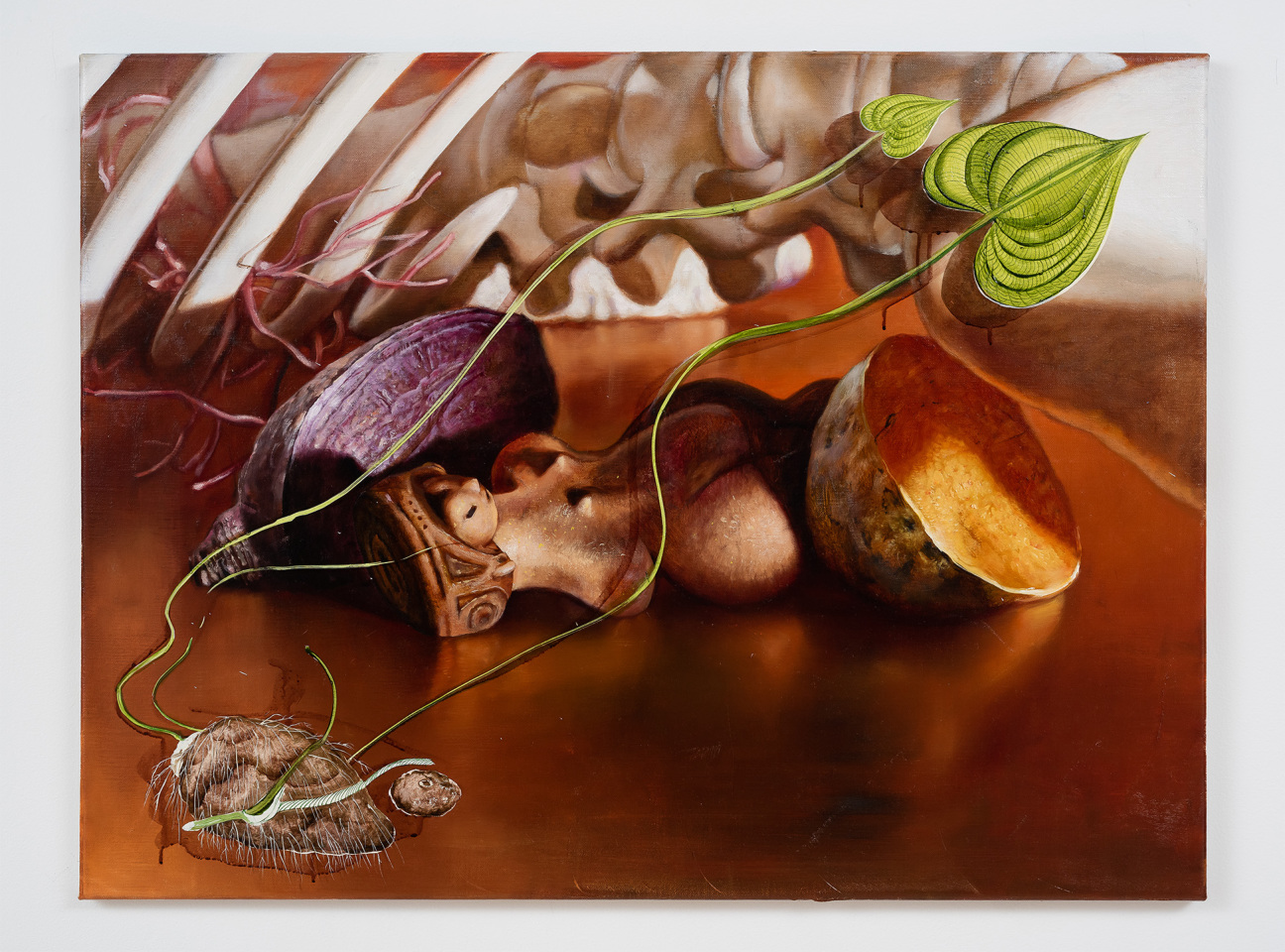 Welcome to This Week in Culture, a weekly agenda of show openings and events in major cities across the globe. From galleries to institutions and one-of-a-kind happenings, our ongoing survey highlights the best of contemporary culture, for those willing to make the journey.
"Sowed Them to the Earth"
Jessica Silverman San Francisco
This Thursday, Japanese artist Kei Imazu opens her first solo show in the United States with Jessica Silverman. The presentation is a collection of fantastical oil paintings and wire sculptures inspired by Hainuwele, the Indonesian goddess whose death propagated crops, resulting in whimsical works featuring ecological and cultural motifs. As a mother, Imazu is particularly concerned with highlighting the beauty behind the maternal aspects of the folklore and of nature itself. "Sowed Them to the Earth" will be on view from July 27 through September 9, 2023 at Jessica Silverman in San Francisco.
"REPRESSIA (decline)" by Matthew Barney
Los Angeles County Museum of Art
Matthew Barney is bringing his seminal installation, REPRESSIA (decline), from his breakout 1991 solo exhibition "Facility of DECLINE" to the largest art museum in the western United States. The exhibit features a room-sized, sculptural installation playing two videos starring Barney, and smaller sculptures made from unconventional materials such as petroleum jelly, all centered around the human body and its capacity for strenuous exercise. "REPRESSIA (decline)" is on view through January 7 at LACMA in Los Angeles.
Seattle Art Fair
Seattle
Returning this summer for its seventh edition, the greatly anticipated Seattle Art Fair, founded by the late Paul G. Allen, brings together a vast collector base, the Pacific Northwest's renowned museums and institutions, and contemporary visionaries from every corner of the art world. The week is jam-packed with innovative public programming to complement the sprawling fair. Admire Tariqa Waters's large-scale paper sculpture or Catalina Ouyang's installation featuring a horse tibia while connecting with art lovers and gallerists alike. The Seattle Art Fair will take place from July 27-30, 2023.
"40 Years"
Thaddeus Ropac Salzburg
To commemorate the 40th anniversary of Thaddeus Ropac, the gallery arranged a celebratory exhibition spanning both Salzburg locations, the city in which it was originally founded. The show places works from 1983 alongside specially commissioned pieces from 2023. Since the gallery's early exhibitions, which reflected the charged atmosphere and American-European artistic dialogue of the '80s, Thaddeus Ropac has only continued to grow, amassing a roster of artists that includes Erwin Wurm, Alex Katz, and Zadie Xa. This summer the gallery celebrates its creative future, while offering an homage to the artists whose works graced the walls of its first shows. "40 Years" will be on view from July 28 through September 30, 2023 at Thaddeus Ropac in Salzburg.
"Rachel Fleminger Hudson"
Maison Européenne de la Photographie Paris
The walls of Paris's Maison Européenne de la Photographie are soon to be transformed into time machines, taking spectators back to the 1970s for Rachel Fleminger Hudson's first solo show. The young photographer and regular CULTURED contributor's work is a unique blend of costuming, set design, and meticulous research in cultural studies. With nostalgia as a driving force behind her photographs, Fleminger Hudson explores society's relationship to the past, pitting the authentic against the fictitious. "Rachel Fleminger Hudson" is on view through October 1, 2023 at MEP in Paris.
"THE BIG NUDES" by Heji Shin
52 Walker New York
German photographer Heji Shin returns with her first solo show in New York since 2020. The artist, who is based in the city, plays with cornerstones of contemporary society: fashion, celebrity, and sexuality. After years spent photographing high profile personalities, including Kendall Jenner, Irina Shayk, and Adut Akech Bior, Shin is uniquely positioned to offer an insider's perspective on the state of pop culture today. "THE BIG NUDES" is on view through October 7, 2023 at 52 Walker in New York.