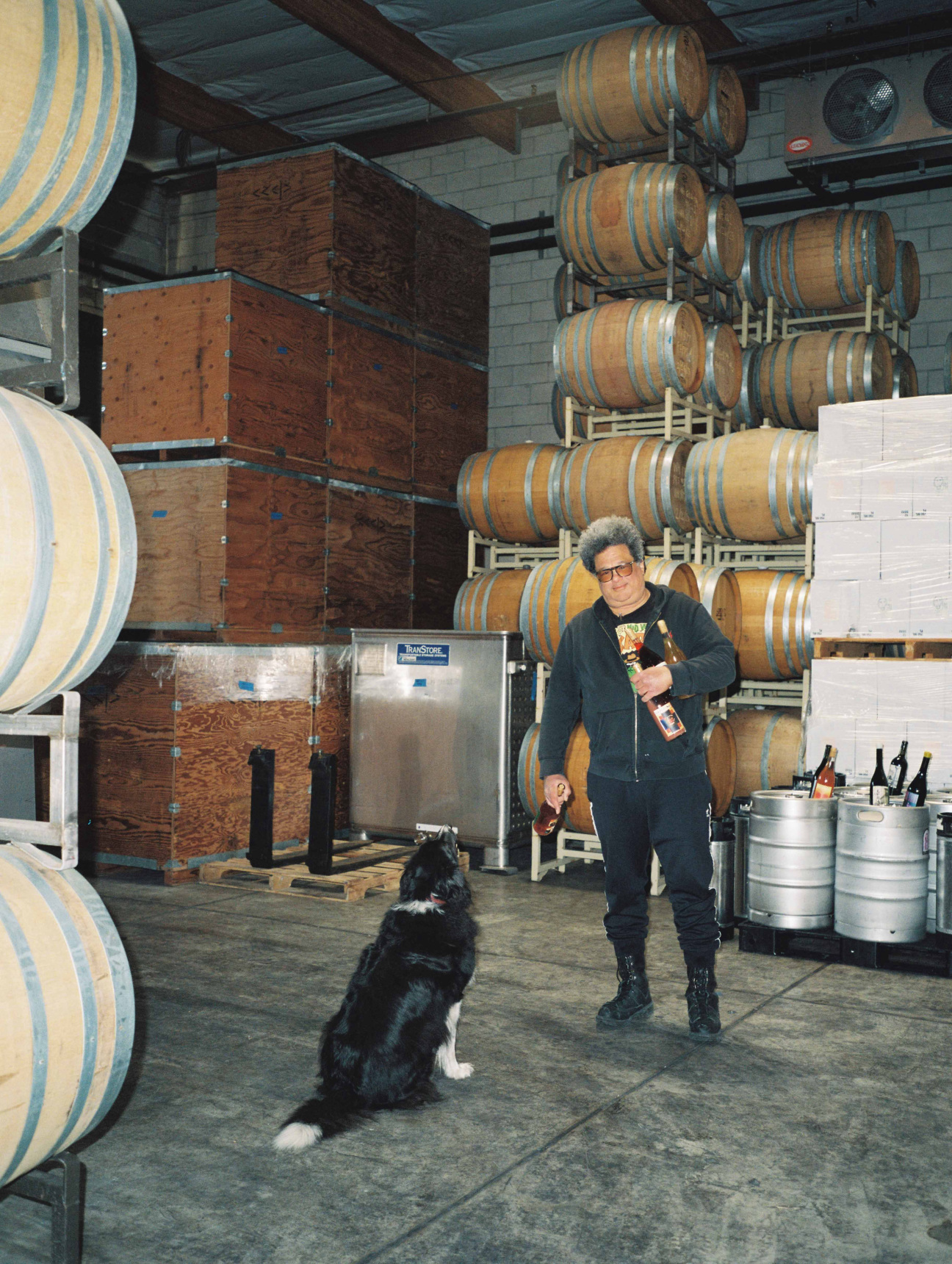 Scott Sampler has found himself in an industrial complex in Buellton, California. He came to the dusty Central Coast community by way of Beverly Hills and Los Feliz. Sampler's winery, where he makes the "porch pounders" and fine wines that are sipped in some of Los Angeles's most prestigious restaurants, is more of a creative studio filled with vestiges of his past lives. His dog, Serge, and cat, Shangy, keep him company in a curated yet cluttered space stacked with crates of vinyls ranging from bossa nova to hip hop, framed works by his artist father, and his own portraits of infamous LA microstars.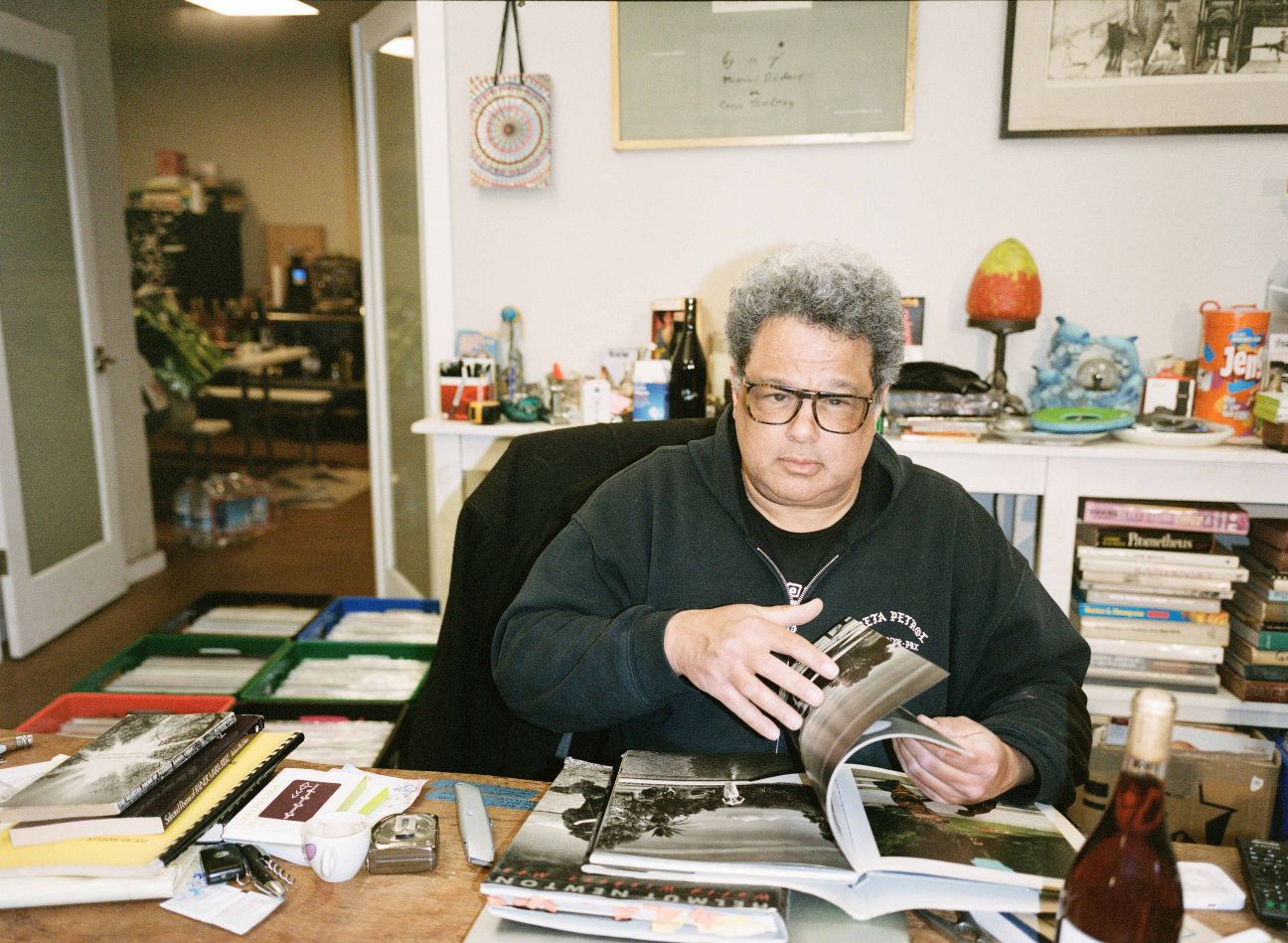 Sampler's upbringing is steeped in Old Hollywood lore—he grew up as a regular at Musso & Frank with Frank Gehry's daughters as his babysitters, and landed his first job as Quentin Tarantino's assistant. The proximity to fame never dazzled him—one night, when Tarantino asked Sampler to drive him to a party, he declined. He had a date at a Dizzy Gillespie concert lined up, and plans to make movies of his own.
After studying philosophy and fine art at the University of California, Berkeley, Sampler returned to Los Angeles in 1990, where he wrote screenplays and directed angst-ridden music videos for '90s rock bands. Along the way, Sampler collected wine obsessively. That's what happens when your foodie parents sneak you sips at L'Orangerie.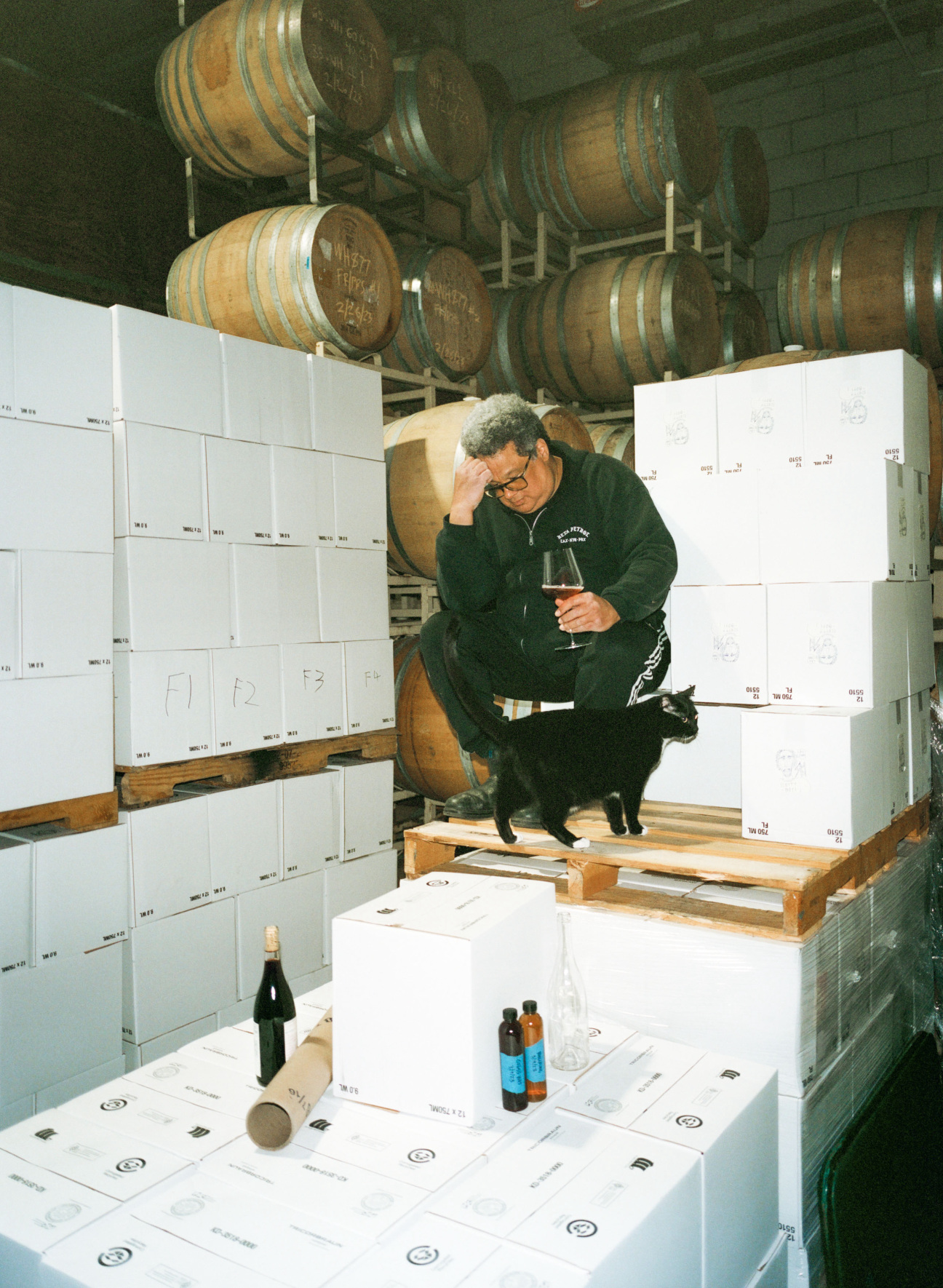 "Wine was always in the background," recalls Sampler. To add some color to days spent writing scripts, Sampler hosted a string of dinner parties that he called "Saucefest," where collectors, gallerists, and artists gathered for bacchanalian evenings featuring Sampler's infamous pasta sauce, inspired by his grandmother's recipe.
While searching for reprieve from heartbreak at a friend's house in Malibu, something clicked. With his wine collection at critical mass and the vast untouched acreage of the Santa Monica Mountains surrounding him, Sampler decided it was time for a new chapter. "Talking to the producers and agents for the action comedy script I was rewriting was not that exciting," he recalls, "but talking to the viticulturists and winemakers I befriended was very interesting. It brought me down to earth."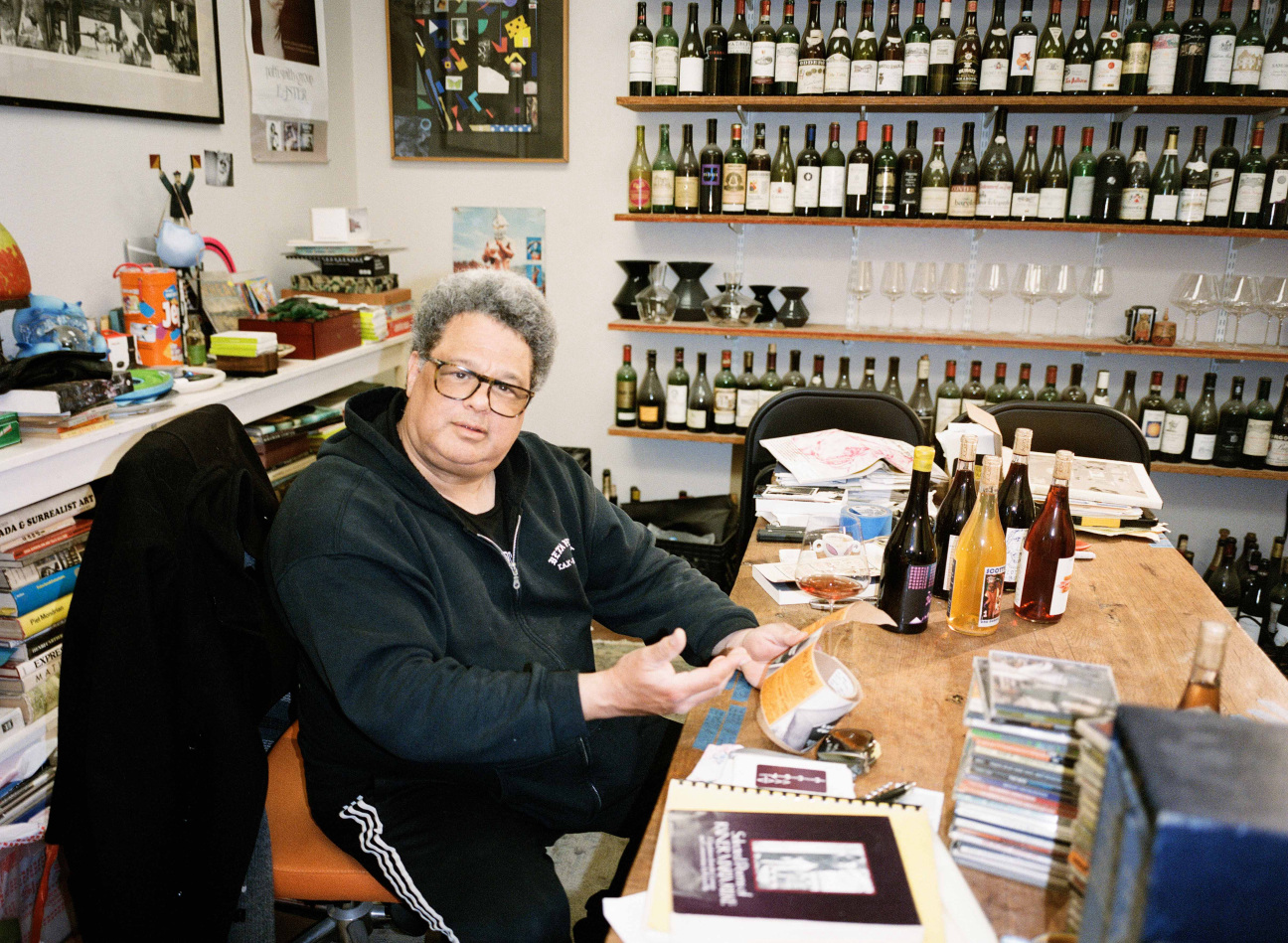 He was determined to emulate the style of his favorite old school Italian producers from Barolo and Friuli who made slow wines with long macerations—but with no chemical intervention save for minimal sulfurs at the bottling stage. "Everyone thought I was crazy for wanting to make wine this way," says Sampler, "but it was my calling. The sirens were hurtling me towards the rocks."
While the idea of natural winemaking is increasingly popular among makers and tasters today, the concept of crafting wine without the laundry list of additives was practically taboo in 2010, the year of Sampler's first harvest. When many of the vintners and wine experts in Sampler's periphery rebuffed his vision, he redoubled his commitment to natural winemaking as a form of artistic expression—and protest against the status quo.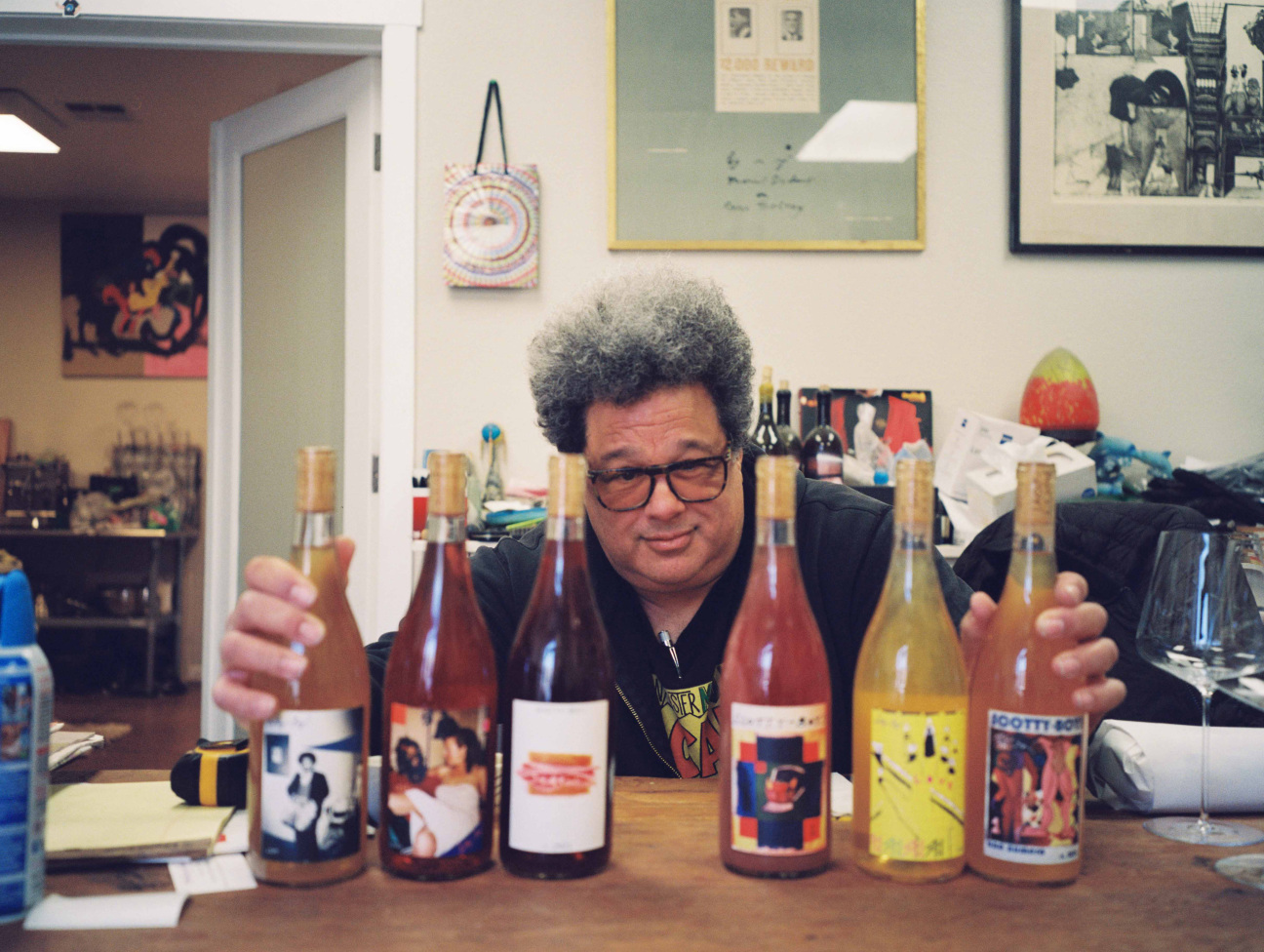 Ultimately, he found a like-minded mentor: a Santa Barbara winemaker who showed him where to source the fruit and shared his own fermenters with him. The crush facility, where he planned to process his wine, also doubted his non-interventionist philosophy, forcing him to sign a waiver stating that he would pay for the wine even if it tasted like vinegar. He managed to curry favor with the facility's owner, a zany septuagenarian surfer, who ultimately gave him a key to the place. The first batch turned out exceptionally well.
The results of Sampler's tireless, meticulous labor spoke for themselves. When Sampler placed his first bottles of wine at Spago in Beverly Hills, he realized that by wrangling this unconventional process, he had managed to touch something inside people. "The sommelier [at Spago] broke down in tears of joy in the middle of tasting," he recalls. For Sampler, the sommelier's reaction—along with the art world's embrace of his bright, funky wines—were proof that his protest was not in vain.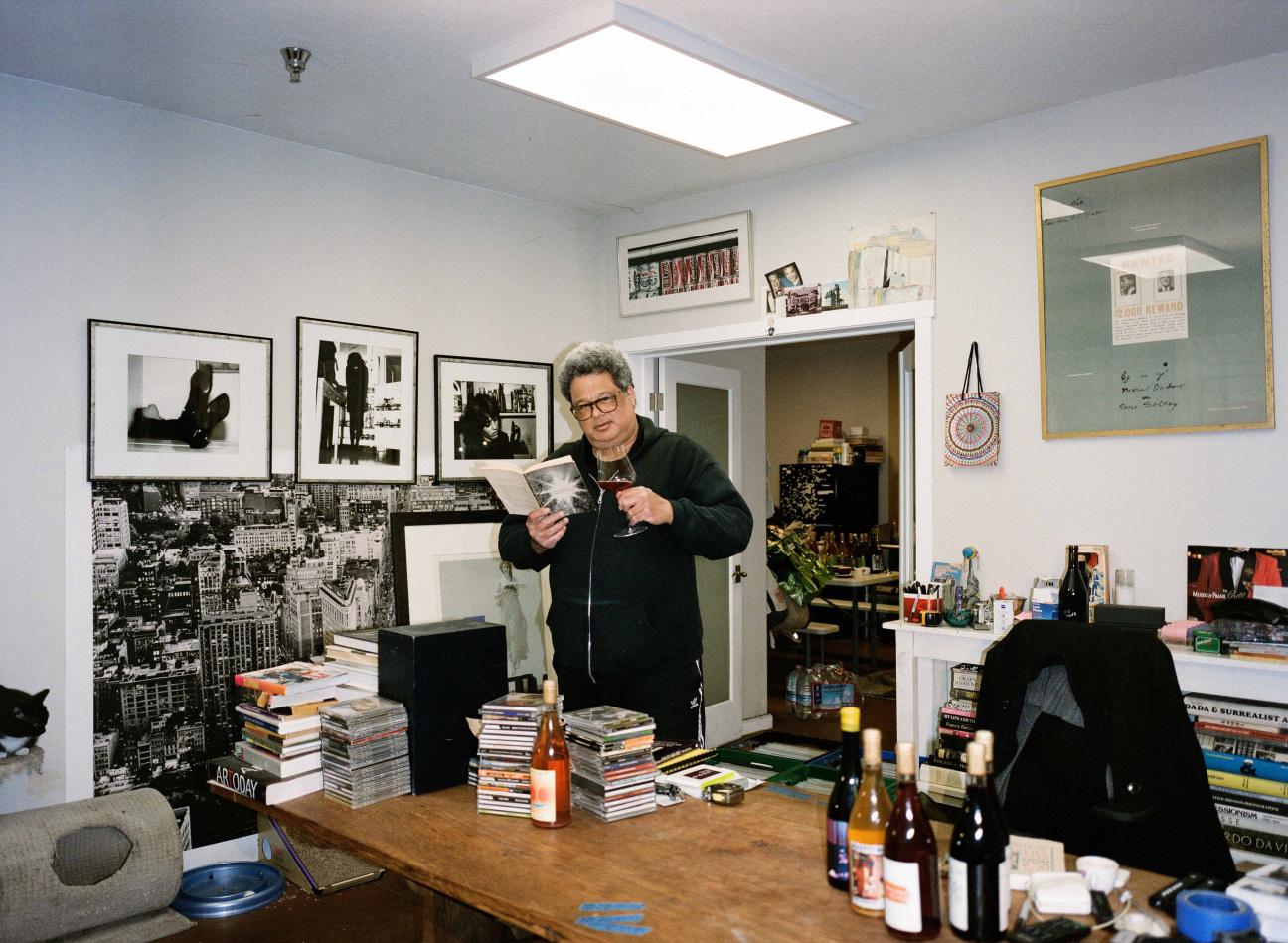 Countless tears, graveyard shifts, and sold-out vintages later, Sampler's wines can be found in restaurants like Bell's in Los Alamos, Otoko in Austin, Blue Hill at Stone Barnes in New York, and all the best natural wine shops in-between. Sampler rarely leaves his studio during the fermentation process—tasting his wines constantly at each stage in his proprietary process.
Thirteen years later, Sampler's operation boasts three flagship lines—the Central Coast Group Project, L'Arge D'Oor, and Scotty Boy!—each with distinct personalities, but all the result of long maceration, skin fermentation, and conscientious objection.