"Industries like to put things in a box," says TØKIO M¥ERS, with genuine bewilderment. The 39-year-old pianist, producer, arranger, and—according to an unexpected new collaborator—"musical alchemist" is sitting in his London home, having just received the masters for his upcoming solo piano album. He's also putting the finishing touches on yet another full-length record of indefinable, intimate, arena-filling, hip hop–infused classical electronic music, and getting ready to drop a multimedia tribute to a mathematical concept and a watch.
TØKIO M¥ERS will not be confined. His senses won't, either. "I have this thing called synesthesia," says M¥ERS. It's a sensory phenomenon in which a person's perceptual pathways merge and interact. One might taste colors, perceive time as having a shape, or, in M¥ERS's case, experience music visually. "I see sound with color," he says. "I have from an early age, before I knew it had a name. I just knew I was hearing music and seeing specific colors."
He's in good artistic company here: Painter David Hockney experiences synesthesia, as did Wassily Kandinsky, and writers Vladimir Nabokov and Arthur Rimbaud. In the world of music, a list of famous synesthetes is as scattered across the genre map as M¥ERS's music: Franz Liszt, Dev Hynes, Billy Joel, Aphex Twin, and Andy Partridge of XTC (whose song "Senses Working Overtime" we can now understand on a new level). "[Synesthesia] helps me to write, to remember huge archives of songs, to get into the zone of playing and performing and arranging," says M¥ERS. "It really is magic."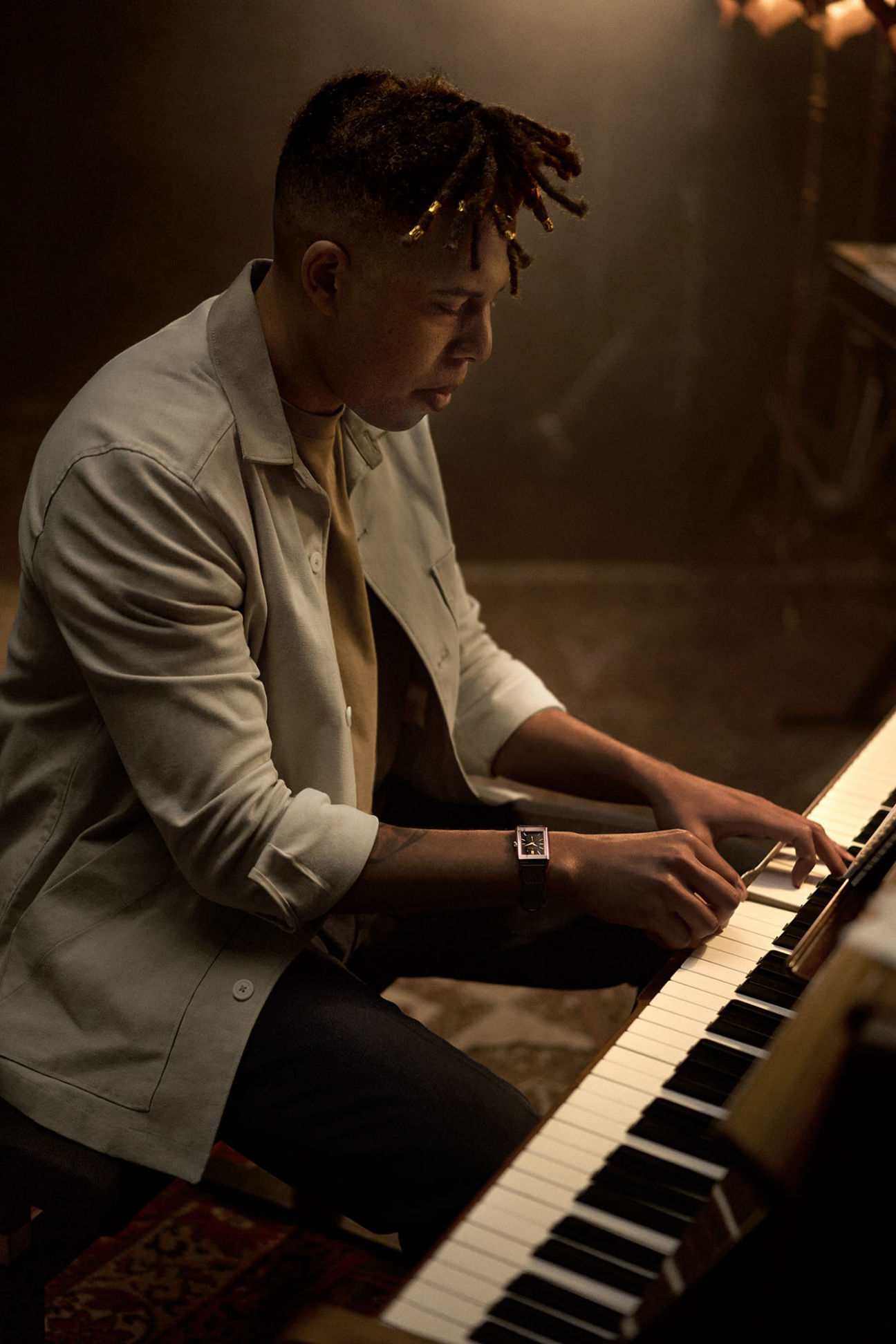 M¥ERS's writing process starts at the piano, the first instrument he picked up as a kid. But a London upbringing allowed him to add new colors to his sonic palette. "As I got older, I started to branch out and go to clubs and festivals, and I found myself being influenced by new cultures and sounds. I started to learn drums, synthesizers, and steel-pan percussion. But it all starts at the keyboard." These days, the keyboard is nomadic. "You don't have to be in a really expensive studio anymore. I travel a lot now, and I make sure to have my laptop, a hard drive, and a miniature keyboard. I can get the thoughts out in an instant. It's a great time to be making music, because of that freedom."
A mind that naturally combines sound, color, and shape can only be a benefit to M¥ERS's latest assignment. This month, he'll unveil "Timeless," the first musical contribution to Jaeger-LeCoultre's interdisciplinary Made of Makers program, in which the luxury watchmaker collaborates with artists and craftspeople to, as CEO Catherine Rénier says, "explore and extend the dialogue that exists between horology and art." "Timeless" is a tribute to the brand's iconic Reverso watch. "We've created four chapters to represent the four sides of the watch. You'll hear the chiming sounds of the actual timepieces falling onto the watch's display in the manufacture," explains M¥ERS. And since the ratio of the watch's width to its length is 1.618—the "golden ratio," a proportion found throughout natural and man-made forms, and in Rénier's words, "a universal signifier of beauty"—the tempo of the piece is 161.8 beats per minute.
"Timeless" will provide the soundtrack to Jaeger-LeCoultre's Golden Ratio Musical Show, a video installation projected onto sheets of falling water, debuting in Los Angeles this summer. And just to add some color, the piece will be in the key of G minor, because, adds M¥ERS, "that's the key where I see this golden ray of light."
"Getting played on the radio is a challenge," he admits. "Everything is in a box there. Are you classical, are you EDM, are you hip hop?" We're speaking just days after the passing of another indefinable music legend last March. "Ryuichi Sakamoto really opened a door for people like me to push the limits. I can do shows with just a piano. I can do shows with piano and orchestra. I can create a set that's chilled and relaxed, or I can get the party going like we did in Qatar in front of 40,000 people for the World Cup. I genuinely hope that there's a kid watching what I do and seeing it in the same way." Who needs radio, anyway? How archaic. How pre–TØKIO M¥ERS.
Music that isn't bound by genre may be a challenge to market, but it stands a much higher chance of becoming timeless itself. M¥ERS's 2017 debut album, Our Generation, combines classical piano with hip hop and EDM for a sonic experience detached from time or trend—tunes you could hear at a piano bar as easily as at the Electric Daisy Carnival. When I ask M¥ERS what's musically timeless, his answer comes quickly: "Clair de lune" by Claude Debussy. "I play it almost every day at the piano," he says. "Last time I was in Paris shooting a video, I started to play it at the piano, and the video crew started whistling right away, from the first note to the very end."
"I'm definitely choosing the hard road," he says. "But when it pays, it really pays in terms of the magnitude of the connections." Soon, M¥ERS will release Our Generation II—"The same kind of vibe, a whole montage of what I love"— and the solo piano album for which he just received the masters. A tour is imminent, but there's a lot of tech and lighting to work out. It all adds up to a sound and a career that's easy to love when you stop trying to classify it. Just listen and let it diffuse through your senses.
We look forward to joining TØKIO M¥ERS and Dave Holmes in conversation June 23 to honor Jaeger-LeCoultre's Golden Ratio Musical Show in Los Angeles. Email Rebecca Aaron at rebecca@culturedmag.com to attend.