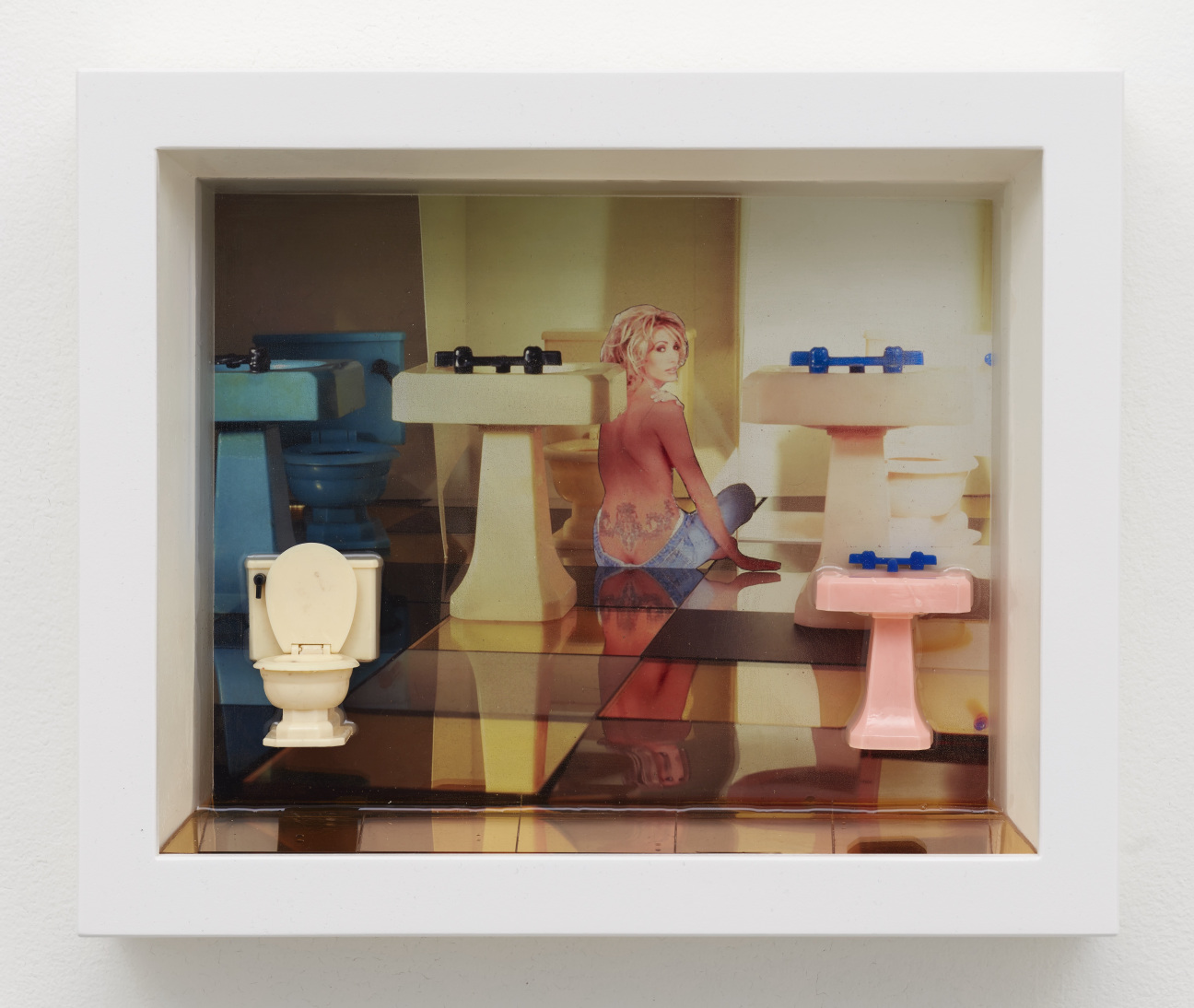 There is something playful and spectacular, yet unsettling and incendiary, about Laurie Simmons's assemblages at 56 Henry. Made in the signature style of Simmons's early dollhouse pictures, "Color Pictures/Deep Photos 2007-2022," on view through Jan. 15 in New York, continues the artist's investigation of female archetypes and the circumscribed roles of women in the domestic sphere. A prominent member of the pictures generation, Simmons is best known for staging and picturing dolls in dreamlike imitations of suburban ideals. While still evoking a sense of homebound claustrophobia that is a throughline of Simmons's work, the "Color Pictures/Deep Photos" series is less concerned with the woman's place in the midcentury American home than with a more daring form of 'women's work.'
Simmons reworked her photographic series "Color Pictures" she made over a decade ago in which she downloaded images of nude women from amateur porn sites, arranged them in the domestic interiors of dollhouses, and bathed them in atmospheric lighting. For this exhibition, Simmons printed 23 of the previously unseen images in small-scale and set them in deep lined frames. She adorned each tableau with miniature furniture—a baby pink laundry hamper, a woven decorative pillow, a dressing table piled with toiletries—which were then encased in clear resin, creating domestic dioramas in which women appear frozen and boxed-in.
In these dual displays of female seduction and objectification, the figures' various positions playfully emulate their settings' furnishings. In Pink Chair/Pink Lamp, 2022, the silhouette of a crouching woman echoes the arch of a plastic side table, while Green Clay Bikini/Piano piano and fingers, 2022, shrewdly triangulates piano keys, fingers, and the female body. In another pair of works, a reclining nude on a blue sofa in one display is set at the foot of a stairwell in another. Treated like part of a decorative scheme of dollhouse furnishings, as something to rearrange and restage, the women seem caught in an unstable and unfixed state.
The theatrical assemblages carry an impression of choreographed and synthetic simulation that asserts a certain alienation between female subject and domestic surroundings. The dissonance between the appropriated images, originally intended for pornographic consumption, and dollhouse settings, which reinforce gendered familial roles, conjures an atmosphere that is both imitative and self-aware, eerie and amusing. "Color Picutes/Deep Photos" offers a configuration of the feminine as a plaything to satisfy lust and desire in this disenchanted alternate reality.
A number of the works on view make direct reference to the misogynistic underpinnings of many iconic male artists of the 20th century. In one tableau, a half-dressed woman becomes an object of consumption and inspiration for Willem De Kooning, whose contended "Woman series" perpetuated a kind of grotesque and violent rendering of the female form. In two nearby pieces, a sprawled woman doubles as a flat-lying canvas for Jackson Pollock's forceful action painting and a woman poses as model and muse for William Baziotes's art study.
Simmons's Andy / Walt / Elvis, 2022, convenes three male figures of the entertainment industry—lauded respectively for their off-beat comedy, family entertainment empire, and suggestive performance style—in a burgundy lounge reminiscent of a gentlemen's club. Their routines entice, entertain, and are tailored to the enjoyment of others—not unlike those of their female counterparts who occupy the dollhouses on the neighboring walls of the gallery.
As a whole, the series is an ironic blurring of real and fake, an unsettling imitative construction of interior spaces that question collective perceptions of male and female ideals. Arranged across three registers on the walls of 56 Henry, they give the impression of doll playsets lined on store shelves, inviting you closer to study each carefully constructed world of plastic imitation.
"Color Pictures/Deep Photos 2007–2022" is on view from through January 15, 2023 at 56 Henry Street in New York.