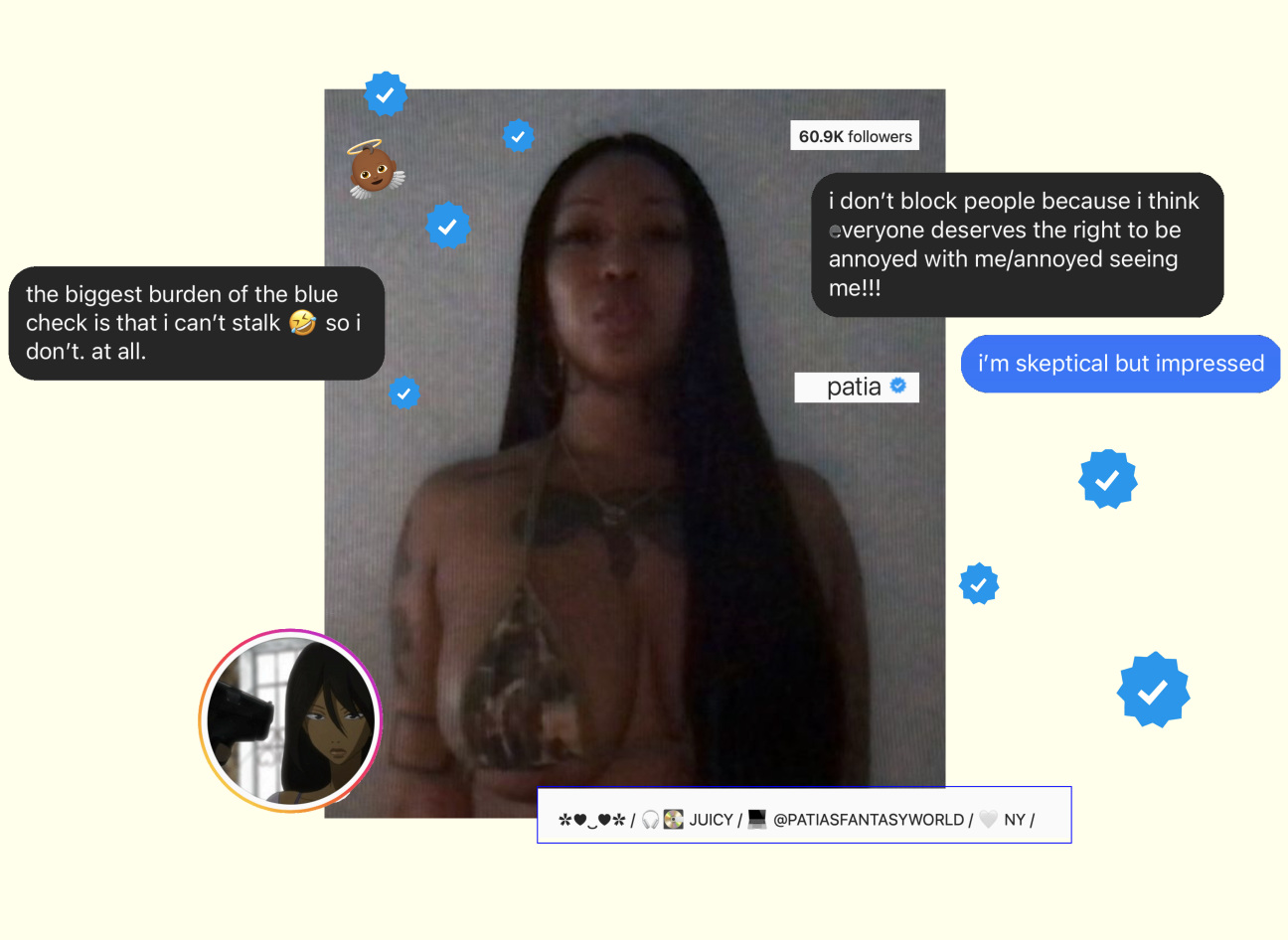 This is The DMs, a rundown of all things Internet culture—from the viral to the very weird—directly from the creators and the creatives driving it forward.
The year was 2020, stores were boarded up, and masks were still homemade from kitschy fabrics. We all needed an escape, and luckily, Patia Borja was there to welcome us into @PatiasFantasyWorld. The meme page served as a platform for lighthearted commentary, political resource sharing, and New York community building. Since quarantine restrictions lifted, the page has only grown in stature, now brushing up against 600,000 followers. Unlike the anonymous, or camera shy, creators behind many of the internet's most popular meme accounts, Borja herself has stepped into the spotlight and expanded her creative pursuits into fashion—modeling for the likes of Mugler and Skims—and visual arts, with a growing oeuvre of oil paintings on wood paneling. For this inaugural edition of The DMs, we slid into Borja's DMs to ask about her behind-the-scenes internet habits.
CULTURED: First question, describe your profile in a sentence.
Patia Borja: Relentless and sexy. I didn't grow up with any rules or limitations, at all.
C: Ugh perf. Describe your audience in three words.
P: Crazy but loving…!
C: Lol. What's the most recent internet rabbit hole you've fallen into?
P: Hmm. I've been really into exploring AI, currently just compiling different datasets for an upcoming project I'm working on that uses machine learning. Nothing crazy.
C: Is there anything you found in your research that blew your mind?
P: Tbh ethical concerns + amount of time it takes to filter all this data is shocking (coming from me, someone who has posted approx over 30k+ deranged images for the public).
C: You do gods work. Okay, who do you stalk? (And how??)
P: The biggest burden of the blue check is that I can't stalk. 🤣 So I don't. At all.
C: Who do you block? What was your criteria for blocking the last person, for example?
P: I don't block people because I think everyone deserves the right to be annoyed with me/annoyed seeing me!!!
C: I'm skeptical but impressed.
P: I feel like blocking crazy people just makes them come back with other accounts, so I'm like w/e about it. I also grew up on 4chan so nothing phases me at this point with crazy people.
C: Craziest DM you've ever received?
P: Every week someone is sending me a message about "what I need to do with my platform" and simultaneously including some form of a death threat/racist remark with it…not sure how that solves anything!!!
C: Oh my lord, what a combo.
P: Infographic warz.
C: Who's on your close friends list?
P: None of my actual close friends. 😭😭😭 STRATEGY IS MY BFF.
C: Say more!
P: It used to be just boys I liked! I don't need to use it like that anymore though. 😝 Now I use it like a group chat—making announcements and shit if people want to come to my dj sets or parties or just to flex dumb shit so not-so-close friends can go gossip to people about me. 😉 I am my own PR.
C: OK, what's the last thing you saw online that made you laugh out loud?
P: CAREFUL WHAT YOU WISH FOR. Tiktok has a chokehold on me.
C: So glad I asked. Ok, give us your take on…chrome tabs.
P: Three tabs MAX rule now. I don't like being overwhelmed anymore. 😭 Bookmarking is key lol.
C: Blue checks?
P: Unnecessary tbh.
C: Here here! 2 step verification?
P: A must because I talk shit in DMs.
C: Trolls?
P: I'm number 1.
C: Burner accounts?
P: Never to lurk!
C: MySpace background music?
P: BRING IT BACK.
C: Ok who do you follow for inspiration, rage scrolling, doom scrolling, voyeurism, laughs, learning…
P: The things I am inspired by are things that are fucked up and cannot be posted on IG because of community guidelines. I was in middle school when I first went on the dark web. So, I just look at cute shit on IG since I can't see what I really want to see on this app. @Sanrio.overload is a start and hashtags like #mymelody hahaha. For laughs, I guess this can be combined with learning…because I like the delivery of news better and sometimes it's really funny. I love the shade room, @thehoodsfinest, @__plugtalk__. I guess that can also fall into rage and doom scrolling for me? 😭😭😭 Shit. For voyeurism, das a hard 1! Idk 😞
C: And that's a wrap!
P: TYYYYY 😍😍😍