Elizabeth Fazzare: How did you begin to build your own collection?
Seth Curcio: My wife, Julie Henson, and I met as undergraduate students when we were both studying studio art and art history. We were fortunate to have a really active group of peers in our program who were enthusiastic to trade and live with each other's artwork. Through this group of friends, we brought the first dozen or so artworks into our home, many of which we still live with now. We've kept this spirit alive in the collection over the years. We love to live with work from artists that we know. We love having real insight into how they think about the world and how this influences their practice.
Fast forward a bit: as a partner at Shulamit Nazarian in Los Angeles, I get to collaborate with so many amazing artists and learn about them in a deeper way. We are fortunate enough to collect and live with work by many different artists, including several from the gallery. And, from time to time, Julie will still trade her own artwork with her peers. I love that this is still a part of how we collect. An artist's work is such a special and unique currency and can be a great way to build a meaningful collection. I try to encourage artists that I work with to trade whenever possible.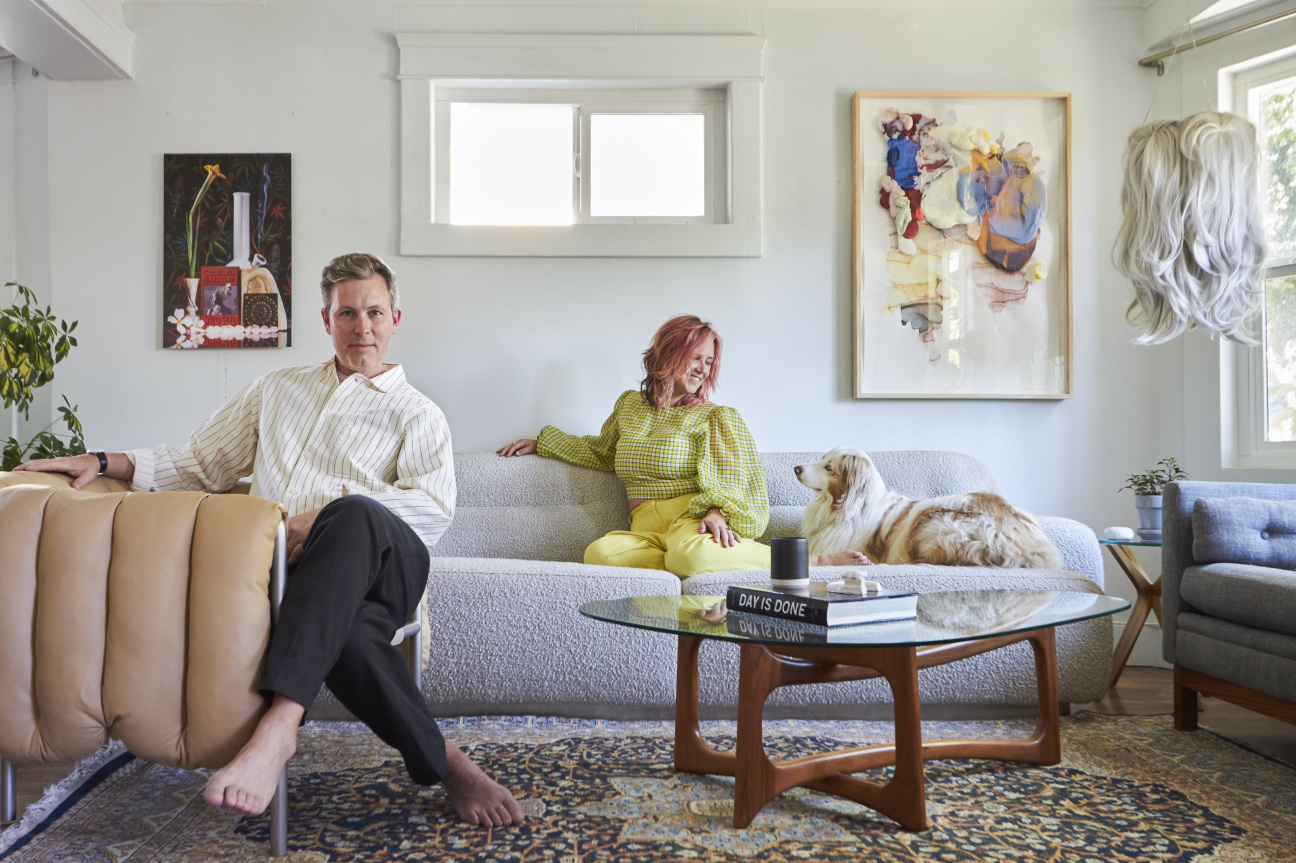 EF: What was the first piece you purchased?
SC: One of my first big jobs in the art world was as the director of a nonprofit contemporary art space. We had a really robust program: private artist studios, print shop, and dark room, and an international exhibition program that often provided artists their first solo show after graduate school. One of the first pieces we bought was a set of intimate drawings from an artist based in Seoul—Sijae Byun—that corresponded with a large sculptural installation that we showed in the nonprofit art space. I love that this was one of our first purchases, because we continue to buy work in this way: we like to find ways to support artists that make artwork that many would consider hard to live with. We enjoy finding pieces that speak to an installation or performance artist's practice while still being something that fits well in our home.
EF: Do you have a defining theme to your collection?
SC: Julie and I first met in a sculpture class, and we've always had a deep interest in materials and a love of strange objects. Of course, we collect paintings and photographs from time to time too, but ultimately we are drawn to artworks that are tactile and challenge how we live in and move around our home. For example, we have a sculpture of a small tree that emerges from our floor and has a black balloon tied to the tip. This piece is by Barnett Cohen, and for years he came to our house every three months with a new balloon, as the one before naturally lost it's buoyancy—the piece has a real life cycle! We have a hand carved marble wall relief by Devin Ferrand that takes on the form of a puffer jacket. We have a ceramic sculpture of an oversized hand by a recent UCLA graduate named Charles Snowden. And, we have a sculpture made of wigs that hangs from our ceiling, as well as a neon piece that takes the form of an abstracted necklace with attached metal charms, both made by my wife, Julie.
Regardless of form or content, we are most excited to collect artworks by people within our generation. Artworks that challenge us and give insight into our own personalities. We think of artworks as artifacts of our life and markers of time. I love seeing works that we got 15 or 20 years ago alongside works that we recently acquired; I feel like we continue to learn about ourselves from the objects and images that we choose to live with.
EF: What artists are inspiring you right now?
SC: Ah, we get inspiration from so many different artists and designers! I just returned from Houston where I spent the weekend with Trenton Doyle Hancock, an artist that the gallery has represented for several years now. I've been a huge fan of Trenton's work since the start of his career. I can't think of anything more inspiring than spending a day in Trenton's world. His studio is filled with such amazing artworks, objects, toys, and games—it's a true creative wonderland. We've also really taken to the functional objects of Los Angeles-based designer, Ross Hansen. He makes incredible pieces and are true sculptures in their own right. And, we have a real affinity for artists that extend their conceptual practice to utilitarian objects. One of our favorite pieces in the house is video work by Owen Kydd that doubles as an end table in our living room. It is such an unusual experience looking down at a video playing with objects sitting on its surface. To us, it truly unsettles expectations of how you would traditionally interact with video. At the gallery, we commissioned a denim sofa by New York-based Wendy White, cleverly named the "Jofa." I also love the crossover furniture/sculptures that Summer Wheat creates, including her mosaic pebble forms that you can sit on. And, we recently bought a table lamp, that we absolutely adore, by Entler Studios in Los Angeles.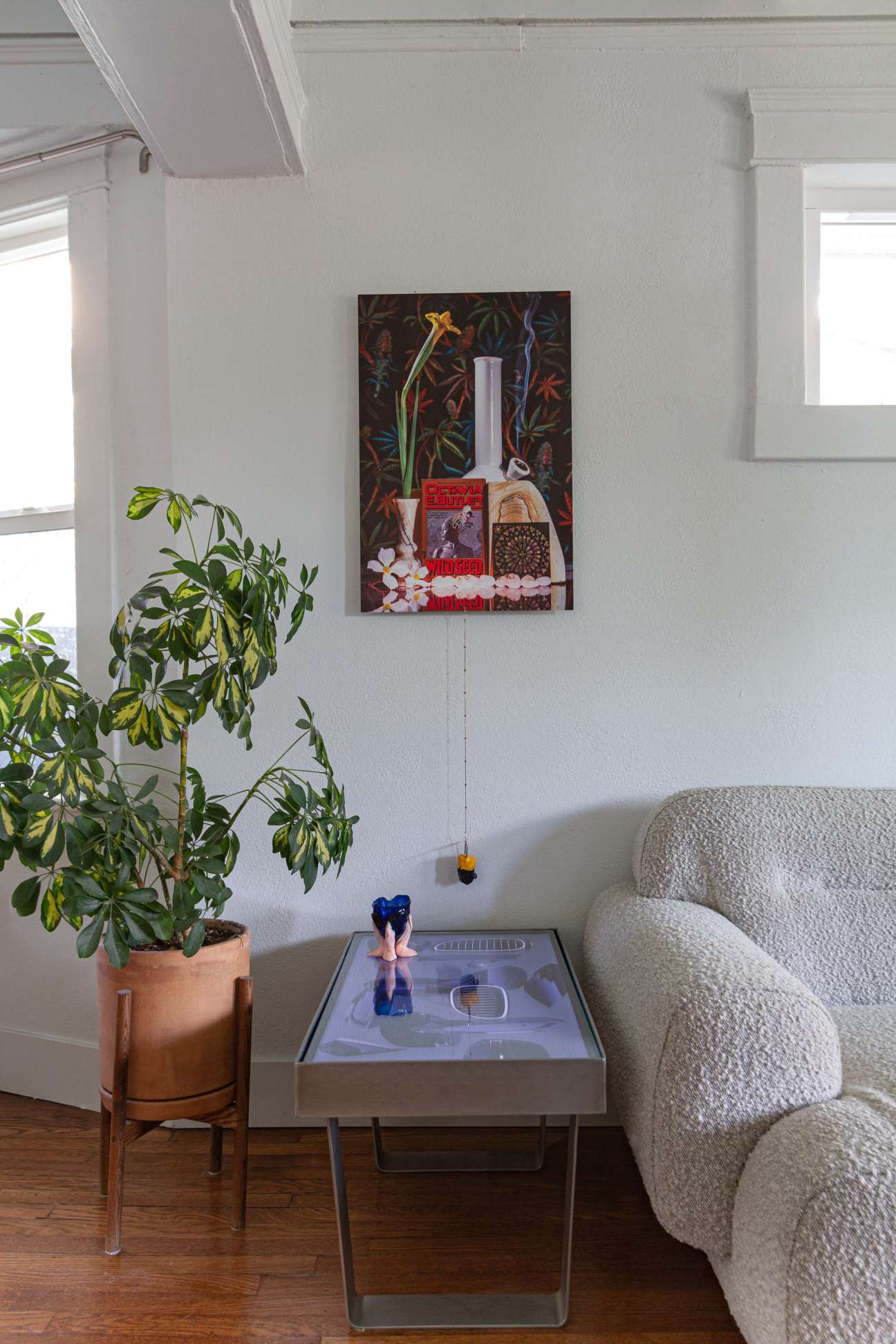 EF: What current collecting trends are on your radar, if any?
SC: As a partner in a gallery, collecting trends is often a topic of conversation. But, the nature of trends is that they come and they go, so we try to be aware of trends mainly to stay ahead of them and to think about what has lasting impact. To some degree, we feel the same about the art that we live with in our home. Above all, we collect what provokes us, what makes us think deeper about our world, and what we find curious and inspiring to live with. In some cases what we are discussing at the gallery can impact which artwork comes home with us. For example, we've been having lots of conversations about artists that use abstraction as a method to address deeply personal narratives and ideas. Bridget Mullen is a painter whose work is often a part of these discussions. She joined the gallery last year, and Julie and I quickly purchased a gem of a painting from her Birthday series.
EF: Does the marketplace help your discovery?
SC: Much of my day is spent discussing art and ideas with artists, collectors, curators, and our gallery team. Many of these conversations inform what I'm looking at, and ultimately shape what works we may be interested in showing at the gallery or collecting for our home. With that said, I've learned to trust my gut over any activity in the art market. I'm more than willing to buy artwork by an artist that I've never heard of, so long as both Julie and I have an instant connection to it. In most cases that is more rewarding than getting a piece by an artist that has already gained market acclaim. Learning to trust your intuition is not easy, but it is so important when building a collection—and a gallery program—that will remain meaningful over the years.
EF: In terms of discovering new artists/designers, what are your trusted methods?
SC: First and foremost, I always ask and listen to other artists. That is the most sure fire way to discover other exciting artists. When I think back on the artists that have joined the gallery over the years––as well as many of the artists that we have in our collection––I find that most often we learned about their work from another artist. For example, I've worked with Amir H Fallah, an artist in our gallery program, for over 15 years now. Amir is a huge champion of other artists' work, and he is always making suggestions and introductions. He introduced me to the Los Angeles-based painter Daniel Gibson, who joined the gallery last fall. In turn, when Daniel did his first show at the gallery, he asked that we invite Oakland-based fiber artist Maria A. Guzmán Capron to exhibit in our second gallery space alongside him. Now, we have pieces by both Daniel and Maria in our collection, and I love how these interconnected relationships add a new layer of meaning to the artwork in our home!
EF: What is the next piece on your radar?
SC: I've been in talks with the ceramicist Cammie Staros about a special commission. Cammie makes really amazing ceramic sculptures that often look like anthropomorphised Greek amphora. Running short on wall space these days, we've been speaking with Cammie about making a sculpture that uses our ceiling for its support. If all goes well, she'll make a sculpture where the implied weight of gravity stretches the piece a bit towards the ground. I love the idea of activating the architecture of homes, while suggesting that natural forces like gravity can impact a static object. I'm really excited for this one.
EF: What is the last piece you purchased?
SC: After about five years of planning, this winter the gallery did its first solo exhibition with the Norwegian artist Tori Wränes. The show was completely wild, with a massive 20-foot-long sculpture of two conjoined bodies, new paintings that are informed by the artist having synesthesia, alongside immersive sounds works. One of the sculptures in the show was a rope cast with pigmented silicone. It hangs as a circular form on our wall and has such a great title: Hoolahoop for Velvet Hips. We installed the piece a couple of months ago; it's such a weird and wonderful object. I love how it jiggles in response to the subtle movement that occurs when we walk by, transforming the silicone into something so bodily and tactile.
EF: What is the one piece that got away?
SC: This is a tough question to answer. Honestly, there are so many works that we'd love to live with, but for a variety of reasons it was just not in the cards at the time. Ultimately, many of these artists go on to have really successful careers and are quickly out of reach for us. But, I find it most productive not to dwell on what got away and rather look to what we want in the future, and most importantly what we are fortunate enough to have with us today.