Whether working with established or new collectors, Elena Frampton's eponymous firm is a one-stop shop for art and design. Equal parts designer and art advisor, the California-born, New York-based talent considers herself to be a "sensitive conduit" between her clients and the art world: "When I launched my own studio in 2015, it became really clear through the design process that art was a major inspiration, and our business naturally evolved to include curating art collections for our clients," says Frampton, who had previously worked at architectural firms for nearly two decades.
In 2018, Frampton took her passion for art one step further by opening her own seasonal gallery space in the Hamptons, called Exhibition The Barn. This June, the Frampton Co founder reintroduced it as a permanent gallery with ambitious show and programming plans. Carpeted and clad in wallcoverings, the 2,000-square-foot, double-height space is designed to feel like an artful residence, rather than a white box gallery to help clients "connect the dots," she says.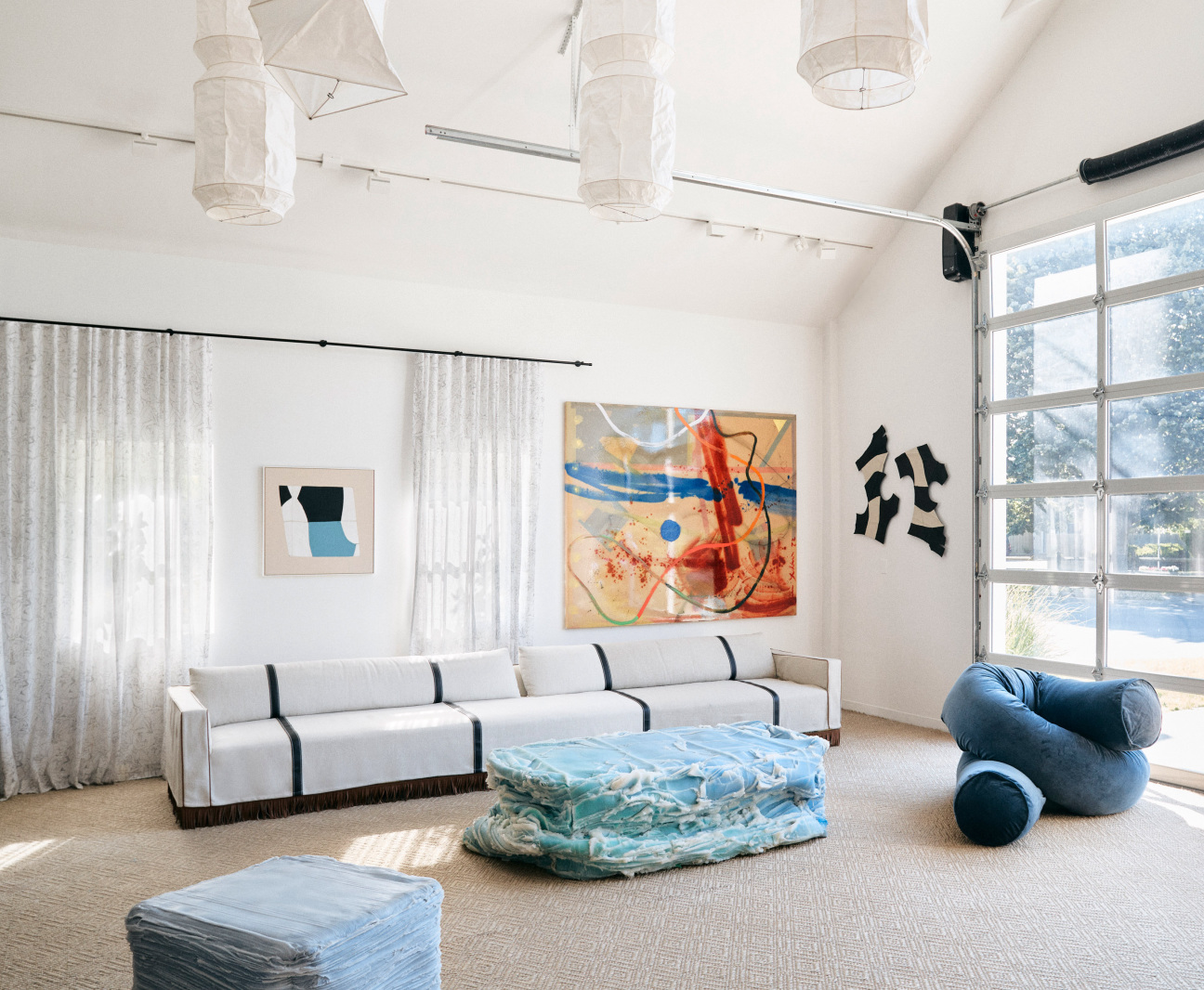 "Although the Hamptons is considered a summer resort spot, in the past couple of years it has become a year-round art destination," Frampton explains of her decision to focus on the Bridgehampton property. The designer herself moved to a cottage around the corner from the gallery space five years ago. While she curated all its past exhibitions herself, this summer she appointed Casey Dalene—formerly a curator at East Hampton's Guild Hall—to be the studio's new director of exhibitions and art advisory.
As Frampton Co's core design business continues to flourish (projects include The Leyton, a plush Upper East Side condominium whose penthouse unit sold for $16.5 million), its increased focus on Exhibition The Barn strengthens the firm's ties to the local Hamptons art scene and the connections to myriad talents Dalene has cultivated as a longtime East End resident. Currently on view, Dalene's inaugural show at the art space "Curious Terrain" brings together works by New York City- and Long Island-based artists Keren Anavy, Claire Watson and Darius Yektai. While the trio utilizes different materials and methods, their works all challenge the notion of what it means to paint on canvas.
"As someone who is a designer and art advisor, blurring the boundaries between art and design, I am personally intrigued by work that defies categories," says Frampton. In the case of Yetkai's paintings, poured resin creates areas of transparency and multiple levels of imagery on the canvas, while Anavy's ink paintings on Mylar and plexiglass fully embrace translucency. Meanwhile, Watson combines deconstructed vintage leather garments and canvas into sculptural wall hangings, some of which break free from the rectilinear shape altogether.
Also on view in the gallery are furniture pieces from Frampton's F Collection, as well as a rotating mix of exclusive collaborative products—handmade light fixtures by Connecticut-based pottery studio Dumais Made will launch this July, for example. A larger product range is available to shop on Frampton's Co website and Exhibition The Barn will be further activated by a salon series of conversations later this summer.
"From an art perspective, having the gallery has enabled me to meet a lot of living artists who are actively working but don't always have representation," says Frampton on how her interior design practice informs her artistic endeavors and vice versa. "From a design perspective, I can be more adventurous and express ideas freely. The gallery has opened up my sense of color, pattern and working three-dimensionally."