I met Kiran Gandhi—aka Madame Gandhi—seven years ago. She had graduated our mutual alma mater four years prior and, when speaking to a classroom of music-meets-math-meets-feminist enthusiasts (a niche she had perfected), she took a seat on the floor, crossed her legs and told us her story. She recounted the months she spent both earning an MBA at Harvard and touring as MIA's drummer; she discussed making international headlines as the "free bleeder" of the London Marathon because she had decided to run the race after starting her period without a tampon or pad; she deconstructed what it meant to bake feminist theory into the electronic genre, aptly coined "electrofeminism." And while every story warranted an exclamation from the audience—after all, this woman was maybe 26-years-old and already a legend—what drew me to Gandhi was the way she engaged us. While a performer by trade, there was no performativity, no false pretense.
I have witnessed her carry herself in this same way in front of thousands as she had in that room of 40. At once a scholarly musician and a musical scholar with an anti-hierarchical approach to the industry, she is continuously centering collectives and movements over the individual's climb to the top. And the thesis of her work has always been, in her words, "making music that is good for you." In 2020, this meant a TED Talk wherein Gandhi—decked in a sunshine yellow suit in front of an identical backdrop—interrogated why we have accepted misogynistic and oppressive lyricism as the background to our concerts, our exercise classes and our work days. Today, this means working on an album while in school (apparently a pattern for her) focusing on how to organically source sound—an ethos she sees as akin to the conscious consumption movement. In essence, self-reflection and intentional musicality are the foundations to Gandhi's career.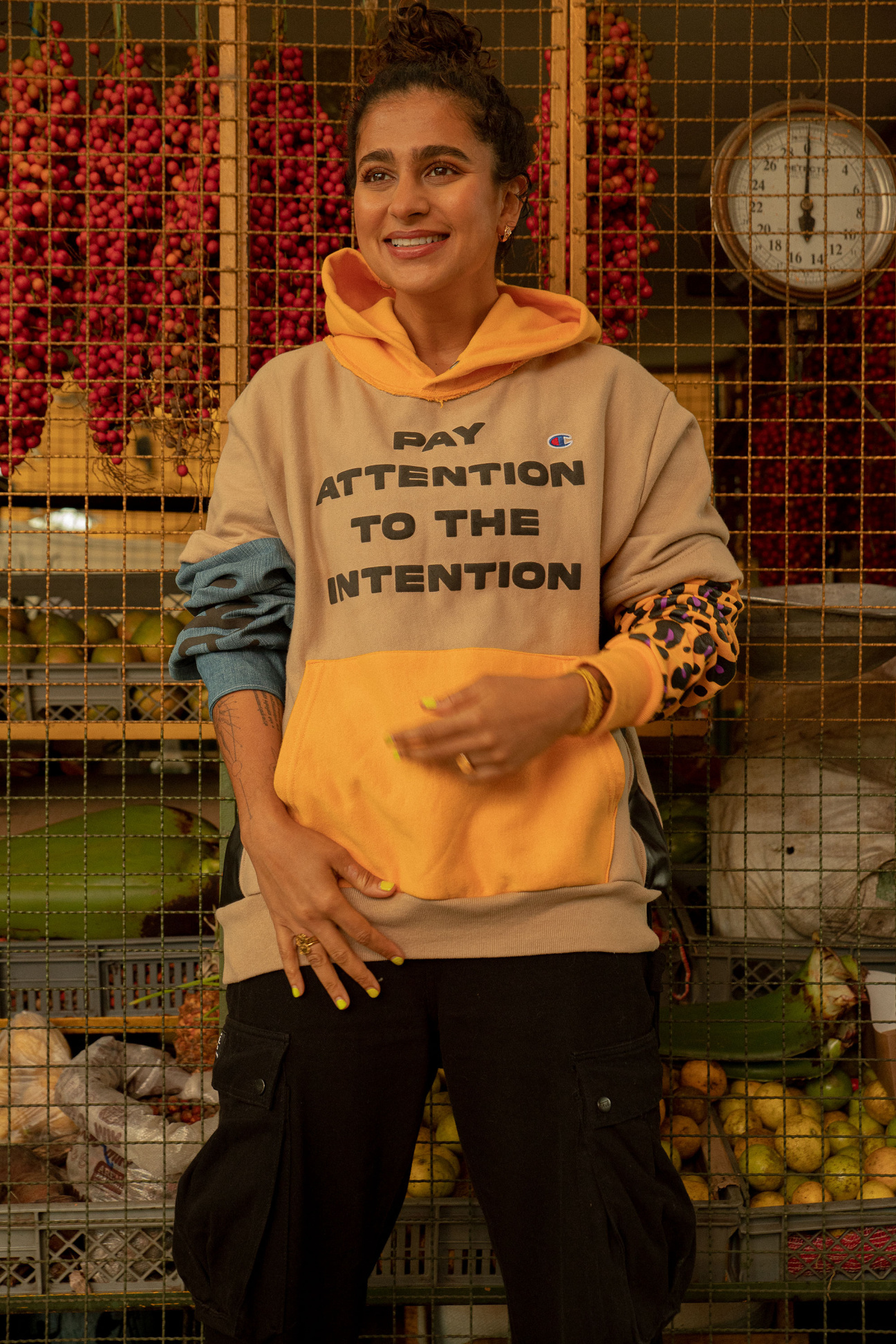 Abigail Glasgow: How would you describe the role and responsibility of an audience?
Madame Gandhi: I very much enjoy keeping my audience active and engaged. The best gift you can give yourself is the gift of presence, so I want my audience to feel present during my show—inspired and alive. I enjoy when I can tell that my audience is listening or reflecting based on what I am sharing, and even more so when they are singing and dancing with me. I see my own show as a journey; and by the end of it, I want the audience to feel a large sense of togetherness, presence and joy.
AG: What's the relationship between you and your stage self?
MG: I chose an artist because I wanted to create some distance between my evolving self and the self that is public-facing. My real last name is Gandhi, and I chose the name Madame Gandhi because I liked the idea of celebrating feminine styles of leadership, while still preserving my heritage and roots. My artistic practice is learning, growing and workshopping my personal values and ideals as Kiran; and then graduating them up to the Madame Gandhi project, ready for sharing on stage or writing as lyrics of songs. I think a lot about societal norms and this shapes my personal value system. I also pay a lot of attention to what inspires me. As this evolves and grows, so too does my music and the themes I choose to write about! When I put a song out, I want to stand by the lyrics I am writing. I want to be sure they are true, authentic, and inspired. So I spend time with my values personally before writing them. This is my relationship between myself and my stage self.
AG: Attention spans are declining. How does the attention economy affect the way you think about performance? How can performance be part of healing this deficit?
MG: I always think of my shows as more of "an evening with Madame Gandhi," where I think about designing an experience for the audience end-to-end. I want folks to feel interested, engaged and curious when they come in; and uplifted, motivated and re-energized when they leave. I use clips from my show to post on social media as a chance to advertise what I do, but no online experience can replace the human-to-human interaction that comes from being a part of something in person. I have been on stages since I was little, and that's where I do best holding an audience's attention. I like to look into the eyes of my audience, see who I am speaking to, and speak authentically from that divine moment. I find that space more challenging in social media.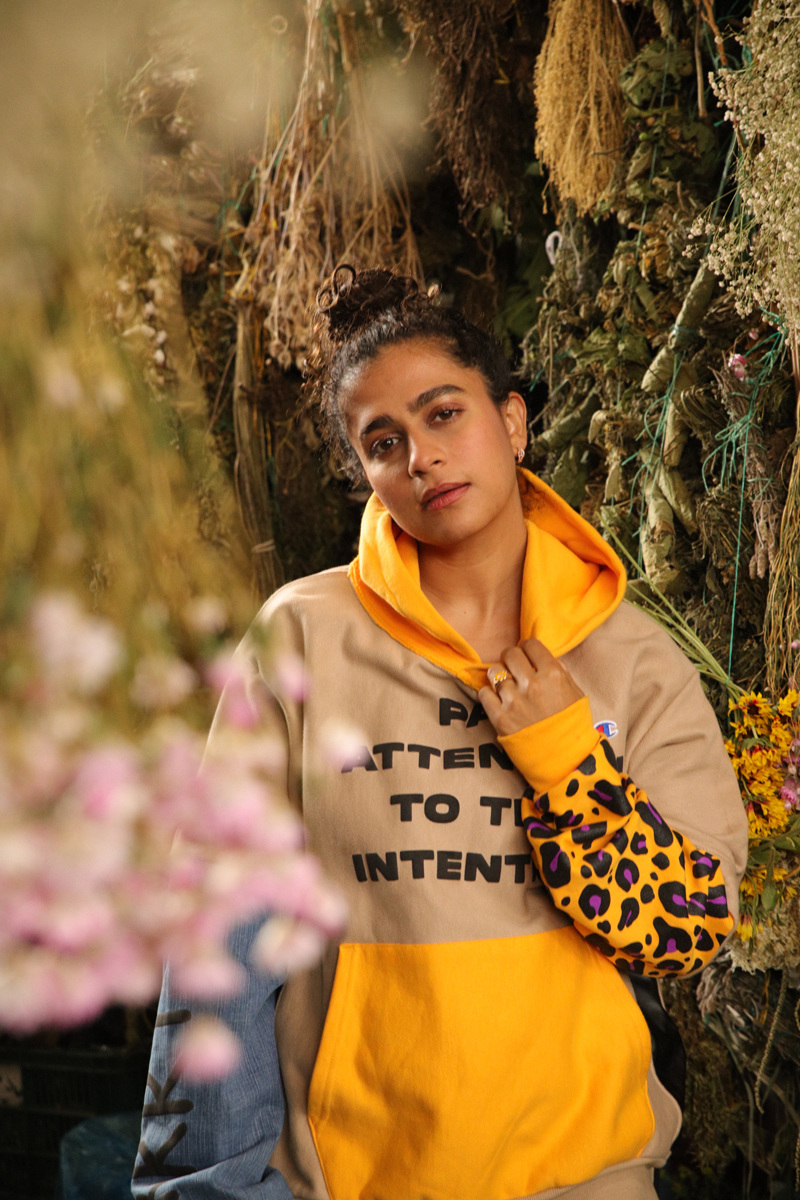 AG: Does recording a performance for publishing purposes change how it feels to be on stage? What's the relationship between your archive and your live work?
MG: I have watched video recordings of my shows, and I often feel "This is rad, but you had to have been there!" I think video sometimes is the opposite of whatever reality is. For example, live music shows shot for television often lack genuine enthusiasm and excitement in person, but look absolutely incredible and high energy on TV or livestream. And vice versa, often those same livestreams can't always capture the artists' ability to connect with the audience and the feeling of togetherness we have cultivated over the course of the set. Additionally, when I have been asked to livestream a virtual show with no live audience fully to camera, I crash and burn! I really don't enjoy it. The reason I perform is to connect. When that is taken away from me, my main motivation for being on stage is lost. So I will always be someone who does well in-person, connecting in the moment authentically with an audience, and the better I can document those moments, the better my video capture will be.
AG: What themes are you currently exploring and how can we expect to see them manifest in new work?
MG: Coming out of the pandemic, I spent a lot of time in nature. I had shot a music video called Waiting For Me in Mumbai, India that explored themes of moving away from drab, industrial spaces into nature, color and freedom (this video won the jury award for best music video at SXSW 2021). I continued to spend time in nature recording hundreds of forest sounds, and then went on to create a pack of beats and synths out of them which, after their launch on splice.com, won the Splice New.Wav Award in 2021 for its innovation. Pursuing my master's in music, science and technology at Stanford's Center for Computer Research in Music and Acoustics this year, I learned how to build underwater microphones, and continued my nature sound recording adventure underwater. I recorded the sound of whales, dolphins, seals and sea lions. I went out to Antarctica with a group of creatives, entrepreneurs and marine biologists in March and recorded the sounds of glaciers melting underwater. It is a simultaneously tragic and beautiful sound, and I have been making beats out of these icy recordings. These gorgeous sounds will be featured on my album coming out in the fall, called Vibrations. It will be the third of three EPs, following Voices (2016) and Visions (2019). In the same way we have a conscious food movement, I am interested in a conscious music movement. Not only are the lyrics good for you, singing back mantra-like positive lyrics, but the beats themselves are 100% organically sourced sound material from nature field recordings!