Over five decades after hosting the 1971 group show "Twenty Six Contemporary Women Artists"—the first major all-women's exhibition in the United States—the Aldrich Contemporary Art Museum in Ridgefield, Connecticut is revisiting Lucy Lippard's groundbreaking feminist curation with a new exhibition, "52 Artists: A Feminist Milestone." Documentation of the original show was remarkably sparse, leaving "52 Artists" curators Amy Smith-Stewart and Alexandra Schwartz with little archival material. What they did have were the criteria that Lippard set for the original show: young, emerging women artists—in this case born after 1980—who are based in New York and have not yet had a major solo show in the U.S.
Curator Smith-Stewart took this criteria as inspiration and redefined the selection of artists. As the understanding of gender has evolved, Smith-Stewart expanded Lippard's women-only rule to include nonbinary and female-identifying artists. The new cohort also represents a much more diverse demographic than its inspiring predecessor, featuring several artists of color who hail from 10 countries. "52 Artists" also reflects a broader understanding of feminism that Smith-Stewart describes as "inclusive, expansive, elastic, and free," adding that the 26 new artists "reflect the revolutionary advancement of feminist art practices over half a century and exhibit a diversity of experiences and multiplicity of sensibilities."
A key aspect of both exhibitions is that there are no stylistic characteristics that unify the works. Lippard curated in this manner to show that women artists encompassed all styles, materials and media, which "Twenty Six" artist Barbara Zucker described as a "cornucopia of art we'd been making in the dark."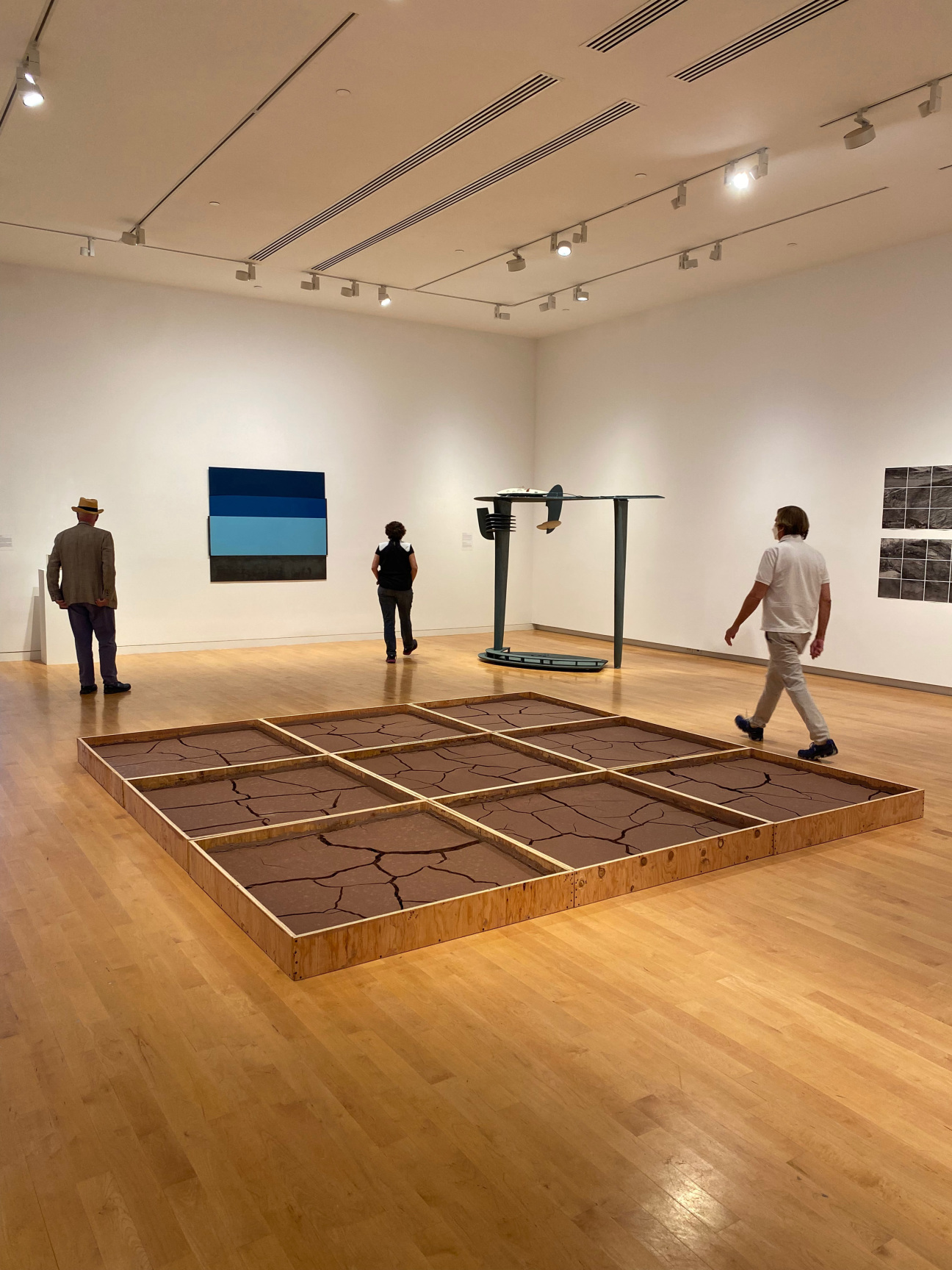 All but three of the original 26 talents have work in "52 Artists," including original pieces from the 1971 edition and examples from the same bodies of work. Shown in both exhibitions are paintings by Cynthia Carlson, Mary Heilmann and Sylvia Plimack Mangold, and a mixed-media assemblage lattice by Howardena Pindell. Visitors who attended the weekend preview on June 4 had the rare opportunity to experience Adrian Piper's group performance piece, Whistleblower Catalysis (1971), restaged for the first time since its debut in the historic exhibition. Many of the original artists have additional, newer works in the show, creating an engaging dialogue with their younger selves and practices.
One remarkable pairing is two pieces by Alice Aycock: a recreation of her stunning, crackling clay floor sculpture Clay #2 (1971) and a swirling, geometric aluminum sculpture Untitled Cyclone (2017) that captivates viewers in the outdoor garden. Vastly different in materials and composition, Aycock's sculptures offer an opportunity to see how her work has changed over the years and examine it in the context of the emerging artists.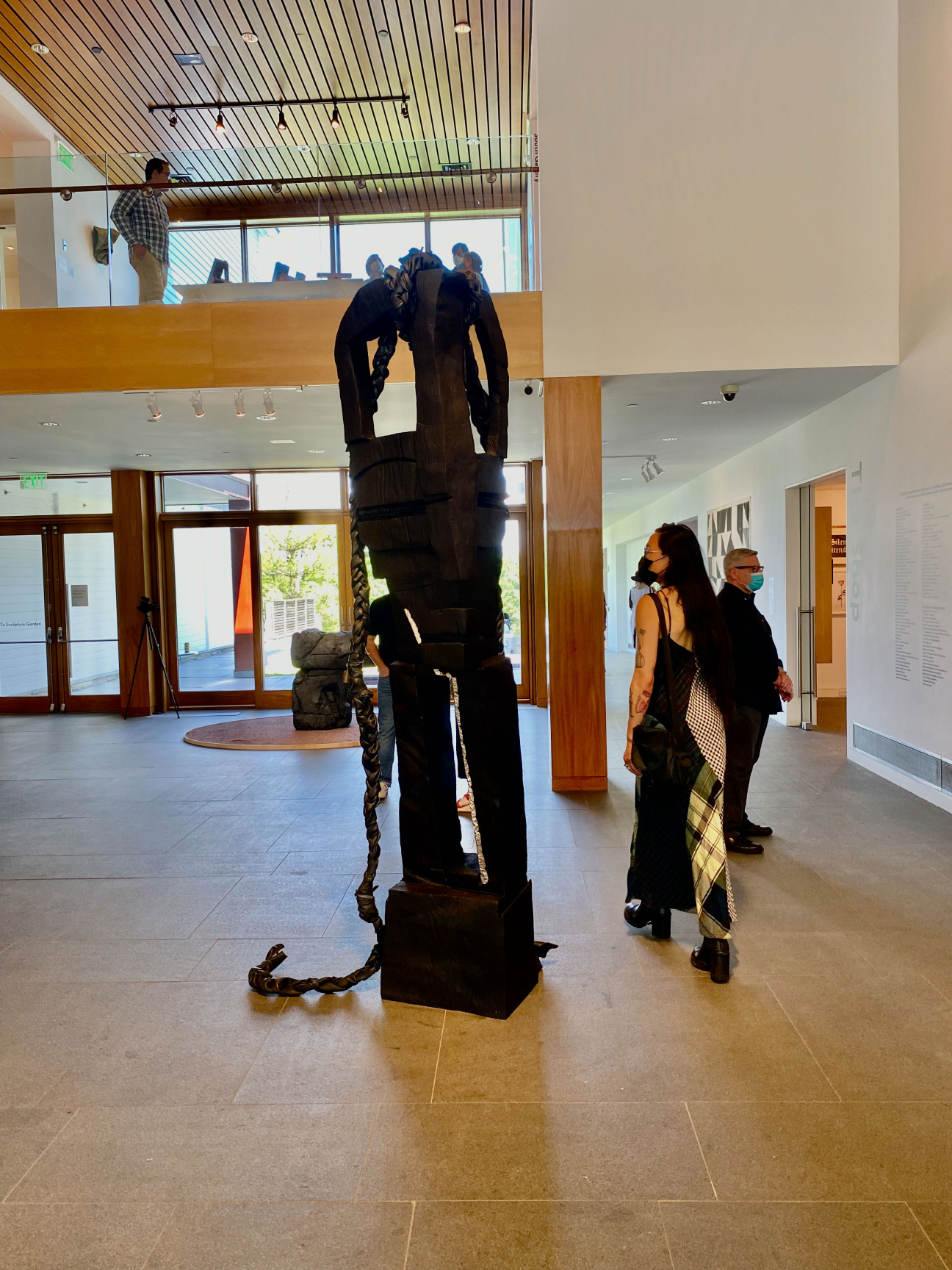 Works by the new cohort are interspersed throughout the exhibition, including a powerful mixed-media sculpture by Leilah Babirye. Titled Ndibasa Namutebi from the Kuchu Mamba (Lungfish) Clan (2022), the totemic piece is made of discarded materials, including wood, Ugandan pottery and bicycle parts. Babirye's work explores sexuality and human rights, in particular the LGBTQI experience in her native Uganda, which she fled to live in New York in 2015 after being outed by a local newspaper.
Nearby is Lea Cetera's first ever kinetic sculpture titled Chassis (2021). A spinning metal frame, the sculpture holds a clear, hollow female figurine filled with red and blue fluids that mix as the piece spins to produce purple, a color associated with magic, power and peace. "Cetera's apparatus represents chaos," curator Smith-Stewart says. "Its dueling colors symbolize binary forces in opposition. The artist compares her visualization to the internalized struggle women face as they combat double standards and the criminalization of their bodies."
Adding an interactive element to the show is Aliza Shvarts's Hotline (2020-ongoing): QR codes that play anonymous messages left on the artist's 24-hour toll free hotline. Addressing various issues including mental health, the hotline points to our increased reliance on technology and an existence without human interactions.
Also exploring the intersections of art, life, and technology are Erin M. Riley, whose wool Webcam 2 (2021) tapestry explores desire, sex and voyeurism, and Susan Chen, who highlights challenges and injustices faced by Asian Americans, using social media to source material for her portraits, sometimes painting them over Zoom.
While technology seems to appear as a common concern for the new artists, the range of art making is as much a cornucopia as the 1971 exhibition. Both an homage to and reinvention of Lippard's pivotal show, "52 Artists" encompasses all 8,000 square feet of the museum space, the first show to do so since the addition of the new building in 2004. It is as vast and diverse as its roster of artists—each piece tells a unique story of the female and nonbinary experience. Powerful, insightful and engaging, this show is a rich testament to the last five decades of feminist art, and proof at just how far along it has helped female-identifying people come in the fight for equality and representation.