Cultured Magazine: What was it like to comb your archive with a museum show in mind?
JS: It was incredible. The past 40 years I've been constantly traveling. Covid slowed everything down and allowed me to be home. I immediately bought a new scanner and I started pulling out all these amazing negatives from the 1980s that I had no memory of whatsoever.
CM: What about these old negatives are inspiring to you?
JS: As I scanned, it brought me back to darkroom days. I'm finding all these gems and what was really unique was the photographs that my father inspired. When I first came out of the military, he took me under his wing and started teaching me photography. He erased everything I wanted to do, and he said this is what I want you to focus on. So, looking at these negatives, I was seeing the instructions that he gave me.
CM: Did you like his instructions?
JS: I resisted it at first, because I wanted to focus more on youth culture, but he wanted me to understand the science of composition and light and shooting the streets. The first couple of months, he assigned me to shoot the streets of Brooklyn. Just to document it with a wide-angle lens. I thought it was boring, but as I look at these negatives, I realize it's really incredible work.
The majority have never been shown before, and it takes me back to America in the 1980s using my camera as a compass to guide me.
CM: I like that he made you start small and move outwards.
JS: He wanted me to understand that the key was light, composition, and subject matter. One of the things he stressed that I really took to heart was the importance of themes. You've got to have themes so when you step out on the street, because they give you have a clearer focus of what you're trying to capture. He stressed the importance of mastering available light and different lens. He gave me a comprehensive foundation when it came down to the craft.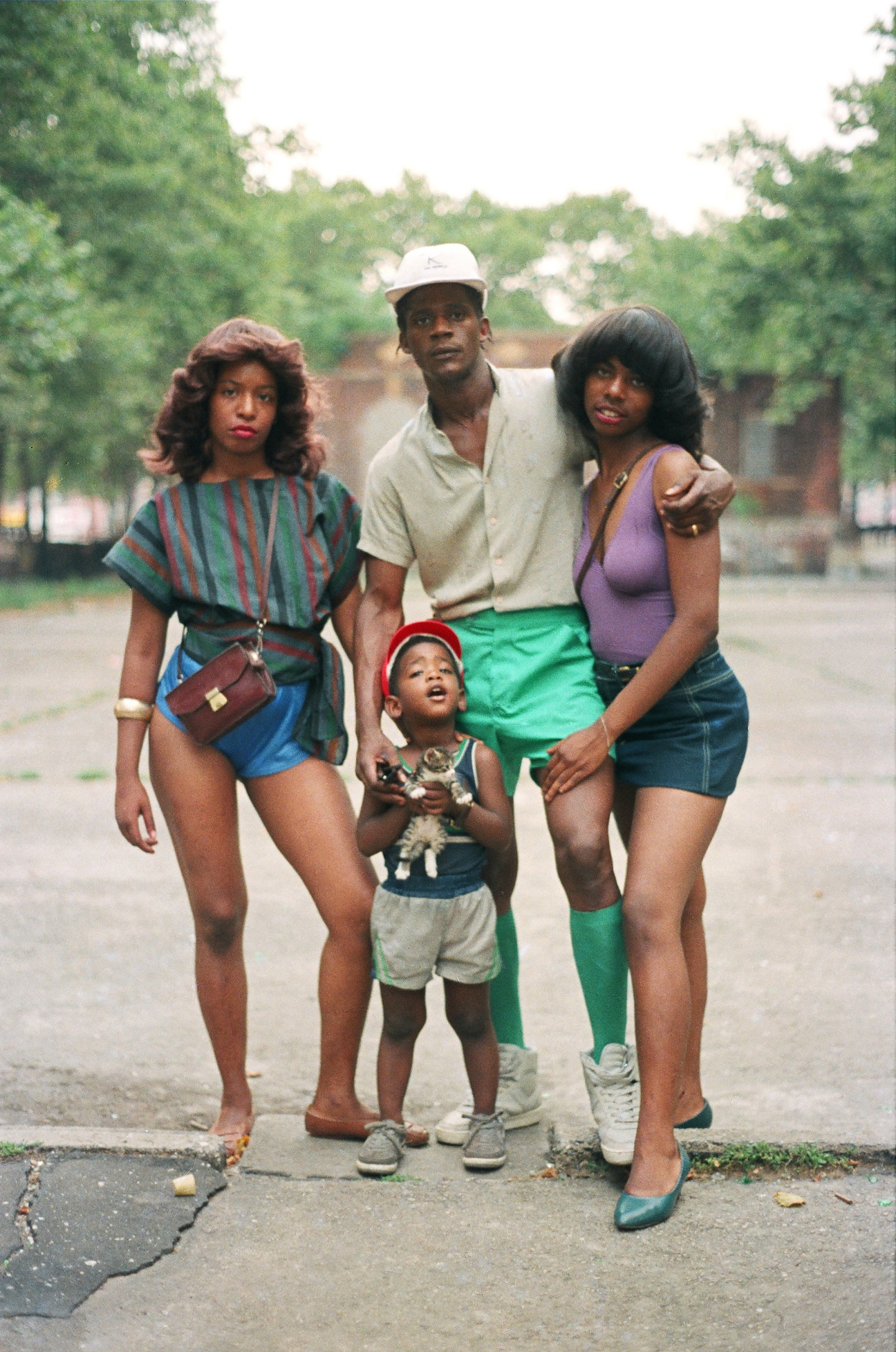 CM: Now that restrictions are lifting are you still digging in the archive?
JS: Every single day. Right now I'm involved in three major solo exhibitions, so I've been really going heavily since 2020. It's something that I enjoy doing. I'm officially retired from my day job, so I have nothing but time on my hands to organize my work.
How did you pick out what was right for the Bronx Museum of Art?
JS: Initially, I wanted the show to be cities around the world, but when the curator told me they wanted an even more narrow assignment, the streets of New York, that made it easier for me. My main goal was to showcase images that I rediscovered. Images that had never been shown before. Most people know me as one that has documented young people and posed images. I wanted to get out of that pigeonhole.
CM: I know you shot in Harlem, and in Brooklyn, but I didn't find any place where you said you were necessarily shooting in the Bronx. I was wondering what the context of the Bronx Museum affected your decision making?
JS: I did shoot in the Bronx early on, not that much because there was so much going on in Brooklyn and in Manhattan, so I couldn't make it to the Bronx. I'd go to Harlem and I'd spend the day there. I started documenting the Bronx in 1983, but that work is a very different body of work considering I worked on Rikers Island, which is the part of the Bronx that I documented. But knowing that the Bronx is a community of Blacks and Latinos, I made it a point that there was going to be balance of representation in this particular exhibition. This was very important to me. During my various trips to the Bronx, especially to the Bronx Museum of Art over the many years, I would document the communities around the Grand Concourse, so this is the very first time I'm actually introducing that particular body of work. It means a lot to have these particular photographs in this exhibition.
CM: Did you feel like the village historian?
JS: I'm one of many. I feel that I have a responsibility to uphold the baton for the next generation. It was passed on to me from my father and my uncles.
CM: There's a mutual respect between you and your sitters that lingers in the image. How did you develop this openness?
JS: That's a good question! I often speak about the book that influenced my understanding of communication: How to Win Friends and Influence People. For whatever reason, I read that early on and that gave me insight into how to approach people and how to make people feel good. Early on in the 1970s I studied to a degree where I couldn't really articulate myself. I fumbled on words, and whatever reason photography helped me to get past that. What I wanted to do coming from the community I came from in Brooklyn, East Flatbush… there was a lot of tension, there was a lot of hate amongst different cultures and that really bothered me. People had issues with people from Haiti and the Caribbean and Black Americans. At the same time, I felt there was a war going on when I came out of the Army, too—a lot of young men were at odds with each other over nonsense, so I felt that I needed to be a voice out here. This is the beginning of photography for me; I needed to come home to find out what was going on.
What people don't know is that there was a conversation first before I took the picture. The picture became evidence of the conversation. During those talks, I spoke about the importance of education and loving one another. It was a conversation that I had to have with young people.
For me, my process is all about love. It was a clear assignment of mine that I needed to do this and the camera really gave me the ability to connect. I gave me this microphone to engage people in a very unique way, whereas if I didn't have the camera I wouldn't have been able to have these types of conversations.
CM: Are there any particular wishes you have for this show?
JS: If all goes well, I'll be able to make a playlist so when you step into the space, you can really get on my frequency. It is my hope that this place can make people feel good, especially as we look at the times that we live in now, people not really embracing each other in the way that they once did. When you see my exhibition, you are going to see that spirit of love, you are going to see that embrace in a time before. It is my hope that people will see it and say it's because of this show that they want to now be a photographer of their times.