Suzanna Son has a look. It's what first caught Sean Baker's eye when the indie auteur spotted her outside an Los Angeles movie theater, barely a week since she'd arrived in the city. The story is the type that could become a legend, depending on where things go from here: he approached her at a Gus Van Sant showing, said he liked her look, and asked if she was an actor. Two years later, he cast her as Strawberry, a precocious Texas teenager drawn to the possibilities of porn stardom, in December's Red Rocket. Doe-eyed and freckle-faced, it's not hard to see why Baker picked her out of the crowd.
Suzanna Son also has a voice. It's ethereal, light but textured, soaring high and thin on top notes and surprisingly rich on low ones. You can hear the influence from Regina Spektor, an artist Son admires, in her cover of NSYNC's "Bye Bye Bye" from Red Rocket. In one of the movie's most memorable scenes, she sings naked while seated at a keyboard in her bright pink bedroom, while Mikey Saber (Simon Rex), the forty-something washed-up porn star she's fallen in with, watches from her bed.
Son might be a newcomer, just like her character, but that doesn't mean they have much in common. "She's more fearless than I am and she's certainly more calculated. Maybe I should learn from her," she said. Watching the film, I was captivated by how well Son portrayed Strawberry's own layered performance: she has a poised, enigmatic quality that sits over the ingenue role like imperfect armor. It's the kind of sure-I'm-young-but-I-know-what-I'm-doing swagger that's both magnetic and heartbreakingly naive onscreen.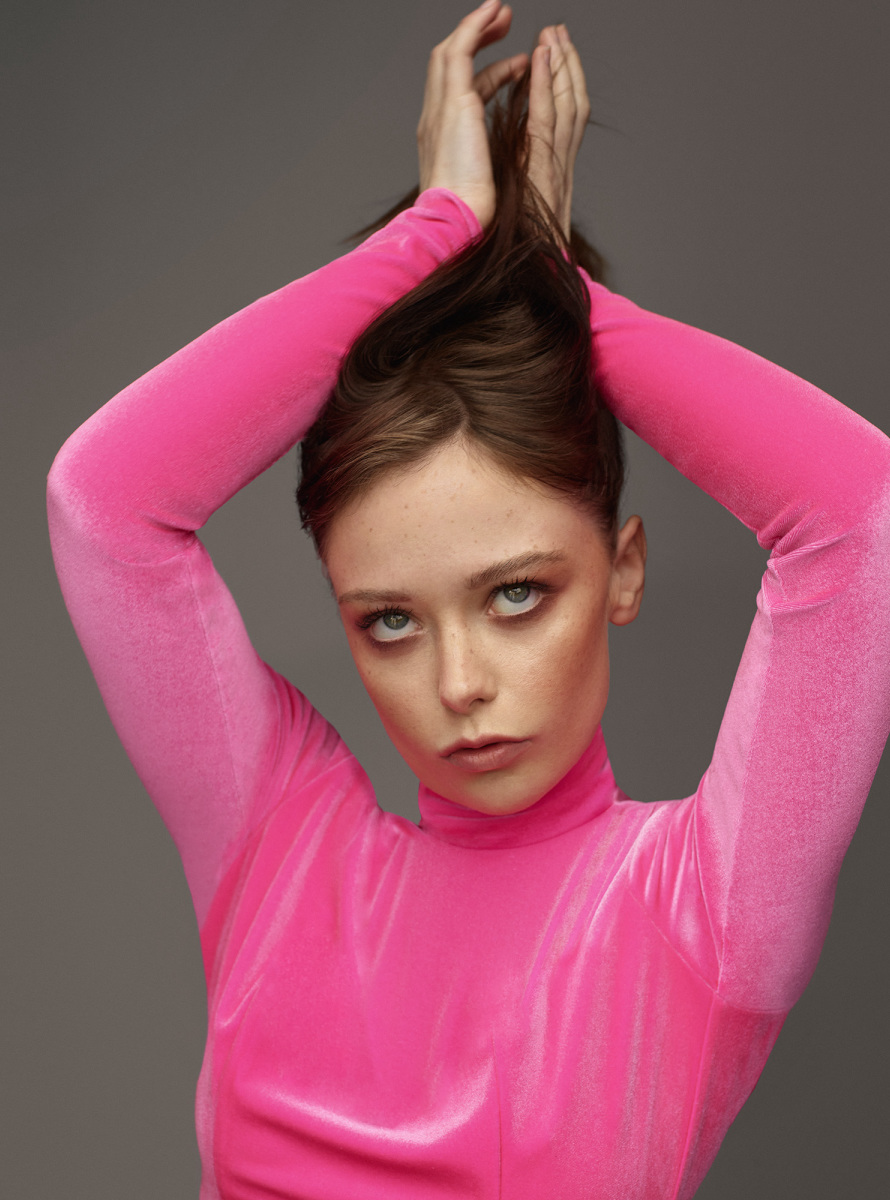 Son's own teenage bedroom was blue. "I remember it was a huge argument with my mom because she read somewhere that if a teenager has blue walls, they'll, like, get depressed," she told me. "And finally I got the blue walls and I was fine." Trying to picture a wall color that might result in depression, I asked if it was a dark blue. "It was a beautiful light blue. She was tripping," Son laughed.
As a child, Son was an instinctive performer, or as she puts it, "annoying." "I just wouldn't stop talking. I tried to be funny all the time. But as a kid, you just aren't funny. You're annoying. You've got to refine that," she said. When she first started acting in musicals, she would get good roles because she could sing. "But I really couldn't act, I would just get so embarrassed and I couldn't commit to anything," she said. She studied at Cornish College of the Arts for a while, switching from music to musical theater, and spending a few months studying dance in New Zealand before dropping out to pursue acting in LA. "I'm not the best dancer, I'm more of a mover, but I think it helps," she said.
That background seems to have come in handy playing Strawberry, the kind of demanding, vulnerable, physical role that has launched many a young actress. There's lots of sex and lots of nudity, but Son always felt comfortable working with Baker and Rex, the latter of whom Son says she would have been lost without. "A lot of Strawberry's character came from my physicality," she told me. "I would put on those cowboy boots, and my voice would get higher with that accent … I made her just have more energy. She's, like, up on her toes. Whereas I'm 26, I'm kind of melty," she said. Those cowboy boots, like a lot of Strawberry's wardrobe, were Son's own and have now gone missing. "They're my clothes and they didn't give them back!" she exclaimed when I asked about the costuming. Luckily, she's since been able to acquire a replacement pair of cowboy boots, and agreed that there was some solace in knowing that the originals are now a small part of film history.
Ever since Red Rocket premiered, Son has been busy. Her performance has been enthusiastically received: she was nominated for a Gotham Award for Best Breakthrough Performer and an Independent Spirit Award for Best Supporting Actress. Auditions are coming through like never before. Son is currently filming an HBO series, The Idol, with The Weeknd and Lily-Rose Depp. And after that, who knows? She'd love to have a "chameleon-like" career, maybe do more music, but for now she's just happy to be working. The awards buzz is "exciting and nervous," she said, "like I'm in a competition I never entered. But no, it's fun. And it's fun just to be talked about with all those other cool people. So I'm trying to appreciate it."