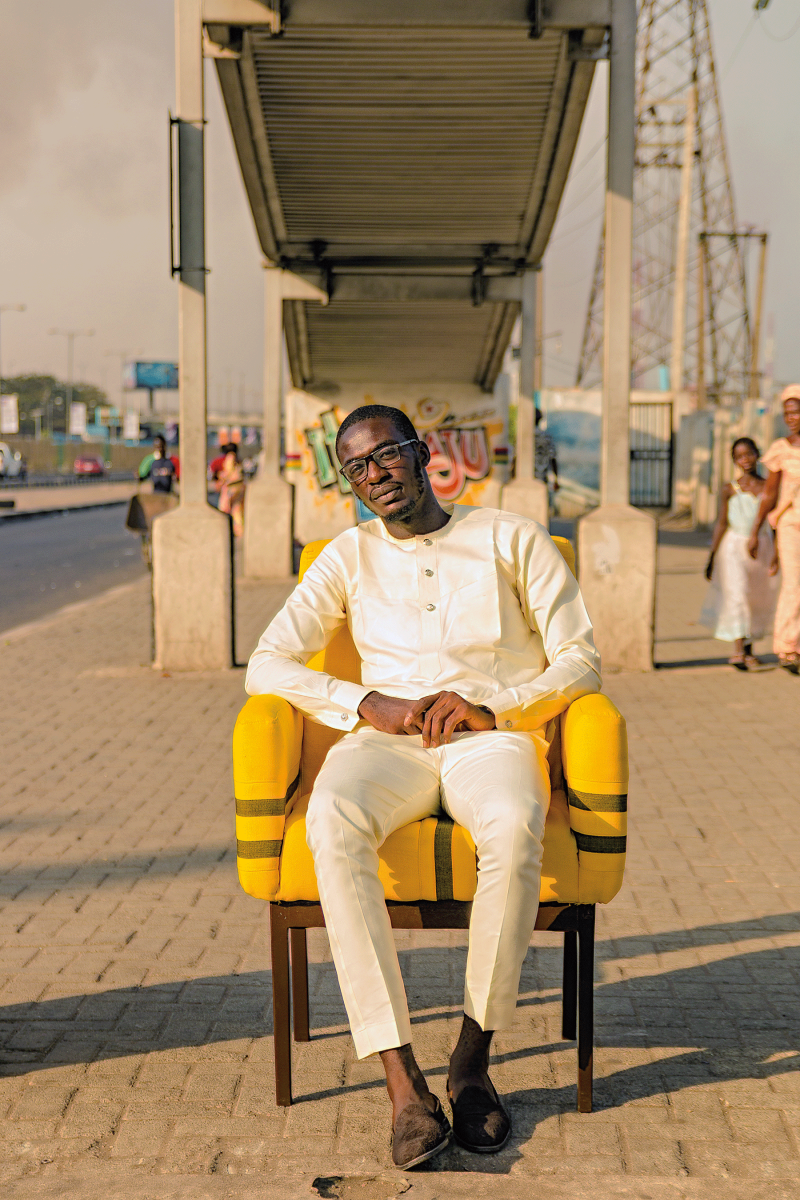 Tobi Oreoluwa
Nigeria's rich culture and history informs the work of architect and designer Tobi Oreoluwa and his Lagos-based studio Alaga. It's a way to disseminate West African stories to an international audience and to spread awareness at home. "Our projects explore culture, language, ethics, history and meaning," explains Oreoluwa, often inspired to create by contemporary socioeconomic issues. Alaga's line of Danfo armchairs upholstered in black-striped, yellow fabric was prompted by the Nigerian government's announcement that the ubiquitous commuter buses of the same name would be phased out—despite being the nation's largest form of public transportation. Another series has cushions covered in traditional fabrics like the indigo-dyed adire, prompting conversation on the heritage process and helping ensure its continuation. Recently, the designer shares, a client learned about the traditional Òsùká headwrap—the fabric that is placed on the head as a buffer between loads carried in this manner— via its inspiration found in a piece of his furniture.
"The Nigerian culture is very rich, but we have discovered that with the influx of modernism with the younger generation, if we are not deliberate a great part of this richness will be lost in transit to modernization," says Oreoluwa, born and raised in Lagos. "Hence, we have made it our calling to ensure that these stories are kept alive in our products and work." As a multidisciplinary studio working solely in Nigeria, Alaga is adept at contextual innovation and uses its ability to tackle existing problems in the nation. Currently in the pipeline: several projects previously halted by the pandemic are back on, including a library for Yoruba culture, as well as a new exhibition themed around "Nigerian Minimalism" in interiors.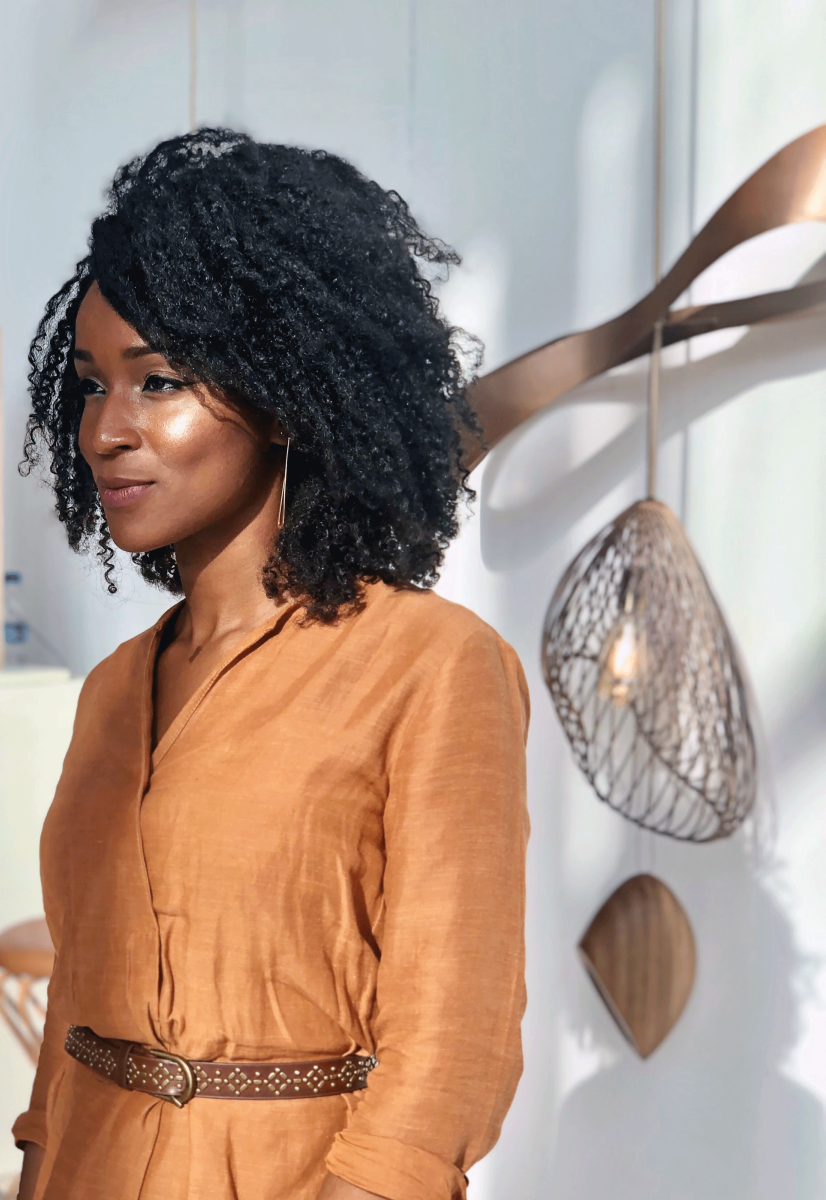 Lani Adeoye
"When desiging here one has to be quite adaptive and be willing to explore multiple solutions; it's a very iterative and immersive process," explains furniture and lighting designer Lani Adeoye of the Lagos scene where she established her practice, Studio Lani, in 2015 after returning home from graduate studies at Parsons School of Design in New York. Adeoye's designs toe the line with sculpture and are rooted in a contemporary hybrid relationship with traditional West African crafts like weaving, metalworking and woodworking. Her recent pieces include hand-carved Igbako sconces, whose form and Yoruba name references the eponymous utensil; metal Ite pendant lamps shaped like loose birds' nests, and woven leatherand-fiber Talking Stools, a reinvention of common household floor mats as three-dimensional seating. Rendered in warm, natural colors and materials, they are distinctly Nigerian, and are all handmade in the nation as well.
Lagos, according to the designer who grew up between Nigeria and Canada, enjoys a population of talented artisans and craftspeople, but finding a manufacturer willing to work on projects—her projects—that expand the use of their materials in unusual ways requires a lot of searching for the right partner, conversation and collaboration. Once found, the results are not only local, but community centric and sustainable as well. "It reinforces that design is a tool that adds value, preserves heritage and can be used to positively engage with communities that are maybe on the fringes," explains Adeoye, who is interested in finding symbiosis between things seemingly disparate.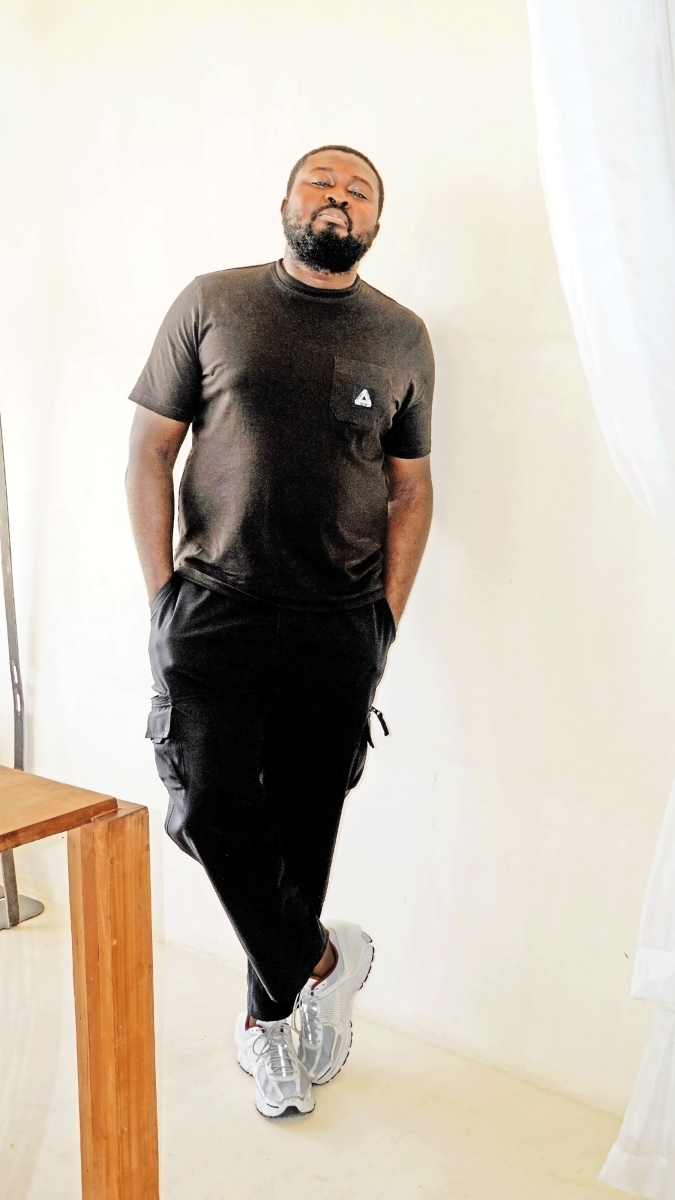 Nifemi Marcus-Bello
Post-graduation from the University of Leeds, and while working as a remote consultant for MASS Design Group in Kigali, industrial designer Nifemi Marcus-Bello returned to his homeland of Nigeria to start his own practice. Once he did, he found that manufacturing contemporary furniture and products under his new moniker nmbello Studio was much harder than it was for his peers still in the United Kingdom—but this was exactly what he expected. It's not for a lack of ideas or technical knowledge, he says, but rather a deficit in policy and set systems. Thus, the designer did his own research, visiting hundreds of factories in Nigeria and a few in Accra to record their abilities—and interests—in taking on contemporary, cutting-edge design projects. He's planning to share the data on an open-source platform so other young talents can more easily make African design on the continent.
nmbello Studio focuses on open-minded, contextual design that is intrinsically tied to Lagos. "I am extremely inspired by the day-to-day anonymously designed products that I interact with and make my city tick," explains the founding principal of his work, which both innovates on current, informal designs and incorporates traditional crafts. His Lagos studio is serene, but dotted with prototypes, first editions and ideas in exploration: the SELAH Lamp 1.0, a twoin-one stool and floor lamp that is made of a single piece of sheet metal; The Introvert's Chair, which shelters its sitter in a woven cocoon, and a recent inspiration: the ubiquitous miniaturized magazine stands that street vendors carry while selling wares in Lagos traffic. This year, in addition to a new line of limited-edition furniture that will investigate new forms, materials and means of production, MarcusBello is kicking off a formal research project in March: Africa–A Designer's Utopia analyzes the connections between urban planning and Indigenous contemporary design solutions using readymade or kit-of-parts materials.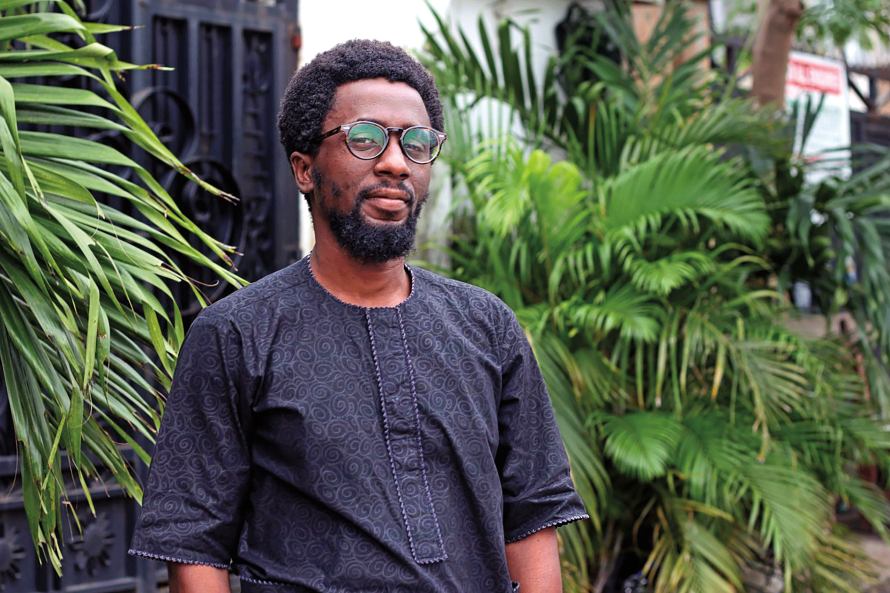 Papa Omotayo
Ask Papa Omotayo about his current concerns for Lagos's built environment and he'll tell you about the trees. Despite the scorching sun present most days of the year, there is a campaign to remove the trees that have been maturing on street corners for decades. The heart of public outdoor life in the city, their shade means that passersby can stop for a chat and a streetside snack, but they also encourage people to congregate, something not all officials want.
It's an occurrence that could be easily overlooked, but to the detail-oriented architect, designer, filmmaker and writer, it's a key to a larger conversation about urban conditions in contemporary Nigeria, which is the broad focus of his multidisciplinary studio, MOE+ Art Architecture. "So much of urban design and architecture in Nigeria ignores context, environmentally and in material use. We need to move away from the linear design process and look at it as a way to facilitate the real needs of the population, allow it to feel participatory, adaptable, inventive and, most importantly, localized," argues the talent who finds design solutions in art, architecture and research.
Currently, housing for the nation's exponentially growing population (Lagos is now the most populous city on the African continent) is occupying his mind, as is Material Lab, a space to research and repurpose local, raw, sustainable and reusable waste materials for consumer industries, ideated in partnership with fellow young Nigerian firm ADD.apt. This year, MOE+ Art Architecture will complete the new Guest Artists Space Ecological Green Farm in Iknishe, Ijebu, an artist residency founded by British-Nigerian artist Yinka Shonibare. And the firm is currently working with Adjaye Associates on the future Edo Museum of West African Arts pavilion in Benin City.
Overall, Omotayo wants designers to get real about Africa. Good design isn't a fancy image, he argues: "We need to create real spaces that enhance the quality of human life—not 3D visual renderings of fantasy cities."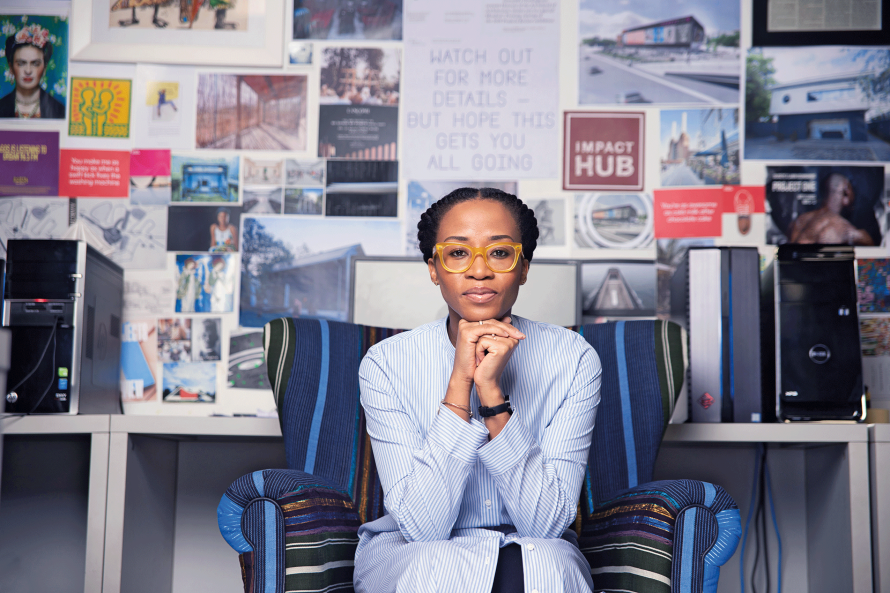 Tosin Oshinowo
"My practice is very much a celebration of where I come from, while also a nod to the foundational figures of global architecture and design," says Tosin Oshinowo, founding principal of Lagos-based architecture firm cmDesign Atelier and furniture company Ilé Ilà. In her commercial and residential projects, the Nigerian architect is in the business of creating serenity, with a contextual and material African twist. Her Lagos beach house designs use natural palettes and have all-white facades of sandcrete and cement that strategically frame Atlantic coastline views. Her workplace interiors are homey and textured—offices you might actually want to return to. In this contemporary Afro-minimalist style, her Lagos roots, Yoruba culture and global design training operate in harmony.
Oshinowo considers her work more of a "lifestyle than a job," she reveals, and thus, just like the mother, MBA student and sole proprietor, it is full of heart and inherently socially conscious. Currently, she is spending a lot of time on a jobsite in northern Nigeria, working with the United Nations Development Programme to build a new village for a community displaced by Boko Haram; residents will move in this year. In her Ilé Ilà design studio, plans have been drawn for a new chair prototype and current models will be released with limited edition fashion collaborations in 2022. All her furniture pieces are handmade to order in Lagos.
"I aim to champion Africa and Nigeria in my work across the board; we are so often overlooked in the global dialogue on architecture and design, and yet so many incredibly rich design histories exist here," she explains of her multidisciplinary approach, which allows her to design at any scale. "That balance of being from here but looking to a future where these African influences are the norm in architecture locally, and eventually globally, is a real central passion that drives my work."