As elevator doors open to the first floor of the "Faith Ringgold: American People" exhibit at the New Museum, one is greeted with a self-portrait the artist painted in 1965, as if she's inviting visitors to begin a journey through her life's collection with her young self. The brilliance of Ringgold's exhibit is that the viewer grows and changes with her: as one walks the halls and absorbs her art, one is transformed into more impassioned, intricate and thoughtful version of oneself. Jackson Pollock once said, "Art is coming face to face with yourself." Through the art in this survey show curated by Massimiliano Gioni and Gary Carrion-Murayari with curatorial assistant Madeline Weisburg, the audience is invited into Ringgold's mind and soul and provoked to leave the museum altogether more powerful.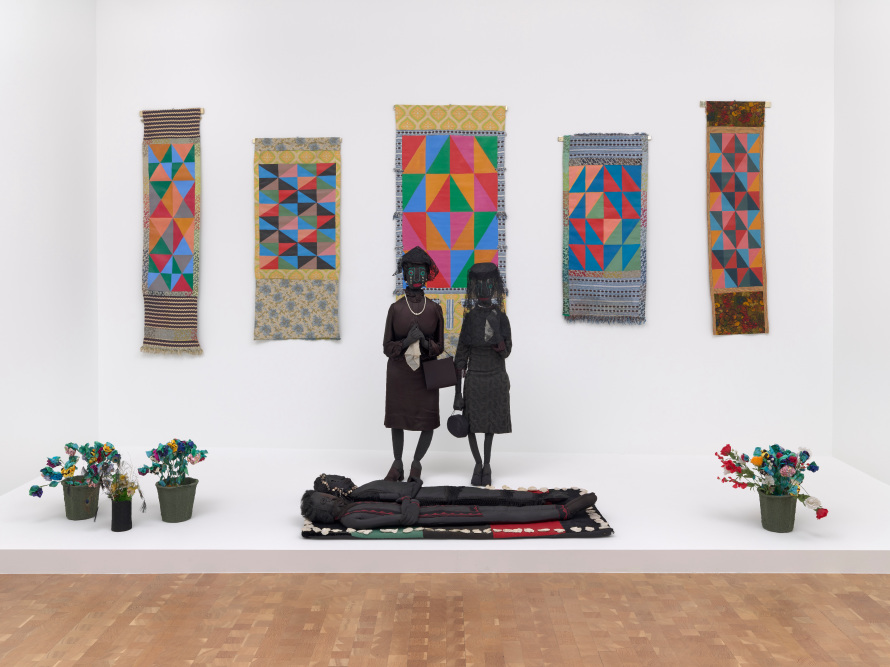 91-year-old Ringgold's work spans seven decades and is largely influenced by her growing up during the Harlem Renaissance surrounded by Black artists, activists, musicians, writers and entrepreneurs. During her early years in the civil rights era, she developed her bold figurative painting style, using thick brushstrokes and darker colors to meld her sense of protest into her art. Later, she began incorporating elaborate quilting. Her work was often inspired by the writing of Bell Hooks and James Baldwin, promoting Black power and intersectional feminism.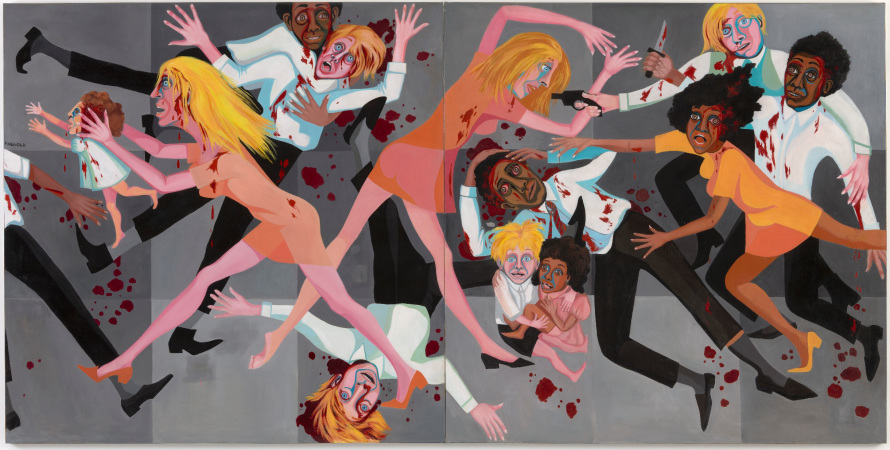 The exhibition is displayed on three different floors of the museum, diving Ringgold's oeuvre thematically: the early years and American People series, storytelling quilts and dance masks and The French Collection series. The artist's early work consists of "The Feminist Series" of figurative portraits and "American People Series," all of which confront race relations and the absence of Black women's voices from 1960s politics and society. Here, American People Series #20: Die (1967), which is often compared to Picasso's Guernica in terms of size and provocation it instills in the viewer, and American People Series #18: The Flag is Bleeding (1976) are being shown together in New York for the first time since 1984. Within her feminist series, Ringgold created the "Slave Rape Series," three portraits of enslaved women. Instead of portraying a look of terror in her characters, she instills power: one is pregnant, carrying a hatchet; one is adorned in jewelry; and one looks defiant, a timely marker of the feminist revolution and women's liberation movement happening in conjunction with the 1970s era of her paintings.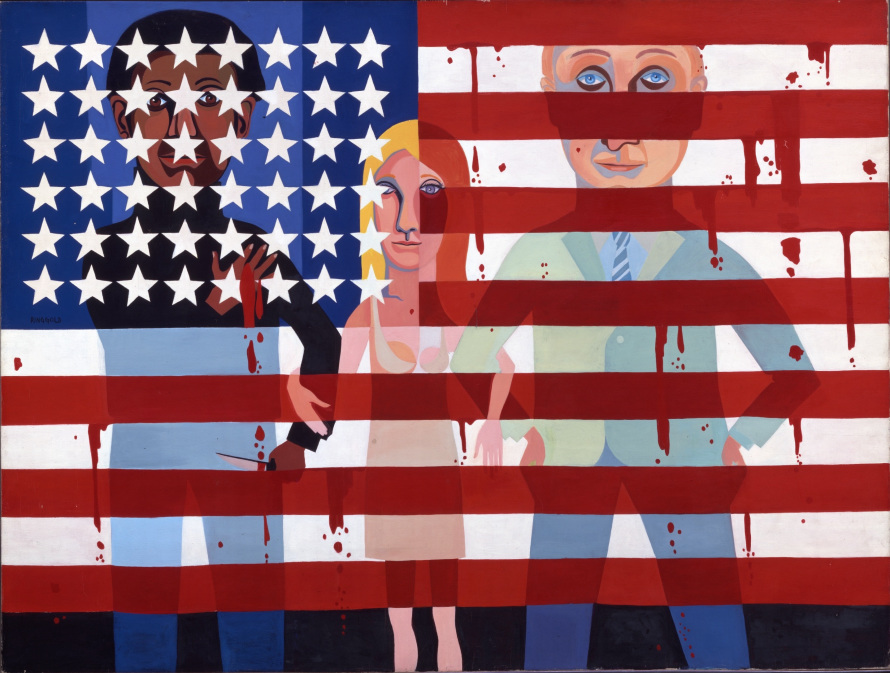 Perhaps her best-known works, Ringgold's story quilts combine her personal life with the dialogue of the time: capturing scenes from her youth, as well as reimagining slave narratives and historic Black figures such as Martin Luther King Junior, Sojourner Truth, Harriet Tubman, Malcom X and Fredrick Douglas. On display is The Flag is Bleeding #2 (1997), a jarring image of a Black mother holding two unclothed babies at her legs, with blood dripping from the American flag and the woman's body. Ringgold's interest in the motif of the American flag presents itself throughout her work, and this version suggests that the experience of Black women in America is one of restricted freedom, lesser humanity and, overall, one of grief. Meanwhile, within her The French Collection series, Dancing in the Louvre: The French Collection Part 1 (1991) depicts a scene of Black joy at the Louvre under the Mona Lisa. The quilt is an act of protest: putting Black joy in the halls of an institution whose master paintings are notably absent of autonomous women and women of color.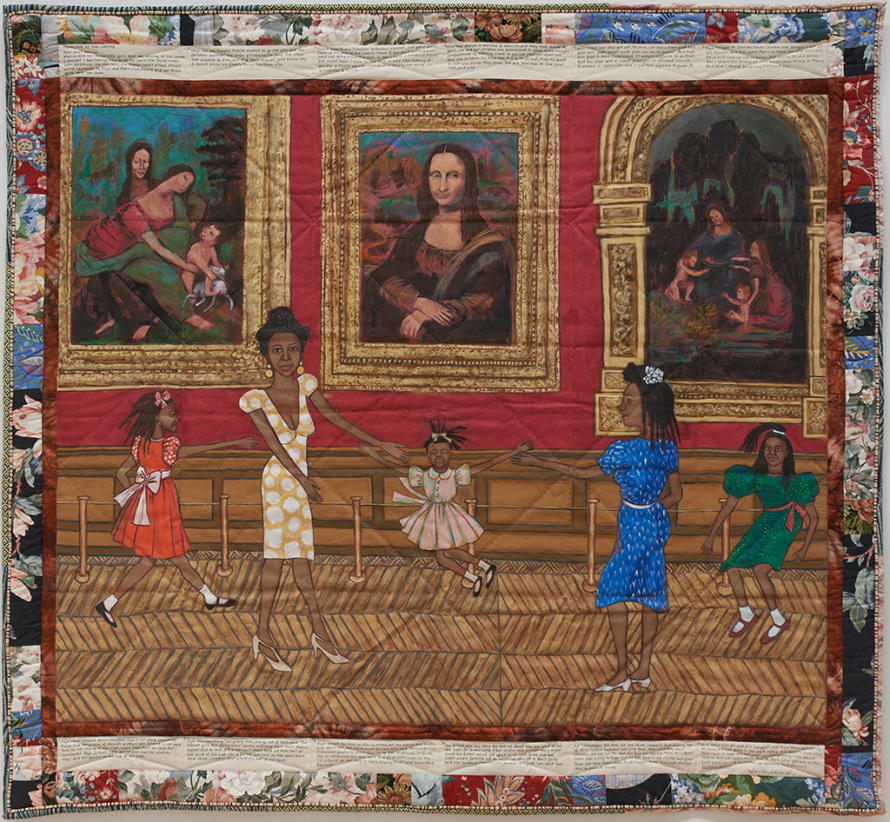 As seen in this show—Ringgold's first full retrospective in New York—her lifetime of art expands the viewer's concept of reality, protest and joy to a broader, more inspired worldview. Each quilt, painting, collage and mask has its own intricately wound story and purpose, adding layers upon layers of knowledge and history to both her activism and art.