Wednesday, February 16
Water features are big in Los Angeles and, I imagine, will be prominent in the houses hosting Frieze-adjacent parties this week. I've already been to two parties with moat entrances and it's only Wednesday. At a house in Bronson Canyon, there was a moat just inside the door; guests filed in on a cement platform. This happened the night before too at a house in Beverly Hills for the MatchesFashion event, but it wasn't a house that anyone lives in, rather one that's rented out for movie shoots and fashion parties.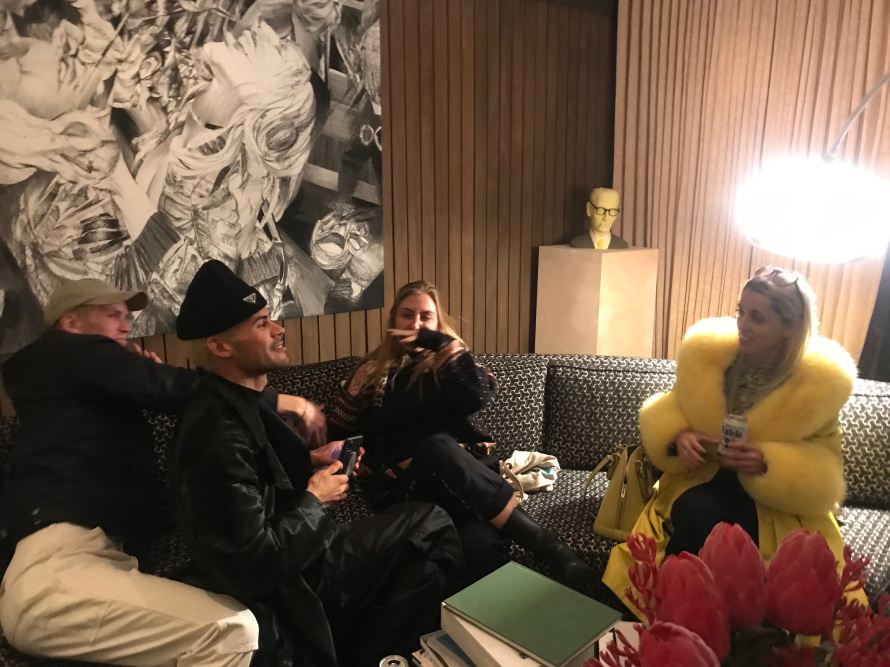 The party in Bronson was a celebration for One Trick Pony Gallery and 56 Henry. At the start of the event, the crowd was made of mostly visitors from New York, but after the Del Vaz Projects dinner ended in Santa Monica, more LA people filed in. An unknown man was going around squirting lotion into people's hands. I don't believe he was hired or that he lived there. Perhaps it was just a conversation starter. But it meant that I was then holding a plastic cup of whiskey on the rocks with greasy lotion hands.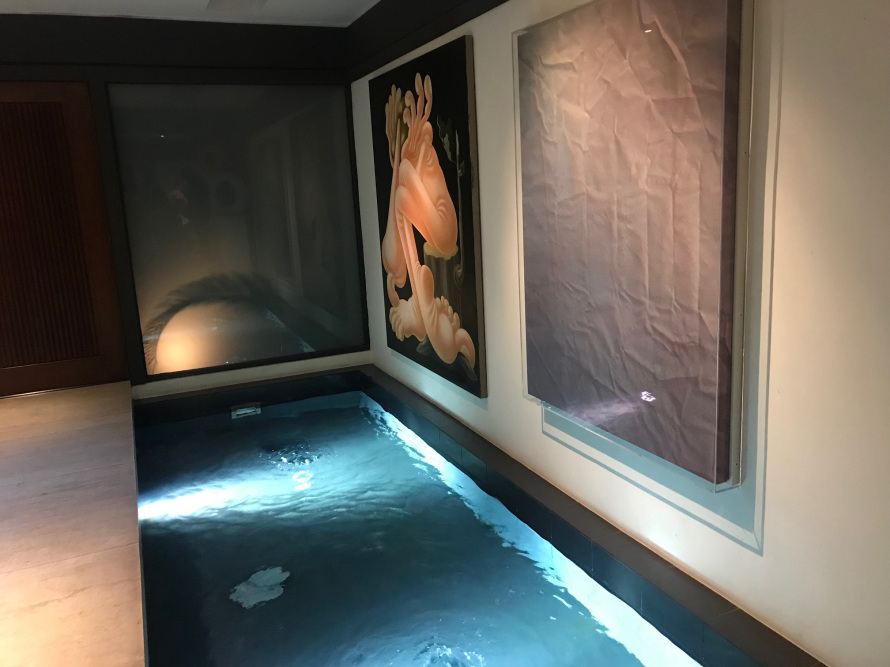 The bar was located by a facsimile of the Venus of Willendorf. Artist Patrick Jackson and composer David Zuckerman leaned on its plinth, beers in hand, while recalling their days at Skowhegan. I met filmmaker Eugene Kotlyarenko and told him I watched half of his movie and that I'm an aspiring actress. I think it's good to tell people you're an aspiring actress at parties in LA; it's good to keep your options open.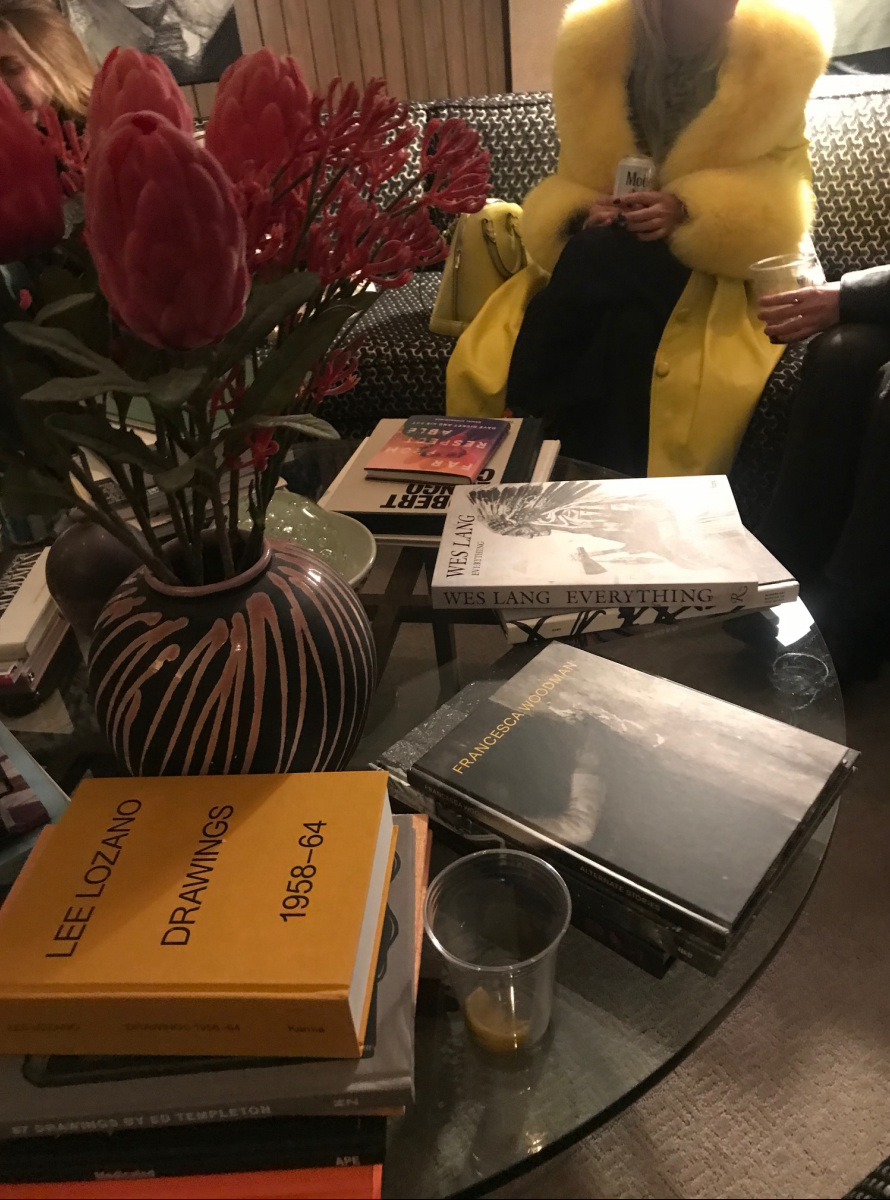 We sat around a coffee table filled with art books most prominently a catalog of Lee Lozano's drawings and Francesca Woodman's photographs. Carlye Packer, pulling a joint out of her vintage deerskin purse, pointed out to two young women in the kitchen and told me one is an advisor and one is her client who's an undergrad at New York University.
It's hard for me to keep all these male painters straight. I met one who says he's Peter Doig, I ask, "Really?" because I don't know what Peter Doig looks like or how old he is. No, his name is Dustin, says Tristan Unrau, another painter. Apparently, the Peter Doig impersonator is one of those guys who lives out in the desert and comes into town for art fairs, kind of like Henry David Thoreau doing laundry down the road at his mom's house.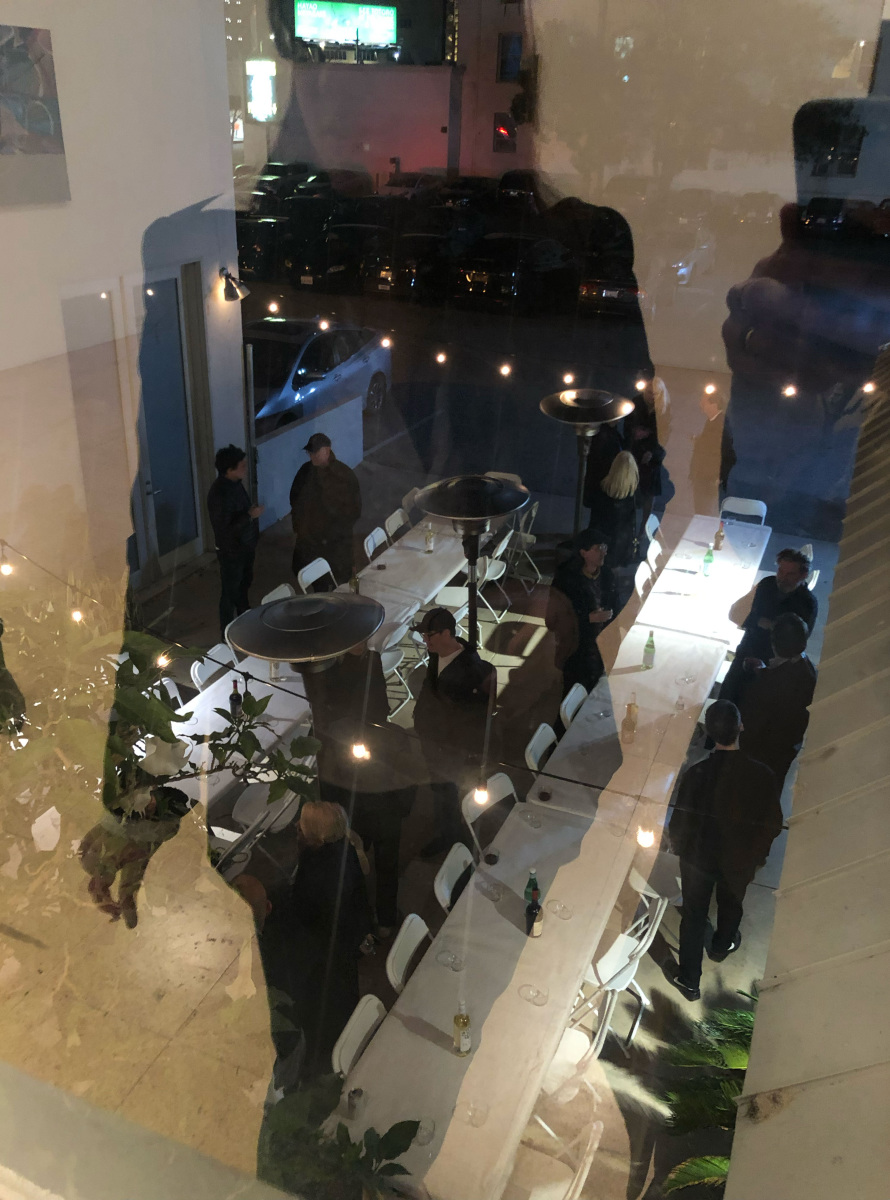 At 1301PE gallery for Blake Rayne's opening, artist Cheyney Thompson was in the kitchen making tea. I helped him with the finicky electric kettle because I used to work there, and I know just how to position the cord. Thompson said he wanted to find a hot tub. I offer that I'm sure someone at the dinner has a hot tub. Maybe Paul Schimmel or Kim Gordon or maybe we can just soak in one of these moats.
Friday, February 18
There are all these events that sound exclusive and glamorous but are revealed to be kind of corporate: there's no open bar and there's a panel about NFTs taking place, which could have been interesting but not when people are expecting a rooftop party. You even had to pay for water, which I should have had more of. This was the vibe at NeueHouse on Wednesday evening, for an event collaboration between Rhizome and Outland, a new NFT platform. NeueHouse is a coworking space that looks like a Silicon Valley hotel where you can't really walk around without being escorted by an uptight PR girl. I found a magazine with something I wrote in it and showed it to the man in the elevator riding with me. He said, "Congrats," but didn't seem too interested. There was another party right below the rooftop on more of the terrace, where dinner was definitely paid for and totes hung off people's chairs that said "Artists Make New York."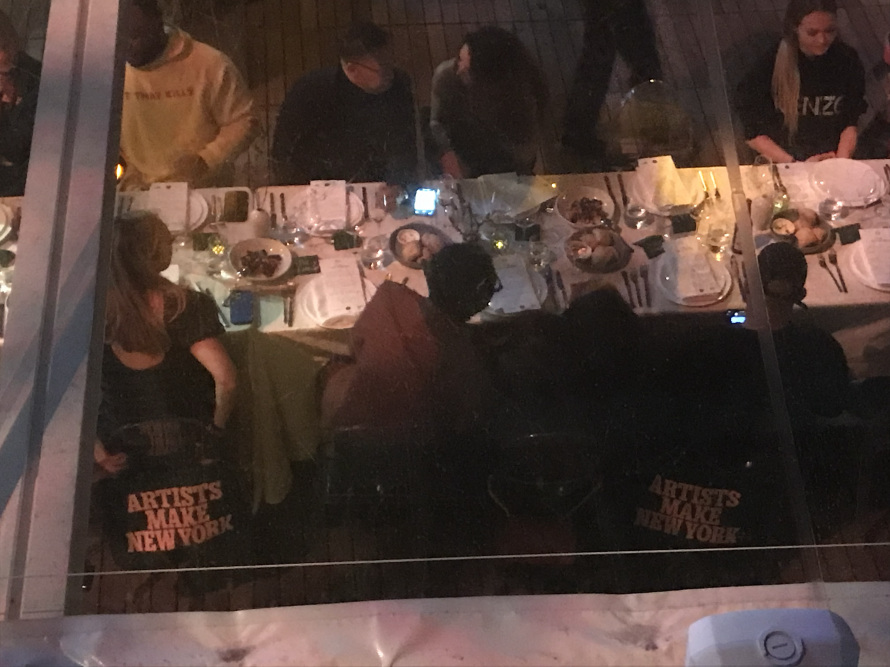 I received word of another one of these kinds of events that was advertised as an unveiling of a new mural work by the artist Shara Hughes but it was really just a brand sponsored event for activewear company, Alo Yoga. Influencers clashed with curators, and everyone got gift bags of free skincare. Vinyls on the wall read: "Health is Wealth." The painting wasn't even real; it was a fabricated reproduction.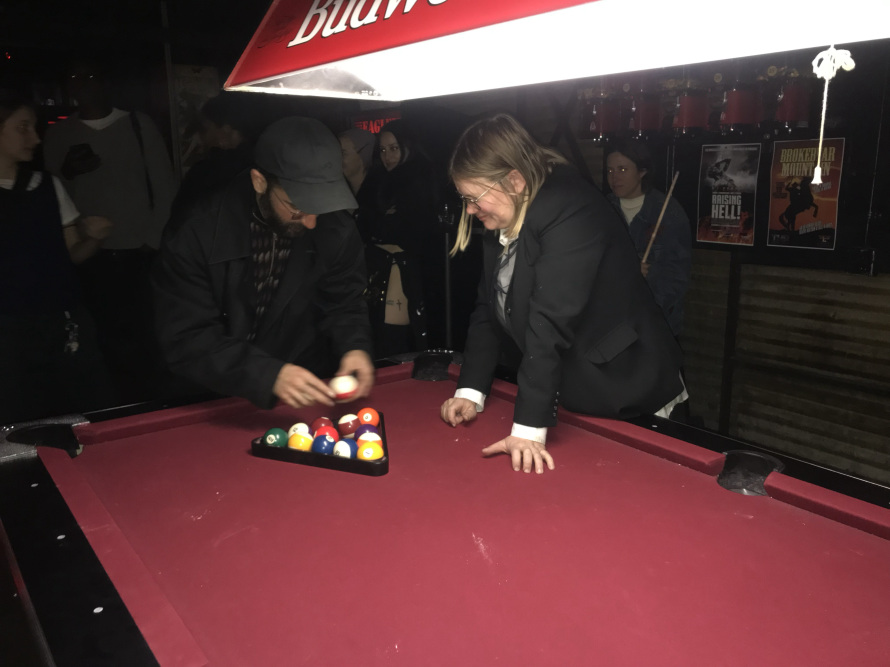 On Wednesday night, myself, Stars, New Low, Larder, and Paul Soto co-hosted a very non-corporate, non-private event at the Eagle, an iconic leather bar in Silver Lake. We were celebrating the galleries' artists who had shows open—Guendalina Cerruti, Cynthia Hawkins, Alex Olson, Eric-Paul Riege, Kate Spencer Stewart and Erin Calla Watson—with gin and tonics served in beer mugs. The iconic "lesbian mafia" was in attendance in twos: Math Bass and Emily Segal; Hayden Dunham and Roni Ginach; Kate Mosher Hall and Rachelle Sawatsky; Cerruti and Daria Blum visiting from London. Gay porn plays on TVs around the bar, which has two pool tables and one bartender. The password to get a free drink was, "I'm here for Art's party." Someone was performing a stand-up set when we arrived that thankfully ended shortly after the party began. One regular asked us what we were doing here. I had been nervous about this because sometimes leather gays can be a bit turfy. I said I'm a dyke and he realized we were not a threat and offered us some of his pitcher of beer. He said he'd never seen it like that on a Wednesday night.
Saturday, February 19
"I don't care! Our booth is completely sold out; we're the hottest gallery in LA!" a young woman from Matthew Brown Los Angeles shouts with bachelorette-party-like inflection over the crowd trying to get into Plaza on Friday night. People mobbed the entrance with sharp elbows and laser focus on the door girl as if it were Studio 54. The Latino drag night club that's been around for 50 years was the chosen venue celebrating the straightest whitest male-run galleries: Matthew Brown Los Angeles, Clearing, Lomex and Ramiken. On my way in, I ran into Brown who seemed flustered by the crowd and apologized for the hectic scene. Maritza Lerman Yoes had just come from her party at the restaurant Horses in Hollywood and was carrying a handful of blue-and-gold balloons that she handed to someone through the bouncers. Only a couple people were allowed in at a time; people couldn't leave to smoke outside, which led to smoking inside. Drag queens were performing; some people sat up front watching attentively, like Jay Ezra Nayssan, of Del Vaz Projects, who I sat across from at dinner earlier that night in Beverly Hills. The queens were eventually upstaged by people dancing to reggaeton on the paper tablecloths drenched in beer, including a man wearing a t-shirt that read, "Don't Ask Me 4 Shit."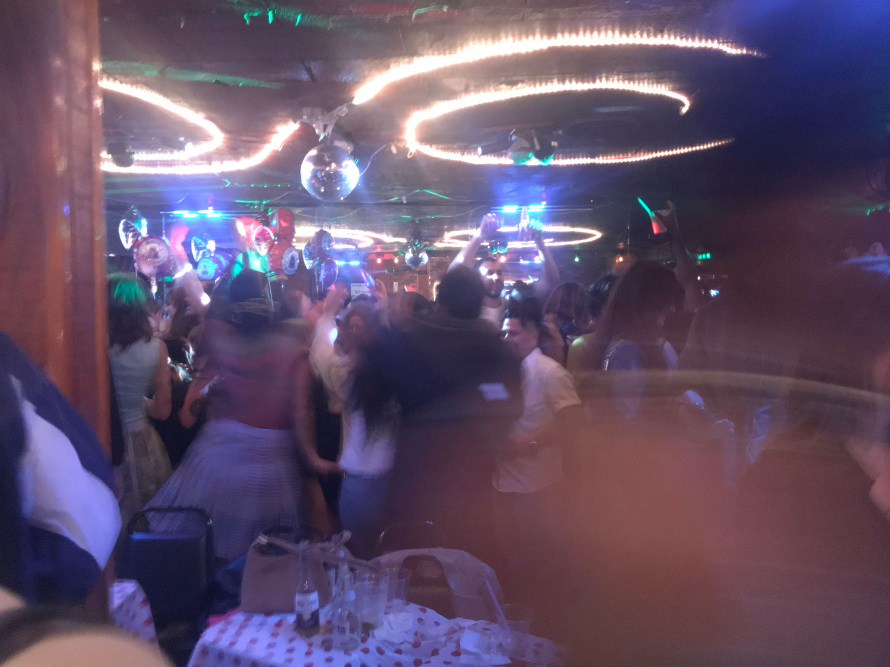 I'd been once before to Plaza, which I knew of through the work of Reynaldo Rivera, whose photos captured the scene on and offstage in the '90s. Brown's gallery is just down the street and the choice of venue seemed both a neighborly gesture and an absolution of gentrifier's guilt (though the area has been beyond gentrified for a while). But instead of feeling an excitement to celebrate the club, it put into sharp relief the tension between the space and the visiting clientele. It becomes a novelty, a kind of cultural cruising that I find cynical from people who have and are in control of, what feel like, unlimited resources. But, hey, how else would they be the hottest gallery in LA?