Dasha Nekrasova is good at grabbing attention. The actress and Red Scare host tends to scan as more famous than she actually is, partially because of how seamlessly she generates controversy—most recently, an interview and gun-toting photo op with Alex Jones—and partially because everyone who knows her name is a culture journalist, terminally online, or both. A few of my favorite examples of what I'll call Dasha Derangement Syndrome came recently courtesy of Gawker (an argument that Dasha is too recognizable to star on Succession, unlike, say, Academy Award-winner Holly Hunter) and New York Magazine (a moment in a profile when a fervent Red Scare fan spots both Dasha and Kanye West at Downtown hotspot Fanelli's, and seems to view them as approximately the same level of celebrity).
All this can make it difficult to fairly assess Nekrasova's cultural output. But with The Scary of Sixty-First, her directorial debut, she's asserted herself as a creative capable of producing work that is ambitious, alive, and rewarding of attention, even if it feels a little underbaked.
The Scary of Sixty-First is a horror-comedy about two roommates who unwittingly move into an apartment once owned by Jeffrey Epstein. It starts off as a familiar New York real-estate horror story: the place is weird, giant, and suspiciously cheap, and the broker is cagey ("Don't you have a broom?" he asks when the women inquire about getting it cleaned). As the apartment's dark history becomes clear, Addie (Betsey Brown) goes off the rails, seemingly possessed by the spirit of one of Epstein's victims; Noelle (Madeline Quinn, who co-wrote the film with Nekrasova) becomes obsessed with Epstein's death after a mysterious woman (played by Nekrasova herself) pulls her into a world of conspiracy theories and amateur sleuthing.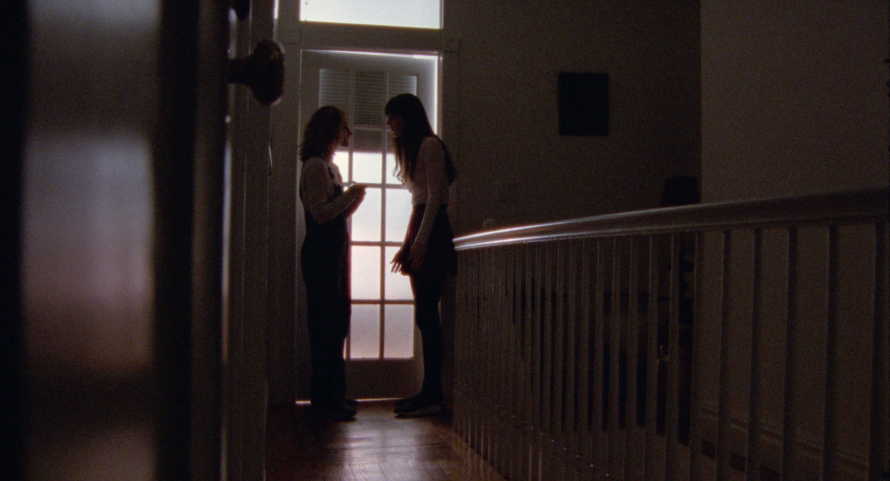 The film is sludgy, lo-fi, often clumsy, and sometimes brilliant. It is far from polished and occasionally outright amateurish—the dialogue can be stilted, the camera work random. But its rough-and-tumble direction and throwback aesthetic effectively recall sexploitation films of the 1970s, an intriguing choice for a film about how sexual exploitation is embedded in and enabled by culture. The performances range from wooden (Quinn) to charismatic (Nekrasova) to wonderful (Brown, who injects her character's psychosexual regression with a sense of eager-to-please performativity that implicates the viewer, and Mark Rapaport, who is hilarious as Addie's gormless boyfriend).
The Scary of Sixty-First draws so heavily from Eyes Wide Shut, as well as the work of Roman Polanski and Dario Argento, that it doesn't seem quite right to call it "original." But it is gutsy and full of arresting scenes and genuinely shocking images. Shooting in 16mm, Hunter Zimny's cinematography has a leering quality that suits the material: a shot of Noelle taking off her tights, for example, felt lurid on first watch but tonally appropriate the second time around. A number of scenes are shot from above, creating a sense of surveillance that strengthens the paranoia essential to the film. In one particularly go-for-broke sequence, Addie masturbates outside Epstein's 71st Street mansion while Nekrasova's character tries to prove Epstein didn't kill himself by recreating his method of hanging; she chokes, spits, turns blue, and looks increasingly like maybe Epstein did kill himself until Noelle cuts her free. "See? There's no way," she says once she can talk again. Nekrasova is on the record as an Epstein truther, but scenes like this ironize and complicate any sense of didacticism.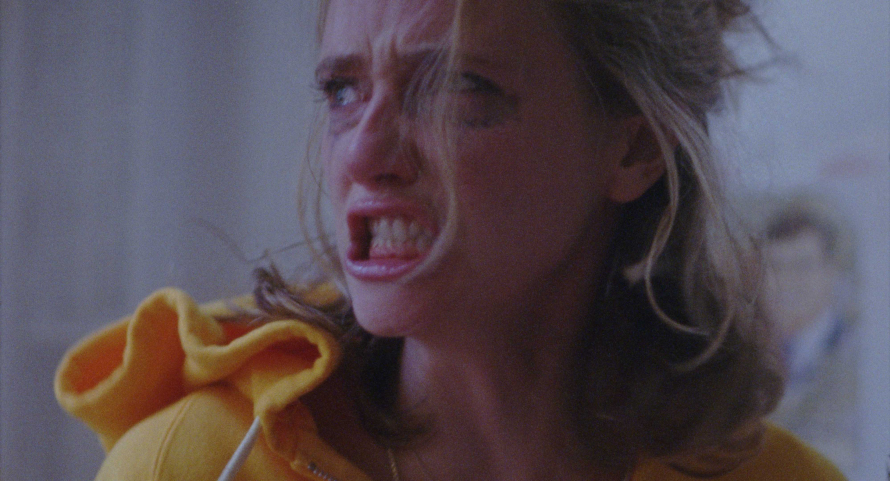 The film does flail in its final act, devolving into predictable slasher shenanigans and going on for a little too long, a remarkable feat for a feature that's only 81 minutes. But the letdown works on another level. The squandered potential, the ultimate shallowness, the maddening way it all falls apart without ever seeming to mean anything: is that not exactly what following the Epstein case has felt like? Ever since Epstein was found dead in his Manhattan jail cell, the possibility of real answers to the lingering questions left by the horrific scale of his abuses has been foreclosed. Ghislaine Maxwell's recent sex trafficking conviction hardly seems like closure. The smartest thing about The Scary of Sixty-First is that it recognizes and recreates the unsatisfying conclusions that tend to follow harm done by the powerful.