There's something about live performance that feels transcendent—divine even—to queer Mexican American singer Lizette Gutierrez, professionally known as San Cha. "[On stage] is where I feel the most free," she explains giddily when we speak in August, noting that she is currently preparing for a performance at the Los Angeles County Museum of Art that will close out the "Lee Alexander McQueen: Mind, Mythos, Muse" exhibition on September 25. The show, which she produced with her friend and fashion designer Olima, will also double as the release party for the LA-based singer's new music project, Processions. The anticipation is palpable.
While live performance has been the driving force of San Cha's artistic practice for as long as she could remember, she had to forge her love of the stage on her own. A first-generation child of Mexican immigrants, San Cha recalled her parents urging her to pursue a more canonically "stable" life path—maybe a career in an office setting or family life. But music always called back to her: she began learning the flute in elementary school and became a disciple of Mexican pop legends like Gloria Trevi, Juan Gabriel, and Selena.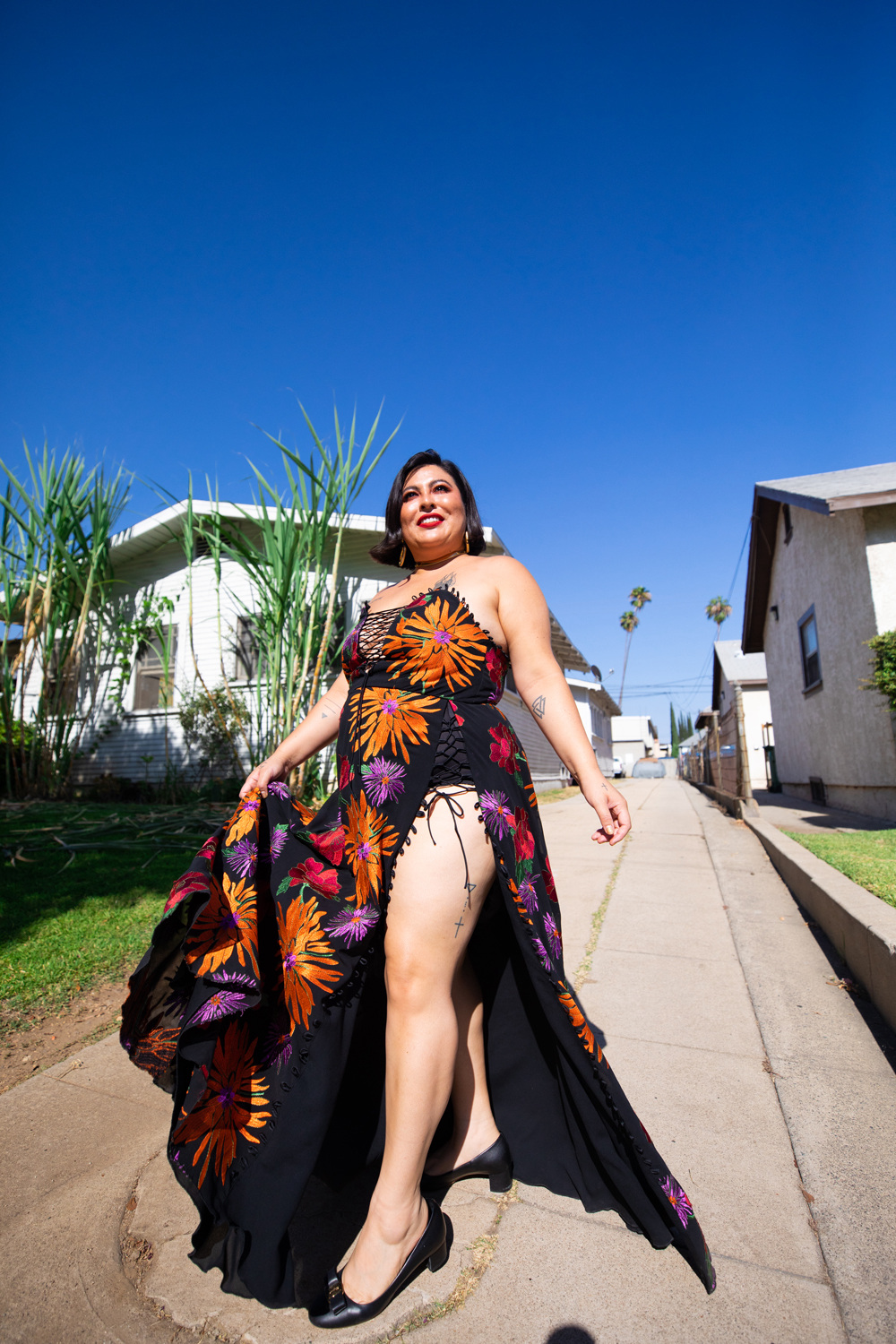 San Cha's passion for music eventually led her from her hometown in San Jose, California to San Francisco in 2010, where she performed at open mic nights while going to school. A year later, San Cha met her drag mother Per Sia and was asked to perform at Per Sia's art show at the artist-led Incline Gallery.
"That moment was the most opening for me," San Cha recalls of the meeting. "[Per Sia] knew that I sang, but she had never heard me. I only had like three backtracks at the time. Since then, I have not stopped performing."
After years in the drag and queer club scene, San Cha moved to LA in 2015 and four years later, released her first album, La Luz de la Esperanza, a sprawling 13-song telenovela of sorts set against the lush backdrop of Mexican ranchera-inspired music. But for all its meticulous technical work and refinement, San Cha admits that the making of the album felt a bit like boot camp: she finished all the songs in three months, and only had six days to record them with her band.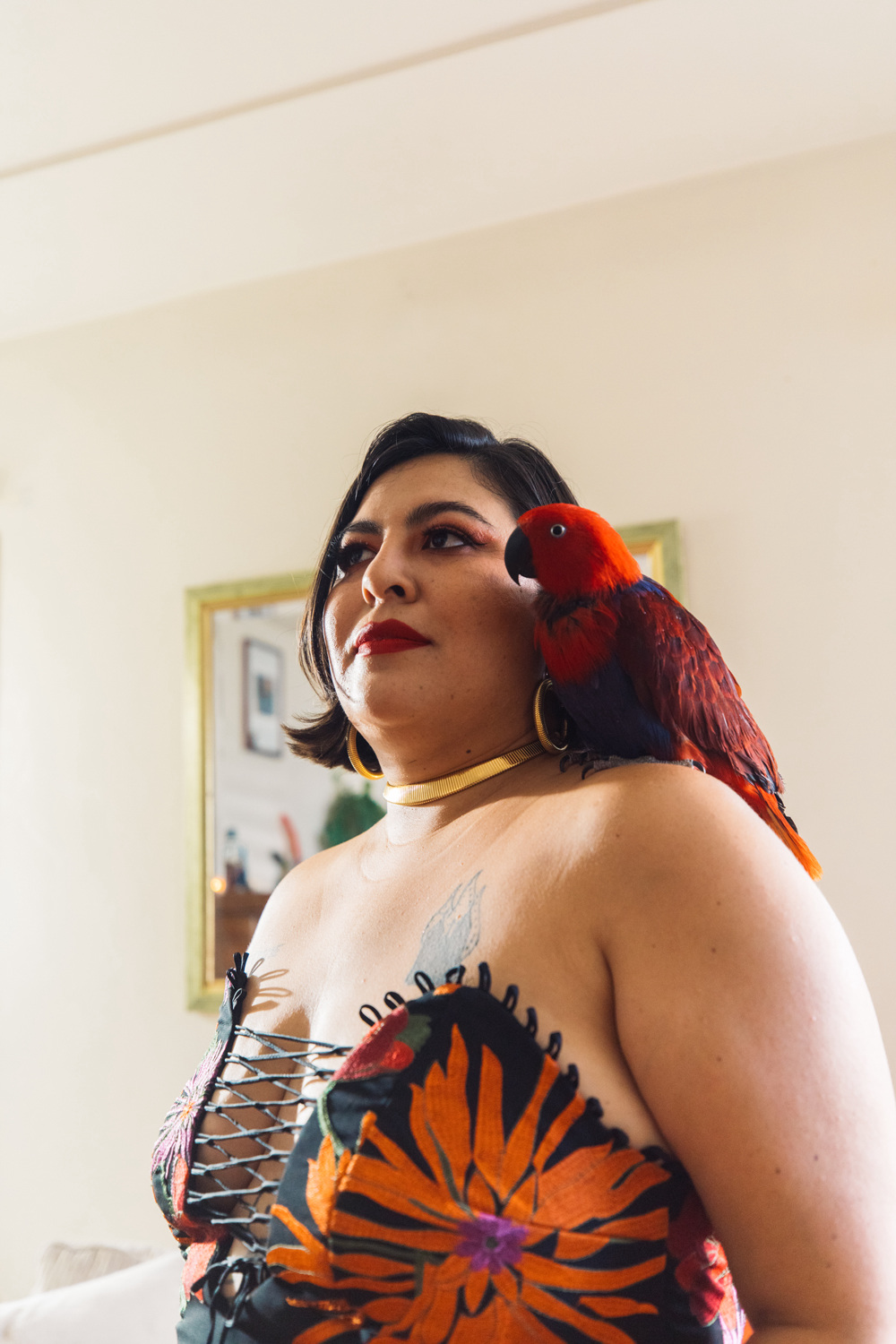 With Processions, a series of singles that will be released over the next year, San Cha purposefully took her time. Whether a product of the pandemic or a yearning to regain agency in the creative process, it is perhaps her most ambitious project to date. Every track is a grand tale of its own that explores San Cha's spiritual and creative journey. This introspective lens is apparent in the lead single, "Deja Que El Mundo Se Prenda," which translates to "Let the world burn." While the song began as a rumination on relational obsession for San Cha, the pandemic and the general state of the world gave it a new layer of meaning.
"With the pandemic, [the song] brought a new perspective of being so ambitious even when the world was burning around you," San Cha reveals. "You think that people are there—that they care about all these other things in the world. But, in reality, what I've seen is that people only really care about what's directly in front of them."
A fiercely vulnerable exploration about community and human connection, "Deja Que El Mundo Se Prenda'' feels like an especially poignant song to perform at LACMA this Sunday, an event which San Cha plans to be a procession that celebrates the life of Alexander McQueen, LA, and Latine culture. She likens it to another communal act that is sacrosanct in its own right: eating.
"You cook for like for an hour, an hour and a half, and then you eat in like five minutes," she chuckles, explaining just how much prep work goes into the performance. "I see my hair and makeup people, or the person that makes my custom [outfit], and the way they watch me on stage, it's like they're eating. It's like they're savoring the meal."