Oliver Rousteing's decade-long tenure at Balmain has engaged artists in collaborations of all scales, from ballets at the Paris Opera's Palais Garner to Coachella performances. For Art Basel Miami Beach's roaring twenties return, Rousteing challenged himself to think bigger by engaging with Saype, a painter whose canvas is the land. "Here in France, over the past couple of years, Saype's work has excited those on the lookout for new ideas and voices in the arts," Rousteing tells me of the selection. He continues by citing Beyond Walls (2019), an enormous painting of clasped refugee arms painted over the tongue of Paris's Champs De Mars (the lucky park that unfurls beneath the Eiffel Tower). "That work really hit me," he says. "It was such a moving call, hoping to awaken all of our consciousnesses—by reminding us of the all-too-often deaths and tragedies as desperate migrants attempt to cross the Mediterranean Sea."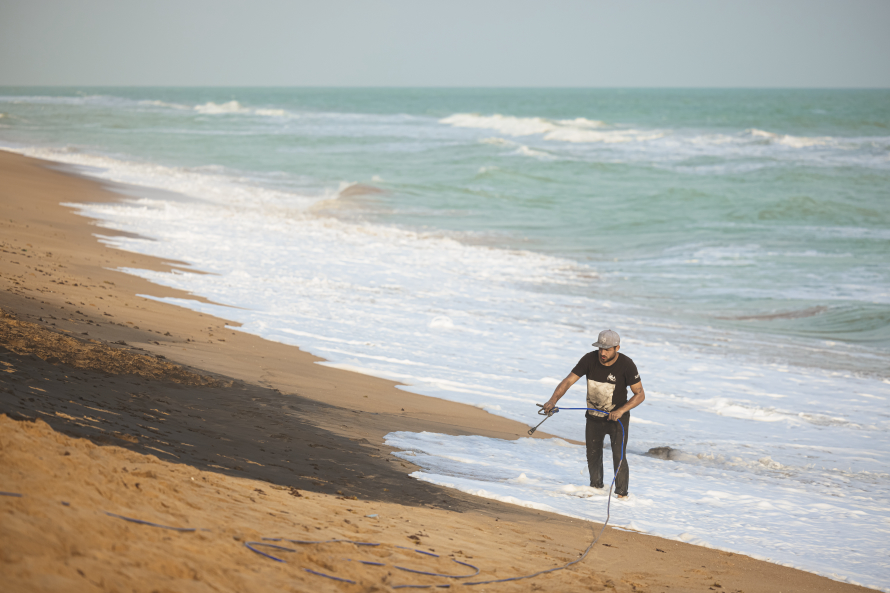 The concept of Saype's upcoming beachside commission for Balmain is still under wraps when we speak in late October, but he hints that it will be less about Miami than about global conversations and collective memory. Like Rousteing, Saype's first impressions of Miami arrived largely filtered through Hollywood— and so rather than engage witha city he is unfamiliar with, he decided to look at the prompt as an opportunity to engage with the fine-art world that descends annually for the epic fair. "What I can say is that I think of this work more as a contemporary-art installation, something that I have never done than as a pure work of land art," Saype says. "I will certainly feedmore on the essence of the project, the meaning and its vocation than the location.
What Saype can share is that his signature eco-friendly black and white pigments will be implemented. Like Rousteing's love of black and studs, Saype returns to the same palette of contrasts over and over and has created a recognizable, emotionally packed aesthetic. This is what Rousteing is ultimately hoping to unleash at Art Basel Miami Beach in the service of the environment and preventing climate catastrophe, and on a public but also personal front. "I am very much hoping that Saype's positive and hope-filled message will help push my work forward—as he motivates me and my entire team to double-down on this house's strategy of more Earth-friendly choices for all of its creations," Rousteing says. "Besides awakening our consciousness, Saype always makes it clear that respecting the Earth does not have to mean cutting back on an artistic vision—it only requires pushing your creativity and imagination further."
If you want to learn more about Balmain and their projects, head to the Bal Harbour boutique where on November 29th there will be a Charity sale benefitting (RED).