The modern day "collab"—a marriage of entities that by virtue of being in the same sentence separated only by an "X" seeks to fold a new audience into a brand's current list of disciples—has a laundry list of matches made. Beyoncé and Tiffany & Co.? Iconic. Indya Moore and Tommy Hilfiger? Sign us up. Ghetto Gastro and Beats? Heaven-sent. Art alliance has found its stride when it exists across likeminded mediums—fashion, music and even cuisine. At the helm of this concept, however, was Louis Vuitton.
At 167 years old, Louis Vuitton's experience with radicalizing art and ideating brand monuments far surpasses that of startups "disrupting the narrative" of their fill-in-the-blank industries. The luxury fashion and good house's impressive approach dates back to its origin tale, wherein a 14-year-old Vuitton sought out a more convenient way to have his bags as travel companions; trunks of the 1800s were not at their innovative prime. Replacing rounded lips and odorous pig's hide exteriors (used to waterproof contents) with the archetypal grey Trianon canvas and a at, stackable top, the prodigal teenager's functional experiment became a historical staple. From this point forward, Louis Vuitton was in the business of architecture—taking what we have accepted as standard, questioning where in fact we can poke holes and building something new that still pays homage to its inception.
As competitors followed the suitcase's lead, not-so-subtly mimicking the rectangular trunk blueprint, Vuitton and his sons worked to distinguish themselves further. In 1896, son Georges Vuitton birthed the brand's celebrated monogram canvas. Up until this point, any initial on luggage could only be attributed to a bag's owner but, in the spirit of recognition, the Vuitton family marked themselves permanently. The result is a modern- day strategist's dream when it comes to omnipresent brand identity and this pursuit of difference is what attracted minds from various walks of life to the trunks. With Louis Vuitton, a bag metamorphosed into an outlet personal to its creator—from explorer Pierre Savorgnan de Brazza to writers Ernest Hemingway and Françoise Sagan. Personalized pieces are ingrained into Vuitton's DNA. Centuries later, the team channels a history of intentionality into collaborations wherein Louis Vuitton is the canvas.
The Louis Vuitton ethos is rooted in individuality—recognized by consumers from every corner of the globe—and has informed a history of collaborations that meet a diverse set of eyes where they are. Because the brand validates the artistic license of an artist, honoring one's perspective and medium, it subsequently allows that creator's supporters to feel intimately connected to the perhaps more intimidating L and V monogram.
In 2012, this meant celebrating the work of now 92-year-old sculptor and artist Yayoi Kusama. "Louis Vuitton understands and appreciates the nature of my art," the nonagenarian shared at the time of the collaboration, "therefore there isn't much difference from my process [and theirs]." Louis Vuitton's capability to mirror a partner builds something that simultaneously commemorates the other while remaining authentic to the brand. In love with her affinity for the in nite, the brand tapped Kusama to splatter her quintessential spots, traditionally hosted on phallic forms, instead on bags and silk scarves. Together, the union of the two brands birthed another iteration of recognizability.
While the Louis Vuitton's mark threads every collaboration in some way, the brand has taken on multiple forms of rebellion like that of their collaboration with Kusama. Shortly before the artist's Louis Vuitton debut, the brand handed over the reins to graffiti-inspired designer Stephen Sprouse. Known for his coupling of what the New York Times coined "uptown sophistication...with a downtown pop sensibility," the late artist was chosen with the intention to obscure the expressive lanes of fashion, art and graffiti with a Louis Vuitton bag line. The Spring Summer 2001 collection of seventeen models created a surge in press coverage and replicated prototypes; and when the Keepalls and Speedys physically went live, they barely saw the light of day as a collective, almost consistently sold out. In another example of breaking the status quo, the brand made way for Sprouse to interrogate the sacrosanct of its monogram. In questioning its own tradition, Louis Vuitton simultaneously invited in a new wave of spectators and clients.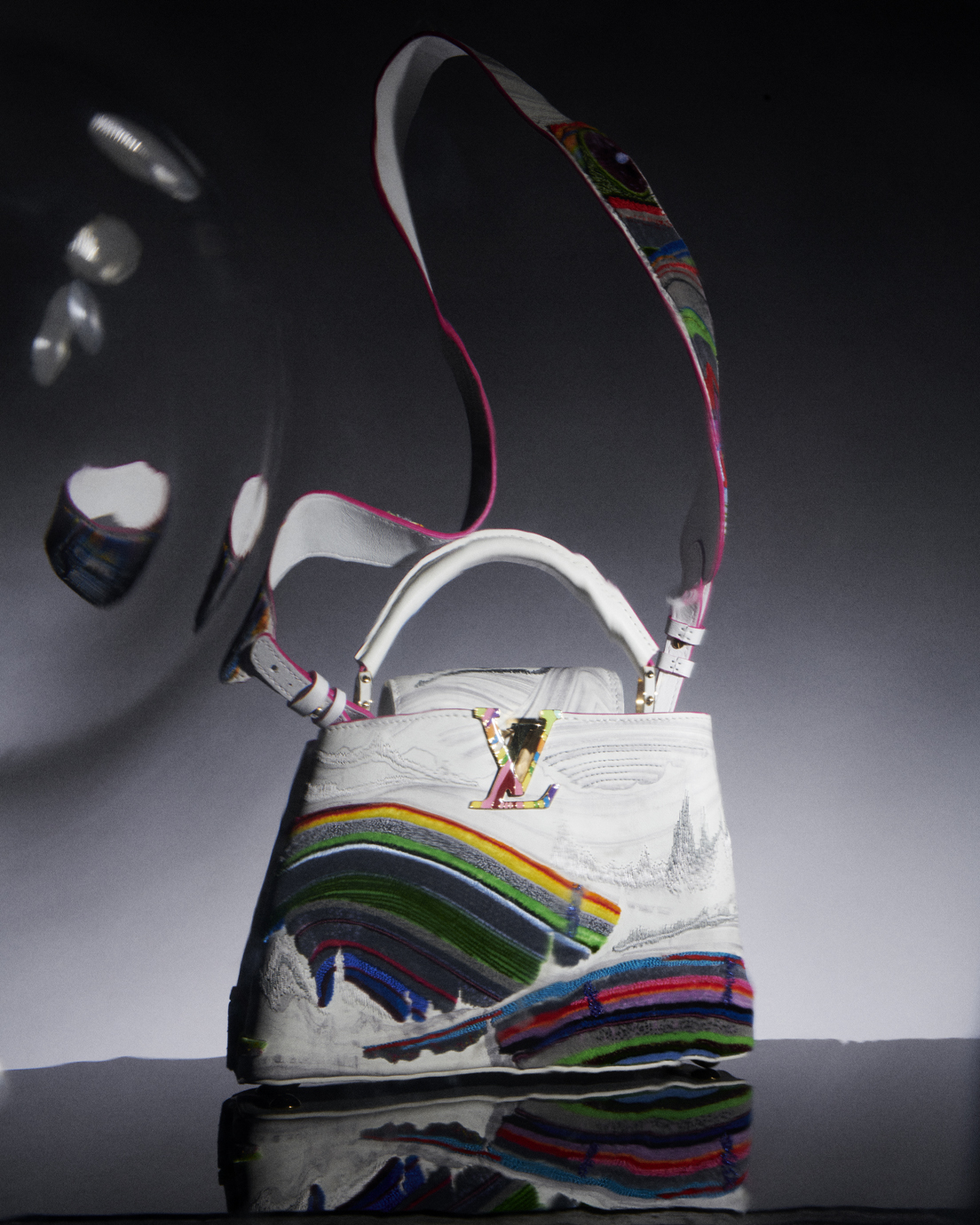 Because creating a platform for other artists is as intuitive to Louis Vuitton as the founding trunks themselves, when the brand celebrated its 150th anniversary in the early aughts, it brought Takashi Murakami's manga-inspired craftsmanship to its collections instead of presenting the expected heritage-based deep dive or revisioning. The Japanese contemporary artist is another independent known for highlighting the friction of high end and accessible imagery (e.g. anime) in his work. A white backdrop made festively ornate by the subtle drip of brightly colored LVs, the Louis Vuitton x Murakami handbags—beloved by the likes of Jessica Simpson and Lindsay Lohan—are tangible memories of desirability for those of us whose early exposure to luxury could be summed up by a glimpse at the fashion books stacked in our parents' magazine racks. In other words, it's our first memory of cool. Perhaps one of the most famous collaborations to date, the Multicolore Monogram canvas not only put more budding fashionistos onto Louis Vuitton, but also boosted Murakami's work with a placement in Los Angeles's Museum of Contemporary Art.
Louis Vuitton's rolodex continues to surprise even those incredibly tangential to the fashion world. Perhaps your skater chic neighbor touts their Supreme-embellished handbag, your Arsenal- loving partner has the Vuitton 3D-printed encasement of the 2018 FIFA World Cup engraved in their memory or even your five-year-old nieces and nephews get excited to play with the brand's dollhouse, Malle Maison Vivienne. While we all may not own a Louis Vuitton piece ourselves, we can certainly appreciate its historical influence and versatility, knowing that with each collection drop we'll learn something new about the brand's past or its artistic collaborator. Louis Vuitton doesn't serve a homogeneous audience—it's for the rebels, the sneakerheads and the straightlaced alike. And its collaborations don't serve to simply add followers to an Instagram profile—they seek to evolve Louis Vuitton into a new, more future- forward version of itself every time. After all, Louis Vuitton trunks have never been just large empty boxes—they're a house for Louis's imagination. —Abigail Glasgow
Dreaming Together
Louis Vuitton handed its famous Capucines bag over to six artists from around the world and gave them access to its atelier. In their imaginative hands, the Capucines becomes a remake of a famous performance with a leopard and cappuccinos, an ode to Alighiero Boetti, an image from the hills and valleys of China and a painting for the body.
Donna Huanca
Artist Donna Huanca's meteoric rise to the international stage has glossed over some of the delicate flourishes that made this catapult possible. Luckily her Capucines design brings them back to earth. The American artist's instinct for collage and painting more often than not spills over its allotted canvas and into reality's pool. This causes playful friction between personal and public mythologies. For instance, Huanca's living installations at the Zabludowicz Collection in London and, more recently, the Belvedere in Vienna threw audiences headfirst into her symphonic ocean of brushwork, body paint and sounds. Her Capucines embodies this assemblage approach to working through its recycling of visual anecdotes from previous series. Embracing the slapdash and streaky blues that have become Huanca's calling card, the small handbag becomes a constant reminder of the artist's hand and the viewer's corporeality. "Working at the relatively small scale of a bag reminds me of the body paintings that inspire all my painting," Huanca says. "Painting on skin is very freeing, as an ephemeral, interactive and effective site for expression."
Zeng Fanzhi
The blurry visage on Chinese painter Zeng Fanzhi's Louis Vuitton bag is almost instantly recognizable as a self-portrait by post-impressionist iconoclast Vincent van Gogh, making it part of a larger series Zeng began in 2017 to revisit the historic painter's selfies one at a time. As the first contemporary artist to show at the Van Gogh Museum in Amsterdam, Zeng is acutely aware of his place in history, something his figurative paintings have explored since his art-school thesis, a triptych based on a hospital across the street from his home. The refrain of van Gogh for the sake of this collaboration suggests a desire to collide two different timelines, fashion and art, in an explosion of texture and color. "The whole process was nourished by my experience of visual observation," the artist says. "The Louis Vuitton artisans then added an extra layer to the process by developing their application of the work onto the Capucines bag's surface, which reflects the texture of the original work really well."
Vik Muniz
This is not Vik Muniz's first time collaborating with Louis Vuitton: the fashion house is a sponsor of the Brazilian artist's creative youth education programs in Rio de Janeiro. However, it was the first time Muniz was asked to work alongside the atelier's craftsmen. He is happy to say he took the privilege to its outer bounds to pay homage to his hero, the late Italian genius Alighiero Boetti; in particular, his Tutto series, in which all the matter of the world is massed into kaleidoscopic embroideries. Tutto's aims seem to align well with Muniz's own mythologizing of the handbag as a space. "Inside anybody's handbag is a cosmos and a portal to another dimension, the universe," he says. "If you dreamed up all the things you'd go crazy, which is why I focused on the outside as a canvas." In Muniz's version, sunglasses, martinis, Eiffel Towers, giraffes and dolphins spin into a white leather infinity. With four different techniques of appliqué on display, each bag is, like every Muniz work, an exercise in expertise.
Paola Pivi
Picture this: a live leopard mincing through the halls of the Kunsthalle Basel in Switzerland amongst a sea of 3,000 cappuccinos. Artist Paola Pivi's One Cup of Cappuccino then I Go (2007) orchestrated a once-in-a-lifetime performance—one that is now forever inscribed on an LV Capucines bag in materials almost as precious and precise as the original. A former Venice Biennale participant with a flair for aestheticizing the impossible, the Italian conceptualist pushed the craftsmen at Louis Vuitton's atelier to their limits to create a textured recreation of the exhibition that includes gold-leaf-topped coffee cups and an embroidered beast. "Working with the Louis Vuitton experts was extremely pleasurable," Pivi says. "They challenged themselves; nothing they did was easy, it required their maximum skills. I am totally happy, because I've been so involved in the creation. My art has been protected because of the quality of the entire operation."
Gregor Hildebrandt
Gregor Hildebrandt has always called the underground music and publishing scenes muses for his work, which transgresses the boundaries between mediums with the same punkish bravado as his heroes. One might reasonably assume this love of the bleeding edge would keep the German artist at arm's length from the center of the fine-art and fashion worlds, but, in fact, he is their darling—beloved for his stylized subversions of the recognizably avant-garde. For his collaboration with Louis Vuitton, Hildebrandt reimagined the intersecting LV clasp as a slice of a vinyl record, hearkening back to his best-known bodies of work, which incorporate castoff cassette tapes and records. "I have always been interested in motifs, logos and patterns," the artist says. "This merging of music and the Louis Vuitton signature feels like a new technique." We promise you've never heard of a bag quite like this.
Huang Yuxing
Huang Yuxing makes some of the most sought-after landscape paintings in the world. These canvases typically overwhelm the viewer in a flare of color, but now you can carry one on your wrist. The Chinese painter's idiosyncratic hills align themselves with the ridges of Louis Vuitton's Capucines, setting off its boxy architecture with a pandemonious palette that is barely held in place by hot pink borders. Pink is an essential color in Huang's repertoire and likewise becomes a linchpin detail for his Capucines. The central image of a river, which is just perceptible in the abstraction of the iconoclast's hand, winks at the artist's earliest work and acts as a potent signifier for perpetual renewal that feels aligned with fashion. "In principle, artistic creation and fashion design have something in common. But the former features a broader dimension. It not only focuses on the present and the future, but also the traditions," Huang says on the relationship between the two. He adds, "Of course, things are different for every artist. About fashion, there are still many things for me to understand, but I'm quite interested in having a good grasp of the future trends of design." —Kat Herriman
Craving more culture? Sign up to receive the Cultured newsletter, a biweekly guide to what's new and what's next in art, architecture, design and more.