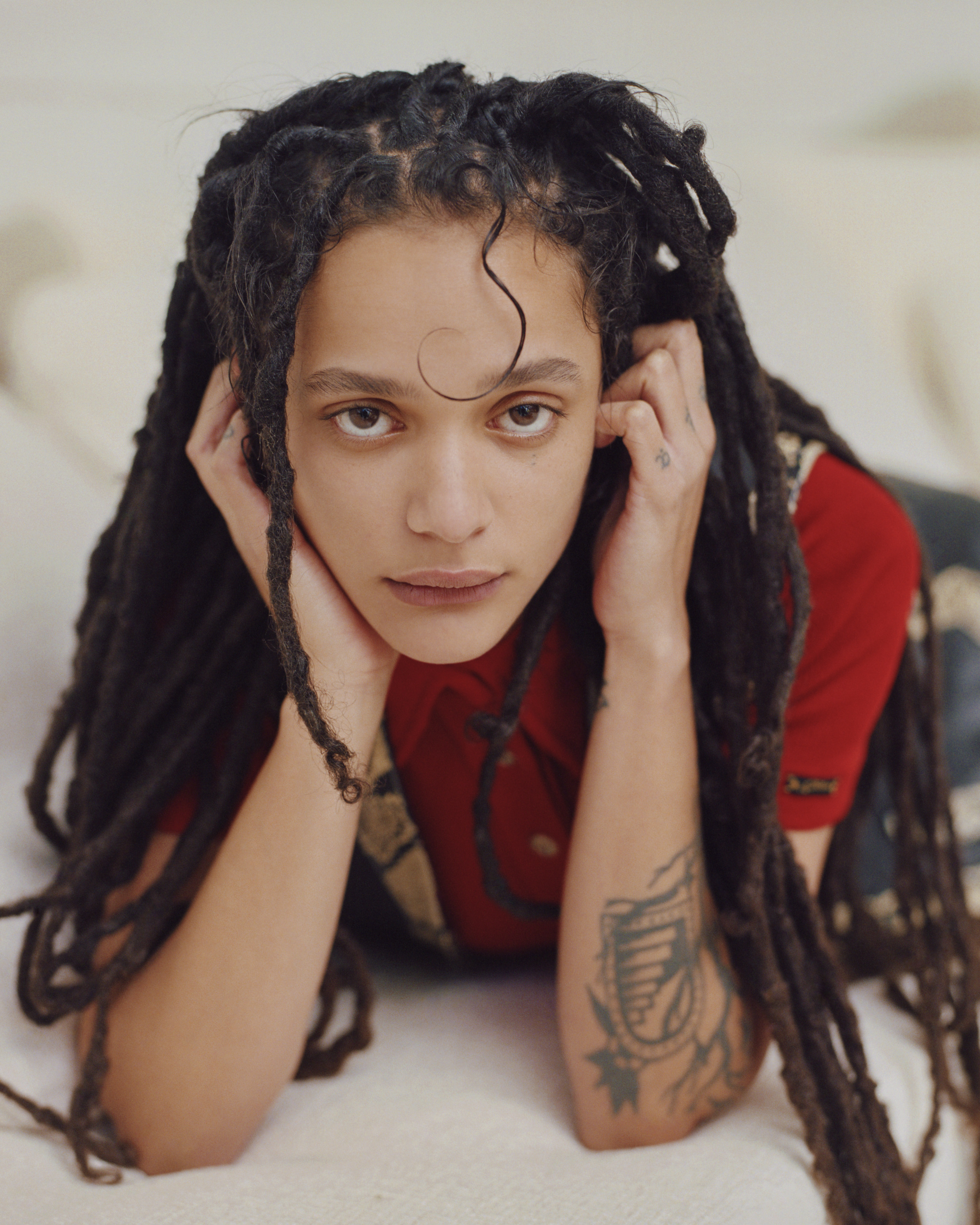 If you ask Sasha Lane what the one topic is she's most tired of discussing in interviews, you'll find her too polite to answer outright. Though if you nudge her a bit more, the 25-year-old actress will reveal that she does actually have a minor nit to pick. During our phone discussion, Lane briefly pauses and gives the query some serious thought. "What am I tired of being asked about?" she echoes. A few beats later, Lane's soft-spoken timbre breaks through the silence with sound resolve.
"I'm tired of discussing how I was found on the beach and that experience," she says with a laugh. "I've said it so many times. And I'm not a person who lies and will switch it up." Her story of being "discovered" is the stuff that aspiring actors dream of: a chance encounter with a famous film director (Andrea Arnold) on a sunny beach. It's a tale worthy of its own cinematic adaptation, but to Lane's point, it's been told, ad nauseam.
In 2016 Lane burst onto the silver screen in American Honey, as the rebellious, devil-may-care protagonist, Star, caretaker to a band of misfits. It was her first film, the first time she'd ever acted at all. Entering a business full of egos and craftmasters, who've devoted their lives to studying something that came naturally to the then 19-year-old, gave the newcomer a major case of imposter syndrome. "Walking into an industry where there are people who've been in it for decades and have gone to school and all of that, but your film is the one that goes to Cannes... You just feel guilty and weird about your ability," she says.
Her debut garnered her a British Independent Film Award, a slew of nominations, and the attention of Hollywood. And in the years since she was plucked from oblivion, Lane has steadily moved on through a number of critically acclaimed roles. In The Miseducation of Cameron Post, from 2018, she plays Jane, a teen at a gay-conversion-therapy center, and the same year, in Hearts Beat Loud, Rose, the protagonist's free-spirited girlfriend.
At this precise time last year, the Houston native was wrapping up filming the Amazon series Utopia while preparing for the very real role of motherhood. It was pre-global pandemic and pre-political pandemonium (at least in contrast to the upheavals that lay ahead), and Lane's mind was focused on becoming a new mom. "I had just gotten off Utopia and I think I was actually preparing to go do another project. It was a weird time for me to operate, being an actress while also not being able to just hop on a plane and leave," she remembers.
Lane gave birth to a healthy baby girl and the self-described lone wolf's world was turned inside out. While she was used to being a caretaker for friends and family, she'd spent much of her adult life solo and rarely asking for help. "I lived a life as pretty much a loner and, despite being very independent, I always thought of other people," she says of life before her daughter. "I'd put my energy into making sure everyone else is good, and kind of lacked on myself. I was dealing with a lot of mental illness."
Becoming a mother changed her outlook in many ways. "I have a kid in the world and I'm thinking about work and the election… everything that's been happening with Black Lives Matter," she says, trailing off. "Just day to day everything starts to feel like a problem. Then you have to ask yourself, 'Am I sad or do I just feel the weight of energy?'"
It's safe to say that Lane has evolved from an ingenue, who some might have thought got lucky landing a dream first role, to a tried-and-tested talent with staying power. Her career has settled into the kind of ebb and flow of someone serious about their craft. Thankfully, the imposter syndrome phase has waned. "I think actually it has been in the past year that I've started to phase out of it," she says. "I filmed Utopia pregnant the entire time, and there was something that switched on in me. I had to learn a different level of skill." Lane learned to toe the line, to submerge herself emotionally in a character but not drown. There had to be an off switch when it came to work. After all, the tiny human growing in her belly could feel everything.
Lane loves an emotionally-charged role (see: 2019's
Daniel Isn't Real
) but the former high-school athlete also enjoys flexing her physicality for audiences. In
Utopia
, based on Dennis Kelly's British series of the same name, she plays the tough-as-nails Jessica Hyde, a character that writer Gillian Flynn adapted for the small screen with Lane in mind from the start. "She has the shapeshifting ability to feel at once raw, unpredictable, and a little unnerving while also making you want to wrap your arms around her," Flynn said about Lane in a 2019 announcement to
The Hollywood Reporter
.
In 2021, Lane is, like the rest of us, spending more time at home with loved ones. She is also splitting time between Los Angeles and Texas and getting mentally ready for her next big role. Though she remains mum about her upcoming project, her excitement is palpable through the phone. "If you were to say dream job… I think this is something that's really special," she says. She's also just looking forward to living her life and making a home for her newly expanded family.
"I woke up this morning remembering I had a lot of weird dreams about house hunting. I think it's because I was watching House Hunters before I went to bed."
HGTV before bed? Celebs, they're just like us.