Artist Gillian Laub is acclimated to conflict. Her practice explores the agonizing divisions that tear at a society's fabric and threaten its collective humanity. Testimony, Laub's first book, captured the violence of unending war and terrorism through 50 portraits of Israeli Jews, Israeli Arabs, displaced Lebanese families and Palestinians accompanied by survivor commentary; there are teenage boys without limbs, and a young woman with scar tissue in a burn recovery unit. Her second, Southern Rites, began after a student from the small Georgia town of Mount Vernon wrote to Spin's editor that she boycotted her high school prom because she wasn't allowed to attend the white prom with her Black boyfriend. Spin reached out to Laub to cover the town's next racially segregated event, the 2002 homecoming dance. Haunted by the experience, Laub kept returning to Mount Vernon to make photographs and interview students. In 2009, The New York Times Magazine published her essay, "A Prom Divided," elevating the intimate reality of persistent racism, sparking national outcry and, within a year, a parental vote in Mount Vernon to integrate the dance. "Southern Rites," the exhibit version, continues to tour, with stops in Asheville and Atlanta scheduled through 2024.
It's hardly surprising the pictures reverberate over a decade later. Laub's greatest ability is not only to pare the social distance among her subjects, but to collapse the space between viewer and those within her frame. The photos studiously avoid judgement, no matter how high the stakes. They show people, in all their glorious, savage complexity—and some glint of hope in the transcendence of common experience.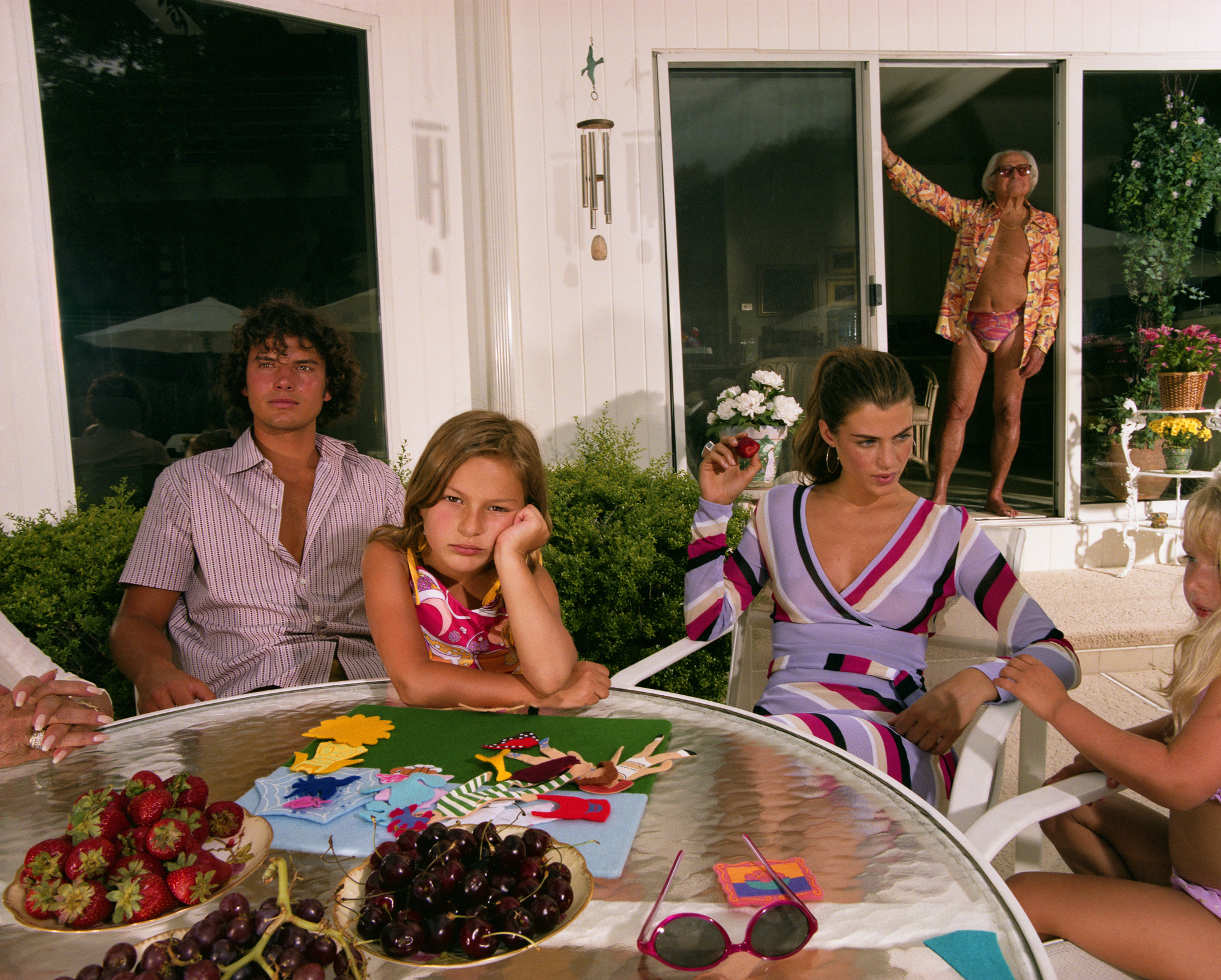 Yet her latest body of work, a multimedia presentation of portraiture, text and audio messages, "Family Matters," on view at the International Center of Photography (ICP) in Lower Manhattan traverses new terrain, as Laub turns the lens on her own family, skirting the knife's edge between fierce affection and shame. For 21 years, amid trips to the Middle East and the rural South, Laub has quietly documented her immediate and extended family back home: holidays, bar mitzvahs, weddings, poolside barbecues and vacations—a tableau, as she describes them in her book, of extravagant emotion and material indulgence that could be seen as crude decadence. More so, the first half of the exhibit reveals a generous, theatrical cast of grandparents, siblings, nieces and nephews, whose relentless togetherness radiates frenetic love and loyalty.
But in June 2016 the tenor shifts when Laub's parents became ardent Trump supporters. Suddenly, the tight knit images of cherished Jewish rituals and lavish Westchester comforts are punctured by ambiguity. Laub's same family pictures now reveal the painstaking living-room reality of the divided American landscape.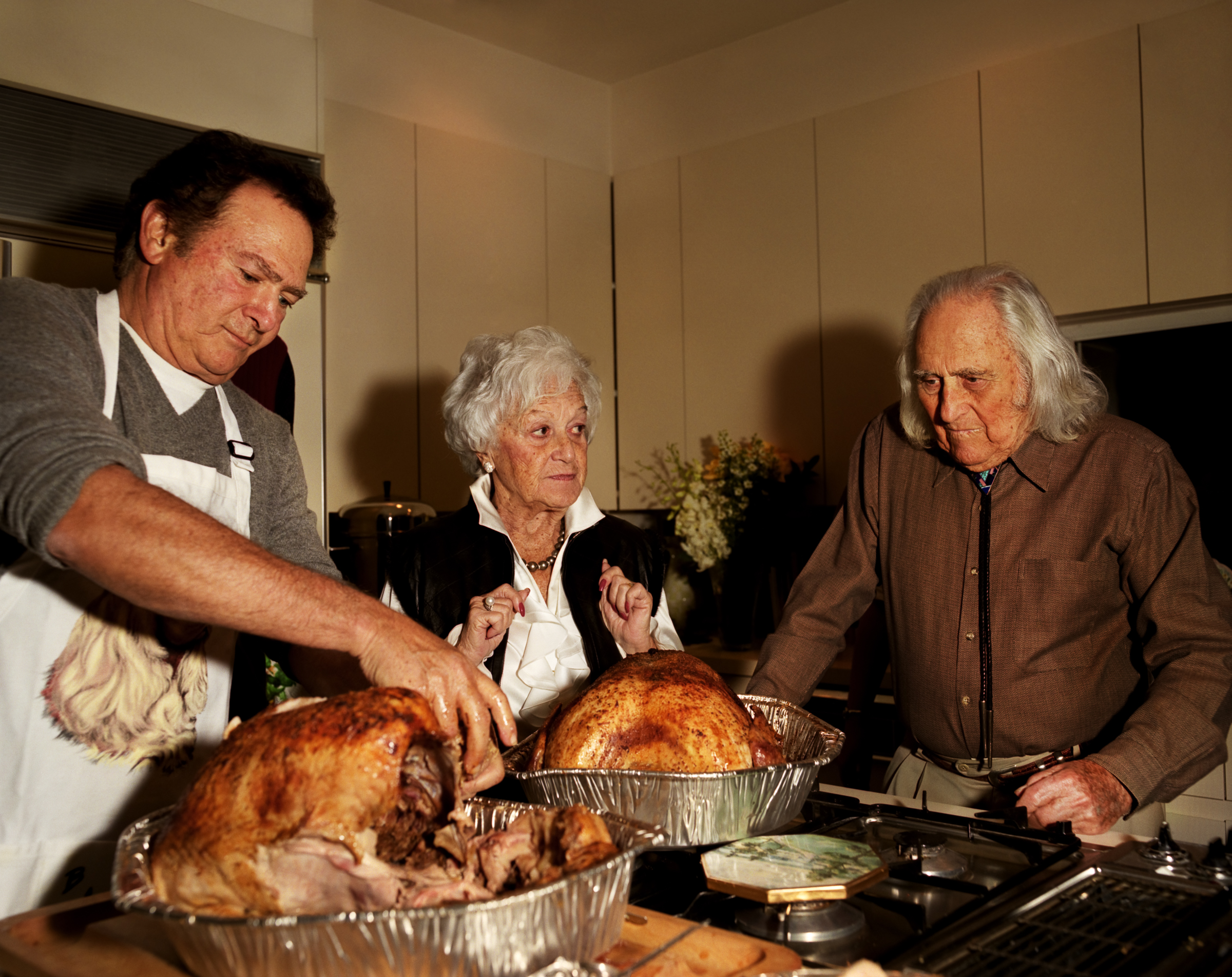 "I've always been attracted to societal tensions," Laub explained earlier this fall at ICP, in the final hours of exhibition installation. "In the South, it was navigating a history of systemic racism and how a community continued to grapple with that even as they made progress." She added, "When it comes down to it, I look at everything through the lens of family. In Georgia, it's a tiny community. These teenagers had been raised together since they were kindergartners. They played sports together and sat in classrooms together. They were one big dysfunctional family."
"Family Matters" conjures the work of Larry Sultan's Pictures from Home (1992), which similarly used photos and movies of the artist's familial dynamic and cushy homes to pierce the Regan-era mythology of the all-American dream. Indeed, Laub counts Sultan as an early influence, as well as photographer Diane Arbus. "Family Matters" recalls some of Tiny Barney's best work too. Laub's fixation on domestic traditions, like the aesthetic of suburban Thanksgivings, as seen in Dad carving the turkey (2004), echo the mundane idiosyncrasies that make Barney's lifestyle portraits so iconic. But for many Americans, this exhibition will likely seem a prelude to its cataclysmic coda, as Laub's visual story ends before Trump supporters attacked the capital: What happens to this family and to us in 2024?
On Tuesday, November 9 at 2PM ET, join Cultured via our Instagram, @cultured_mag, for our exclusive walkthrough of "Family Matters" at ICP with artist Gillian Laub in conversation with Jacoba Urist.
Craving more culture? Sign up to receive the Cultured newsletter, a biweekly guide to what's new and what's next in art, architecture, design and more.