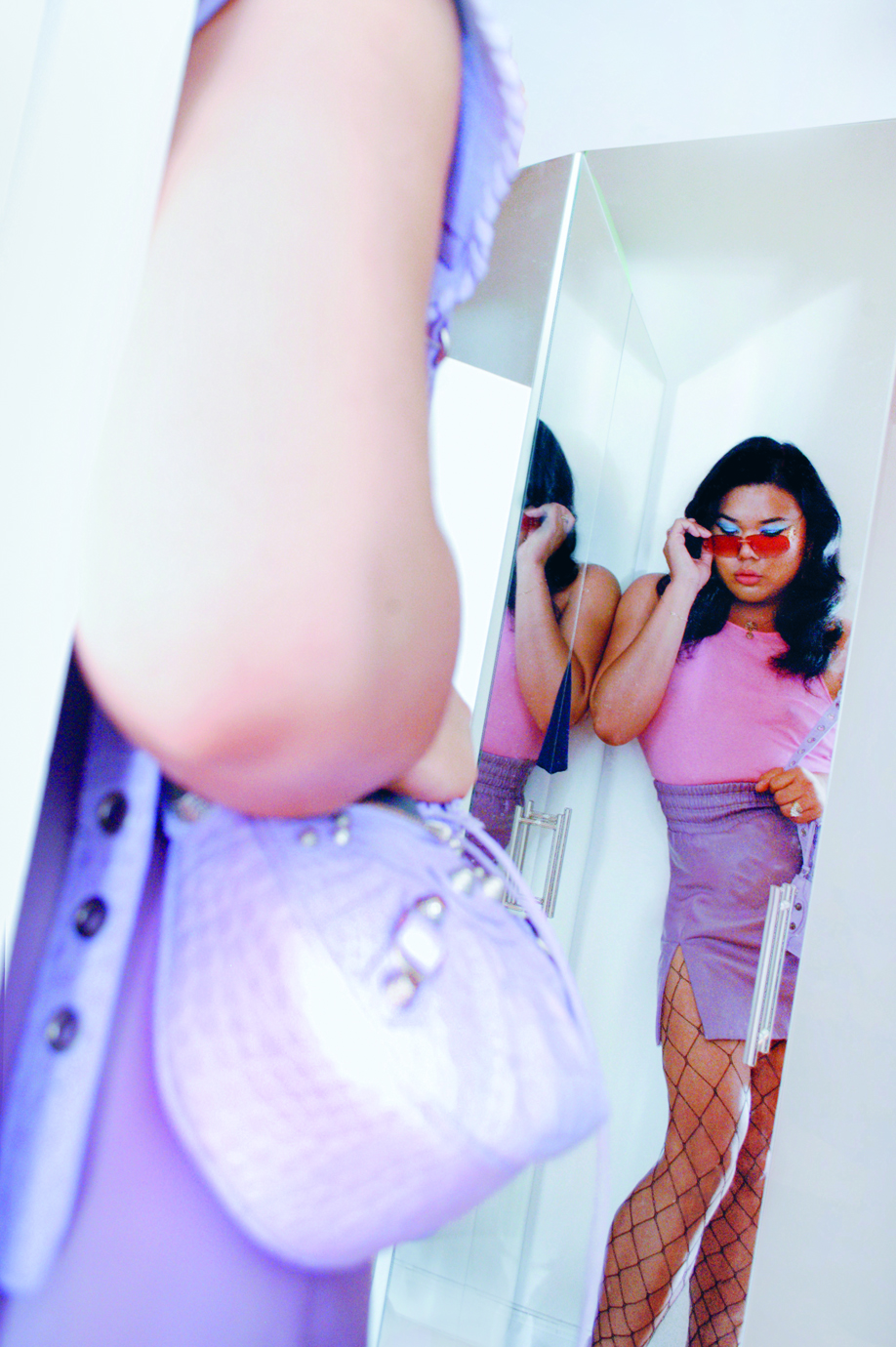 I'm in the VIP section of the Standard Hotel's Boom Boom Room, and Dese Escobar is trying to get in.
She looks chic against the Meatpacking District's white-collar crowd, wearing all black The Row with an aughts Balenciaga bag hanging on her elbow. Pride weekend is said to begin here, with a (not very) secret Madonna performance. The "VIP" is a cramped corner with panoramic views of Hoboken, New Jersey. I'm squeezed in between the latest winner of RuPaul's Drag Race and Zachary Quinto. The line of demarcation between us and the rest of the crowded bar is a terse bouncer and a short rope one could easily step over. Someone from inside the VIP is trying to vet DeSe, but no luck. I climb my way out to be with her.
She asks me a rhetorical question: "This is pride?"
New York City's grand reopening, for many, simply means a return to hierarchy—a comeback welcomed by the celebrities and influencers that populate the crowd. Everyone's watching each other watch themselves through their phones. At Le Bain, the club opposite the Boom Boom Room, people are in limbo. They can hear what's going on but the door is closed. My friends are stuck outside so I leave to be with them right as Madonna hits the stage. Her hair is blue, not blonde. A real sign of the times. The next day I heard a rumor someone got trampled at the door.
"I hate going near 14th Street. I feel better off the grid," DeSe tells me as we recall the night a few weeks later. It's a Friday evening and we're trying to find a place to eat without a reservation. Everywhere is an hour wait. We begin in Dimes Square, where she's just moved into her first solo apartment. As the queen of downtown's club scene for the better part of the last decade, this proximity allows her to keep an eye on what's happening. DeSe walks around comfortably, without checking street names or the map on her phone. When one restaurant doesn't work, she knows where to go next. We stop every few feet so she can air-kiss someone or receive a compliment on her outfit. Tonight she's demure in a denim miniskirt and red kitten heels. Her hair appears wet from a a shower but her face is completely made-up.
"I moved here from Los Angeles on July 10, 2010," she begins, "Last year, on the tenth anniversary, I went to a party at my first apartment." It was from that place on Canal that she first spotted future friends Telfar Clemens and Shayne Oliver. Terence Koh lived across the street. "I got to see this downtown community that I knew I wanted to be a part of." At the time she was working in fashion design and going out in Chelsea. "It was the wrong crowd for me." As a graduate of the Otis College of Art and Design, she was overworked and underpaid, and DeSe became disillusioned with the industry fast. "I didn't like the mistreatment of pattern makers and salespeople. It was very bleak."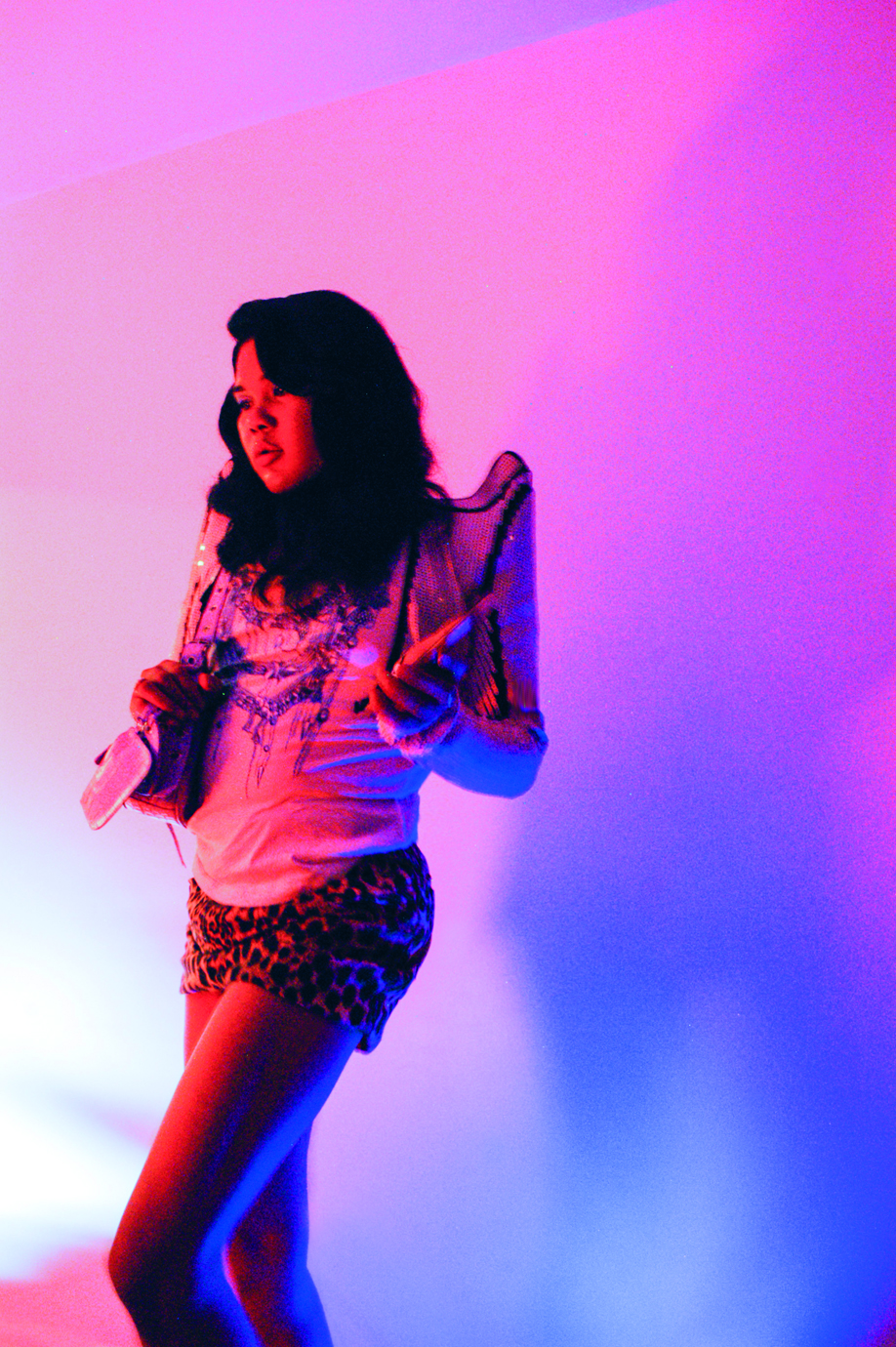 Life as she knows it began when she saw House of Ladosha perform. The year was 2013, and the queer rap duo fused ballroom lingo with the Internet. During this pre-Instagram time, we were all using Tumblr to fuse fashion imagery with music and text. The front woman, Dosha Devastation, changed everything with the song "BMF-Black/ Model/Famous" and lyrics like: "I think I'm Kate Moss/Naomi Campbell/Up in French Vogue/You know the pose." DeSe was rerouting her life during this moment. "I was so unsure of what to do after quitting my job. I started going out more and a few friends invited me out to Bushwick." This was 2011, right before gentrification rapidly transformed the neighborhood. "It was a lot of walking through warehouses in the dark. No streetlights. When you heard music you knew you were at the right place." It was the golden age of Tumblr, a time when serving looks began to replace gender. Far from the exclusionary systems DeSe had left behind, these parties put fashion into action. "It was something about Dosha's stage persona that made me comfortable identifying as a trans person, especially in this early time—pre trans tipping point." Soon after, she became part of the House of Ladosha, with Dosha as house mother. Frankie Sharp had started throwing events at Santos Party House. Dosha was hosting at the time, and she asked DeSe to come along.
Their friendship began with getting ready to go out in a small apartment they'd eventually become roommates at on Ludlow. "Ssion would perform, and we were raging with the DIS Magazine people. It was a time when everything started to open up." They got paid one hundred dollars a night to host, which felt lucky at the time. "There was innocence in nightlife—we all just wanted to be around each other. We were so excited to get paid to go out." Soon after, she began hosting for Ladyfag, and fellow House of Ladosha member Juliana Huxtable regularly DJed. "It takes a village to organize a party. I couldn't have done it without my friends."
With no choice but to wait for a restaurant, she takes me to one of her favorite spots for soup dumpling appetizers. "I was just here this morning," she says as the hostess recognizes her upon entry. We're seated immediately, and the moody fashion girls to our left straighten their backs at the sight of her. She doesn't have a million followers on Instagram or a blue check mark, but she's popular in the old way. If you know, you know. "I love to cause friction," she tells me, as she orders for us and hands the waiter back the menu.
After years of throwing a string of the best parties of the last decade, this city is hers. "We did Club Yes in 2013, which was my first big party. I even got to take it home to LA," she recounts of her time hosting at Le Bain. "I knew the bar would make thousands of dollars when I threw my parties, and I didn't make a fraction of that." Her Instagram bio reads "CLUB GLAM NYC / MADAME HOLLYWOOD." She doesn't disclose her age, and every time I tap through her story she's either on a boat with a hot guy or selling old designer clothes. How does DeSe make her money? It's all a mystery. "I worked at a vintage store for a while, which was really good for my shopping habit. The finds there are so good." She identifies as an "Alt-Kardashian," and her lifestyle mirrors this title. The mystery of how it comes together is part of her glamour.
When Club Yes came to an abrupt halt in 2014, she returned to LA to recalibrate. "I was spiraling. I can be a little wild sometimes. Thankfully I met my Glam Collective dolls around that time." She's talking about Fiffany and Kyle Luu, who she refers to as her slaysian sisters. "It was Kyle who told me to think about what kind of career I wanted." At the time, Kyle was styling Travis Scott during trap music's rise in popularity. "Today the kids are into techno, which is cool. I prefer to hear it in Berlin where you can feel it in the concrete." So, what's the sound of New York? "It's Hip Hop for me," she says. "I need to see an S-curve on the dance floor." I don't totally understand what she means, but I get it. She started a party called Thotlandia that ran from 2014-16 at a strip club in Bushwick. "This was towards the end of the Brooklyn DIY spaces," she remembers. "There was a certain lawlessness. I think a good party needs that."
Enter Club Glam at China Chalet, the party that defined Instagram from 2016-2020. "We used Facebook for all the other parties, which was laborious. You had to manually invite everyone." The visual nature of Instagram made it easy for DeSe to stamp the party with her aesthetic. She started "Glampaigns"—video art pieces depicting downtown figures dressed in each party's theme. DeSe is now considering selling these as NFTs. "We really wanted to encourage people to dress up, and be whatever their definition of Glam is." Glamour, to her, is an impression: a mode of being that communicates for you. On the phone, Kyle Luu summarizes DeSe perfectly: "She's a valley girl. She's the queen of the suburbs. She likes to look hot and she wears whatever the fuck she wants." To me, it's the perverse girlishness of Miu Miu. It's pink, it's pussy, it's what Octavia St. Laurent would describe as "Little Girl Type." It's pure feminine indulgence.
At the start of the pandemic, China Chalet shut down. It was the last breath of the 20th century, meaning we all were doing coke and smoking indoors. You could sit and chat inside the booths at the front of the club (that doubled as a restaurant), or rage on the banquet hall turned dance floor. At the height of its reign, Glam got the stamp of approval from Vogue, and the magazine threw a voguing ball with Pat McGrath there in 2017. I loved Glam because it was the easiest place for a transsexual to get laid. No one wants you at the gay function and the pressure of disclosure at a straight bar is too much. DeSe's face at the head of the party made it easy.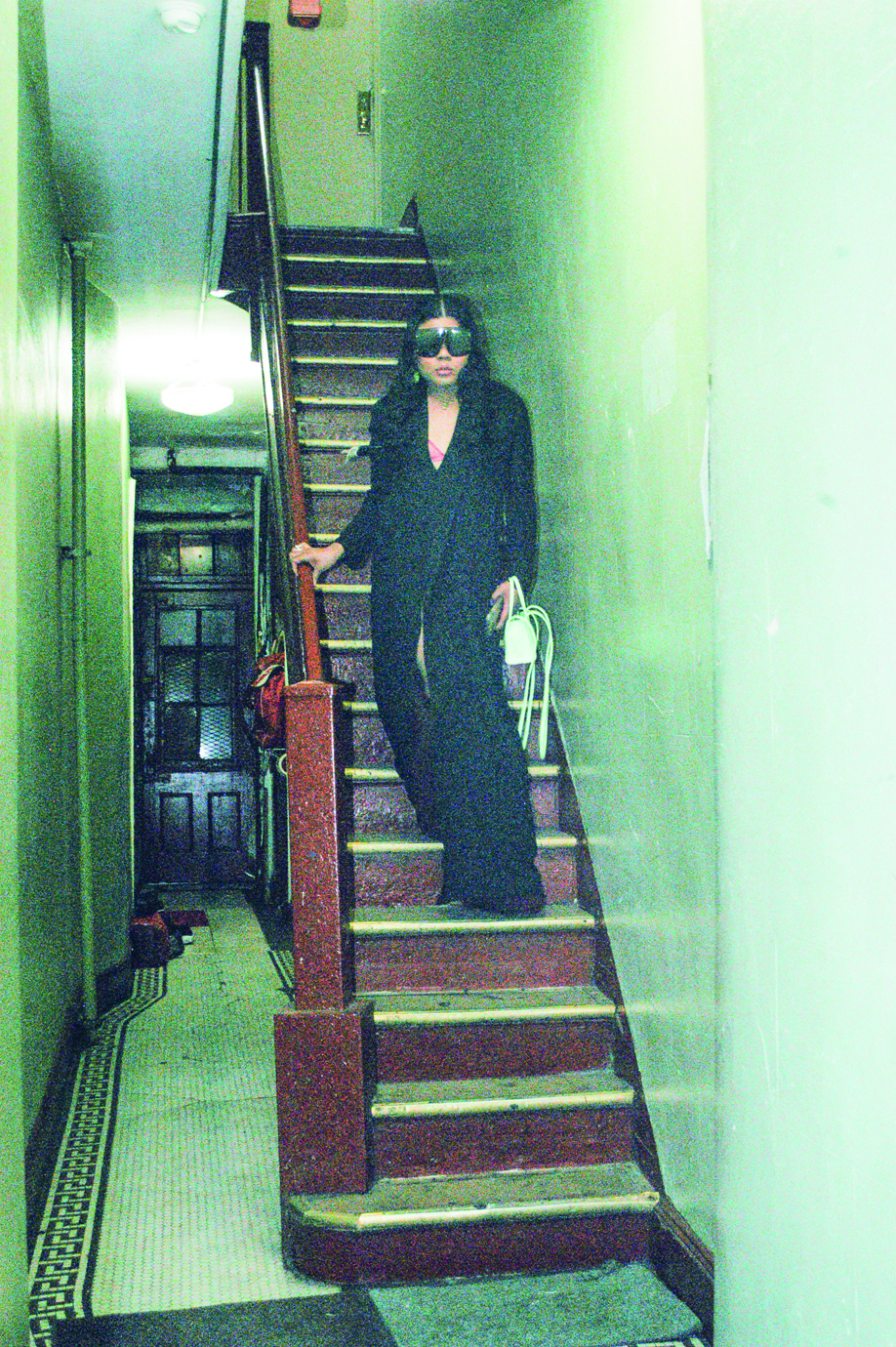 Despite Club Glam's brand specificity, the party always drew a mixed crowd. This was where the mullet enbies, art collectors, IG baddies, and broke skaters convened. But how? "I started posting my drawings online and getting some art-world attention. Then came the art bros," DeSe explains. Gallerist Jared Madere of Bed-Stuy Love Affair helped her navigate the art world and find a place for her work, which takes from fashion illustrations, but with DeSe's own narrative applied. She met an international crowd once her work started showing in Europe, and they'd stop by her parties when they were in town.
The women in her drawings are caught in suspended states of glamour, like getting dressed or making eyes with a cab driver. She even uses vellum paper, the translucent material used for tracing in fashion school. "The paper reminds me of the egg rolls I used to make with my family." With this in mind, she even took her drawings to the deep fryer. The result is like an overshared meme, degraded and run through thousands of screenshots. This past spring she showed a collection of them at V.O Curations in London.
"2021 hasn't really impressed me yet," DeSe says with a sigh as we finally sit down for our meal. We recount the urgency and freedom of last summer, and how necessary parties felt after long days of protest. DeSe tells me about the illegal raves she attended beneath the Kosciuszko Bridge and how much she misses living off of unemployment. I do too. "I'm not in a rush to start a new party," she says,"but I could see Club Glam coming back."
We agree that everything feels too desperate, too eager to return to normal. She's a little bored, but optimistic. After a year without nightlife, she's still figuring out the best way to get everyone inside. "I never want one kind of person at my parties. I always needed them to be about something beyond identity. A good party has it all—cis, trans, young, old." She has big plans for fashion week, a new weekly party at The Jane Hotel, and a production company in the works. Whatever it is, we're all waiting on her to say the word. Before we part ways, she repeats her adage from earlier in the night: "Let's cause friction."
Craving more culture? Sign up to receive the Cultured newsletter, a biweekly guide to what's new and what's next in art, architecture, design and more.