I want to begin with resonance, that far-reaching sonic plane that grabs at vibrations and extends them throughout time and space. With resonance, there is an insistence that tone can and does forge spatial landscape, a site by which to move, negotiate and comprehend surroundings. It's a way to gather oneself, a means to enter and exit, a mode of contending with the creation of time, perhaps with everything.
"Everrrything," Lorna Simpson's first solo exhibition at Hauser and Wirth in Los Angeles, is a kinetic act of placemaking. It begins (and ends) with a reverberating pitch. Before the courtyard of Simpson's sculptures of stacked blue stones, blue wood and obsidian singing bowls come into view, you are met with their meditative ring. A hymn of sorts, a beckoning towards calm, Stacked Stones/Vibrating Cycles (2021) is a performance concerned with matters of the body: how sound transposes flesh and flesh is made anew. Consisting of 15 individual sculptures, visitors are invited to stroke the exterior and interior of each bowl with a mallet to direct the frequency to fill the exterior grounds. As the bowls resonate in timbre, there is a cellular ask to adjust, to shift, to pause to allow before entering the interior space of "Everrrything."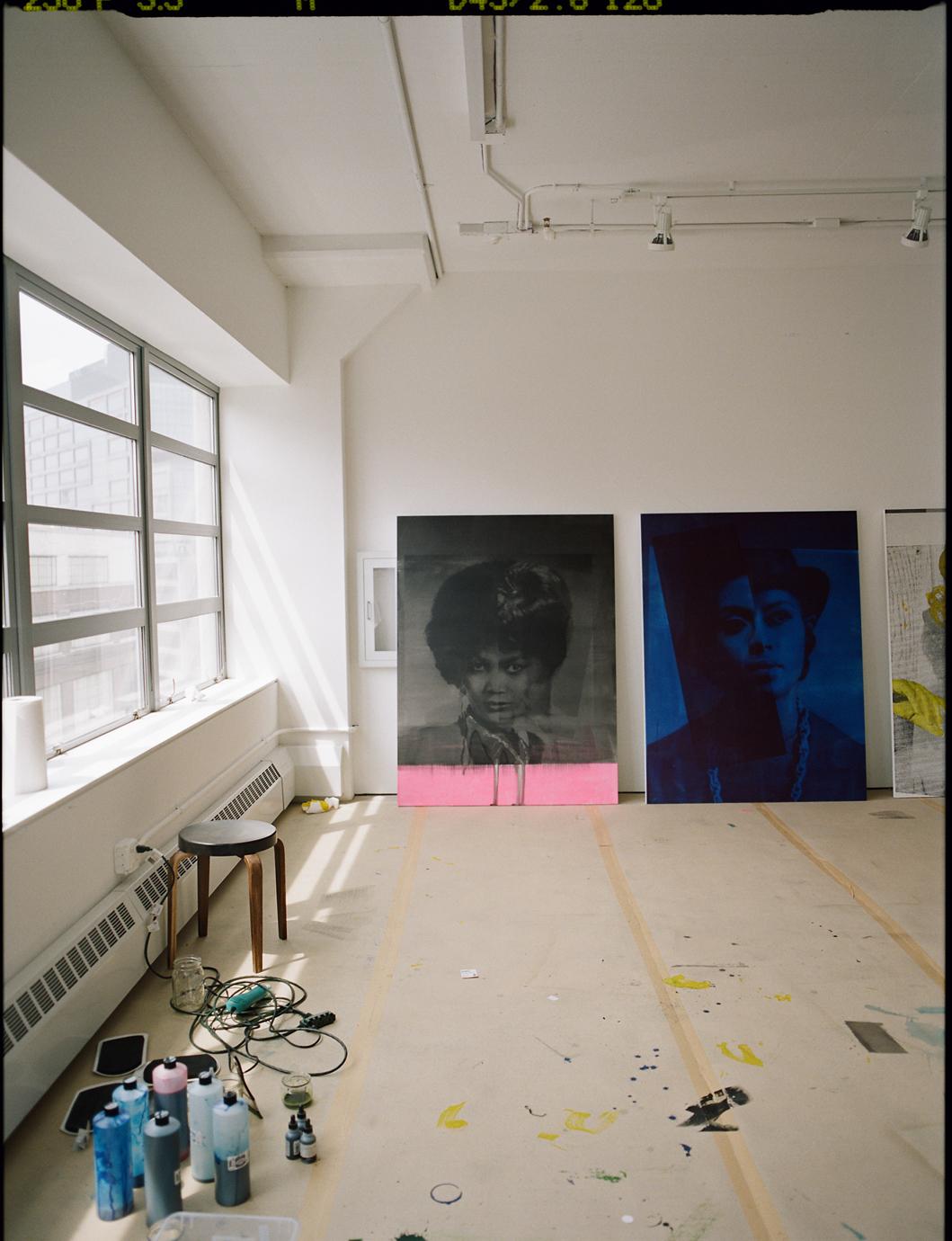 The galleries of "Everrrything" are populated with glacier formations, celestial bodies, deep tones of indigo and images of Black people gleaned from vintage photobooth strips and Ebony and Jet magazines. Conceived in paintings, video, screen prints and collages, these works luxuriate in scale, texture and distortion. In Everrrything (2021), Observing the Universe (2021) and Stars from Dusk (2021) photographs of Black women are enmeshed with astronomy maps, which Simpson lays atop handmade paper stained indigo. Their bodies have become star clusters, no longer things of the flesh, with their eyes and hair left to affirm the molding of a new asterism. The merging of forms continues to present the original interior sites of the advertisements from which each subject was culled. We are left with Venetian blinds, sofas, record players and bedrooms to hold these amalgamated Black beings. As their bodies have become an expanse of all space (that is, everything), those earthly objects and settings are set adrift, affirming some moment in time while also insisting upon its collapse. Here, Simspson leaves us to play and project our own when and where.
Simpson's star charts and indigo marks remerge in the towering portraits Observer (2021) and Zenith (2021), and All Night (2021). These screen printed figures hover within their fiberglass frames just over 12 feet. Their bodies belong to illuminated astrological constellations, single stars and pinpricks. Their bodies end in runs and trickles of deep blue and black, leaving their legs in feet an eerie wisp. Each face emerges within a different opacity and gaze, a different set of corporal possibilities, a different consideration on time and presence. These bodies reside as composite sites unbound to singular persons or structures; Simpson maps several different images into one, compressed as new spatial matter.
This mapping extends to pieces Storm (2021) and Ghost Note (2021), the latest in Simpson's ice series. These pieces live between the melting Arctic and rising sea, between the darkest indigo waves and the gray tinged sky, between those engulfed by the waters, history and what was, and between the buoyant, perched reminder of life still. Black women's heads and eyes anchor these works in the folds of blue and gray, a reminder perhaps of what scholar Christina Sharpe names "residence time," is to remark upon the persistence of Black life "in the hydrogen, in oxygen, in carbon, in phosphorus and iron, in sodium and chlorine." That the enslaved who were "thrown, jumped, and dumped overboard ships in the middle passage are still with us." These works are a version of everything, a moment extending back and forward, a cyclical gesture that is a new cartography.
Stacked Stones/Vibrating Cycles (2021) is how you exit "Everrrything," those vibrational waves reach towards you as you re-enter the courtyard. My tear ducts were reminded of the jazz composer Angel Bat Dawid's assertion that blues music is a conduit, a technology, for release for Black people, a way to "activate that sympathetic system, so that we can survive trauma." Release of pain and suffering, yes, but also a relinquish towards pleasure and delights. It encourages a joining of pain and pleasure, a proclamation of presence, of something which must be forged from the various fragments of life. Stacked Stones/Vibrating Cycles is a tuning of sorts, an adjustment and atonement towards release. It's a guide towards healing and a means to enter everything anew.
Craving more culture? Sign up to receive the Cultured newsletter, a biweekly guide to what's new and what's next in art, architecture, design and more.