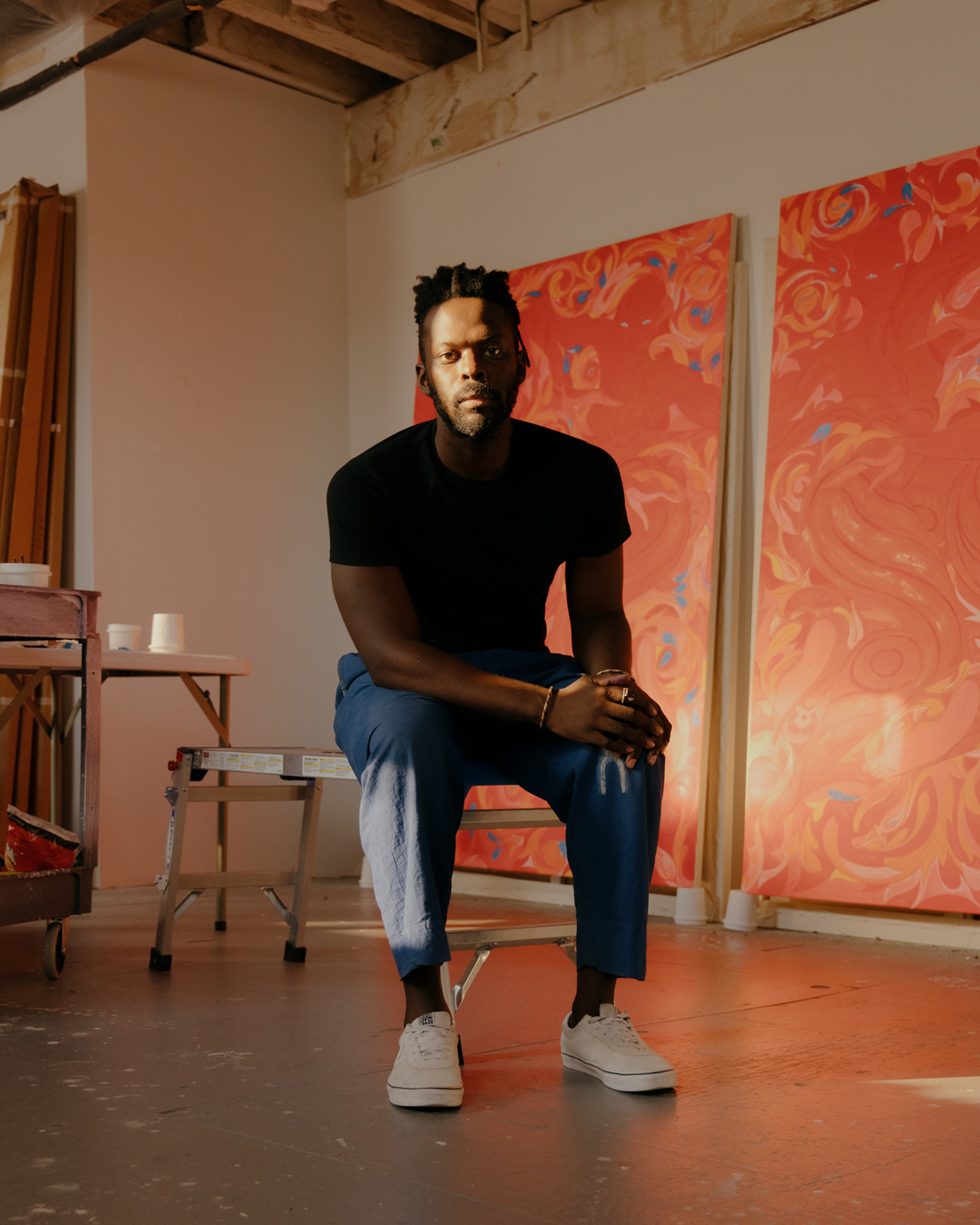 "It's important for me to have first-hand experiences in situations where my Black identity is being engaged in different ways and that all comes down to what's happening in these paintings," says Tunji Adeniyi-Jones, the 28-year-old Nigerian-British painter, referring to how his travels, heritage and multicultural upbringing inform the figures in his new canvases. I caught up with the London-born, New York-based artist as he was at work in his Brooklyn studio preparing for a November 2021 exhibition with the London gallery White Cube, who began representing him this August.
Large, muscular bodies rendered in rich colors float throughout the paintings. Limbs painted in violet blues and deep reds curve expansively throughout the picture planes, and it feels as if the fluid poses could come from a state of dance, conflict, embrace or flight. The figures appear androgynous, balanced and tuned into both their feminine and masculine energies. There is an intentional youthfulness to them that Adeniyi-Jones wants to speak to the sense of turbulence in their lives as they emerge into new life stages and senses of self. It's symbolic of his own continuous becoming. Flaming floral patterns brush and lick against their flesh. The bodies possess strength and grace, taking up space across the canvas and in our imaginations. It is a testament to Adeniyi-Jones's own expanding imagination on what it means to be a Black body in the world, with an ever-broadening sense of identity.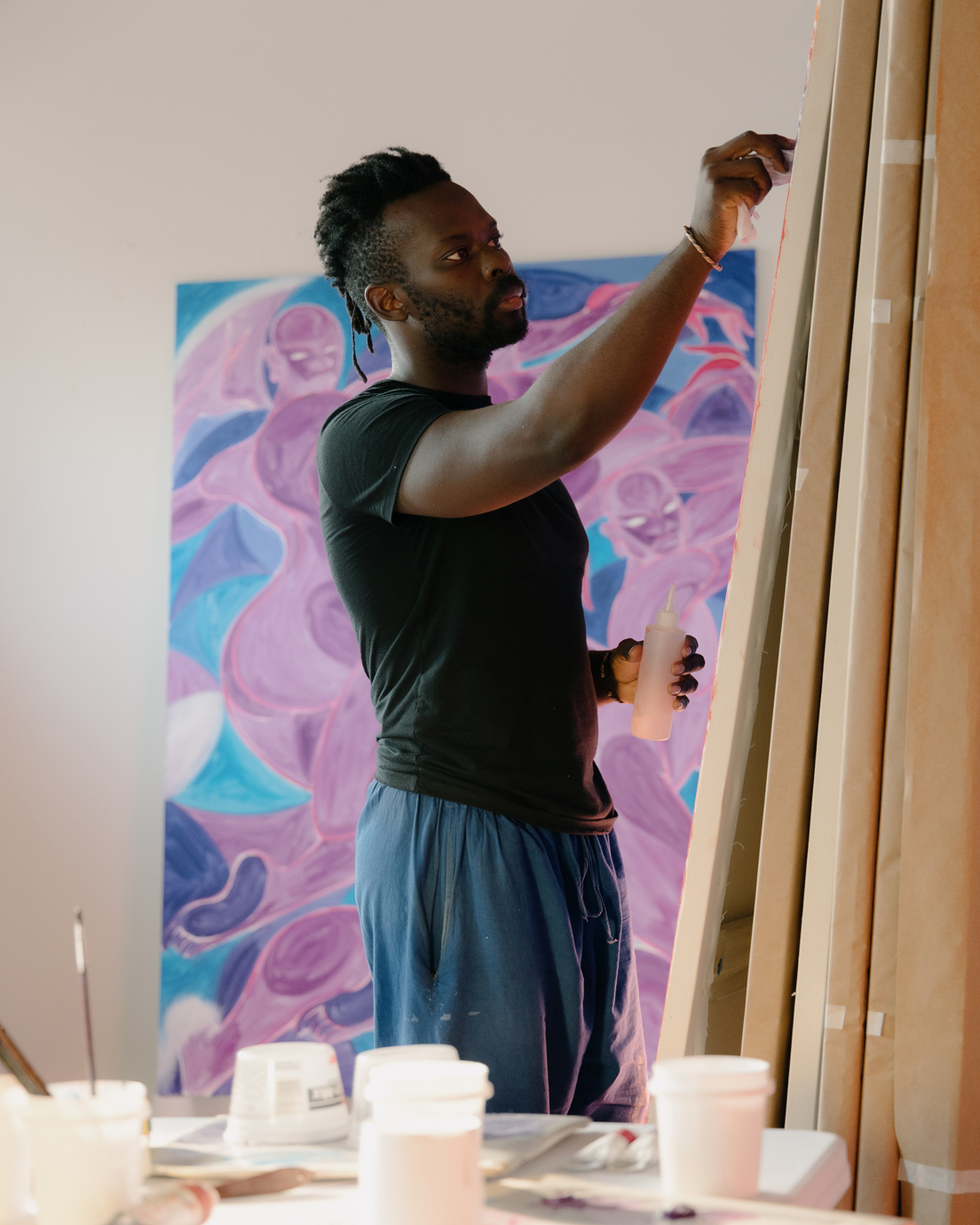 Born in London to Nigerian parents, Adeniyi-Jones made a transformative trip to Nigeria in 2012 while studying Fine Art at Oxford University. His uncle introduced him to Nigerian artists like Bruce Onobrakpeya and Olu Amoda, who helped him understand the value of his artistic heritage. "The artists I met in Nigeria encouraged me to see and embrace the position I was in, being from a number of different places and able to speak to a number of different culture and histories at the same time," says Adeniyi-Jones. "I recognize that trip as the moment when I began to understand my place in relation to those kind of masters and practitioners. It's when I recognized that I even had a position to hold to begin with. The work I made started to shift after that. I started to make work that was very focused on who I was, my identity as a Nigerian-British person. Before that point, I was performing what I thought the identity of an artist should look like. After that trip, it became very clear that I had something quite personal and important to share."
After finishing at Oxford, Adeniyi-Jones left England for America and in 2017 he received his MFA from the Yale School of Art. His growing body of work continues to represent his experience as a Black man who exists across countries and cultures from England to Nigeria to North America and Senegal. He acknowledged that as he grows as an artist, the figures in his work are continuing to evolve, becoming "more busy, more crowded, dynamic and elastic."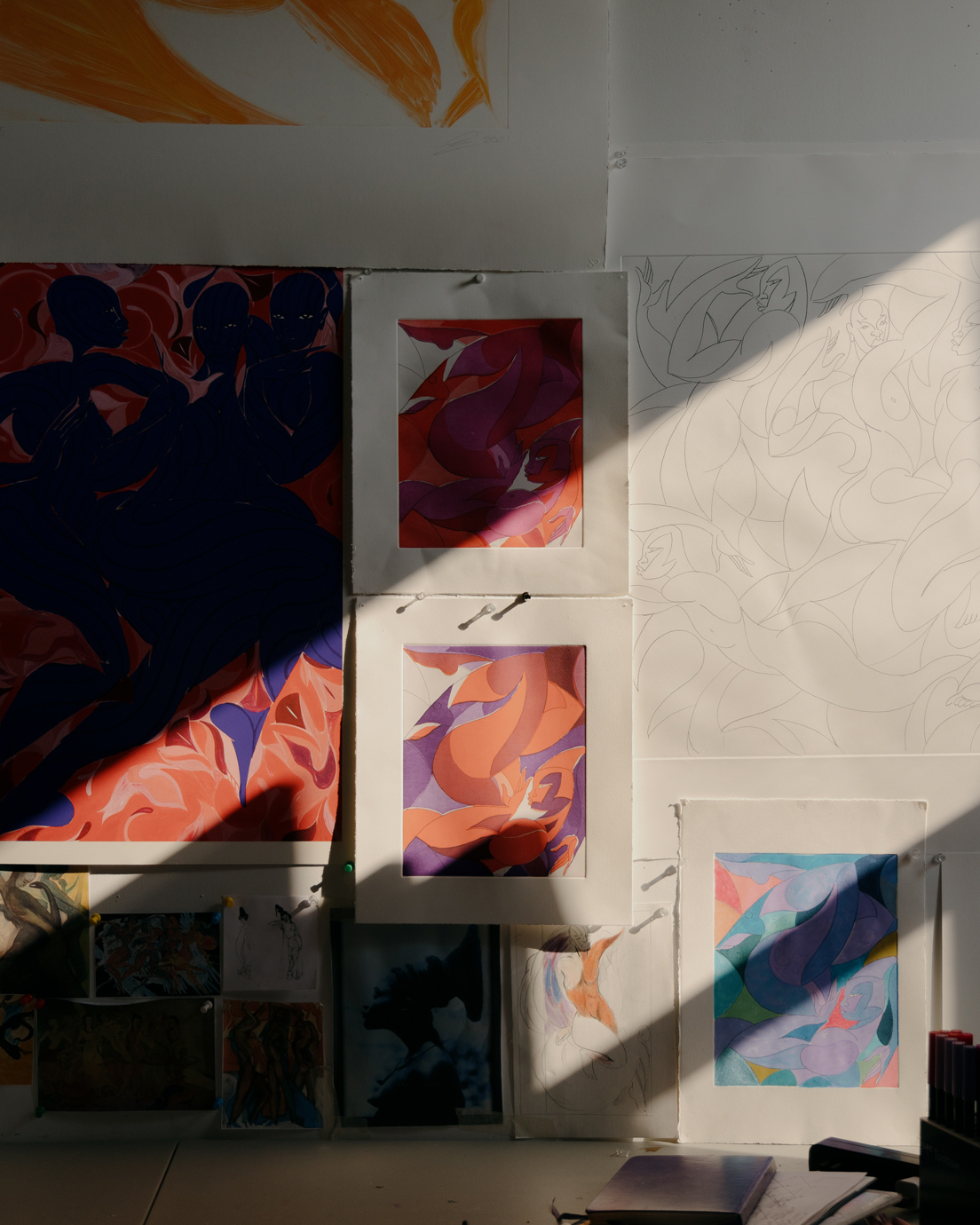 "When I started a bit back, I was definitely trying to say that these are Yoruba-inspired characters, but now I want [the interpretation] to be more open and accessible. I feel like I'm trying to paint a figure now that is more versatile culturally, so it's not specifically a West African figure. It could be a Black American, Black European or someone from anywhere else."
When he moved to America, Adeniyi Jones was immediately taken by his new exposure to the rich and fantastic world of Black figurative painters like Kerry James Marshall, Aaron Douglas and Barkley Hendricks. "As soon as I moved to the East Coast and I was exposed to everything from James Baldwin to the Harlem Renaissance, my relationship to all this history [that until then] I hadn't been in contact with and that I couldn't actually feel as being relevant to me changed," he says. "I would read about some Baldwin story, then I'd go for a walk and I would experience something unlike anything I could have in London or anywhere else and I'd go, 'Okay I understand this.'There's a very specific kind of Blackness in this country that has affected everything that's happening [in my paintings]. The work got hypercharged by that self-definition I was speaking to as well. It's benefited from me attaching myself to an expansive kind of history of the Black experience."
A recent resident of Kehinde Wiley's Black Rock program in Senegal, the experience left an indelible mark on Adeniyi-Jones. He says it added a layer of texture and complexity both to his work and to his personhood. The figures he's working on now first began taking shape in Senegal, and he admits to possessing a sense that certain spirits of the place remain in his consciousness.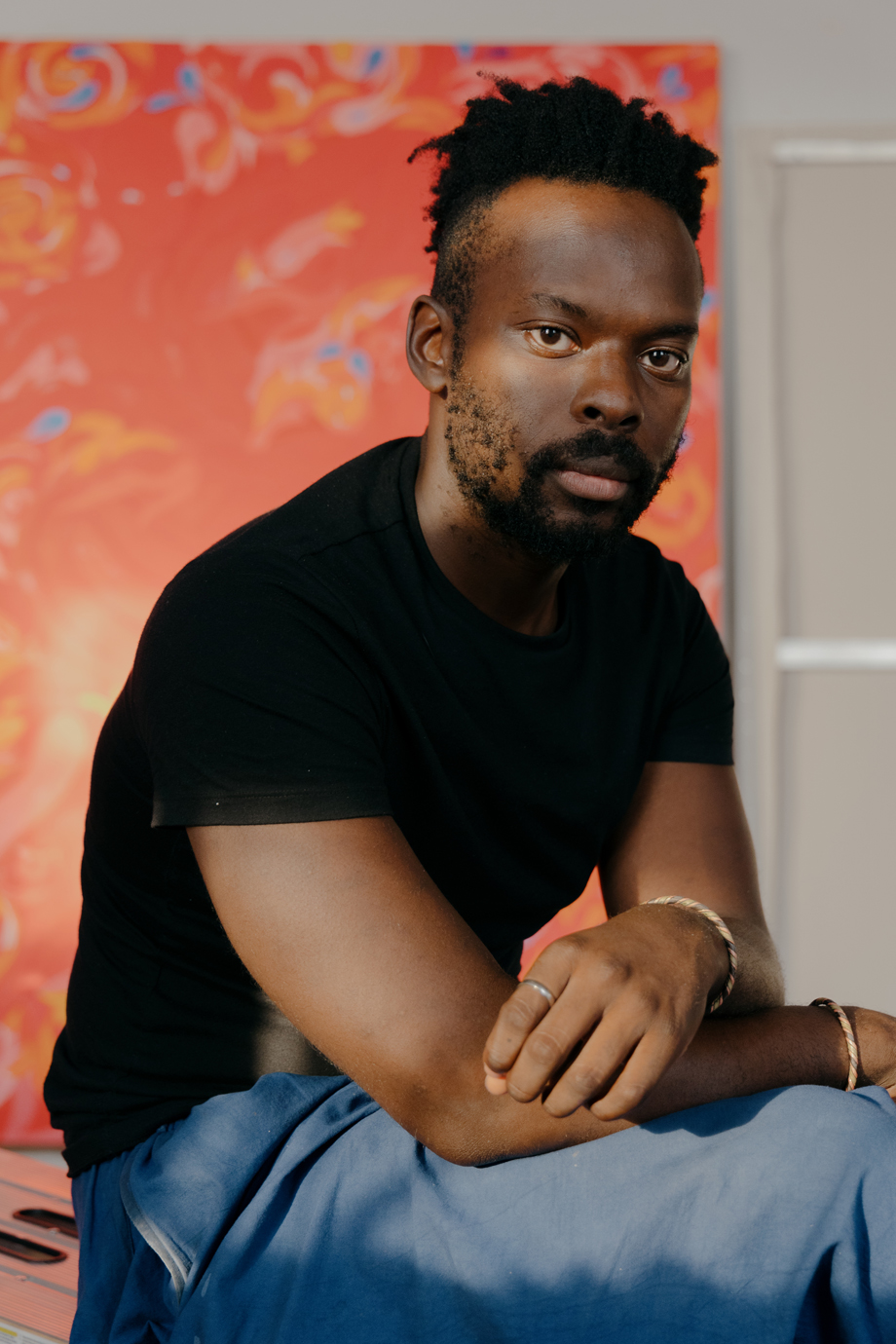 "There's turbulence in this work, and these characters are less tight than in my previous work. They are reaching out in a different way," he says, adding that he's become more keenly aware of the weight that comes with moving through the world in a Black body. "I think it's important that these characters express a kind of strength, enough to deal with that weight. It's important they express a level of preparedness for that."
Adeniyi-Jones says he is telling us that these free-flowing figures are indeed Black and brown bodies, but he's trying to highlight that fact through features like strength, fluidity and physicality, rather than through skin and facial details. "I'm trying to translate the weight of the movement, the experience of being Black and read in different ways in different places. It's important to note the weight of this aspect of our existence."
Craving more culture? Sign up to receive the Cultured newsletter, a biweekly guide to what's new and what's next in art, architecture, design and more.