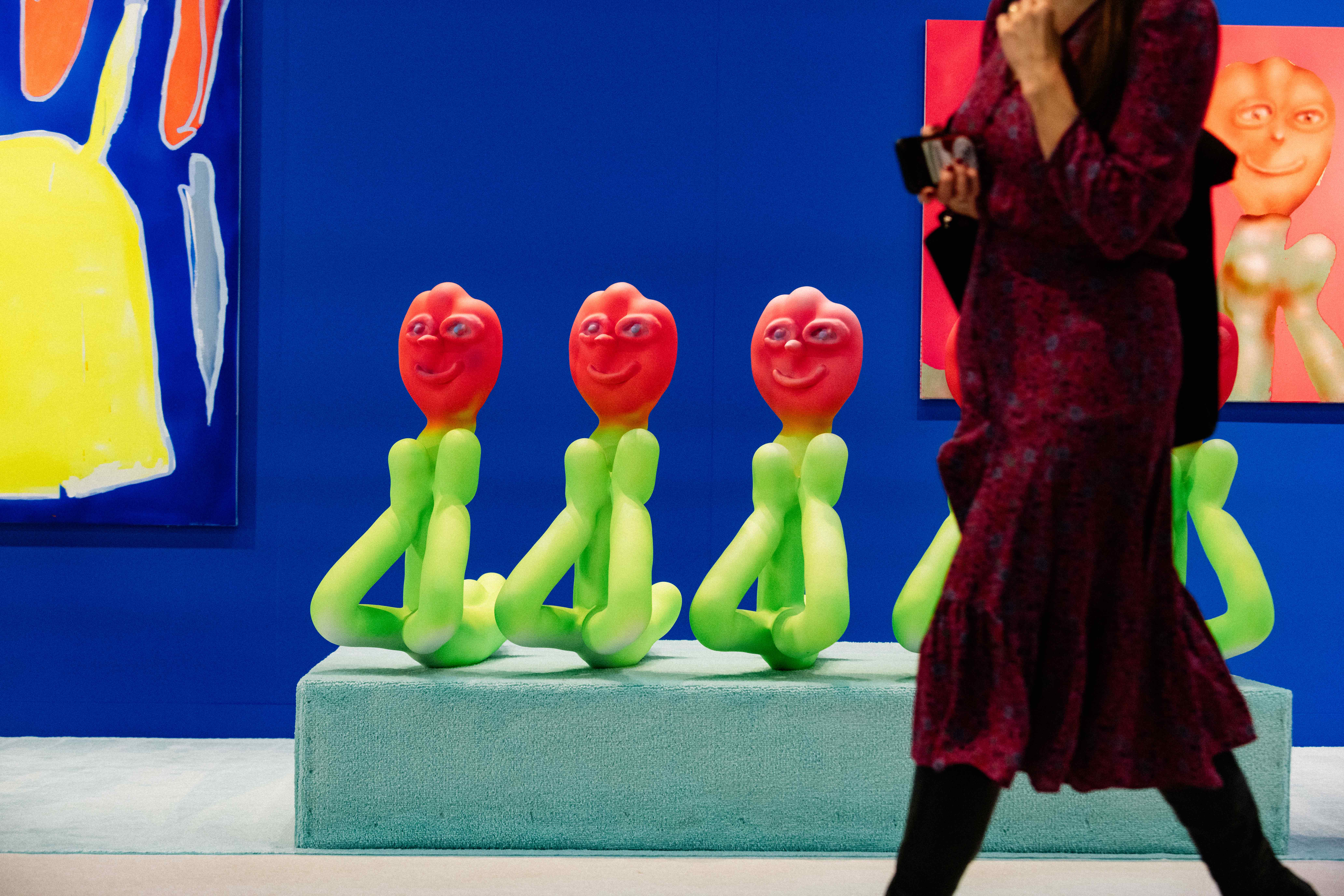 New Yorkers are heading to the Javits Center once again—not for their COVID-19 vaccine boosters but for the year's biggest extravaganza when the art world doubtlessly strives for a boost. The Armory Show's return in a physical form coincides with its September debut and a new venue, which is walking distance away from both The Shed and Chelsea galleries. While the fair's 27th edition anchors the art world's back-to-school week, other affairs, such as Independent at its new Cipriani South Street venue with water vistas and Future Fair in the Starrett-Lehigh Building in addition to numerous gallery openings, echo the pre-pandemic frenzy of packed Chelsea streets and generously poured champagne.
On Thursday, fully vaccinated and masked VIP attendees filled the spacious convention center where booths are laid out in a neater arrangement in comparison to the Armory's former iterations at the Piers. The newly adopted greeting rituals of distant hugs and fist pumps were mixed with tight caresses among missed colleagues and friends. Global travel restrictions limit the physical presentation of 157 exhibitors to predominately United States-based galleries while the fair extends online to a total of 212.
The long awaited in-person format was in a calm yet joyous spirit in the fair's first day. Sales were in full speed as the guests arrived according to their timed slots with vaccine proofs in hand. Contemporary Art Museum St Louis's curator Wassan Al-Khudhairi organized this year's Focus section, which displays emerging galleries and the Fine Arts Museums of San Francisco's contemporary art curator Claudia Schmuckli oversaw Platform, the orchestration of large scale works that greet guests. The VIP day ended with toasts for Michael Rakowitz whose booth with Jane Lombard Gallery won the third Pommery Prize and Moslem Khezri of Tehran's Saradipour Art who received the fifth Armory Presents Booth prize. However, the fair is open to public through September 12 and these five stops are also must-sees.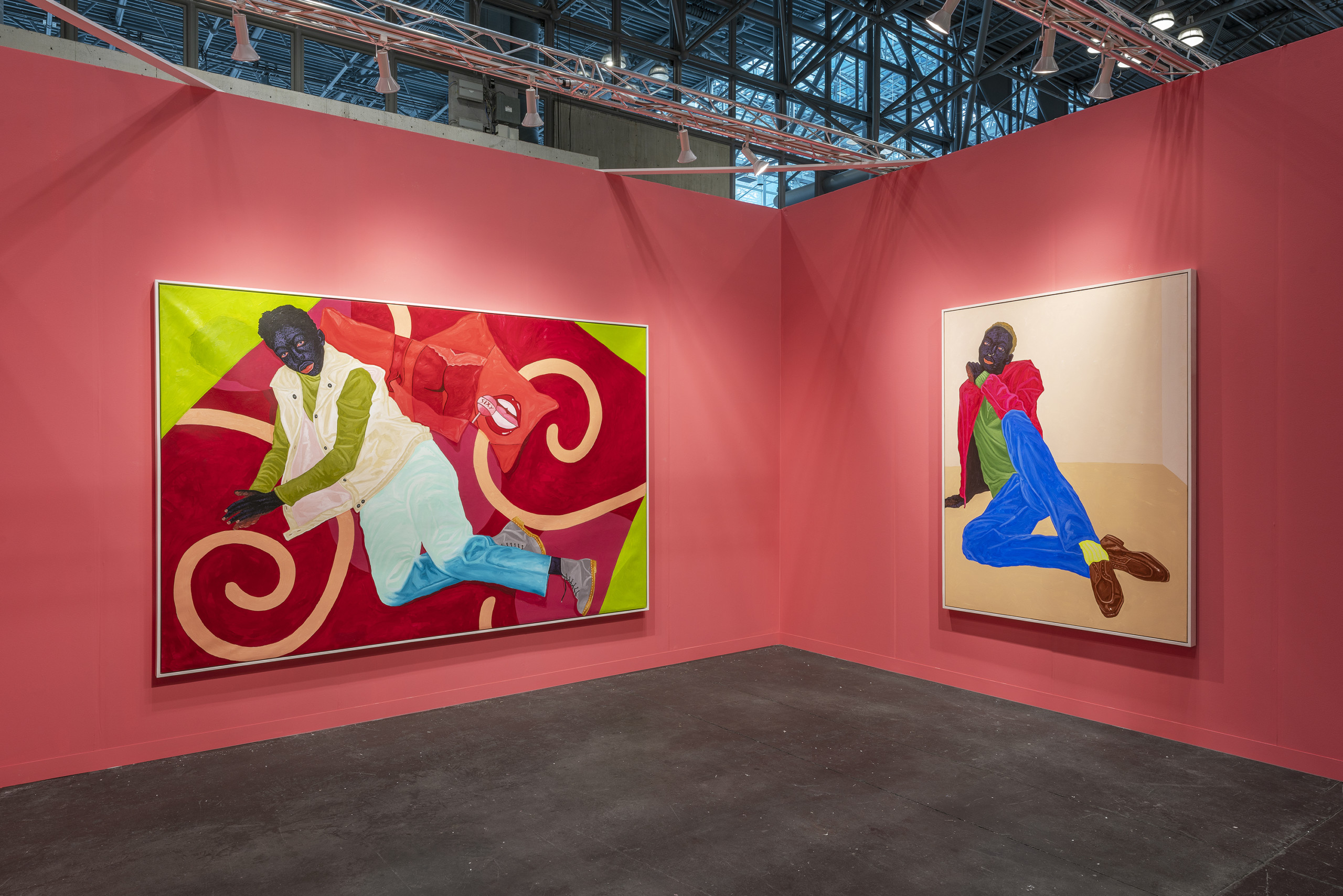 Gallery 1957
Every year, a gallery dares to experiment with a striking paint color and attracts the fairgoers in search of the selfie background. The radiant fuchsia walls may pull you into Gallery 1957's booth this year, but you will stay for Kwesi Botchway's piercing portraits of Black figures in flamboyant attires in the Ghanian gallery's solo presentation of the 27-year-old painter. Making their U.S. debut after the gallery's recent lauded exhibitions in Accra and London, Botchway's paintings almost speak, communicating with the viewer through the sitters' direct eye contacts and disarming postures. Their red eyeballs and the lush textures they don contrast with the nocturnal blue which the Accra-based painter uses to capture skin with an Earth-like density.
Jessica Silverman
While San Francisco's Jessica Silverman gallery showcases a curated group show titled "Foreseeable Women" at its neatly hung booth, you may encounter its two artists out in New York, where they both display their public commissions. At the Armory Show presentation, one can closely inspect Turkish artist Hayal Pozanti's oil on linen paintings of bulbous corporal abstractions in uplifting hues but make your way to New York Public Library's recently-renovated Stavros Niarchos Foundation Library branch where her permanent 85- by 17-foot ceiling mural, Instant Paradise, grandly embodies her introspective approach to the history of language. German artist Claudia Wieser's gold leaf and colored pencil lithographs of mystic geometries at the fair offer a glimpse into her Public Art Fund exhibition Rehearsal's fragmented mirrored sculptures that reflect the Dumbo views under the Brooklyn Bridge.
Charles Moffett
Another pristinely-curated booth is New York-based Charles Moffett gallery's solo presentation of Kenny Rivero's drawings, which coincides with the artist's solo exhibition "The Floor Is Crooked" at The Crystal Bridges Museum of Art in Arkansas. Imbalance in this presentation is rendered metaphorically to reflect class disparity in Rivero's whimsical drawings over discarded papers that he collected while working as a doorman at a posh Manhattan residential. Totaling 29, the drawings are exhibited across the walls as well as in wooden vitrines. From record sleeves to sewing templates, the artist's source material offers varying textures and shades to his candid sketches that silently speak about manhood, brown identity or isolation. Cartoonish and enigmatic, the artist's visual language both opens a door to his subconscious and raises curiosity about his symbolistic details.
Nara Roesler
Fast-paced art advisors and dealers sprinting through the aisles is a typical fair sighting—this year, be also mindful of the art moving at the gallery Nara Roesler's booth. Raul Mourão's teetering Corten steel geometric sculptures had amused the visitors last month in the Rio de Janeiro-based artist's solo show, "Empty Head," at the gallery's Chelsea space. Rebel # 04 from the same series swings up and down at the booth next to Cristina Canale's mysterious portrait, Despedida no cais. Similar to those in the Berlin-based Canale's current solo show, "The Encounter," a few blocks down in Chelsea, the painting lacks the poser's face, begging the viewer to paint the amiss impression in their imagination while pulling the artist's visual language to abstraction. The anonymous figure, however, is not the only poser with a mysterious identity across the booth. Rodolpho Parigi's red and black painting, Black Phtalo Magenta Suit, introduces a female figure whose body and face are covered with a glaring black latex suit—both fetishistic and villain-esque.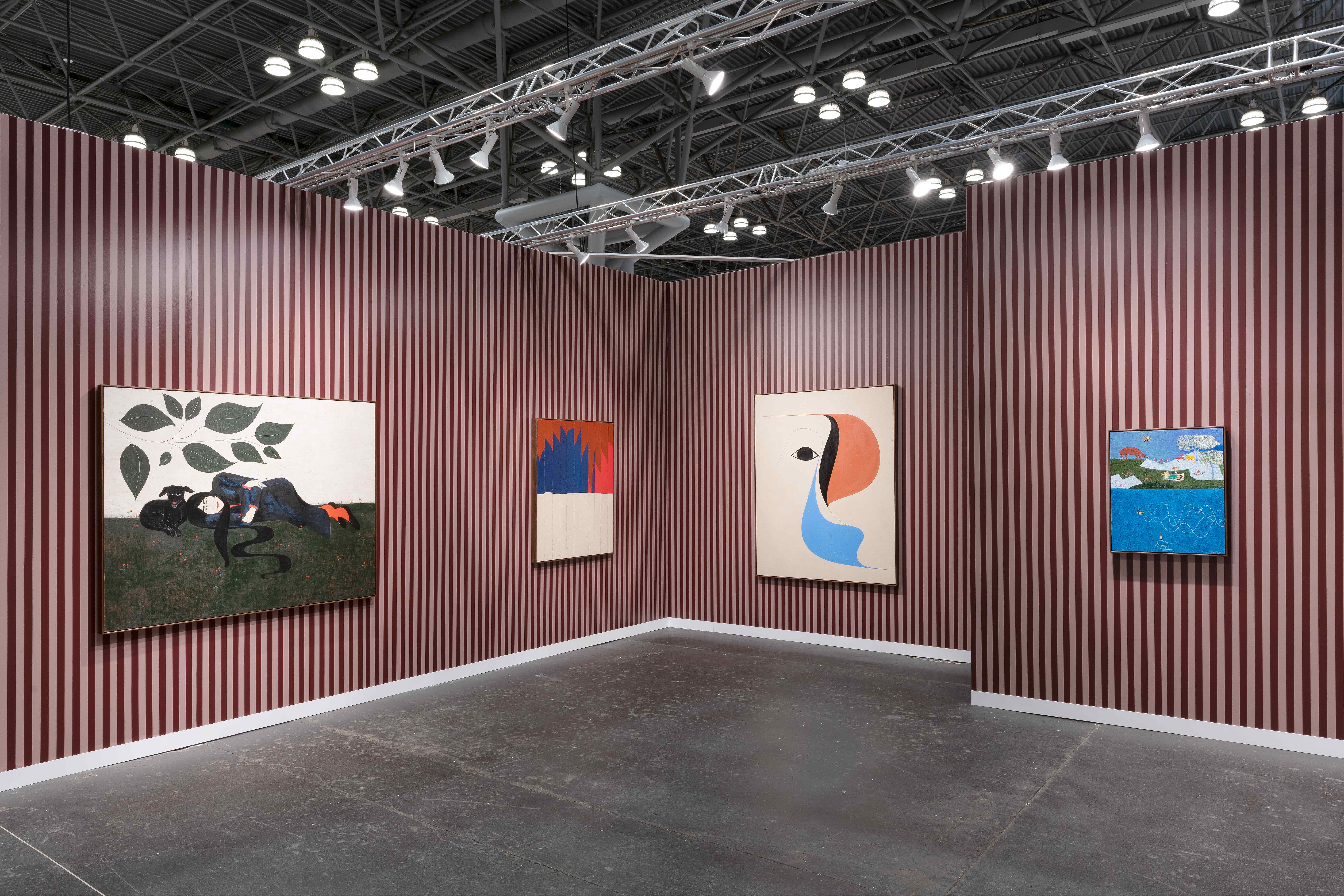 SOCO Gallery
Clara Rojas's one-person presentation with Charlotte-based SOCO Gallery immerses the visitors into the San Francisco-based painter's visual universe where abstraction and figures coexist. Across a hallucinatory wallpaper of vertical red and pink lines, Rojas's geometric forms on oil on linen recall the sensual secrecy of the pioneer of female abstractionist, Hilma Af Klint. Colors are embodied in curvaceous or rigid forms, with a playful approach to dynamics of the negative space. Rojas's figurative paintings only elevate her curtained visual language. The aptly-titled Woman In Chair Reading With Fly shows a woman in a red sweater—potentially the artist herself—perched on a chair and reading while one of her also red shoes hangs from her foot, ready to fall. Inquisitive eyes will catch the subject fly on the curtain behind her; however, another single shoe with a color that matches her socks remains as the painting's enigma.
Craving more culture? Sign up to receive the Cultured newsletter, a biweekly guide to what's new and what's next in art, architecture, design and more.