With an exhibition title that originated from the Wu-Tang Clan random name generator, it is only fitting that "Shady Beautiful," art advisor Anna Hygelund's premiere group show with New York's Malin Gallery, would too bring together seemingly disparate subjects in a surprising yet elegant way. Featuring the work of 11 contemporary artists from abstract painters, sculptors and West Coast artists of the Light & Space movement of the 1960s, the show, which is on view through September 11, bridges a variety of artistic ideas and schools-of-thought, and in doing so, uncovers commonalities that draw a through line back to its title. Four thematic pillars unite the art: tension within the aesthetics of beauty, the use of chiaroscuro, the interplay between light and topography and the surprising creations of resplendence through acts of destruction or violence.
With over a decade of experience in the art world as an advisor and a graduate of Sotheby's Institute of Art, and a career that began working across several sectors, Hygelund has built relationships with galleries, museums and auction houses. Her knowledge of the post-war and contemporary art markets informs exciting juxtapositions within "Shady Beautiful."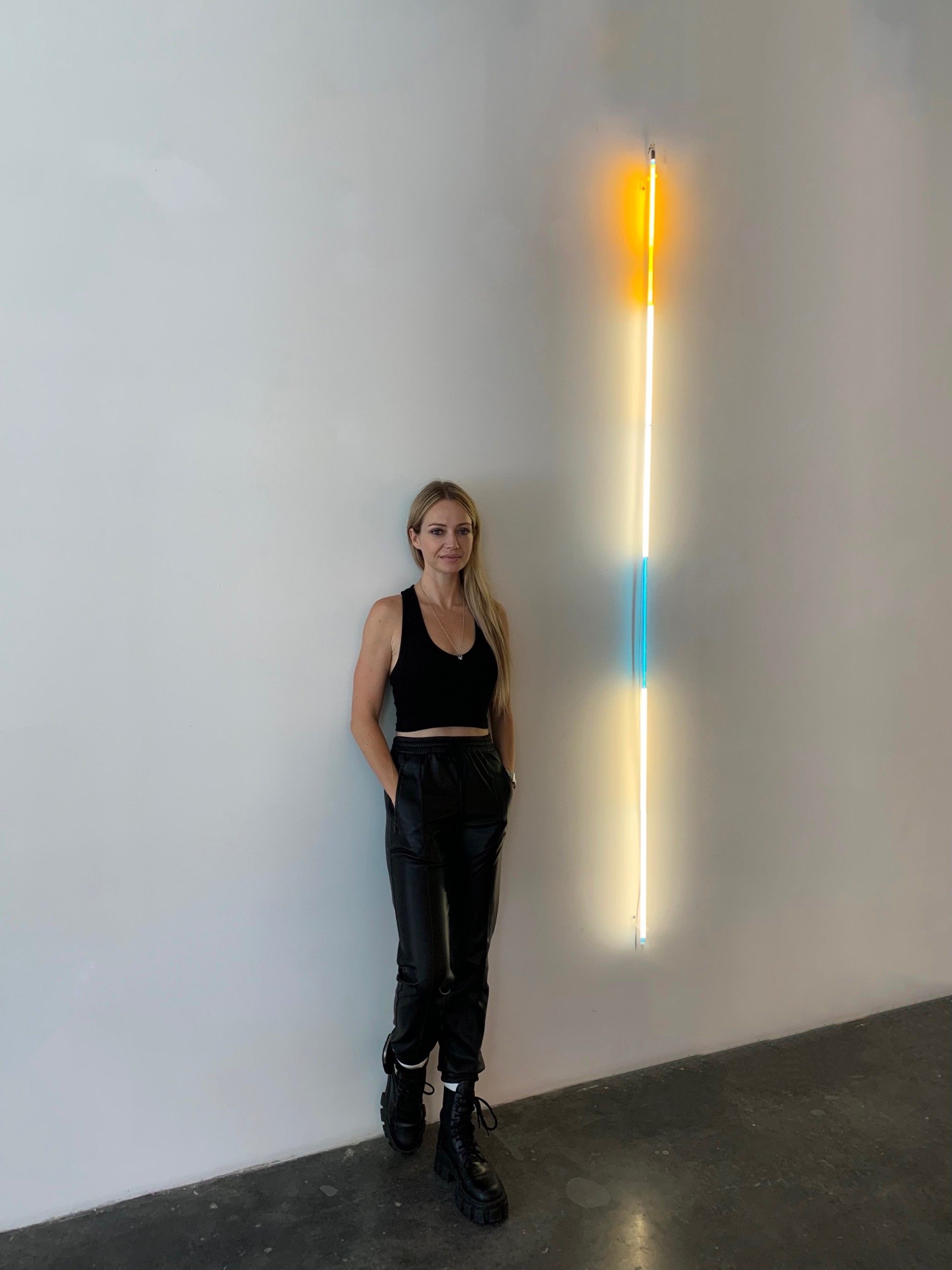 The show's standouts include Aaron Young's large-scale abstraction where a motorcycle rider performs intricate choreography on painted brass; Larry Bell's glass-incorporated paintings that focus on the experiential effects and alterations of light and shadow; Oliver Lee Jackson's "Dark Illumination" paintings in which the artist explores a range of tones and textures of Black paint and Vaughn Davis Jr.'s sheath of unstretched canvas cut, ripped, frayed and soaked in pigment to reveal a dynamic abstraction.
The latter is one of the youngest artists in the show, but also the most challenging of the practice of painting itself. The St. Louis native artist's work rests within the ambiguous space of painting and sculpture: he deconstructs canvases into the simplest forms and paints without using a brush. His focus on simplicity rebukes formalism and reframes the role of the art-maker.
Oakland-based painter and sculptor Oliver Lee Jackson, another native of St. Louis, employs a dark palate in his paintings to allow the viewer an experience in the subtle impact of incident light. Known for his richly layered images that incorporate figurative elements, his abstract fields present a deep appreciation of global art history. Jackson is an affiliate member of the Black Artists Group (BAG) which originated in St. Louis in the 1960s. Sustained viewing is deeply rewarding as the work shown in "Shady Beautiful," Painting No. 12 (12.23.13), (2013), changes in light conditions and perspectives.
Meanwhile, in Impenetrable Room, (2016) a seminal work by the Chilean artist Iván Navarro, the viewer, too, stares into a dark abyss, though this is a one-way mirror surrounded by a square pattern of bright orange neon tube lights. The social context guiding Navarro's work addresses the violence inflicted by the Chilean military dictatorship of Pinochet. Born in 1972 in capital city Santiago, Narravo experienced the country's military regime and now uses light as his primary artistic medium to speak to humanitarian issues including capital punishment and torture, specifically in reference to the torture by electricity and loud music of prisoners who resisted the government. The detention center where these injustices occurred was ironically known as La Discotheque, which loosely translates to a dancehall or nightclub.
Through these striking, sensorial art experiences, "Shady Beautiful" sparks internal conversation. Hygelund's unique curatorial premise brings together such monumental works to unexpected effects. Far more than just a dialogue about elements of light and shadow, this show asks the viewer to consider the ways in which we interpret beauty, violence and analyze our collective societies.
Craving more culture? Sign up to receive the Cultured newsletter, a biweekly guide to what's new and what's next in art, architecture, design and more.