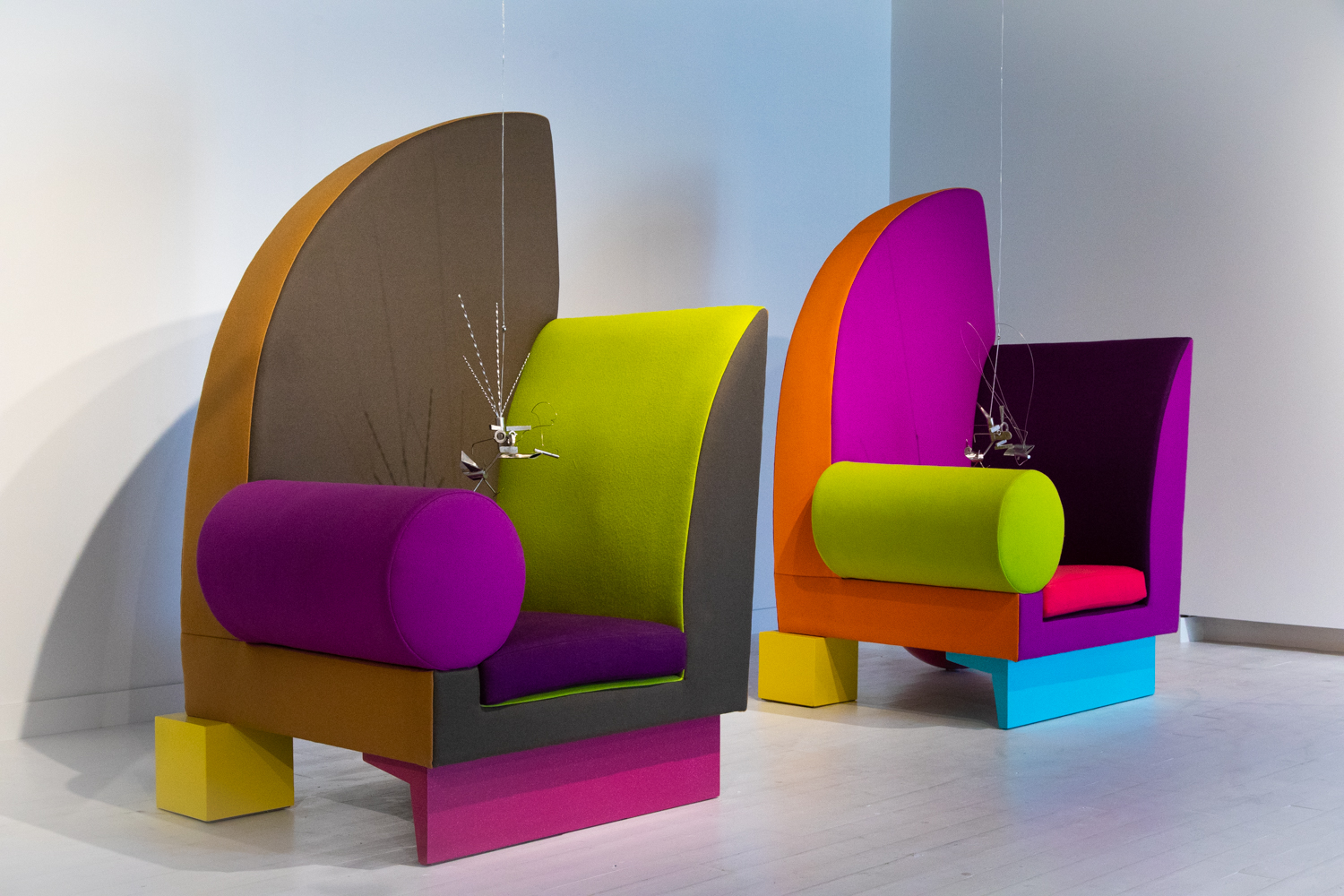 There is something endlessly fascinating about Peter Shire. Though his work as a key American member of Memphis Milano is well-documented, the Los Angeles-based artist whose constantly growing oeuvre includes a range of objects from tabletop to furniture and from drawings to ceramics, continues to surprise and delight, creating works that prove color never goes out of style. Now, tucked away on a verdant corner at West Hollywood's The Little House gallery, Shire is unveiling yet another piece of his practice. In his solo exhibit, "In a Hollywood Bungalow," presented by Dries Van Noten, the artist reveals his visionary paintings and discusses the complexities of each. He mirrors his appreciation for the small details in his infamous coffee mugs, teapots, furniture, drawings, ceramics and sculptures, also on display.
Each of Shire's pieces embodies his true love for Southern California, and his own playful spirit, a sentiment that has given his work distinction within the international art world over his many decades of practice. For the inaugural episode of Cultured's new "See the Show" digital series, we spoke with the artist about his work, his joy and his Los Angeles love. See more of the show in a walkthrough with the artist himself on Cultured's Instagram.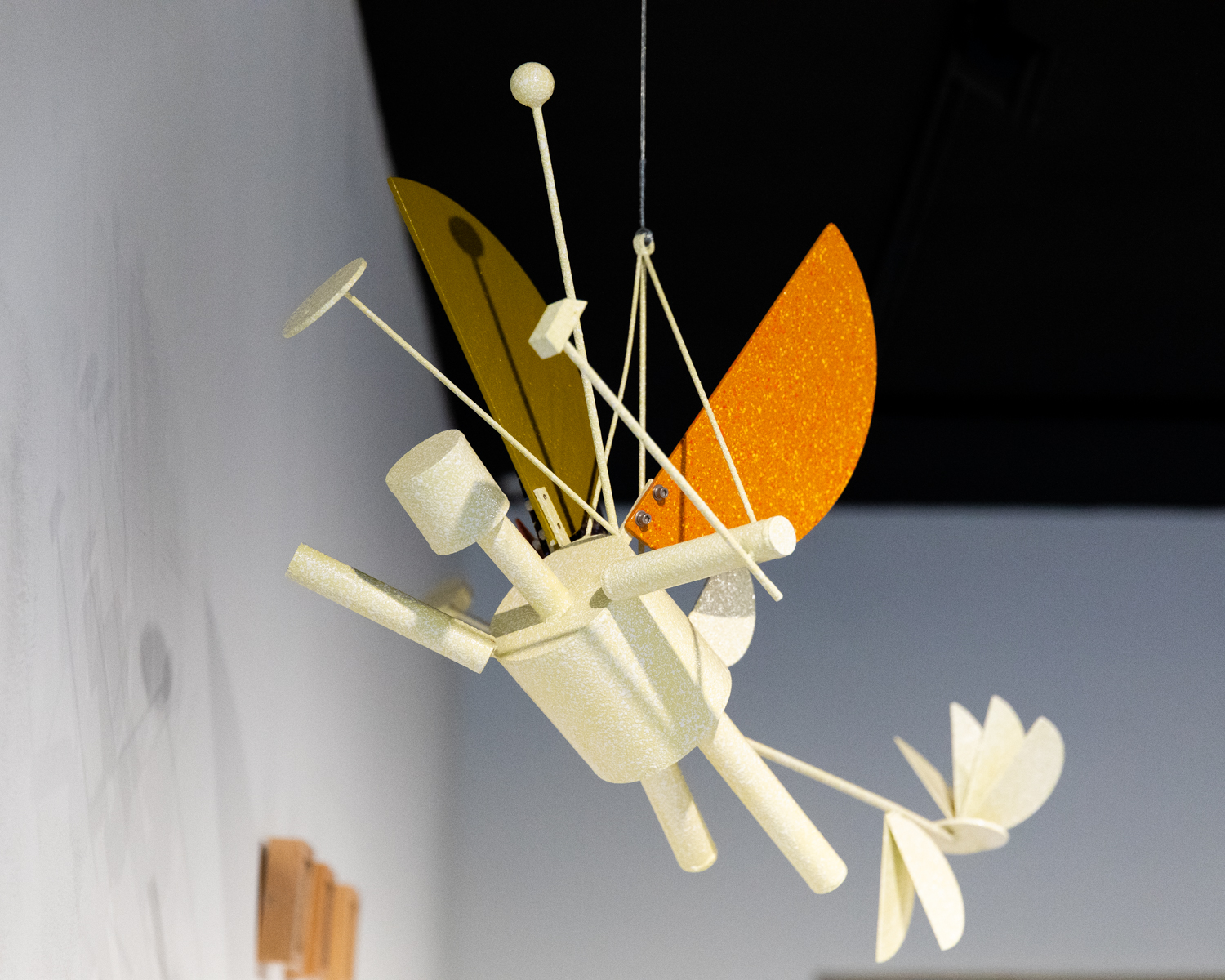 The Little House offers such a unique place to display your work. What drew you to this type of display?
Peter Shire: This is a bungalow, literally a little house, and so it's attached to another notion of Hollywood. This is the battle of the stars. This, for me, is the most interesting kind of space to show in because it's not a very usual, white, plain gallery. For example, the pottery room—when we came into the house and saw the space, this room was just a little woe-be-gone office. But I thought that it was an interesting space, a surprise. So, when I put my work in here, I used its long corridor with one painting displayed at the end, like a magnet. The whole building is a place that really has interest. One of the rooms was just a closet, and now it's the best presentation of my sculpture ever because it becomes esoteric! You have to really search for this gallery, and when you see the little house with ivy all over it, you've reached a very special place that's off the map.
Where did your interest in ceramics come from and how has that interest developed since you began your practice?
PS: I studied ceramics in school; I have a BFA in ceramics; I survived high school because of ceramics. My ceramic teacher took me up as his apprentice so my senior year I spent eight hours a day in the studio because he siphoned me out of all my other classes. Since I was studying pottery in the '60s, there was just starting to be a bridge between studio pottery and using ceramic as a sculptural medium. Peter Voulkos and John Mason were just gaining traction and so us students were very aware of them. But there were also sculptures like Margot Wilderheim and Vivica Nara Heina who were making garden bells and home furnishings. I would see these things in home magazines and think to myself, "Man, this is a life worth living, right?" So, when I created my teapot, one may think that it looks very complex. But to me, it is actually a very conventional teapot because if you look to the side, you get the whole picture. Contrastingly, I have made teapots that need to be moved around. Every view is going to be different, which tends to be a hallmark of sculpture. It starts to change shape and scale and dimensions.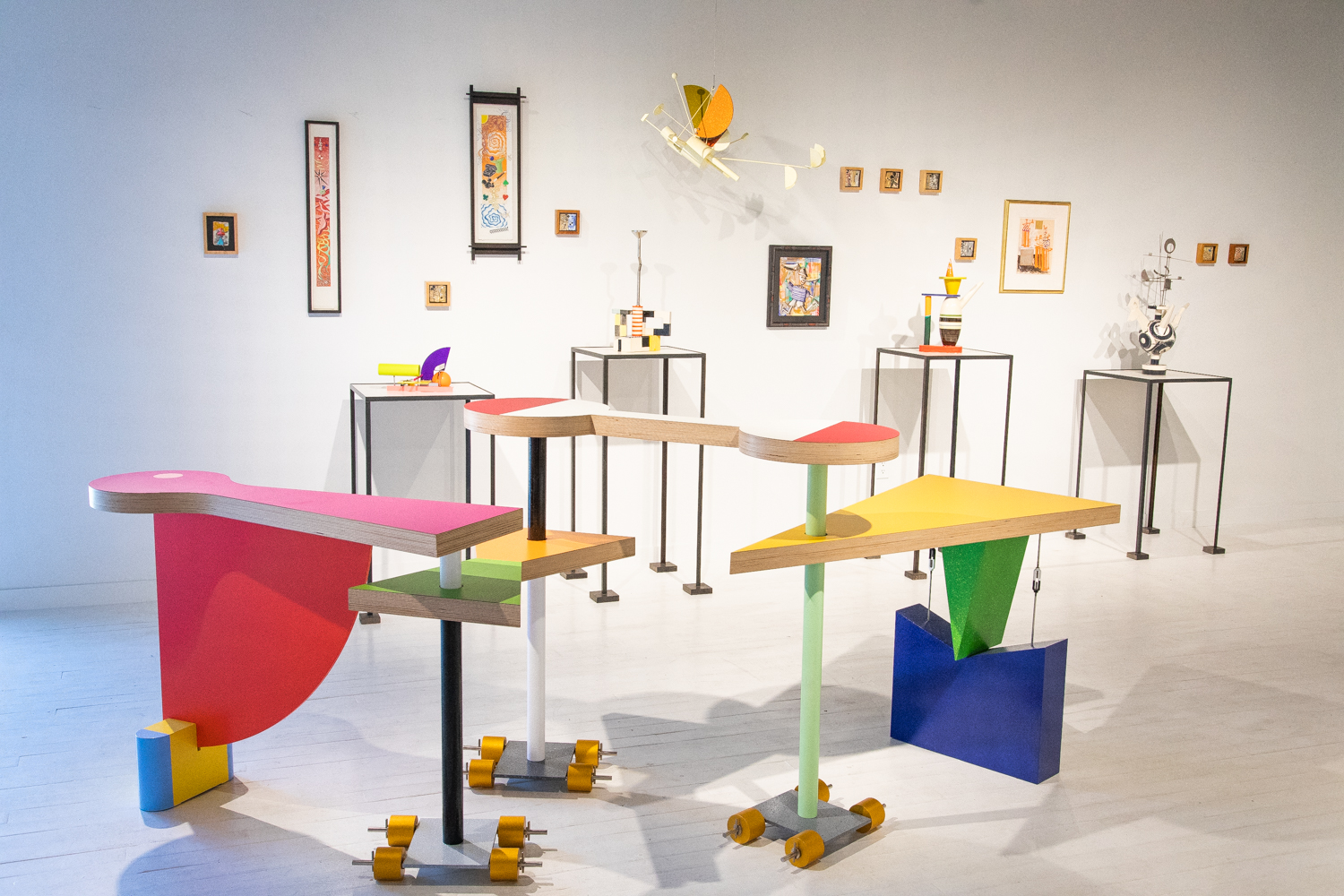 You've mentioned that much of your inspiration comes from your home, Southern California, itself. How do you see Southern California's unique characteristics in your work?
PS: My inspiration for a lot of painting came from living in Venice, Italy and doing glasswork. I discovered a whole aspect of the Venice lagoon that was sort of sacred and profane, something I had not seen before. Sometimes it's the little gondoliers and motorboats and sometimes it's the oil rigs and factories around them. I think it's some sort of turmoil and so I've tried to replicate that in my work. In my painting, I included a replica of my own sculpture that I did in Burbank and a mask from the carnival, which represents the eternal woman. And for anyone who has been close to a gondola, they know that gondolas are very fragile—they vibrate when you touch them. So, I created an impossible bulk poised on a little flowerpot as its head which, to me, is an homage to Andrea Branzi, the fabulous designer. Another painting, of a woman in front of the run, represents a sort of midwestern fantasy of this woman rising up amongst one of the thousand lakes in Minnesota. The clouds start to take on character. To me, this demonstrates the impact of each location on the art, just as I feel that Southern California has been one of the main inspirations for my work.
What brings you the most joy within your practice?
PS: Painting and drawing are the things that I do when I'm completely on my own whereas things like welding require a lot of assistance. For example, making the base of one sculpture was really wacky. My assistant wanted to go home to Mexico, so before he left, he asked me what I wanted to do: finish these sculptures or make a flatbed for my truck? The easy choice would've been the flatbed for the truck because it's quick—it's just a task that can be started and finished. But these sculptures, these things, are so fantastic that to make them you literally had to make them upside down. They're a task that may never feel finished. Oddly enough, they're about automobile suspension. With pottery, we can easily claim six thousand authentic, handmade mugs that I have made. We are making them all the time. I've tried to stop but my friend, Ryan Conder, and his friend in Japan started selling them, and they sell thousands a year. I wanted to make one that had these fantastic tea bags, that made probably 20 ounces of tea because I hate to keep dipping them in cups. I recently rediscovered one of the giant mugs that I made that was never purchased. I love them so I decided that I'm going to make more for me. To hell with them if they don't buy them! And jokingly Ryan told me that I could make them any size that I want. And I realized that I could make them hold a pint, a gallon, two gallons! These things that start as dares and jokes actually force the issue of the sculptural realm. And that's what I love about my practice: challenging any artistic realm.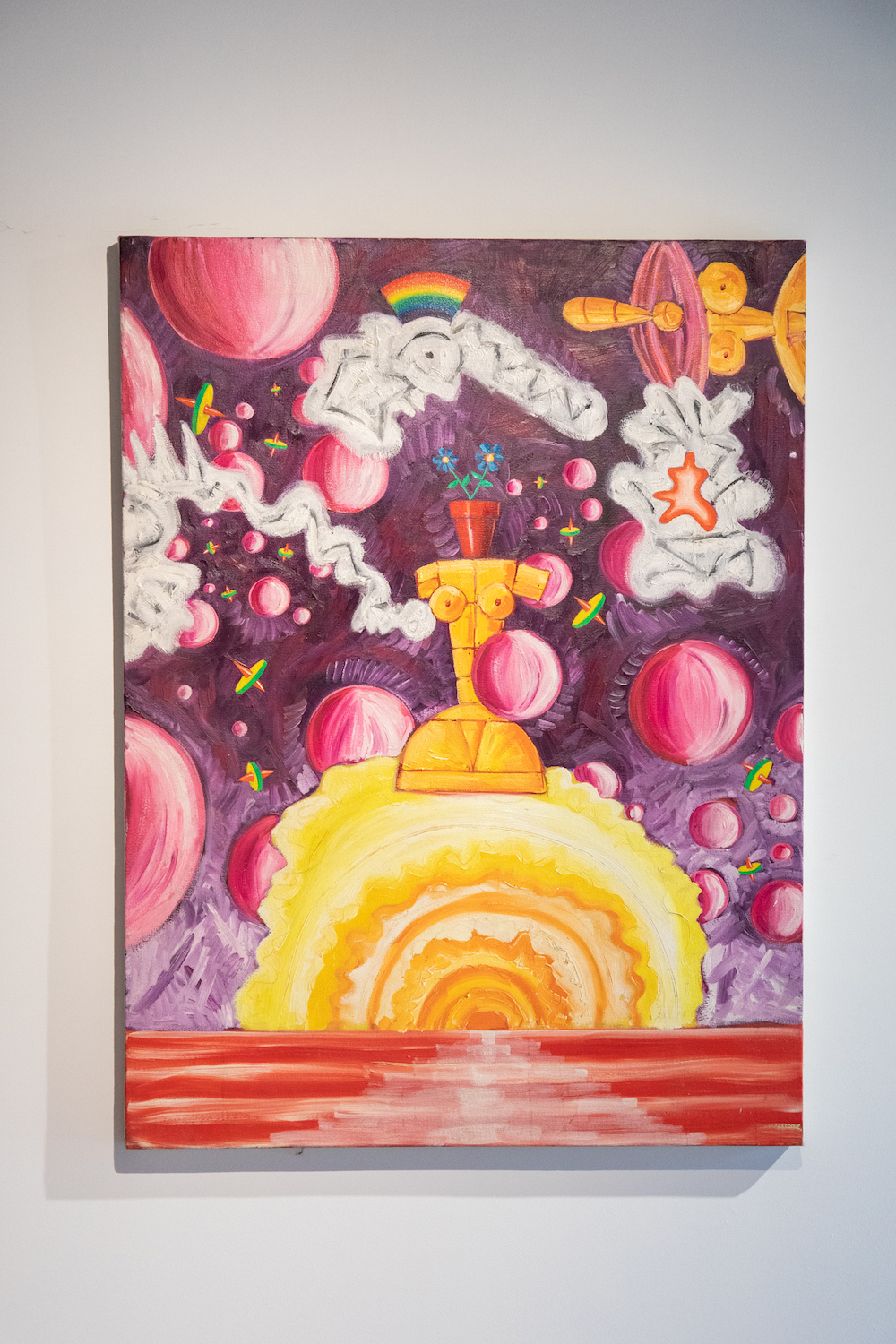 How have your projects developed and grown since you began your practice?
PS: They say necessity is the mother of invention and I've definitely challenged that. For example, in 1981 I made a chair for Memphis Milano. It's a fat and volumetric chair and all of a sudden it started to seem smaller and more regular. So, two years ago, I recreated it! The new one is more exaggerated: it's a foot and a half taller and so forth. But as a piece of art on display, we had an odd problem. How do I make sure that people don't sit in it? So, we took these little flying sculptures and hung them above the chain in such a way to signal. They are sculptures are Groucho's ducks from You Bet Your Life. Groucho would say a magic word and this duck would come down as this really terrible stuffed toy. I recreated Groucho's duck with his little glasses and his beak and cigar. I've grown to appreciate all the little details. Like I used an aircraft tube that I got from a friend who owns a fourth-generation junkyard. He said they had some stuff but hated to scrap it. And can you imagine? You never see scraps that are paper thin like that. Part of my development has been to figure out ways to incorporate the details. That particular project became very much like an El Lissitzky, the creation of linear structures but still forming optical illusions. And to top it off it has gold peaches! We love gold and we love peaches. I eat tons of food! I eat at least three watermelons a week.
Craving more culture? Sign up to receive the Cultured newsletter, a biweekly guide to what's new and what's next in art, architecture, design and more.