Though it's tempting to hole up inside to escape the summer heat, meaningful art makes a sunny jaunt worth the trip. Crafted with the intention to provoke thought and help us catch our collective breath, temporary art installations by Sam Durant, Melvin Edwards, Mimi Lien, Guadalupe Maravilla and Sam Moyer installed across Manhattan and Queens this season are both grounding and impactful. They remind us of what we've overcome and what we must not ignore, they give us hope and a space to heal and they are a testament to New York's diversity and the beauty of urban nature.
The Green at Lincoln Center by Mimi Lien
Through September 2021
Acclaimed set designer Mimi Lien, whose works range from dance and opera sets to outdoor environments and have earned her both a Tony Award as well as a MacArthur Fellowship, has taken the near 20,000 square feet of concrete that span Lincoln Center's Josie Robertson Plaza and covered it in artificial grass. There's nothing New Yorkers love more than to escape towering buildings and suntan at the park the minute the weather is suitable for it, and Lien wanted to make that even easier. "I immediately thought that by changing the ground surface from hard paving stones with no seating to a material like grass, suddenly anyone would be able to sit anywhere," she explains. With seating and arches made of recyclable, bio-based SYNLawn material, The Green will be home to pop-up performances, educational workshops and all your picnic needs through September 2021.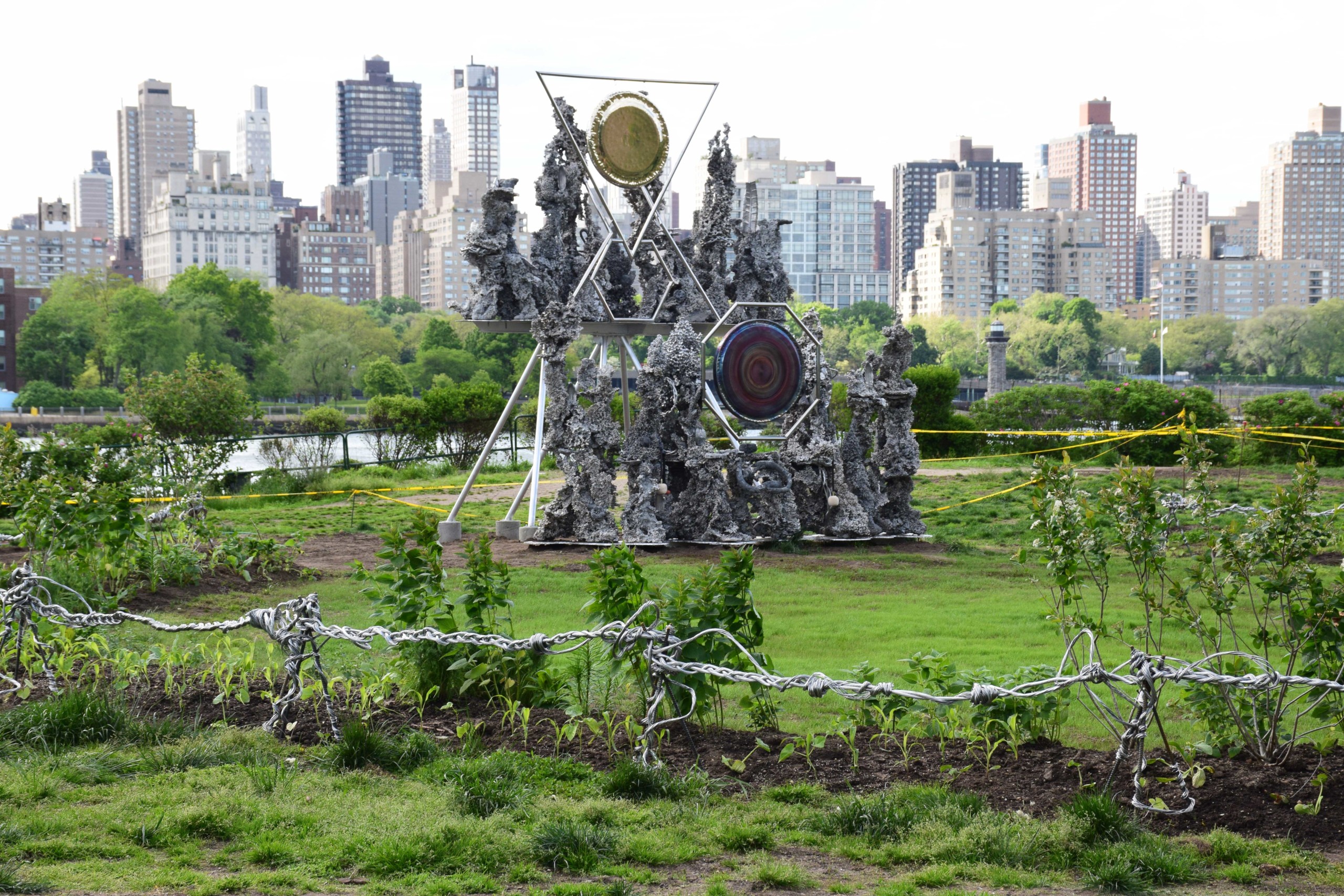 Planeta Abuelx at Socrates Sculpture Park by Guadalupe Maravilla
Through September 6
Guadalupe Maravilla knows the world needs to heal and he is providing a space for that overlooking the East River. Maravilla's own experience in recovering from trauma as an immigrant and cancer survivor as well as his exploration of ancestral and holistic practices of healing are integral to the creation and use of Planeta Abuelx. Jess Wilcox, the Socrates Sculpture Park curator & director of exhibitions, explains that "with his exhibition at Socrates, Guadalupe Maravilla radically expands on the concept of healing through art, creating new modes of understanding for what holistic care and recovery look like for individuals and communities in the wake of trauma." Honoring the "curative ancestral knowledge" of our elders, Maravilla's solo exhibition is a collection of totemic sculptures, medicinal gardens and sound baths on view through September 6 for anyone seeking to relax and exhale.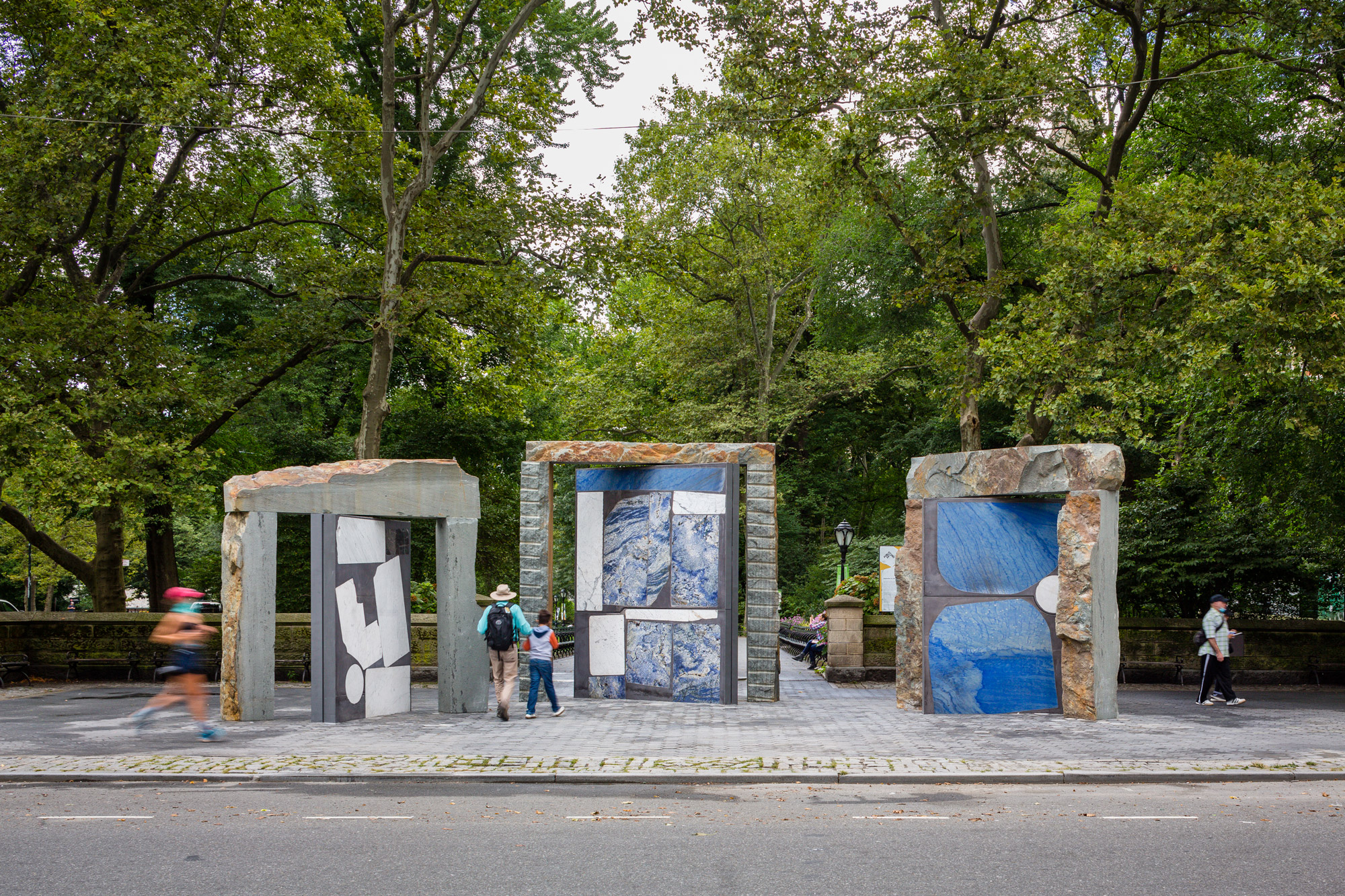 Doors for Doris at Central Park by Sam Moyer
Through September 12
Serving as a transitional entryway between the cold color palette of the city and the verdant, vibrant one that encapsulates Central Park, Sam Moyer's Doors for Doris—its title a nod to Public Art Fund founder Doris C. Freedman—honors such meetings of contrasting energies throughout the city. The three-part sculpture is composed of locally sourced marble and rock, but also represents the diversity inherent to New York by juxtaposing them with its use of materials from all over the world. The green stones and blue slabs reminiscent of waves remind us not only of the oases the Big Apple has to offer but that it is an island after all.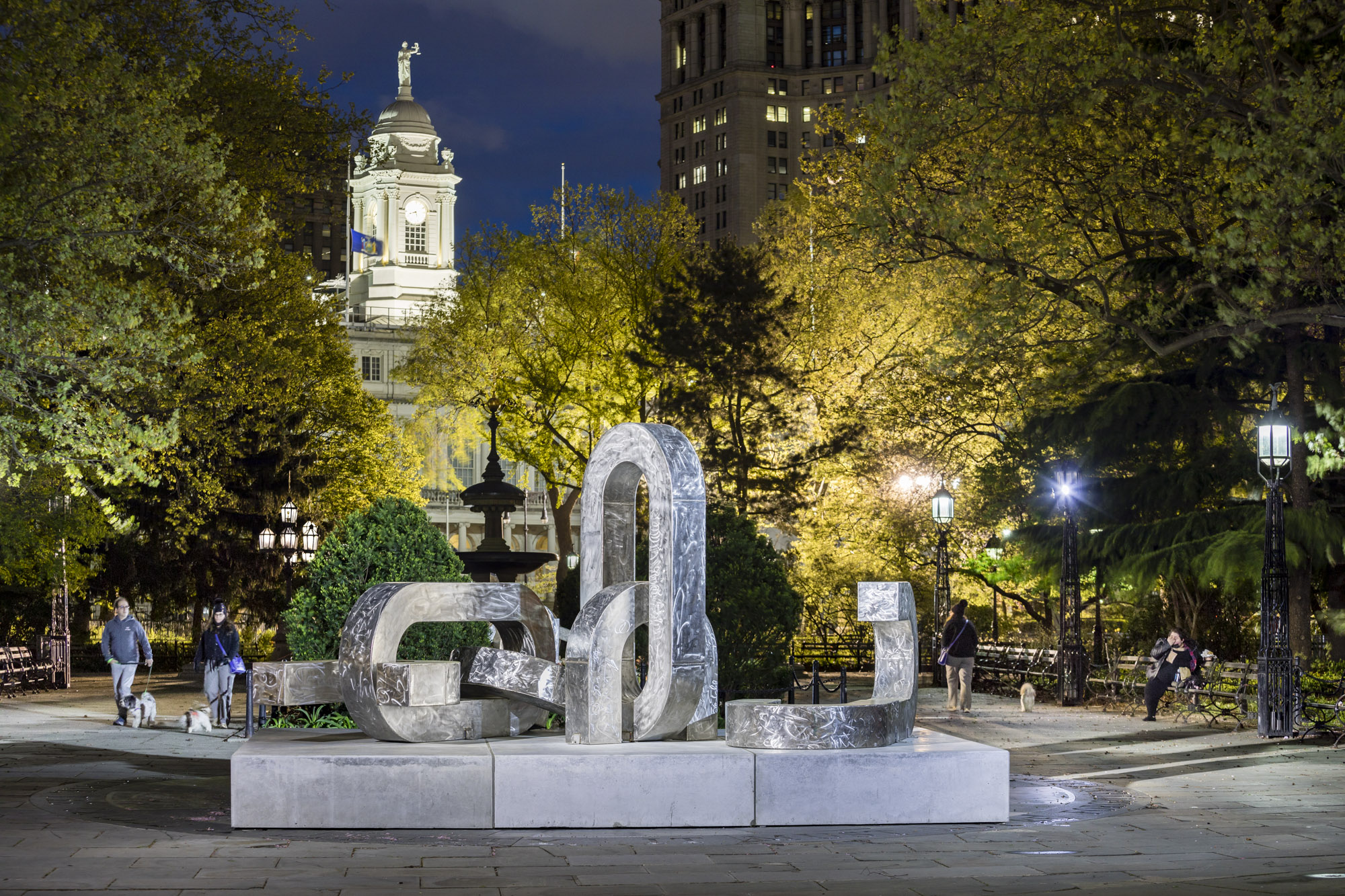 Brighter Days at City Hall Park by Melvin Edwards
Through November 28
Brighter Days is a collection of six sculptures created by artist Melvin Edwards between 1970 and 1996, and again in 2020. Despite the decades between them, they share a visual object in common: the artist's use of steel links, both broken or unbroken. Chains can either hold us together or hold us back, but the site of these artworks, an African burial ground as well as a frequent location for 2020's Black Lives Matter protests, reminds us of the consequences of the latter, in the prejudices caused by slavery that we still see in the United States today. At the same time, the symbolism of the broken chains and the collection's hopeful title are serve as a monument to liberation and optimism. Edwards's signature motif emphasizes a painful past but also serves as an emblem of unity.
Untitled (Drone) at The High Line by Sam Durant
Through August 22, 2022
When walking through Chelsea at 30th Street and 10th Avenue, a white, fiberglass drone will hover 25 feet above. It is artist Sam Durant's reminder of the international drone warfare the United States has increasingly practiced for decades. Per his statement on the temporary installation piece, "the sculpture is modeled after the Predator drone, a remotely piloted aircraft that was used by the US military beginning in 1995 to conduct reconnaissance around the world and, later, airstrikes in countries including Afghanistan, Iraq, Libya, Pakistan, Syria, Somalia and Yemen." No longer can we ignore the menacing reality of drones, not only because Durant provides us a visual example of the threat so many other countries have seen on behalf of the United States, but as we have seen with our own eyes on our home turf, when the technology is used by government agencies to monitor our borders and patrol our protests.
Craving more culture? Sign up to receive the Cultured newsletter, a biweekly guide to what's new and what's next in art, architecture, design and more.