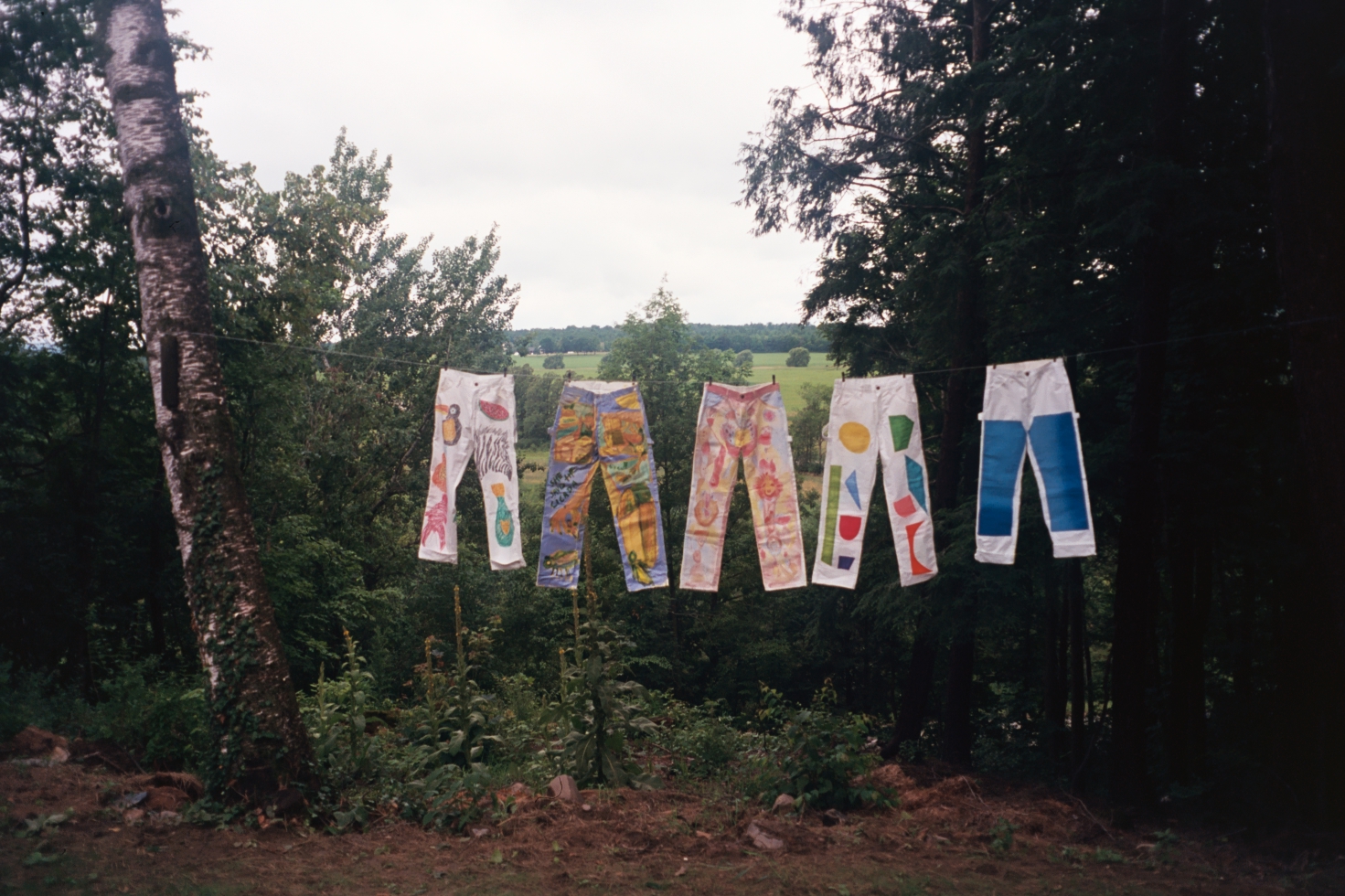 Last year, Zach Pollakoff moved to Charlotte, Vermont with his wife and two children thinking they would return to New York after a reprieve from the city's pandemic wasteland. 16 months later, like many, his plans have changed. Now a full-time Vermonter, Pollakoff is converting his family's new home into a gallery of sorts: Bauschaus VT, and this past weekend, he hosted its inaugural exhibition.
Pollakoff comes from a world synonymous with curation and community. His day job in music advertising at Heavy Duty Projects combines the commercial needs of brands with the expertise of artists/producers who work on big time records by musicians including Frank Ocean and Bon Iver. He is also known for cofounding Likeminds, the art-conference-meets-tech adult camp that seeks to bring together folks with, well, like-minds, through experimental workshops and lectures, activities like figure drawing and meditations with death doulas and quality food. Essentially, his comfort zone lies in building creative concepts where composers, painters, entrepreneurs and otherwise can riff for the sake of collective enjoyment and education—be that through music, art, fashion or even advocacy.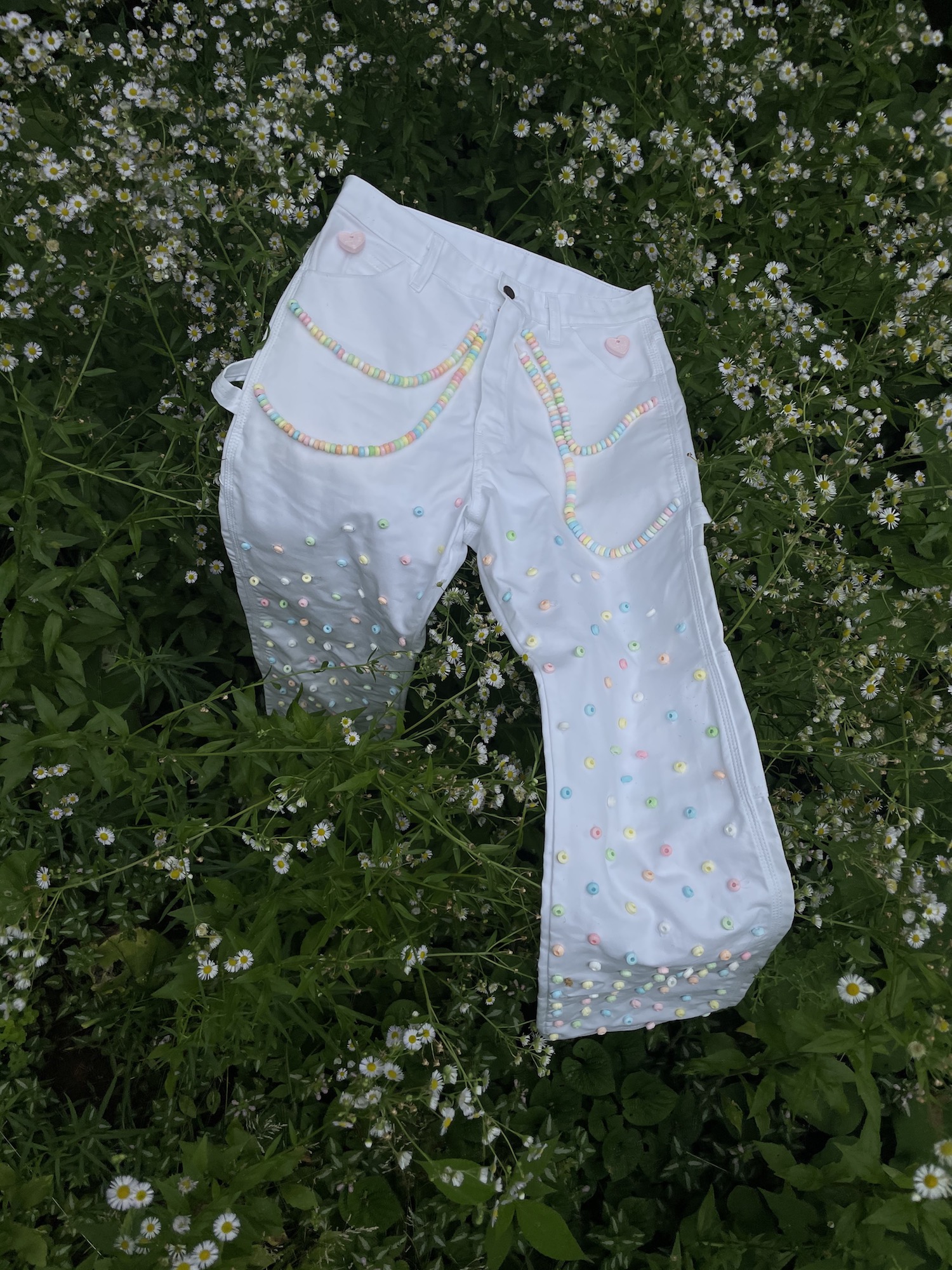 Bauschaus VT is the former home of Carl Bausch, an architect whose canoe craft merited a New York Times write up given its unique style. According to Pollakoff, Bausch handbuilt a "super futuristic, hypermodern" home in the late 1960s-to-early-1970s for his stepchildren and wife, the painter Maize Bausch. The property of five buildings have what Pollakoff described as spiritual bones—a feeling he says everyone who gathers there feels.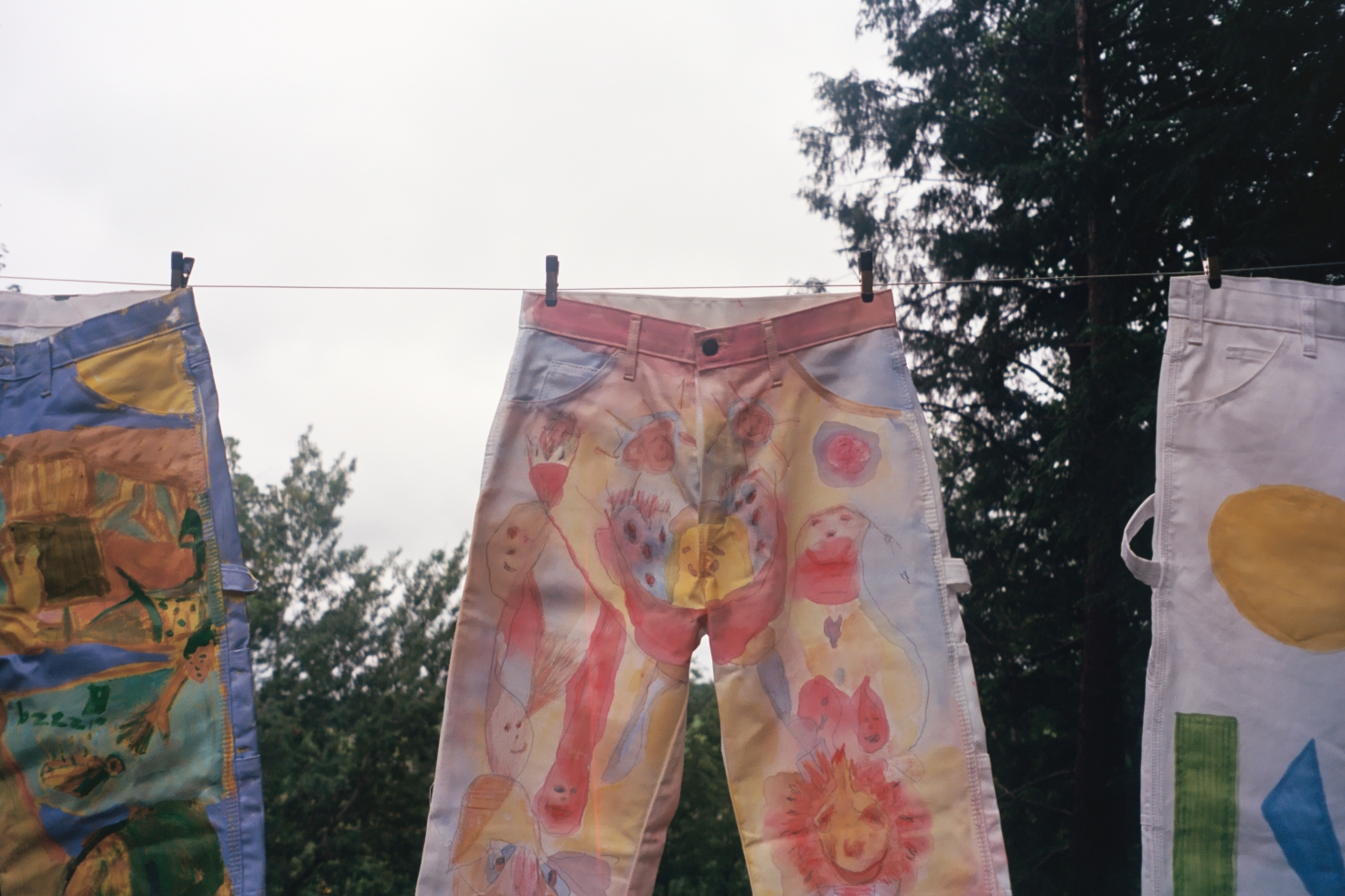 Inspired by the home's general ambiance and a rich history, Pollakoff had always wanted to host an art exhibition of some sort there. And what has emerged is a fashion meets-ethereal art concept-meets architectural history hybrid. "I became newly obsessed with Emily Bode, Collina Strada, all of these designers customizing pants," Pollakoff shared (his wife, Nancy Rosenbloom, is also a source of fashion inspiration as the global sales director at Rachel Comey). "Simultaneously, I'm seeing friends of mine who are successful painters posting photos on their feeds in their studio, and I love how storied their pants are. Nikki Maloof, Jake Longstreth: their work is on their pants."
Pollakoff put together an artist brief to call on painters, illustrators, sculptors and other creatives to participate in a pants-based exhibit. The result is a roster of 16 artists—with names from Will Bryant to Nathaniel Russell—whose work was exhibited at Bauschaus VT on July 17. As a nod to their studio craft, their work is displayed on Dickies in their respective sizes (the pants were donated by the brand for the show).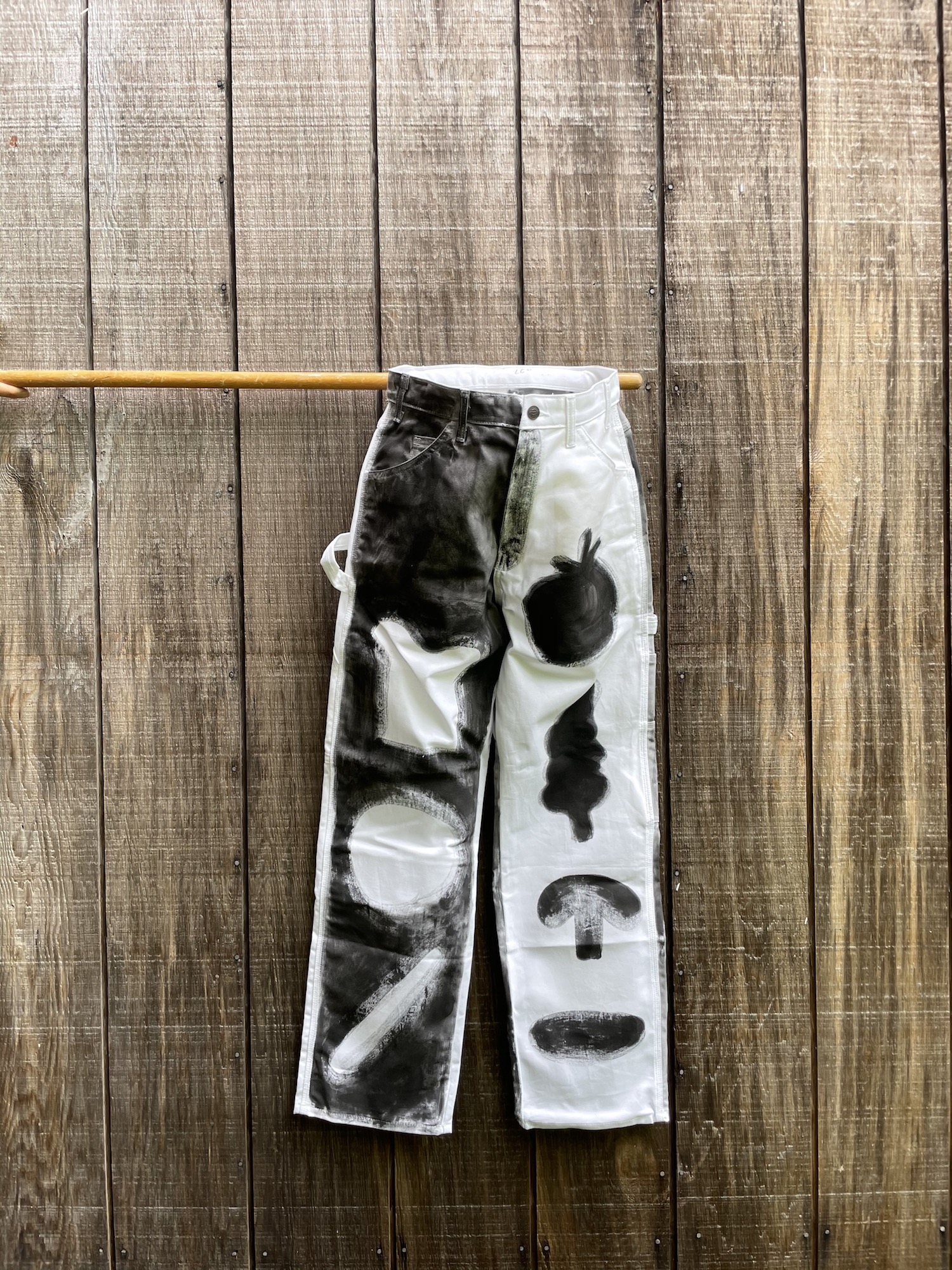 "During the pandemic, I had a pair of Dickies and found a set of fabric markers," Pollakoff notes about the exhibit's conceptual origin. "I started doodling like you would on your Chucks or Five Star notebook in high school. They're my COVID doodle pants." He left the prompt for artists intentionally open so they could bring their own style to the pants as he had. And they certainly did—from clouds and geometric shapes to candy bracelets. The pants were sold during the exhibition, with 25% of the proceeds going to mutual aid organizations of each artist's choosing.
Following a year of immobility, the symbolism of pants isn't lost on us. Strung across a natural backdrop, Pollakoff's goal is to forge a new community with fellow Vermonters. "The best part of living in New York for 14 years within music culture is that you never actually go alone to a show. Doesn't matter your job, age, gender—I want to engage this community in a similar way. To find people here that are likeminded and curious." With his eye for artistry and warm demeanor, it's very possible he'll never go to a show alone in Charlotte either.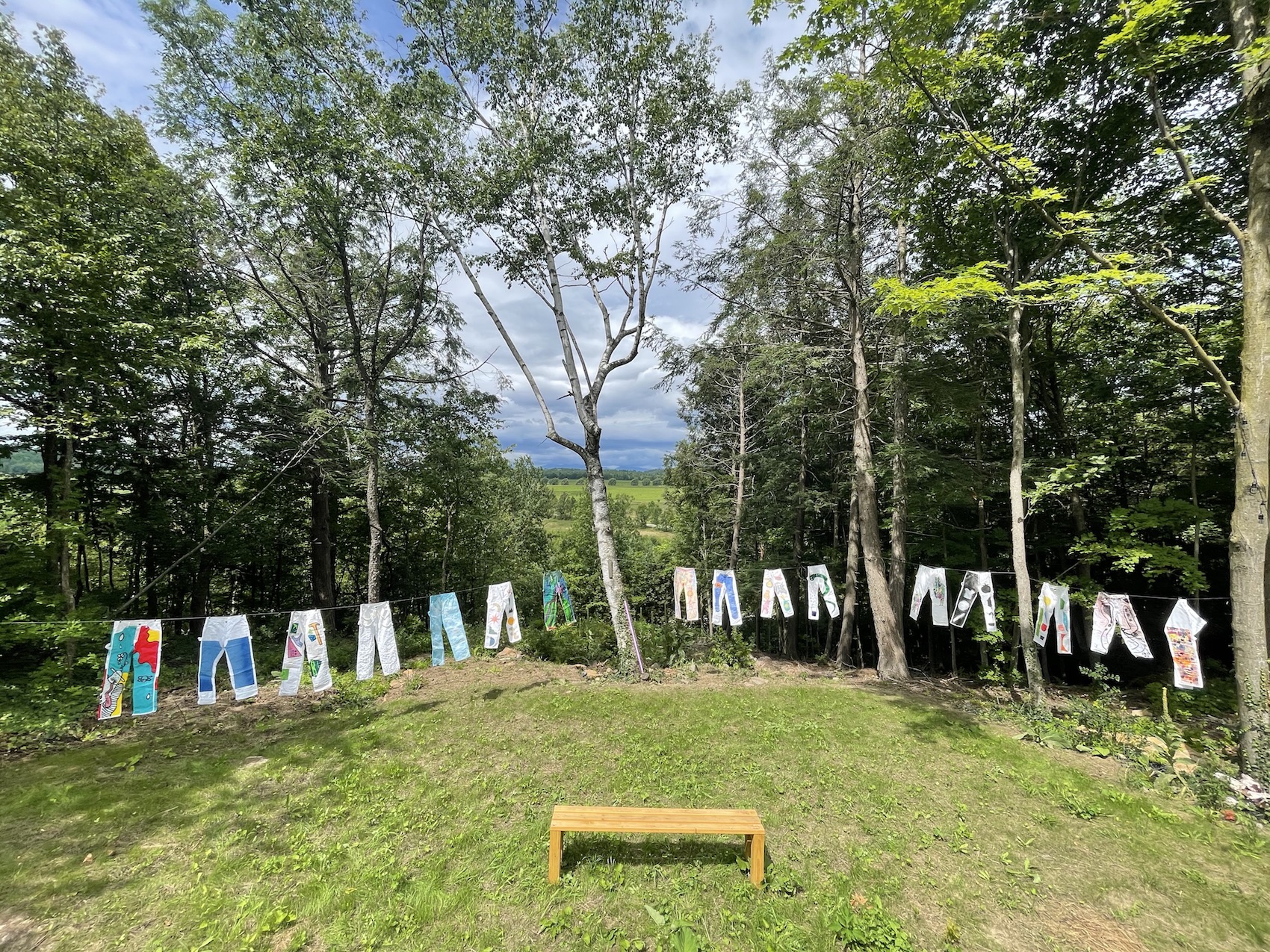 Craving more culture? Sign up to receive the Cultured newsletter, a biweekly guide to what's new and what's next in art, architecture, design and more.