Her paintings are luminous and vibrant, evoking feelings of vivid dreams and eliciting joy and sheer delight. That's the best way I know to describe the colorful, mixed media work of French Belgo-Congolese visual artist Tiffanie Delune. Her images tickle our childlike sensibilities while spontaneously inviting us to reflect on the interplay of light, shadow and the movement of our interior lives. Hardly surprising, as Delune is a woman living an intentional life of intimacy with herself, her work and her environment. In March the self-taught 32-year-old artist took her 4-year-old son, left London, where she'd been since 2017, and moved to Lisbon, Portugal. She was drawn towards a longing for the closer-knit sense of community that a smaller and more Southern city might provide. I spoke to her by Zoom, one bright spring afternoon last month, the sunlight pouring onto one of her radiant six by five foot paintings hanging behind her.
"As a creative, natural light is very important to me. I struggled with that in London. Here, I find it so refreshing to wake up with the light or the sun. Very early like 6 or 7 AM and I'm already very energized, eager to get moving into my day," she says.
Delune guards her mornings as sacred time. She avoids all social media and the news for the first several hours of the day. Before her son wakes up, she rises to do yoga, and to sketch whatever is lingering from her dreams, or what has come to her for a work in progress, after a night's rest. Her practice is fueled by a keen focus on her internal life, what she's intuiting, and her external environment. She describes her way of making art as "navigating between her shadow self and yet full of light, movement and energy forms." This in turn informs her practices of self-awareness and social responsibility, because she firmly believes that to be a better person in society, and to make authentic work, you first have to have a fuller understanding of yourself.
"We have to acknowledge our light, but we also have to understand our shadow. Most of the time what lies in your shadow is actually what you want, outside of all the external pressures you may have received, or even your own fears. Owning my shadow self, meant acknowledging that I am an artist, something I tried to deny for years."
But coming to terms with a more authentic version of herself also meant understanding her past history and heritage.
"I had to understand my parents' stories, where they came from, the collective trauma I was carrying from my family, but also on a bigger level, even the colonization by Belgium of the Congolese, understanding what they did, how it affected people."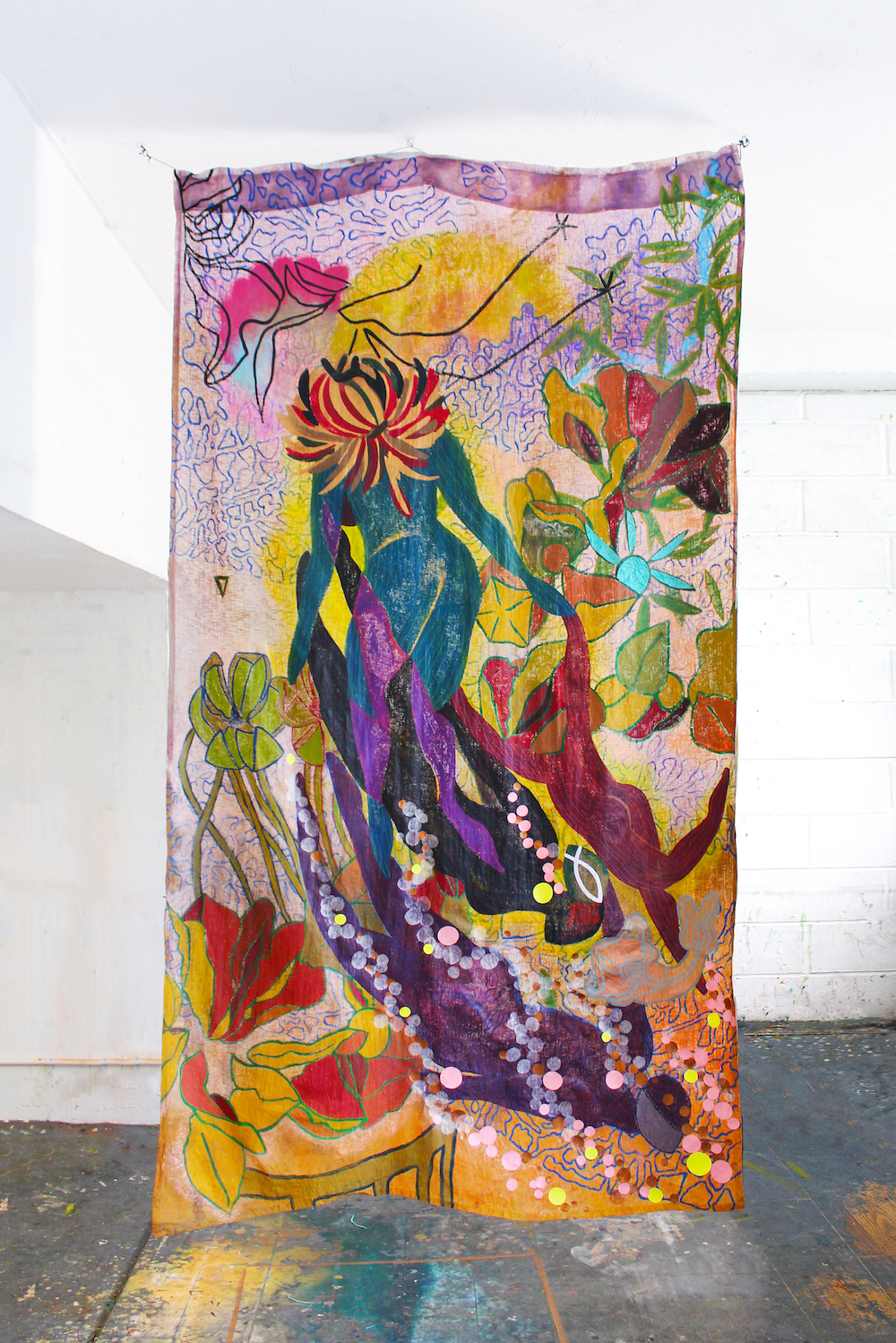 All this self-work has had a large impact on how she creates the large-scale, spirited works that dance between abstraction and figuration, and boast of themes of identity, humans' relationship with nature, and an empowering femininity that promotes self-acceptance.
Delune was born in Paris, France to a white French mother and a Black Belgo-Congolese father. In her telling, her childhood was spotted with trials and traumatic experiences that often made her feel like her innocence was stolen from her.
"We were poor. My mother left us when I was a toddler, and I grew up with my father in low-income housing. We were expelled from houses, I slept in motels and all sort of places, even living in an abandoned house. My love of colors does come from who I am as a woman today, and all my travels to places like Egypt, Nigeria, Indonesia and the Caribbean. I see all of these bright colors everywhere, in buildings, in the food, in how people dress. And I feel that we lose this sometimes in Western cities, where everything is coded and made to look perfect and the same. But even before this, a large part of my attraction to bold colors in my work comes from my past, feeling so much sorrow and sadness and lack of joy in my childhood."
Delune is self-taught, and when she started painting, she felt like she wanted to return to that childhood, but in a way that could fill it with the experiences she didn't have. She naturally expressed this through primary colors, eventually learning to mix and blend for tones and shades to communicate nuanced feelings. And yet, her instinct towards mixed media, blending textures like feathers and flowers and thread and paper with acrylic and oil paints, comes from the brighter parts of her childhood she recalls with gratitude.
"My father has a very cheeky childlike energy about him. He was always drawing on random napkins and things, and that's where I first encountered art, through him. And even though we had no means, he insisted we had a public library card, and also that on weekends, we should take our bags and go explore and go see things. He hated the idea of us just staying in our neighborhoods."
Her father planted in her a sense of curiosity and a willingness to try things even when she didn't think she had what it took. She laughs at the memory of how every Wednesday she would go to the library and pick DIY and art books, and try to replicate the crafts without having the necessary items.
"I would come home and try to just make do with what I had, being playful and creative with cardboard and whatever materials I could find. Because my father would encourage that. He taught us to be resourceful and would say to me, 'We don't have the list, but that's okay. Make something else. It's not the same, but it is.'"
He taught her very early that it's okay when you don't have all the supposed necessary things to create your vision. You just stay curious and work with what you have. The lesson stayed with Delune, feeding her imagination about what was possible if she stayed open, curious and creative in life. But it still took years before she gathered the courage and belief in herself to practice art professionally.
"You know, even with all that, I knew we didn't have the means for me to go to art school. Plus, I lacked confidence in myself. So I discouraged myself from pursuing art. I knew it was what I wanted to do but I went into advertising instead."
She spent ten years in advertising. Then in 2017 she gave birth to her son, and when she returned to work, she realized that she was "the most unhappy" she'd ever been in her adult life.
"Having a child is like a mirror, and I thought, 'I'm going to tell him that he can do anything and be anyone and I will support him, but I'm not doing that with my own life.' What message would I be sending him? I had to stop making excuses for myself."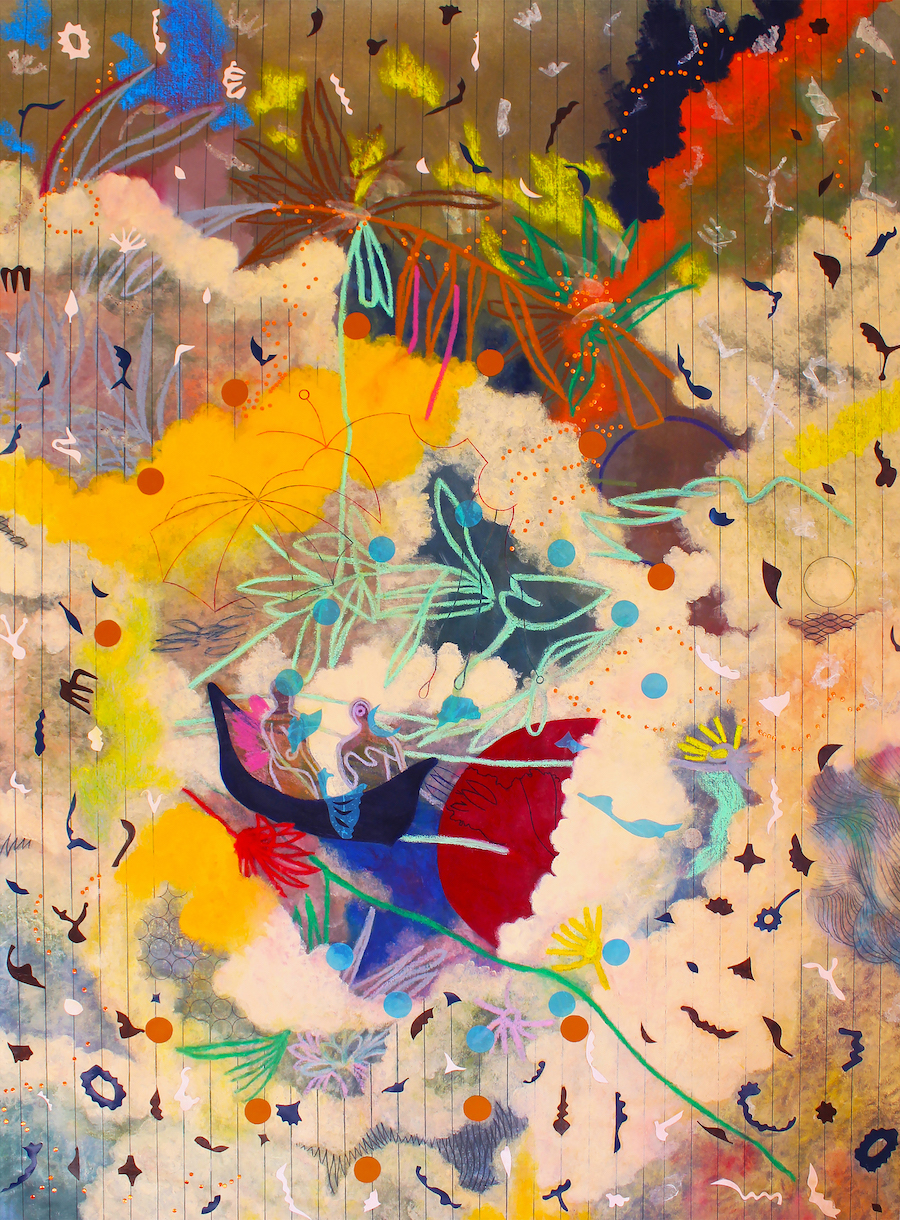 When she finally started painting, she had to learn to find her visual language and to trust her voice.
"I was only using paint when I started but it felt so flat and not reflective of who I am. Something was missing. Then one day I said to myself, 'You know what? Let go of rules. Let go of what you think art should be and just do what you want to do. So I basically returned to that little girl in her room as a child who used to think, 'Oh, this is an interesting material. I could put it here and put that there.' I started thinking about being resourceful again and not always thinking I need the best canvas or best paint, to focus on what's inside of me. It was the playfulness that I took from my father. I remembered his encouragement to be bold and to just try things."
Within less than two years, she joined the London-based Ed Cross Fine Art Gallery, and has since exhibited in London, Paris, Lagos and Los Angeles, and her work is in both private collections and the permanent collections of the Fondation Gandur pour l'Art in Geneva, Switzerland, and the New York Presbyterian Hospital for Women and Newborns. Delune is especially proud of her diverse collector base, because she understands that to mean she is stirring different conversations between a wide range of people. With her own rich and diverse ethnic and racial background, she understands herself as a multifaceted being who can be at home anywhere while still having a strong sense of identity.
"When I was growing up there was no one like me around, mixed yes, but my skin looks like a white person's and my features look like a Black person's. And I grew up with my father who is Black, so we were always getting questions from people, like asking if my father was my father? It was difficult from both communities, white and Black. The figures in my paintings are black, white, orange, blue, green and more. Because the conversation I'm having through my work goes further than skin color. I want to touch on beauty as a whole. When I make the work it is for myself first and foremost. But I also think about how I want many different kinds of people to be touched. It's important to me to open different kinds of conversations, and I feel that happens when my work touches different kinds of people."
Craving more culture? Sign up to receive the Cultured newsletter, a biweekly guide to what's new and what's next in art, architecture, design and more.