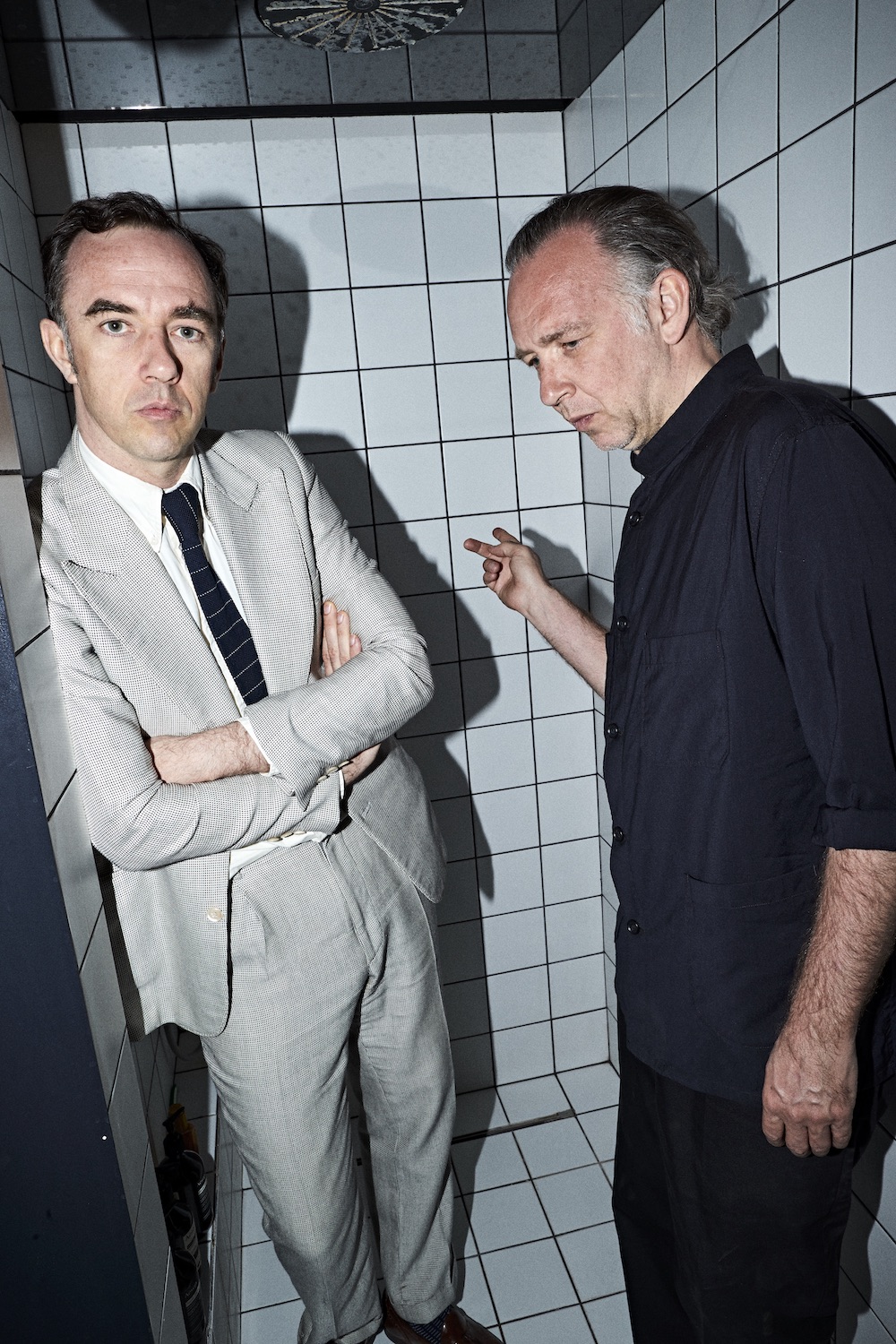 David and Stephen Dewaele didn't set out to build a solitary doomsday bunker. Although the brothers—known to fans for their rave-ready rock, coveted remixes, and ambitious live shows as Soulwax, as well as their genre-bending turntable antics as 2manydjs—commissioned Studio DEEWEE with refuge in mind, collaboration was built explicitly into the floor plans. You wouldn't know it just by looking at it: situated in the pair's hometown of Ghent, Belgium, the building strikes an imposing figure, standing at four stories tall and decked out in an opaque, black and white granite finish. Its dissimilarity to the surrounding area's medieval aesthetic only enhances the thought that it'd make for prime real estate as a social distancing stronghold.
Studio DEEWEE's inner workings share its exterior's sleekness, if not its austerity. Taking cues from mid-20th century Italian and Japanese architecture, no space is wasted in its minimalist design. The building boasts a recording studio with adjustable acoustic panels, plentiful storage for the brothers' vast collection of musical gear, a conference room doubling as a library for more than 60,000 vinyl records, and even a proper bedroom for guests.
It's as fertile a creative ground as a musician could hope for, so much so that the Dewaeles decided to create a whole record label around it. Beginning with the building as its first cataloged project, DEEWEE was founded in 2015 with very specific parameters detailed in its manifesto: "Every DEEWEE release is written, recorded or mixed in the building by David and Stephen Dewaele."
"It always comes down to this building," says Stephen, the older of the two. "It's a collaborative effort on every level, between the people who sing the songs, play the songs, and Dave and me who sometimes co-write, co-produce, and always mix it on"—he lifts the camera to display the 1969 Cadac mixing console it's resting on—"this mothership. Everything that you've heard on DEEWEE has been mixed and produced on this desk by the two of us."
The studio's myriad musical offspring are all highlighted on its latest release, Foundations. The record marks the label's first compilation and 50th project, doubling as a celebration of five years of DEEWEE and a preview of what's to come. With a title winking at the music's shared place of origin, the album spends 27 tracks and two hours surveying the sweeping musical universe the brothers and their collaborators have created. Foundations encompasses everything from the ethereal electro-pop of Belgian-Caribbean songstress and breakout act Charlotte Adigéry to relentless synthesizer flexes by the likes of Asa Moto and Extra Credit; there's even a sensuous spoken word contribution from Chloë Sevigny.
Foundations is the culmination of an unorthodox undertaking made even more difficult by an unprecedented year. As one might expect, the pandemic has posed a challenge for DEEWEE's collaborative ethos. The Dewaeles had just played a music festival in San Diego as 2manydjs when the situation reached critical mass in March 2020; they barely made it back to Belgium before Europe collectively entered lockdown. No longer an international port for adventurous musicians, Studio DEEWEE became a well-furnished foxhole for the brothers. They settled into a groove very early on, channeling their creative energies into scoring an as-yet-unannounced project and prepping the release of last year's Soulwax album recorded entirely on the storied EMS Synthi 100 synthesizer.
Many days were spent working with DEEWEE artists over FaceTime and Zoom. Some acts, like Charlotte and Movulango, were able to come into the studio as Belgium's lockdown rules ebbed and flowed.
Two of the three songs debuting on Foundations—"Bear With Me (and I'll stand bare before you)" by Charlotte and James Righton's "Release Party"—resulted from these sessions. Hers is an affecting account of life in quarantine, while his is a sultry, Prince-channeling cut envisioning post-pandemic euphoria.
Foundations's very title can be considered a double entendre, referencing both the music that's already emerged from the building and whatever might materialize next; besides multiple forthcoming EPs and LPs at various stages of completion, there's also DEEWEE TEEVEE, a heavily stylized online series featuring artist performances and interviews as a visual companion to the compilation.
Ultimately, David and Stephen feel just as invested in empowering their peers through DEEWEE as they do in any project under the Soulwax or 2manydjs umbrella.
"A couple of years ago, we had a conversation with people who were interested in distributing DEEWEE as a label. They were like, 'You guys are not a record label— you're an artist label. You guys are the worst businesspeople ever.' And they were probably right," Stephen remembers. "It's a very long and emotional ride sometimes, but in the end, it's something that's gratifying and I think beneficial for everyone."
"We are as involved as we would be on a Soulwax album or any 2manydjs project," David says. "So for us, any manageable piece of success—whether that's 'Oohh, she's getting [placed on] playlists' or 'She's getting a great gig there'—we feel the same amount of accomplishment as we would from anything similar with Soulwax. So even though it might seem like, 'Oh, we're putting out other people's music this year,' we feel as involved as the artists do."
Craving more culture? Sign up to receive the Cultured newsletter, a biweekly guide to what's new and what's next in art, architecture, design and more.